The Research Institute of Urbanisation (RIU) at Xi'an Jiaotong-Liverpool University held a seminar for experts and scholars focused on retrofitting methods for commercial buildings.
Professor Zhiqiang Zhai from the Department of Civil, Environmental and Architectural Engineering at the University of Colorado at Boulder in the U.S. (UCB-CEAE) and vice chairman of China Building Ratings Association (CBRA) was the main speaker.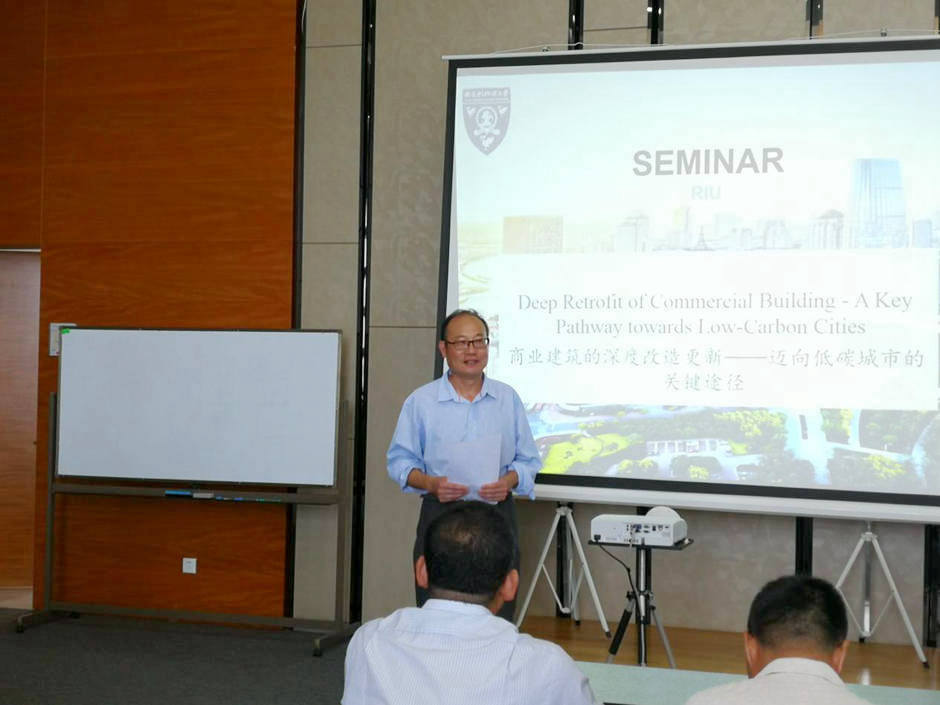 Yixin Zhang (pictured above), co-director of RIU, gave the guests and audience a warm welcome and briefly introduced the academic background and research fields of Professor Zhai, who delivered a seminar entitled 'Deep Retrofit of Commercial Building - A Key Pathway towards Low-Carbon Cities'.
During the seminar, Professor Zhai introduced the present situation of domestic building energy utilisation, pointing out the problems and needs of building reconstruction as well as the most critical factors in influencing the depth of savings.
He then explained the typical retrofit process of buildings in detail, taking the Empire State Building in New York as an example, and vividly demonstrated the ideas and results of the deep retrofitting of traditional buildings.
Professor Zhai concluded that current domestic energy saving technology can fully meet the needs and high standards of building energy conservation, and called for more enterprises to actively participate in the practice of energy-efficient construction.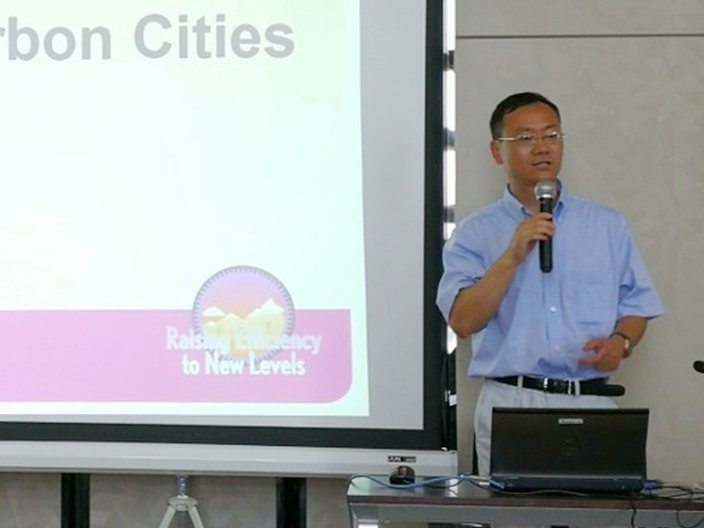 Professor Zhai (pictured above) has a unique and integrated background in both mechanical and architectural engineering with doctorates in both fluid mechanics (Tsinghua University) and building technology (MIT). His research areas include sustainable building technologies, building energy environmental systems, and indoor- and outdoor air quality.
After Professor Zhai's speech there were questions from guests and attendees, and a deep discussion. Representatives from the RIU and CBRA then held a discussion about cooperative projects, exchanging in-depth ideas about cooperation between enterprises and schools in talent cultivation, developing cloud service platforms and project management applications, creating efficient office spaces, and other topics.
The two organisations discussed intentions for cooperation in personnel training and the rating of certifications in the field of construction. It is expected that this will lead to strategic cooperation for mutual benefit and win-win development.
Professor Zhiqiang Zhai has been actively engaged in research activities in the fields of fluid/thermal science and building/energy/environmental technology since 1994. He has completed over 50 projects and published 150 technical papers. He is an active member of many international organisations and serves as technical advisor and panel reviewer for over 10 countries and regions.
Professor Zhai is an associate editor for the Energy and Buildings Journal and an editorial board member of Building Simulation International Journal, Journal of Building Physics, Indoor and Built Environment Journal, Journal of Energy, Journal AIMS Energy, and has been a guest editor for several international journals.
Professor Zhai received the Young Researcher Award (2007) and the Research Development Award (2010) from UCB-CEAE, as well as the University Sustainability Award of Green Faculty (2008). He was granted the Best Paper Award of International Journal of Building Simulation (2008) and the William Mong Visiting Research Fellowship in Engineering from The University of Hong Kong (2009).
He also received the Charles A. and Anne Morrow Lindbergh Foundation Project Award (2007) and the Distinguished Service Award of the American Society of Heating, Refrigerating and Air-Conditioning Engineers (2010) and was named Distinguished Lecturer by ASHRAE (2014).
Professor Zhai was granted the title of Chang-Jiang Professorship in 2016 by the Ministry of Education of China.