Tong Zhu, an outstanding student who completed his undergraduate studies in chemistry at Xi'an Jiaotong-Liverpool University and its partner institution the University of Liverpool, UK, is now pursuing a PhD at the University of Oxford.
Having received first-class honours degrees from both XJTLU and the University of Liverpool, Tong has skipped masters study to go directly on to PhD candidacy at the University of Oxford, UK, one of the top universities in the world.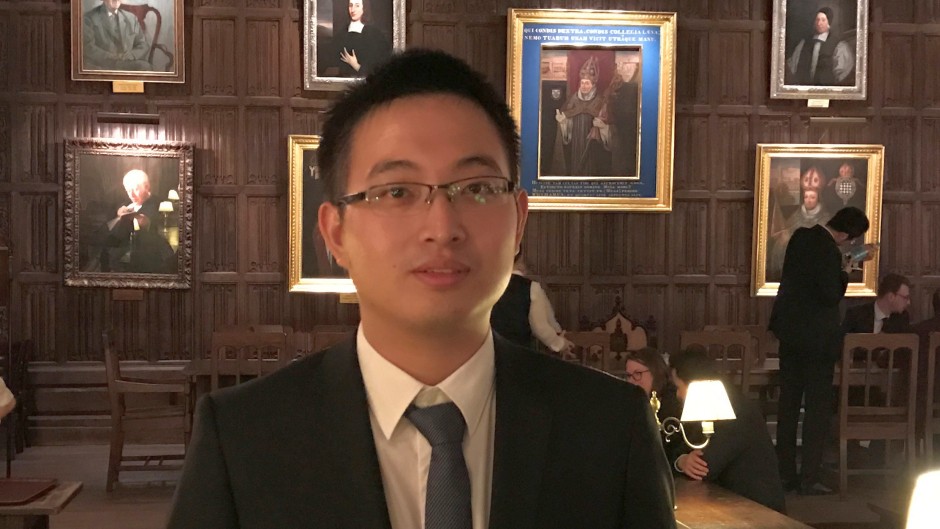 "Chemistry is about investigating unknown compounds and their properties, which means I am dealing with things that are completely new. I think this is exciting," said Tong (pictured above in the hall of New College, Oxford).
"In terms of lab work," he continued, "it is not just simply doing experiments. We always have some other problems, for example, how do you set up your equipment if no one has done a similar experiment before? I think by solving problems encountered during lab work you gain an understanding of how to deal with problems in other aspects of your life."
Background
Tong is from Anhui Province and demonstrated his academic excellence while still in high school, receiving a provincial 'Outstanding Student' award in 2011. He was accepted onto the BSc Applied Chemistry programme at XJTLU and found the Department of Chemistry to be welcoming and supportive:
"It was a relatively small department in terms of personnel but we had a very good teaching lab and many advanced research facilities," he said. "More importantly, the teaching faculty were all of a very high academic level, and very kind. You could always find someone to ask for help if you have any problem, no matter if it was about study or your personal life."
In the summer of 2014, Tong worked on a research project as an assistant to Professor John Kuo, the previous head of department. He noted that this was an important experience for him as he realised that "becoming a real chemist could be an option".
He received various grants and awards during the course of his undergraduate studies, including an XJTLU entrance scholarship, the Second Prize for Jiangsu Province in the 2013 National Undergraduate Contest in Mathematical Modelling, and a prize from the Royal Society of Chemistry in 2015.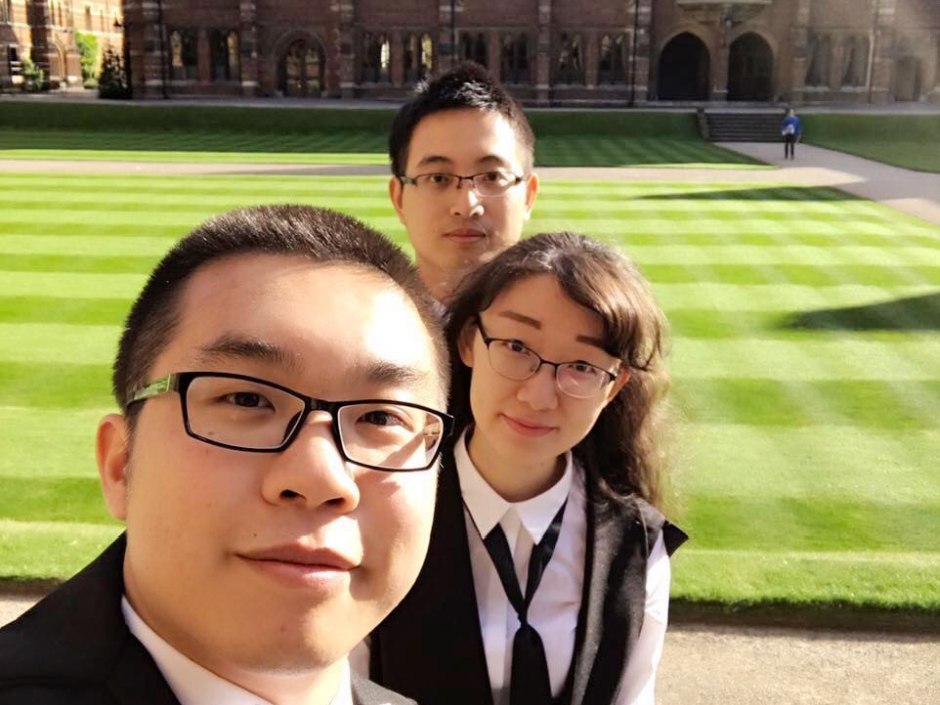 Tong took the 2+2 study route to complete his undergraduate degree in chemistry at the University of Liverpool, UK. Regarding studying in Liverpool, Tong (pictured above with fellow 2+2 graduates Jingkai Mao, left, and Ming Gao, right) said:
"Liverpool was an amazing university and I had a happy life there. Both research and teaching in the Department of Chemistry there are fantastic. For example it has one of the best material chemistry research groups in the world. Apart from study, I have made lots of British friends in Liverpool and we are still in contact."
Dr Gita Sedghi, senior lecturer in the Department of Chemistry at the University of Liverpool and XJTLU link tutor, said that what distinguished Tong was that he was "very engaged" and never missed meetings. He even assisted his tutors in Liverpool by making a document checklist for Chinese students applying for masters programmes.
Current PhD work
Tong's current PhD research project is being supervised by Mike Hayward, professor of inorganic Chemistry at the University of Oxford, and concerns soft chemical routes to ferroelectric and multiferroic materials:
"My research is focused on advanced materials which exhibit useful electronic and magnetic properties," explained Tong.
These materials have applications in electronic devices, information storage devices, and energy-related areas, and Tong's research could help to improve the safe use of such materials. Many of the currently used ferroelectric materials contain lead and are therefore potentially harmful to human body. The discovery by Tong and his colleagues of a series of lead-free ferroelectric materials could allow these materials to be much safer.
"What I love most about chemistry is its power to change people's lives," said Tong. "For example, materials which exhibit high-temperature superconductivity could be a solution to the global energy issue. Energy losses could be hugely reduced by using these advanced materials."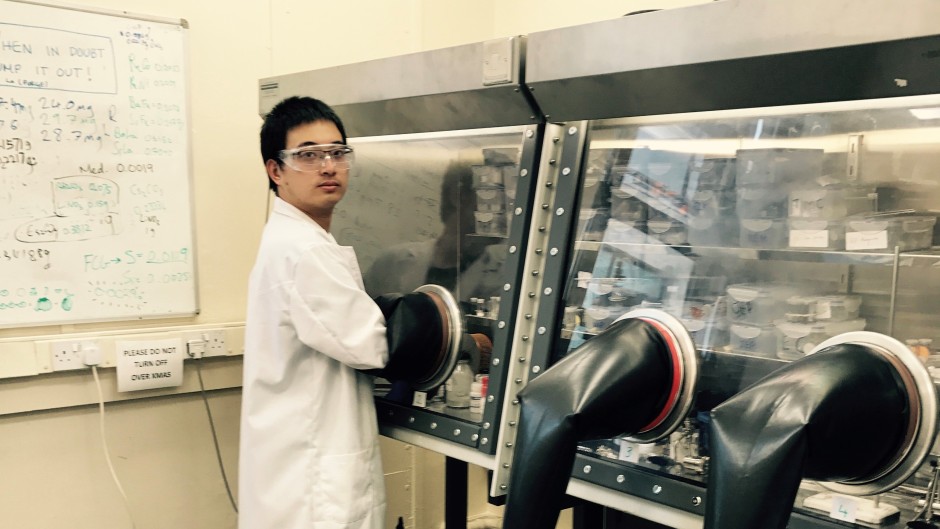 Tong's future
Regarding his long-term career plans Tong is meticulous, with a clear strategy of future international research work and a goal to ultimately return to China and apply his knowledge for the improvement of the country's future, as he explained:
"I hope to obtain my PhD degree by 2020. Then, I will spend another two years on my post-doc research either in the UK, US, or Japan as these countries have the top research abilities in my area. I think working in different groups in different countries will be beneficial for my future career because I can learn different ideas and techniques. Then I will be able to generate my own science when I am back in China and doing my own research."
Tong also plans to continue building his international network for scientific collaborations during this postdoctoral period:
"Collaboration is one of the key origins for success in science," he said, "and the research group in Oxford already has very good relationships with chemists in high-level research groups around the world. Connecting with more international researchers will be a valuable treasure for my career."
Tong said that he plans to join China's young overseas high-level talents introduction plan by 2024, as his area of specialisation - solid state chemistry - is closely related to China's long-term development plan for science and technology. As such, there is a huge demand for young scientists focusing on research in the areas of advanced functional materials, energy, and natural resources.
"I believe that China will be better off through the collective efforts of chemists, and I hope I can be one of them," said Tong (pictured below with Professor Youmin Xi, executive president of XJTLU).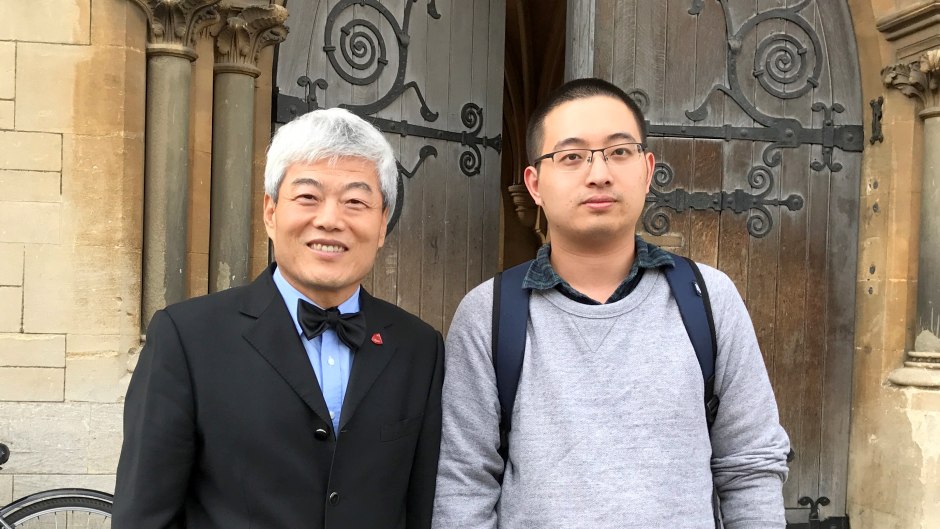 Study Chemistry at XJTLU
"Conducting research projects means I am applying my chemistry knowledge into real problems," said XJTLU alumnus and PhD candidate Tong Zhu. "Moreover, I enjoy it because doing research really teaches me how to think scientifically and logically. This is the correct way of thinking not only in academia but in our daily life."
Dr Gita Sedghi, senior lecturer in the Department of Chemistry at the University of Liverpool, UK, said that 90 percent of UK chemistry graduates find jobs immediately, and given that they have advanced problem-solving skills they are able to work in varied sectors including management and finance.
For more information about studying chemistry at XJTLU, visit The Department of Chemistry.
reporter: Danny Abbasi