Two students from the Department of Architecture at Xi'an Jiaotong-Liverpool University, currently in their second year of the Master of Architectural Design programme, were awarded the Third Prize in the prestigious CTBUH (Council on Tall Buildings and Urban Habitat) 6th International Student Tall Building Design Competition.
Working as a team, Chitraj Bissoonauth and Jingxiang Tan developed a future vision for Shanghai entitled 'Networking Tradition and Future for a Livable Urban Shanghai'.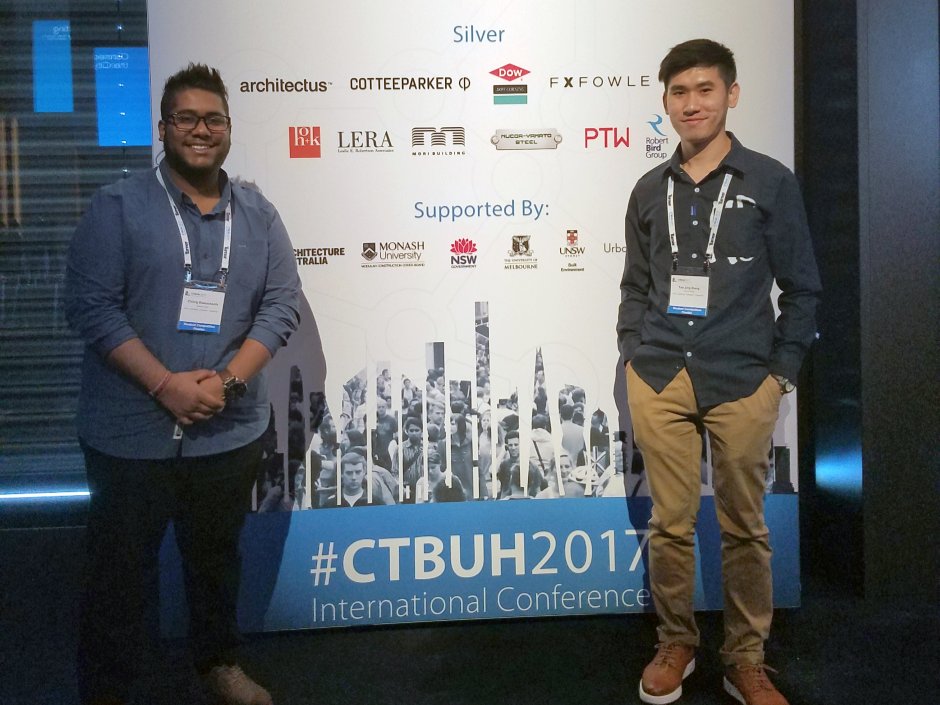 Chitraj (pictured above, left) said that participating in the competition "was extremely beneficial as we had the chance to meet professionals and academics and discuss hot topics that are being addressed around the world."
The annual CTBUH student idea competition typically calls for design proposals that are future-oriented in both programmatic and functional as well as technical aspects of architecture. The theme for 2017 was 'Connecting the City: People, Density and Infrastructure'.
Final competition winners were selected by a jury composed of professionals from well-known practices based on in-person presentations of the five finalists at the annual international 2017 CTBUH conference which was held from October 30 to November 3 in Sydney, Brisbane, and Melbourne, Australia.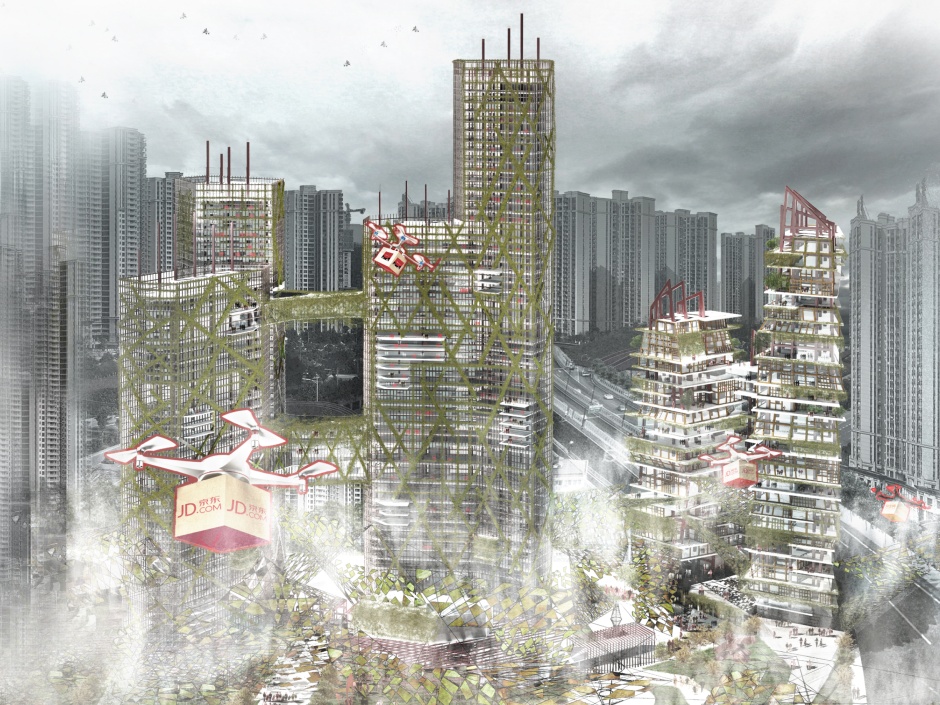 The 2017 competition theme asked students to re-imagine the value of tall buildings in contemporary and future society. The competition brief projected the end of the age of the tall building as a single iconic piece of sculpture, standing in isolation from its surroundings. Instead of creating landmarks, designers in the future need to address the greatest challenges of our time: unprecedented population growth, mass urbanization, climate change, environmental degradation, social, political and economic change, and the rapid advance of myriad technical innovations.
Tall buildings of the future should create a layered and differentiated density in which urban infrastructure, circulation, greenery, and other functions typically found on the ground floor can continue up and into the building. In this way, buildings themselves can become extensions of the city.
2042: NETWORKED URBAN TOWERS

Even before the competition was announced, a design studio focusing on tall building design taught in the Master of Architectural Design programme already addressed very similar questions. Looking 25 years ahead, the studio invited students to speculate on high-rise buildings of the next generation, as they would be built in the year 2042. With Asian, and especially Chinese, megacities at the center of the ongoing boom in tall building construction, new developments in tall building typology and technology are likely to be tried here first.
For the studio (supervised by Dr Christiane M. Herr, Dr Marco Cimillo and Dr Thomas Fischer), the cohort of nine Master of Architectural Design students adopted a process-oriented perspective on architecture, in which architecture is seen as generated through dynamic and adaptive processes that integrate both human habitation as well as material, technological as well as larger socio-economical and environmental aspects.
In a research-led design process, students then developed a group of interlinked 200m high towers, individually addressing a selection of aspects likely to determine future urban environments, including: pollution, water, energy, high-density living, aging society, education, urban farming, urban micro-climates, urban transportation, climate change, quality of life, work-life integration, family-friendly urban environments, digitisation of life and work, sustainable development, emerging technologies, and emerging materials.
The design studio was taught in collaboration with Shanghai-based design institute JAE (Jiang Architects & Engineers), who specialize in tall building construction. Supported by expert advice for structural design as well as environmental analysis (wind flow and lighting), students developed their building proposals integrating a challenging variety of requirements. Moreover, students were asked to research state-of-the-art research trends and to extrapolate them into likely future building scenarios.
A NEW URBAN VISION FOR THE FUTURE OF SHANGHAI
For the CTBUH competition, students Chitraj Bissoonauth and Jingxiang Tan proposed buildings that are capable of integrating with Shanghai's diverse patterns and layers of industrialisation, urban and social organisations. In the near future, they argue, cities like Shanghai will be increasingly conscious of the need to balance a sense of belonging with the need to develop innovative ideas and technologies while addressing pressing environmental challenges. Their proposal accordingly presents two networked towers – the E-Tower and the Maker Tower.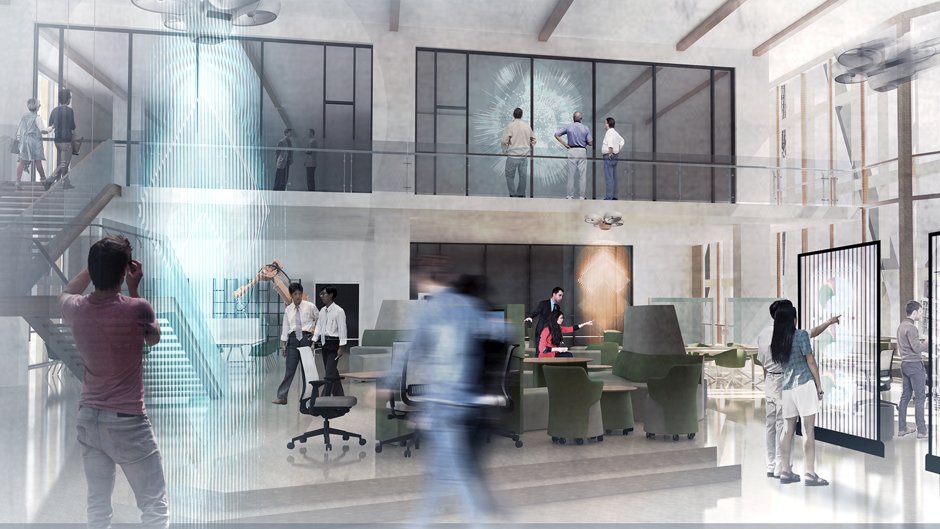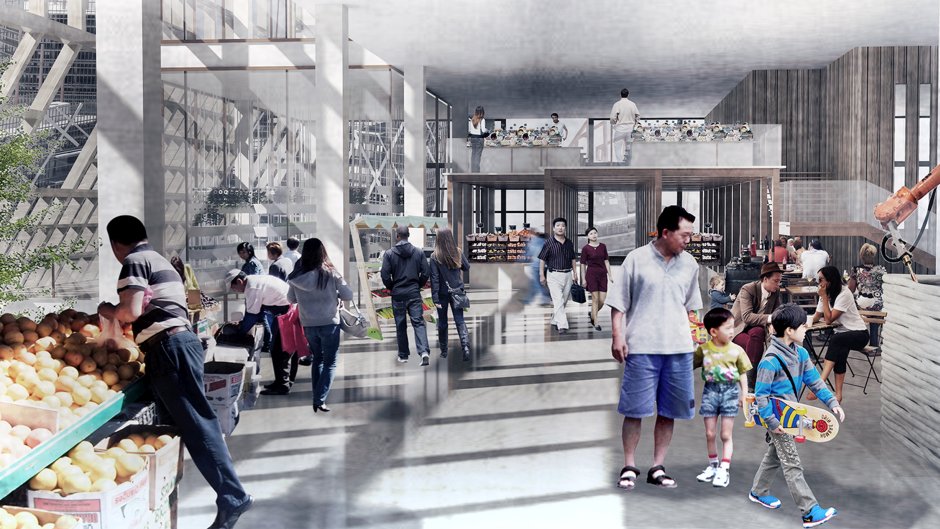 The two towers complement each other in creating spaces for the future in two different approaches. The E-Tower supports commercial innovation and corporate business of the future while the Maker Tower hosts an urban community that seeks continuity with bottom-up craft-based local traditions and their integration with new technologies.
The masterplan features several mutually-supporting and enriching layers to address both social as well as environmental sustainability of urban contexts. The location of the towers is chosen with a concern for spatial quality despite high density and mixed-use functional programming, including diverse functions such as integrating residences, offices, hotels, innovative hubs and more.
Furthermore, the E-Tower and the Maker Tower establish a variety of links and relationships within the larger site and surrounding urban context, by means of functional programming, a holistic environmental analysis during the design process as well as by employing innovative material and construction systems.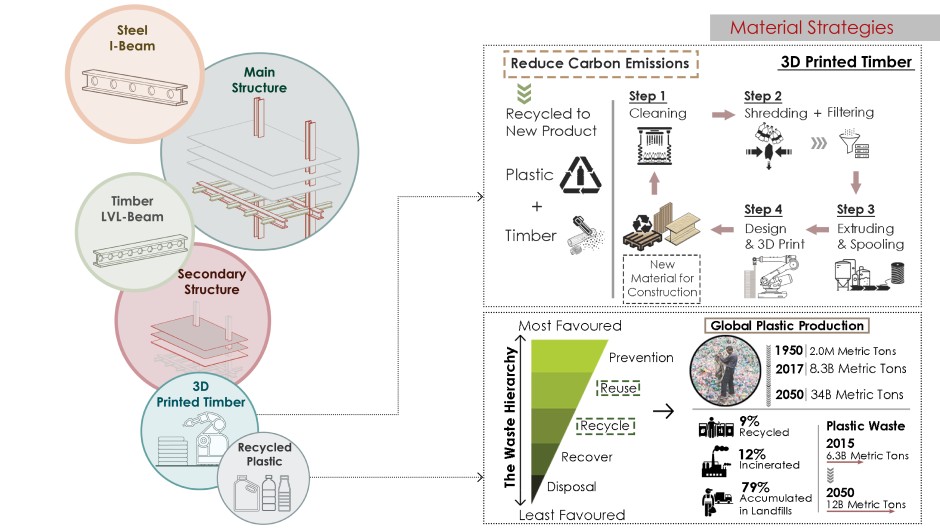 The two towers share similar construction methodologies - steel and timber for their super structure, including 3D printed timber as well as other carbon and pollution sink material for various internal structures. The design of the towers was informed by CFD wind analysis, enabling potential passive ventilation strategies for internal spaces as well as ensuring sound levels of pedestrian comfort throughout the site.
Moreover, the towers reach out to their environments by weaving an adaptive tensile network between buildings and urban scale elements, with the network consisting of nano-polymer membranes and solar cell-fitted ethylene tetrafluoroethylene (ETFE) acting as generators of green energy.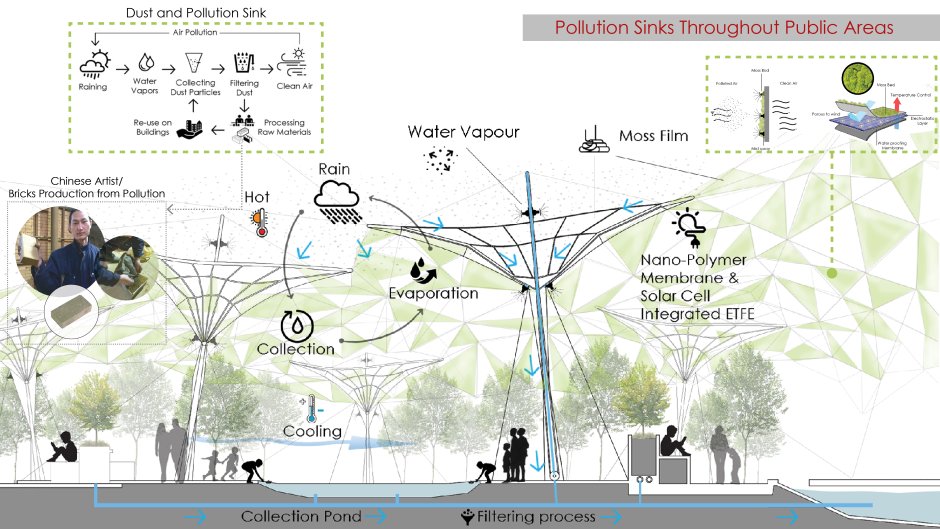 The nano-polymer membrane is planted with amphidium moss which is capable of not only consuming toxic gases such as sulphur dioxide or nitrogenous ones but can also digest fine particulate matter from the atmosphere. Bigger pollutant particles are accumulated and released during rainy days and collected through the urban 'umbrellas' installed throughout the site.
The tensile cable network is equipped to emit water vapour; a strategy used increasingly throughout polluted larger cities in China in order to bind with particulate matter suspended in the urban smog, thus acting as pollution sink.
The nano-polymer and solar cell-fitted ETFE membranes as well as the water vapour act as shading and cooling devices in regions of overheating on the façade of the towers as well as in the civic urban parks in between the buildings by reducing urban heat island effects, thus promoting clean air and more sustainable outdoor urban life for inhabitants and visitors alike.
story and images provided by Dr Chistiane M. Herr; edited by Danny Abbasi