A forum about the actuarial profession and industry was held at Xi'an Jiaotong-Liverpool University.
Professor Clifford Friend, director of Engagement and Learning of the Institute and Faculty of Actuaries (IFoA) and Wenli Li, lead representative in East Asia, visited and exchanged ideas with staff from the Department of Mathematical Sciences at XJTLU. Discussions focused on the curriculum of the BSc Actuarial Science programme with presentations and a panel discussion for XJTLU students also held.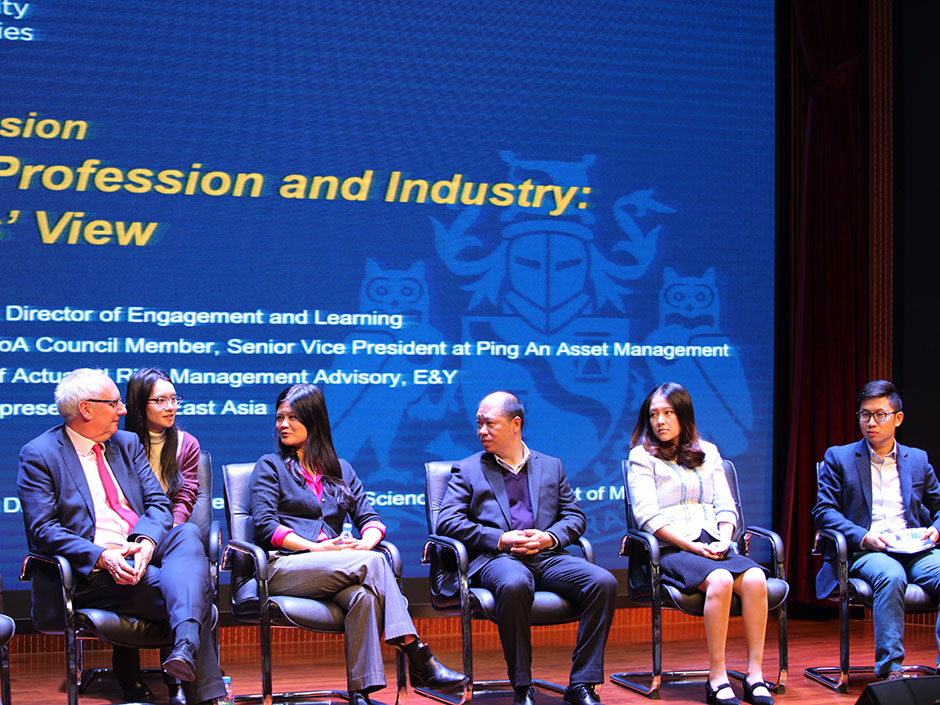 The event was hosted by Dr Lin Yang (pictured below right), programme director of the BSc Actuarial Science. Attendees included: Professor Chee Seong Chin (pictured below middle), dean of Learning and Teaching at XJTLU, Dr Fei Ma (pictured below left), acting head of the Department of Mathematical Sciences, Haijing Wang, head of Strategic Asset Allocation Department of Ping An Assets Management Co., Ltd. and Dr Ji Yao, director of Actuarial and Risk Management Consulting Services of Ernst & Young (China).
Professor Chin and Dr Ma introduced XJTLU's teaching mode, the teaching quality assurance system and the current development of BSc Actuarial Science programme.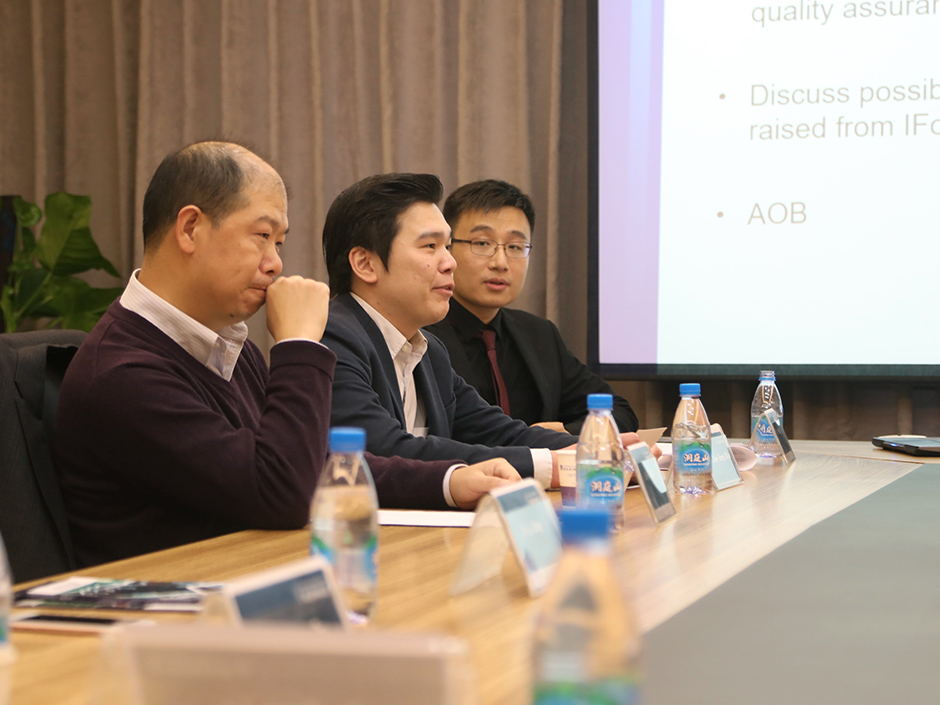 Professor Friend thought highly of XJTLU and said that the unique education system and characteristic teaching quality assurance system of XJTLU are of great significance to the standard of teaching quality.
Professor Friend (pictured below) delivered a speech to students titled: "How to become a Fellow of the Institute of Actuaries (FIA)". He gave detailed introductions of the IFoA's training and examination system, industry development and career planning for actuaries and also described daily work for actuaries.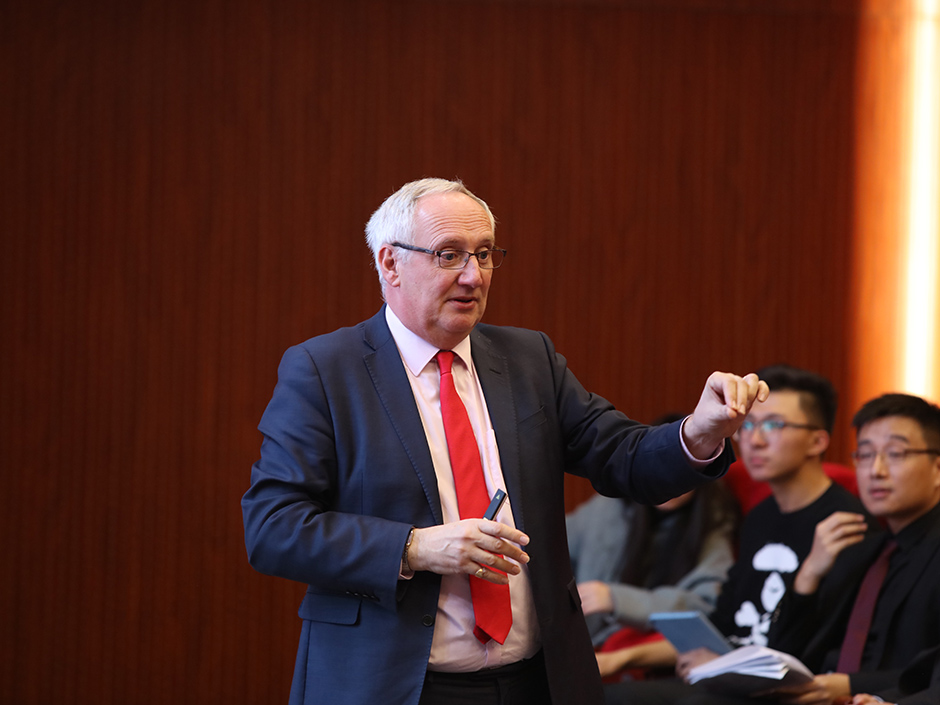 Professor Friend believes that the most important task of university students is to focus on studying professional courses in University. He also emphasised the importance of the "lifelong learning" philosophy promoted by the IFoA in the career development of actuaries.
"Being an actuary is not the ultimate goal. The vocational education system in the IFoA provides resource support and higher requirements for actuaries to continue to learn knowledge and skills in the workplace," he added.
Guests also gave detailed answers to questions from students such as career planning and what an actuary will do in their work.
Dr Ji Yao said that in the career development process, the actual work of an actuary will constantly change. "As your career progresses, you will have the opportunity to discover areas that you are good at and interested in, and you can continually deepen and expand your abilities, which are what makes the actuary industry special." said Dr Yao.
Haijing Wang and Wenli Li (pictured below) emphasised that actuaries not only need the professional knowledge of routine data analysis and modelling work, and that business sense, communication and analytical skills are also indispensable to their daily work.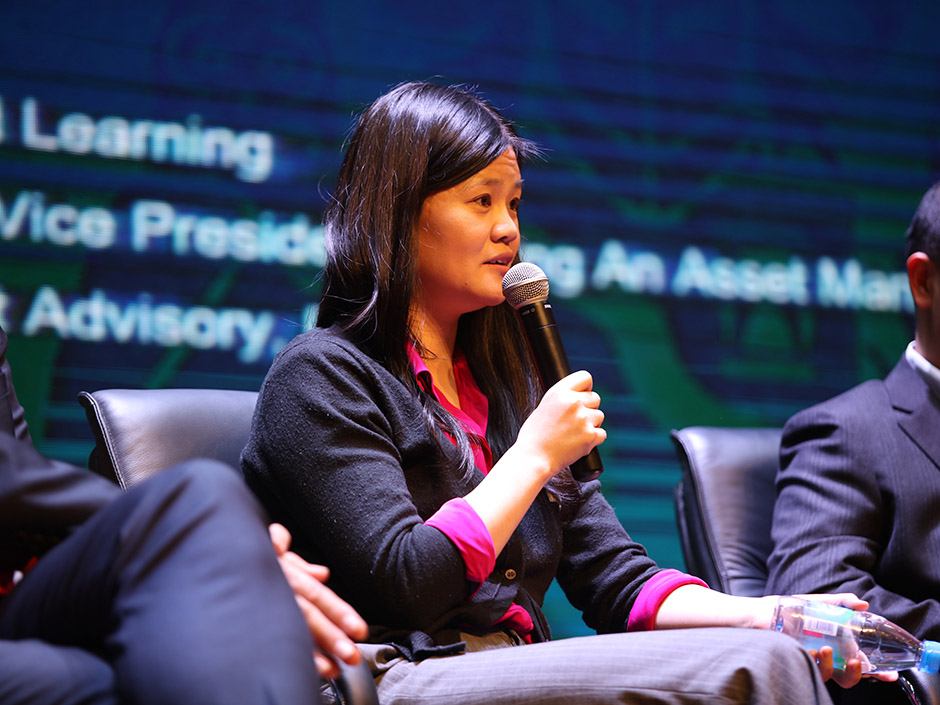 "Knowledge and skills are both important, you need to combine technical and intellectual abilities with communication skills and analytical skills," added Professor Friend.
Xiaolin Liu, Year Two student studying BSc Actuarial Science, has been preparing for the FIA examination, and found this event very helpful.
He said that the job requirements of actuaries was unfamiliar to people and even actuarial students, therefore the introduction from the experts gave him a deeper understanding of actuarial work and required skills.
"This forum helped me to understand the diversity of career options for the actuarial profession and I was inspired for career planning as well," he continued.
The event, held by the Department of Mathematical Sciences at XJTLU and IFoA, aimed to promote professional training and scientific research for actuarial talents and to deepen mutual understanding and connections.
According to Dr Lin Yang, students not only learned about cutting-edge trends in the actuarial profession but that they also received advice on career planning from senior actuaries.
Story provided by the Department of Mathematical Sciences, photos by Liping Tian
Translation by Qiuchen Hu, edited by Guojuan Wang and Jacqueline Bánki