"Our existing education system cannot meet future demands for qualified personnel, and there is an urgent need to change current educational concepts and to reshape teaching methods and educational processes," said Professor Youmin Xi, executive president of Xi'an Jiaotong-Liverpool University, at the 2017 Annual Conference of China's Artificial Intelligence Industry.
Deyi Li, chairman of the Chinese Society for Artificial Intelligence and a member of the Chinese Academy of Engineering, said education ranks second in the industries most affected by AI.
In his keynote speech entitled 'Higher Education in the Age of Artificial Intelligence,' Professor Xi addressed future talent demands and the trends and challenges faced by higher education. He also shared what XJTLU was doing to train the talents of the future.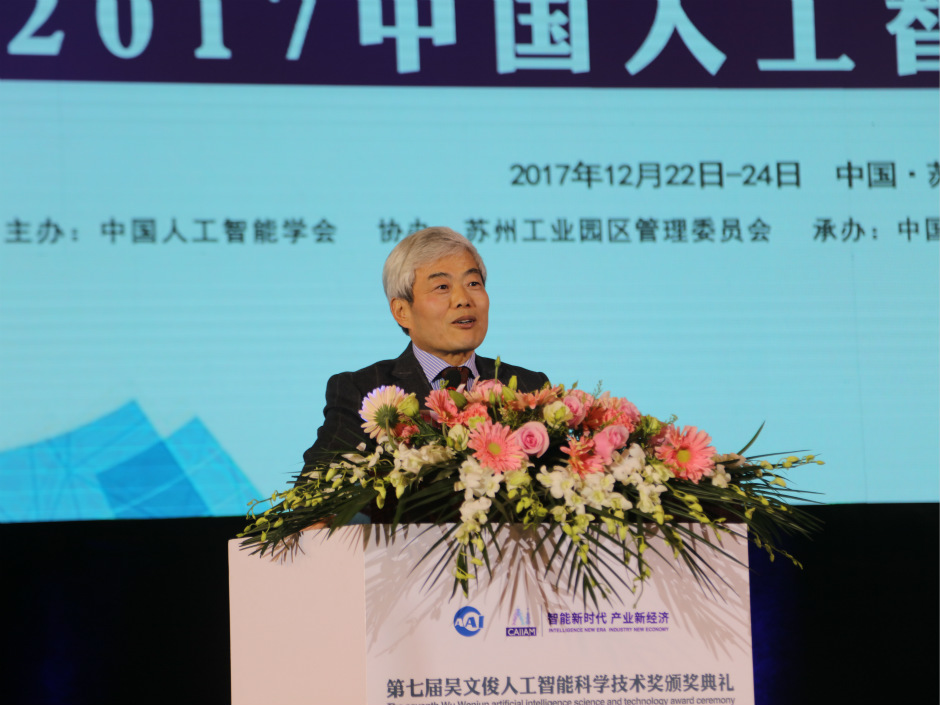 He first analysed four major characteristics of the future: uncertainty, ambiguity, complexity, and variability. Based on these trends, he further elaborated that future talents should become 'global players':
"In our future society, which will be in an uncertain, complex, ambiguous and variable world, people's careers will be like crazy bulls," he said. "The future talents, the 'global players', will be like skilful riders on the bull's backs."
"Set your foundation as the accumulation of knowledge," advised Professor Xi. "If you are able to create and innovate, have well-rounded knowledge and capacities, wisdom, are good at managing change, and can exhibit leadership with international and transcultural perspectives, then you will thrive in the survival game of the future and become a global player riding on the bull's back," Professor Xi continued.
Regarding how to train global players, Professor Xi said: "In the future population structure, about 10 percent will be specialised elites and approximately 20 percent will be industry elites. As educators, we need to form different educational models for different types of students."
On the basis of the present professional elite training model, XJTLU is exploring the training of future industry elites and leaders through Syntegrative Education, which Professor Xi introduced as follows:
"We will integrate general education, professional education, industrial education and management education; as well as studying, internships, and entrepreneurial training; we will bring together universities, enterprises, industries and society at large to create and share a new value chain. The result will be the syntegration of learning, research, training, entrepreneurship and business: the Syntegrative Education model."
As a part of Syntegrative Education, XJTLU is planning to build a new campus in Suzhou, 'Entrepreneur College at XJTLU', to explore new forms of higher education.
XJTLU will also work with local government and enterprises to create an 'Innovation and Entrepreneurship Community', which will further utilise the function of universities as a means to deploy social resources and promote social innovation and sustainable development.
"To influence a generation through education, to propel technological advance through research, and to improve society and culture - that's the significance of universities," added Professor Xi.
The seventh Wu Wenjun Artificial Intelligence Science and Technology Award Presentation Ceremony and the 2017 Annual Conference of China's Artificial Intelligence Industry were held in Suzhou.
Wu Wenjun Artificial Intelligence Science and Technology Award is the highest science and technology award in the field of artificial intelligence, named after one of the first Highest Science and Technology Awards winners, the late academician of the Academy of Sciences, Wu Wenjun. The award was established to encourage and promote the development of China's artificial intelligence industry.
By Luyun Shi, photos by Liping Tian
Translation by Boqiang Xiao, edited by Guojuan Wang and Danny Abbasi