Two Final Year projects of Xi'an Jiaotong-Liverpool University graduates have been awarded the 'Excellent Final Year Project' prize of Jiangsu Province in 2017.
Chuyi Yuan and Shaokang Li, who graduated from the programmes BSc Information Management and Information Systems and BEng Architecture respectively, received first and second prizes for their Final Year projects among thousands of research papers presented from students at universities and colleges in Jiangsu Province.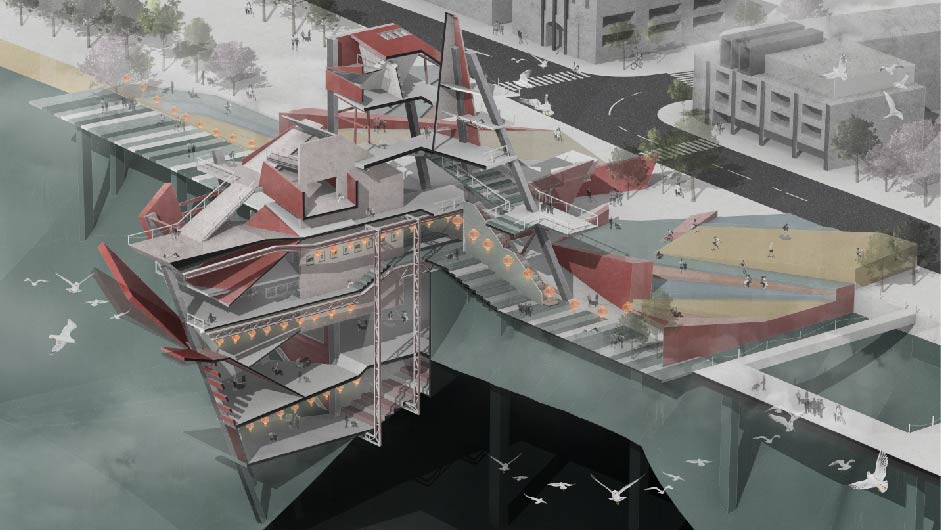 (A sectional perspective view of designs from Shaokang Li's paper 'A Palimpsest of Old Shanghai')
Chuyi Yuan finished her paper under the supervision of Dr Halis Sak from the International Business School Suzhou at XJTLU. Her paper, titled 'An Empirical Test of Asset Pricing Factor Models in China Stock Market', focused on asset pricing in China stock markets.
In her research, she used the programming language Python to analyse the latest market statistics. This action realised the application of the already recognised mainstream pricing-factor model in China stock markets.
She also compared what she found from the China stock market and the explanatory power of the pricing-factor models with those based on the American stock market and explained about their differences.
Her supervisor Dr Halis Sak commented: "Chuyi has spent lots of time and energy on learning new knowledge and skills to finish this project. She read over 75 pieces of classical and current literature related to asset pricing. Not only has she learnt Python but she has also attended the asset pricing lessons of the University of Chicago via the internet.
"In addition, she developed and programmed all the asset pricing models by herself instead of using the existing Function Library, as it would have limited her understanding of asset pricing."
This project applied asset pricing models to the explanation of excess return in the China stock market, and facilitated understanding of the general and special rules of the the China stock market. It can also act as a reference for asset management industries in the construction of asset portfolios.
Shaokang Li finished his paper under the supervisions of Dr Claudia Westermann and Dr Aleksandra Raonic from the Department of Architecture at XJTLU.
His paper, titled 'A Palimpsest of Old Shanghai', attempted to probe into the different possibilities of new-era historical and cultural architecture in the 21st century.
His inspiration came from the Fun Palace Futures put forward by architect Cedric Price and artist Joan Littlewood. These two people came up with the philosophical and experimental concept of the different possibilities of future architecture. As an architect, Shaokang was thinking about the possibilities of architecture in 20 to 30 years.
Shaokang aimed to re-explain and re-define the development and design of Fun Palace Futures in Shanghai, which has a cultural and historical background of being an International metropolis, and therefore he could develop a new concept of cultural architecture that suits the city of Shanghai.
Dr Claudia Westermann said she was impressed by the complexity of the construction scheme and exquisite models and drawing in Shaokang's FYP.
Shaokang's project focused on people's feelings and experiences, which was designed to rouse people's memory of the culture and history of old Shanghai as well as inspire the expectation of people for social culture in the future.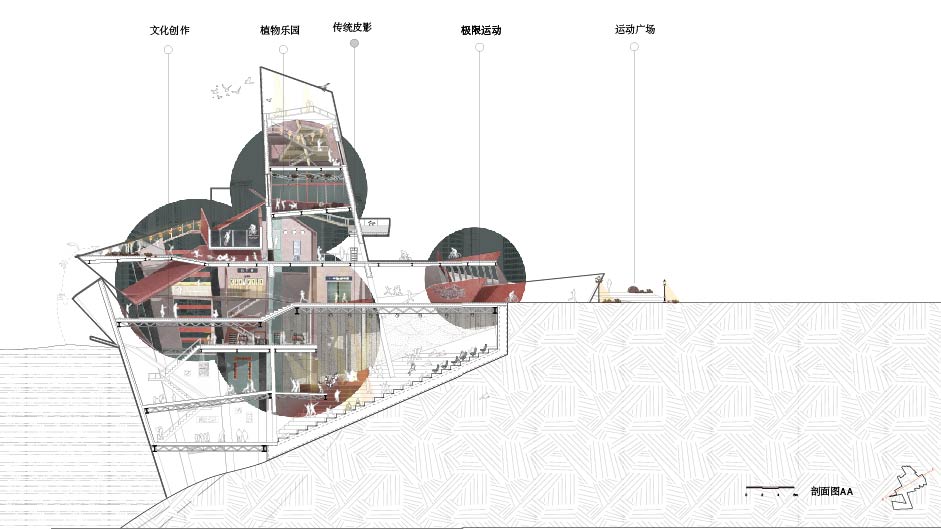 (This design provides a place for people to conduct different activities)
His design provided a place for people to conduct different activities, including reading, mediation, performing, exercising and the close communication with other people and nature.
With the endless mirroring in this project, the memories and scenes of old Shanghai appear one by one as fragments, and therefore the past, the present and the future merge into one.
The assessment and selection of excellent FYP from colleges and universities in Jiangsu was organised by the Jiangsu Provincial Department of Education. The prize aims at strengthening the quality of teaching and education and making full use of FYPs as an importance step in enhancing the well-rounded qualities, innovative awareness and practical abilities of students.
By Bo Kou, photos provided by Shaokang Li
Translation by Guojuan Wang and Boqiang Xiao, edited by Jacqueline Bánki and Danny Abbasi