Projects designed and produced by Year Two students from the Department of Electrical and Electronic Engineering at Xi'an Jiaotong-Liverpool University were displayed in a recent exhibition.
After the primary selection, 16 student groups were chosen to participate in the exhibition. The works they displayed were a combination of creativity and high quality, being not only bold in design, but also highly practical and useful in solving specific problems in daily life.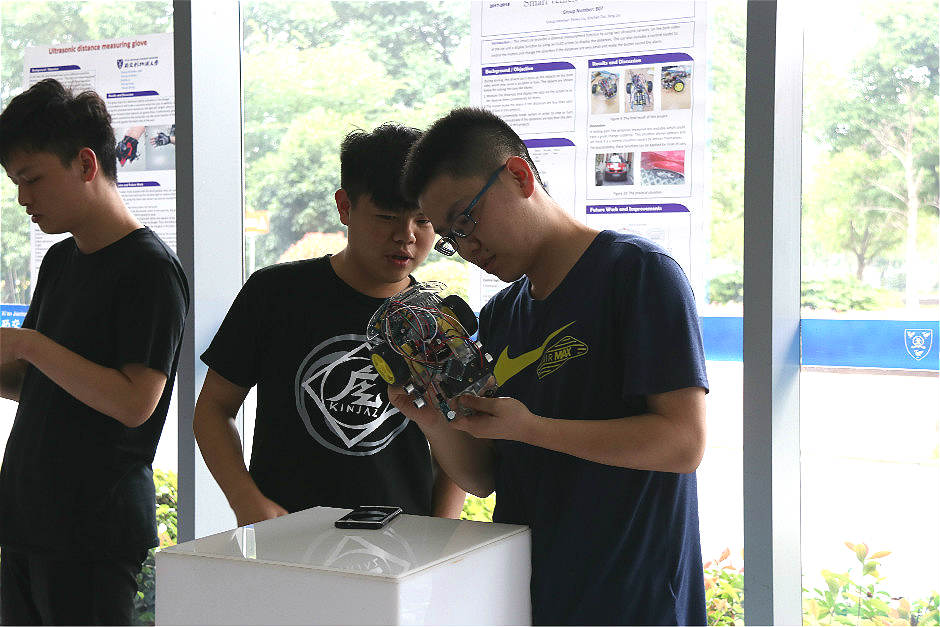 This event attracted more than 200 faculty members and students, who exchanged their views about design concepts and voted to select excellent works.
The projects were completed as an assignment for the module 'Experimental, Computer Skills and Sustainability', which required students to use Arduino micro-controllers together with other sensor modules. This was also a good opportunity for students who were innovative, full of bold ideas, and willing to experiment to demonstrate their creativity and operational ability.
Yutong Zheng, a Year Two student on the BEng Electronic Science and Technology programme, was one of the designers of the small drawing board showing in the picture below.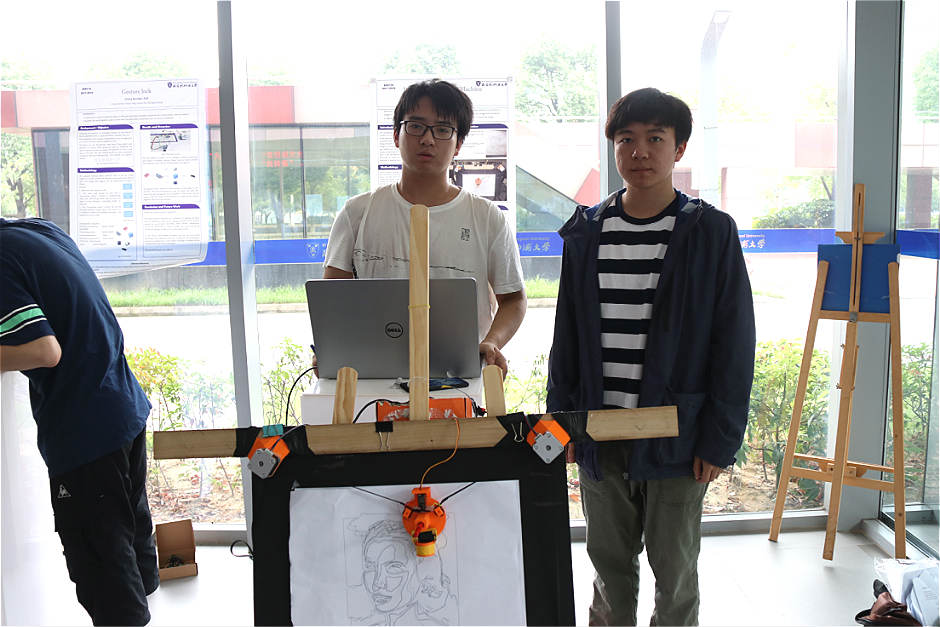 "Our designed work is called the 'Conical Curve Graffiti Machine'," Yutong explained. "To put it simply, this machine controls a suspended pen with a conveyor belt and a step motor to make it draw regularly."
"The biggest fun in designing the product was when I saw the machine draw pictures as humans do, turning virtual things into actual reality," he said. "Although compared with the high-definition images on our computers, the picture produced by the machine was more like a naïve attempt, but this whole process gave us a sense of achievement."
Programme director Dr Yang Du said:
"The task involved collecting ideas, designing mechanical devices, setting up sensors, designing electrical circuits, intersection design, and programming. It was the first time the students applied their knowledge of electrical circuits and programme design learned in-class to a complete project.
"Furthermore, they also learned a lot of extracurricular knowledge by themselves in order to realise their ideas," he added.
Pinzhi Ni, another Year Two student from BEng Electronic Science and Technology, introduced a robot that looked like a giant spider (pictured below).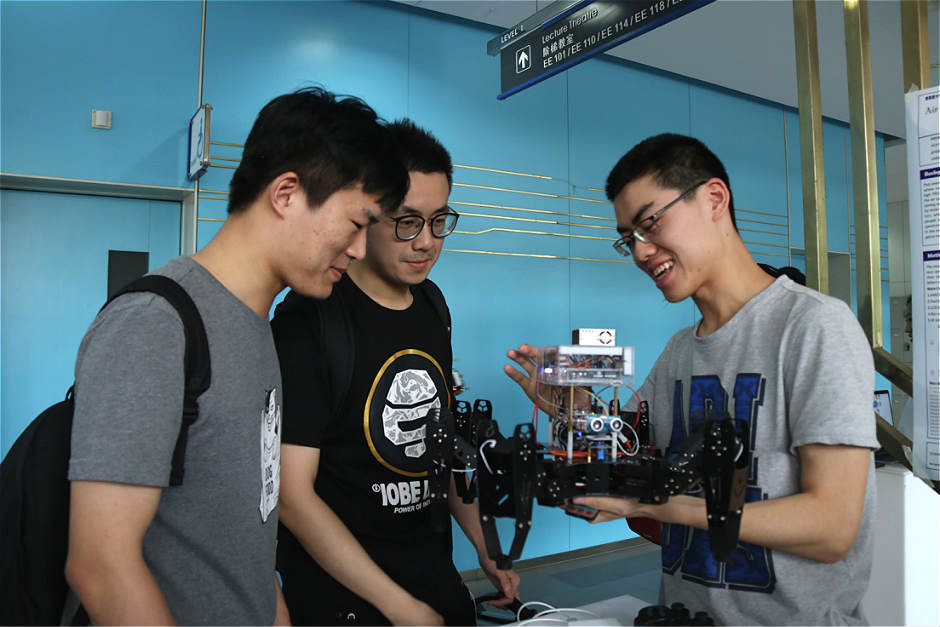 According to Pinzhi, this was a remote control robot with an air quality sensor, which can adapt to complex terrain and conduct inspections in dangerous areas in place of human beings. "For instance, if there is a nuclear leak somewhere, people can operate the robots equipped with Geiger Counters to enter the radiation area," said Pinzhi.
Dr Yang Du said: "This is not the first time that we have organised this kind of exhibition. Every year we see novel and remarkable ideas from students' sparkling thinking. Even though there is still much to be improved in many of the products, such as the appearance and reliability, and some even fail to achieve the intended functions, this meaningful experience enables the students to get a picture of the process of designing and building electronic products."
"More importantly, they have truly put the knowledge and skills they have learnt into practice, which lays a solid foundation for their future career as real engineers."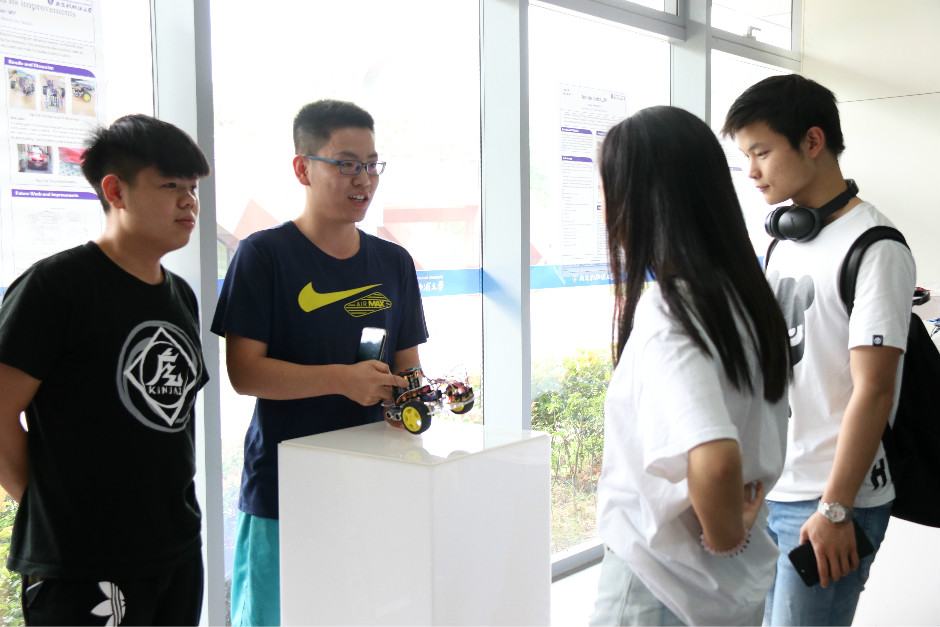 Professor Kaizhu Huang, head of the Department of Electrical and Electronic Engineering, said: "This event can be seen as an attempt by our Department to implement Syntegrative Education."
"One of the features of engineering disciplines is their focus on practical applications," he continued. "Therefore, in the future, we will consider making full use of our cooperation with industry, and invite experts in this field to give more professional instruction to our students, in order to help them turn their ideas into reality."
By Sihan Liu, photos by Yuanyuan Du
Translated by Yiling Yu and Qiuchen Hu; edited by Danny Abbasi