The results for the Mathematical Contest in Modelling and Interdisciplinary Contest in Modelling 2018 have been announced, with student teams from Xi'an Jiaotong-Liverpool University achieving great success.
Three teams from XJTLU won the Meritorious Winner Prize and 20 won the Honourable Mention Prize.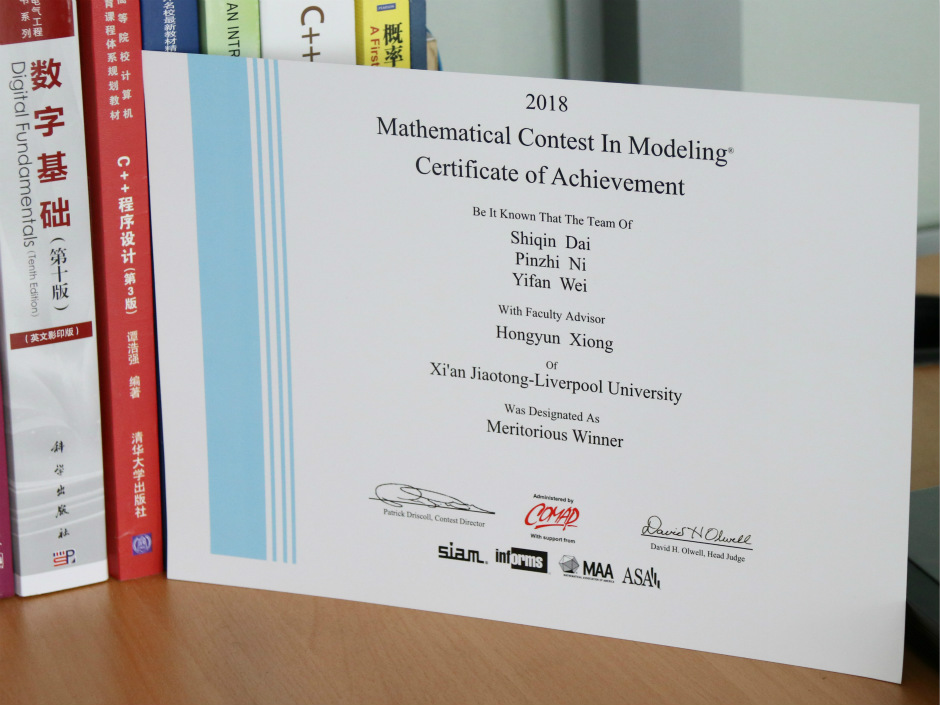 Organised by the Consortium for Mathematics and Its Applications, MCM/ICM is the world's most important and influential contest in mathematical modelling. This year, 10,670 teams from all over the world participated in the contest.
Year Two students Yifan Wei from the Department of Computer Science and Software Engineering, Shiqin Dai from the Department of Mathematical Sciences, and Pinzhi Ni from the Department of Electrical and Electronic Engineering, formed a team to enter the contest and won the Meritorious Winner Prize. Professor Hongyun Xiong from the Department of Mathematical Sciences served as the advisor for this team.
The contest requires teams of three undergraduates to work on an assigned problem and finish within four days, including establishing a model, seeking a solution, testing, and writing a paper about it.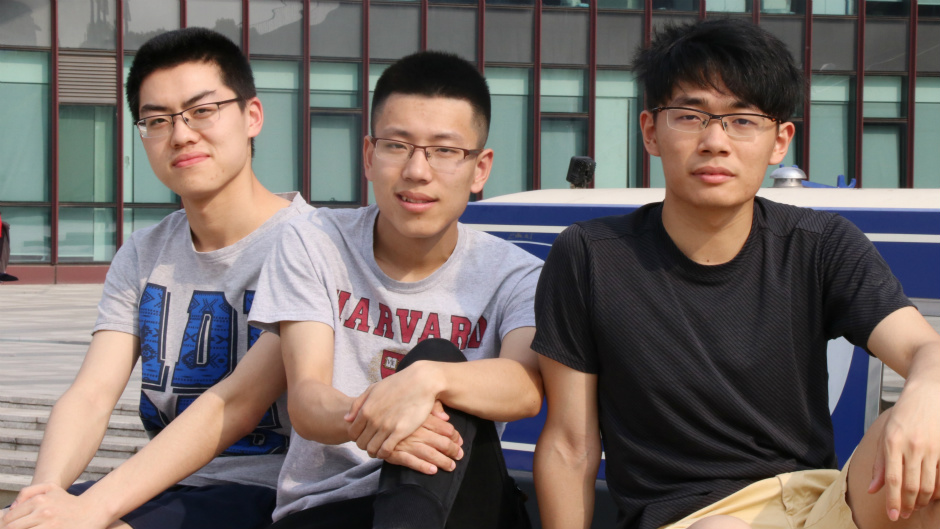 According to Shiqin Dai (pictured above, centre), participants should use mathematical models to solve the problem in an innovative manner, and produce a convincing scientific paper:
"We have to propose our own plan first and then justify it," he said. "We will mainly make use of mathematical tools, advanced algorithms, and statistical models."
Shiqin and Pinzhi Ni (pictured above, left) had previously teamed up and participated in the contest during their first year at XJTLU. To them, behind the four-day-long contest, there is actually a long-term process of study:
"When we first started to learn modelling, we had no idea what to do. But then at some point, inspiration suddenly hit us," said Pinzhi.
Pinzhi believes that, apart from their solid grasp of the basics of mathematical modelling, teamwork among the three members was equally crucial in order to score well in the contest:
"The three members should each play different roles, one in charge of the overall parts while another in charge of the details, so that the team can achieve the optimal result within the least time," added Yifan Wei (pictured above, right).
"To win the contest is a result of a daily accumulation," he continued. "Many incidents may occur during the contest, and you have to try your best to handle them. For example, you may get stuck by some difficult problems, and whether you skip them or try solving them is one of the challenges you face."
According to Professor Jingming Guo from the Department of Mathematical Sciences, mathematical modelling is an important milestone in the reform of mathematical teaching which bridges the gap between mathematical theories and practical applications:
"Actually, mathematics is quite abstract and can seem quite set apart from practical applications, so it can be hard to get students interested in it," said Professor Guo.
"However, mathematical modelling covers a lot of knowledge, and it can improve students' awareness and capability for solving practical problems with mathematics. Even if one does not achieve a good command of mathematical modelling, any knowledge of it at all will bring lifelong benefits," he said.
By Yingzhou Liu; photos by Yuanyuan Du
Translated by Yiling Yu; edited by Guojuan Wang and Danny Abbasi