An international expert on internet governance and digital policy called for a global conversation on managing the intersection between technology and humanity during a public lecture at Xi'an Jiaotong-Liverpool University this month.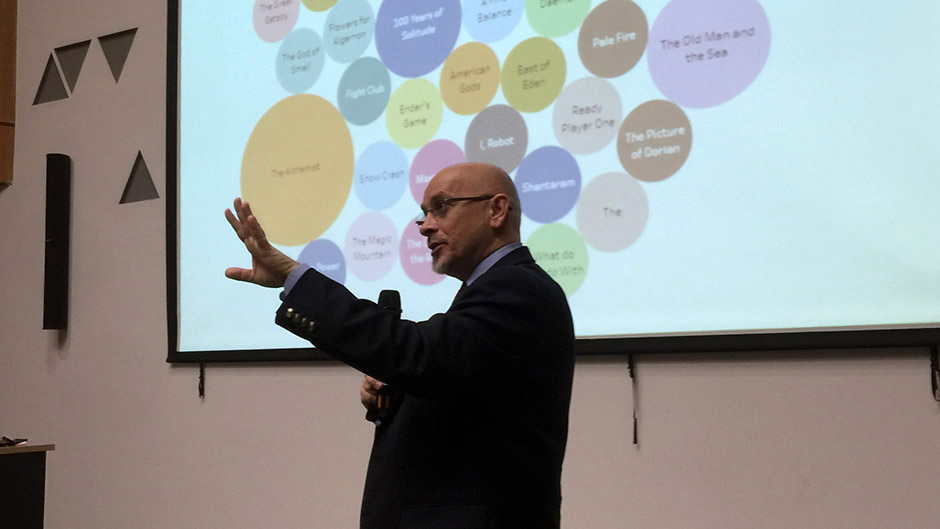 Professor Jovan Kurbalija (pictured above), who is the Secretariat of the United Nation's High-level Panel on Digital Cooperation, delivered the lecture 'Digital Cooperation for Inclusive Economy and Society' as part of a research lecture series presented by the XJTLU School of Film and Television Arts (SoFTA) in collaboration with the School of Communication at Soochow University.
Professor Kurbalija, who is the founding director of DiploFoundation and the head of the Geneva Internet Platform, asked the audience to consider their role in the future of technology development.
"What we do next, in terms of creating robust international digital policies, will affect everything – from our careers to our ways of understanding happiness," he said.
"What kind of social contract do we need to develop? Will technology serve us or will we serve it?"
The lecture is part of Professor Kurbalija's international tour as he delivers on his remit as a member of the UN Panel to contribute 'to the broader public debate on the importance of cooperative and interdisciplinary approaches to ensure a safe and inclusive digital future for all'.
Professor Kurbalija said it was important for people from around the world to be part of the conversation about our digital future in what he says is an 'axial' – or fundamental – point in society's development.
"The negotiations being done now will shape our political, economic and social life," he said.
"What we are trying to do is engage a public debate so that we can lay the foundations for our future.
"Governments, businesses and citizens across the globe are looking for the right balance between technological innovation and the progress of humanity. We need to focus on making sure humanity remains part of the solution."
SoFTA lecturer Dr Yik Chan Chin said XJTLU students benefitted greatly from this kind of exposure to international experts.
"Professor Kurbalija's lecture provided us with an understanding of the important economic, social and political issues that have arisen from the rapid advancement of digital technology from both historical and international perspectives," she said.
"His lecture plays an important role in providing our students with an international education, giving them insights into the fundamental issues facing our society not just locally, but globally.
"Professor Kurbalija urged us to be fully aware of the issues and consequences related to our daily use of technology, including personal data protection and data ownership, security of and trust for technologies, and the empowerment of end users in facing corporation domination.
"Most importantly, he challenged students to reflect on the crucial question – should we hand the power of moral decision making to machines and technology, or should we retain our human autonomy?"
By Rosanna Galvin