Xi'an Jiaotong-Liverpool University's Dr Juann Hung was invited to join a panel discussion on the 2018 Global Gender Gap Report at the Ladies Who Tech convention in Shanghai last month.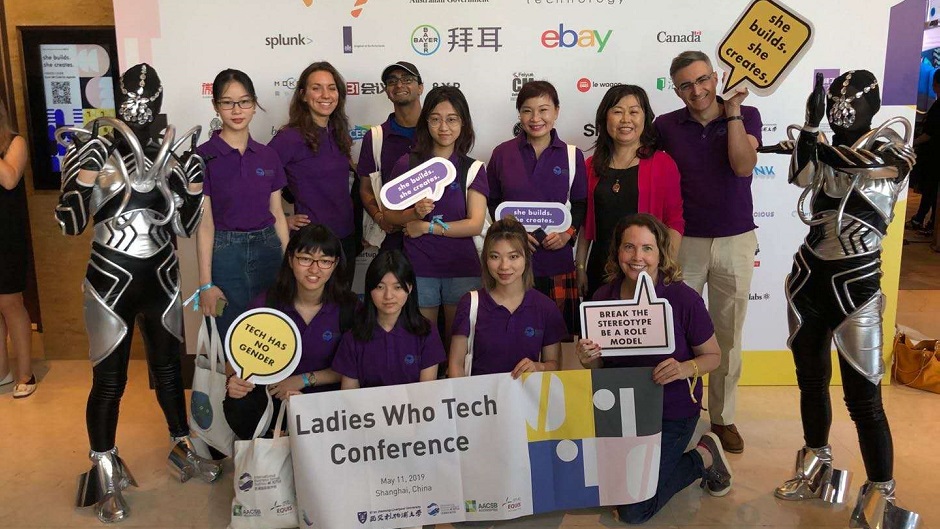 Among the convention's audience were students and staff from four XJTLU departments (pictured above), who were invited to attend by Ladies Who Tech's co-founder Charlene Liu. Liu delivered her own inspiring speech on gender equality at the University's Women's Day Forum earlier this year.
A Senior Associate Professor in economics at XJTLU's International Business School Suzhou (IBSS), Dr Hung's career path has seen her push the boundaries in a field traditionally dominated by men. Before moving to academia, she was the lead international economist at the United States Congressional Budget Office.
During the panel discussion, Dr Hung drew on examples from both her professional field and her personal experiences. She stressed that while the women's movement has made great progress in recent decades, there is still a long way to go.
"As we move into the era of artificial intelligence, it's essential that we as a society are having inclusive discussions as we explore the complex, sensitive and ethical issues arising in this fast-paced, technology-driven age," Dr Hung said.
"While we are almost at parity globally with educational attainment, the gap is still very large in terms of economic and political participation.
"In the short-term, while many obstacles remain to reach gender equality across the board, we must take hope in the long-term trend we are seeing – gender equality is inevitable and will be good for the world."
A mother of daughters herself, Dr Hung also noted the importance in leading by example and empowering women in every corner of society.
"For my own daughters, I strived to provide an environment – at home and at school – where they could see themselves as equal and that they felt like they could achieve anything," she said.
"Everyone has a role to play in achieving gender equality – if you are a parent, a mentor, an educator, a CEO in company, male or female, you can act now by involving women, supporting women, and including women in the conversation at all levels, in every room, in every company."
Dr Hung said she was honoured to participate in the Ladies Who Tech convention, of which IBSS was an official partner. She said the atmosphere at the convention was energetic and feedback from XJTLU participants was positive.
Dr Hung's own passion lies in policy analysis and finding out how economic policies can be improved for the betterment of society. She chose to move to China to work at XJTLU in 2014 in a bid to reconnect with her Chinese roots and better understand the policies behind the country's rapid economic development.
By Rosanna Galvin