Xi'an Jiaotong-Liverpool University students had the chance to learn from the winner of the 2018 Pritzker Architecture Prize – sometimes called "architecture's Nobel" – during a workshop held on campus this month.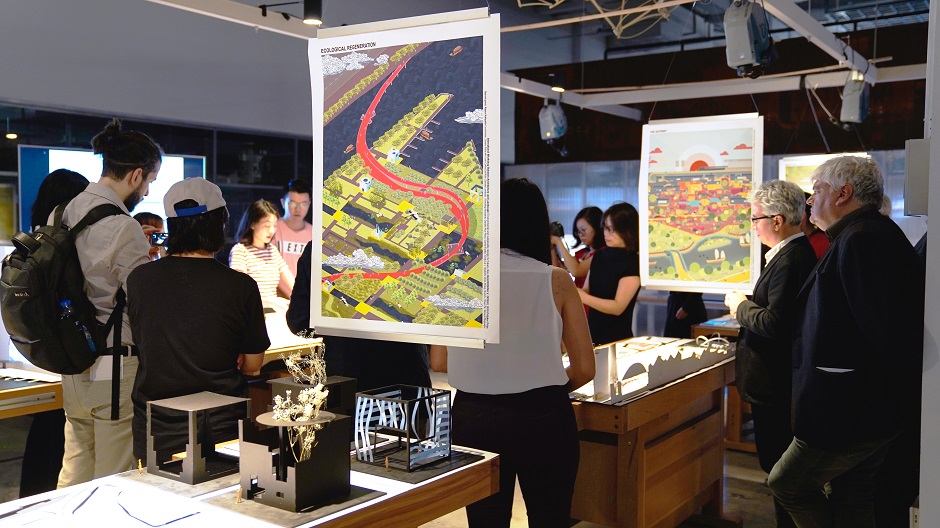 From June 10-18, architecture students were taught by an interactive video lecture from world-renowned architect Balkrishna V. Doshi and received hands-on guidance from Rajeev Kathpalia, pictured below, a partner in their firm based in Ahmedabad, India, to create design proposals for an underutilised site in Suzhou.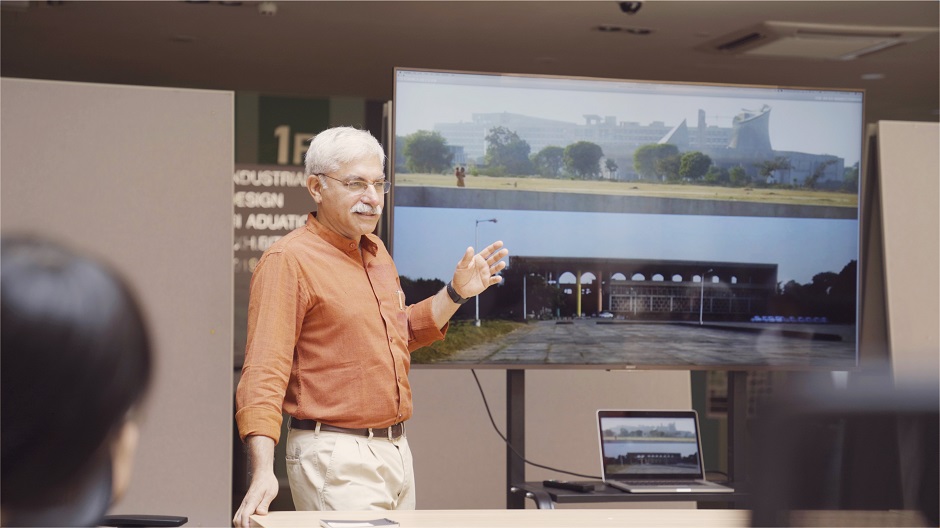 Six student teams considered Doshi's philosophy in imagining their own project proposal on a site that sits between the Suzhou Railway Station and Suzhou's Old Town with canals running through its centre.
The Doshi approach calls for the architect to carefully consider the people who will use the space and to do so in an inclusive manner, according to the students who were part of the workshop.
"Doshi taught us that architecture is like a celebration of life," said Master of Architectural Design student Ran Zhang, pictured third from the right, below.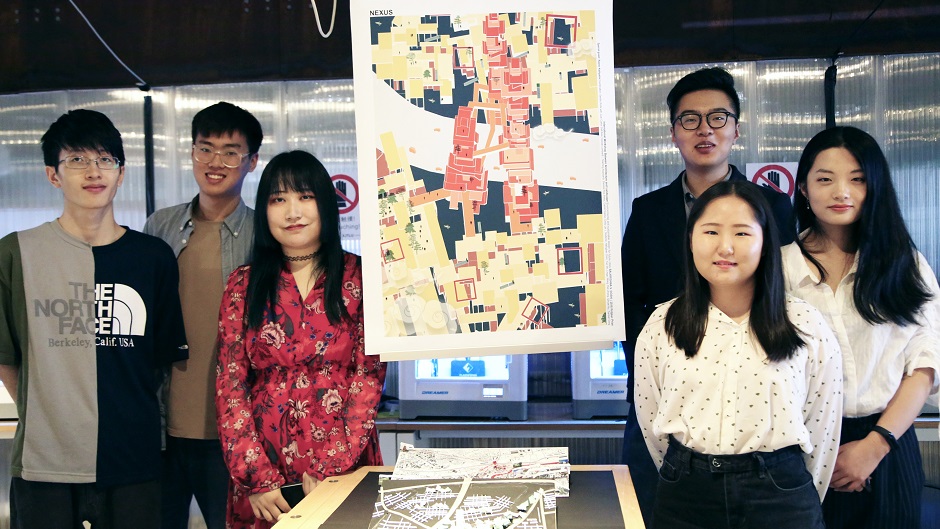 "You need to imagine what kind of life people could have in this place, what beautiful memories could be created there."
"The project we designed is for all people to enjoy, whether rich or poor," added Master of Architectural Design student Taintian Dong, pictured right, above.
Year Three architecture student Dongjie Ma, pictured right, below, said Doshi and Kathpalia taught the students to observe current life in the site as part of this approach.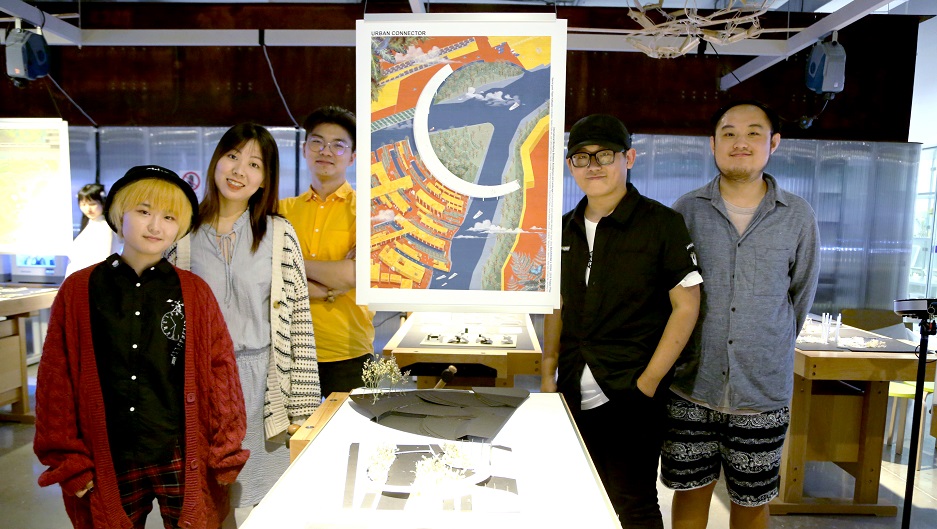 "When you learn what people are doing there, you develop an image in your heart that you use when creating your project," Ma said.
Students imagined a variety of ways for people to use the space.
Master of Architectural Design student Tshering Yangzom, pictured second from the left (back), below, noted that her team considered travellers using the railway station.
She explained that her team envisioned their project as a gateway, not only because of its location between Old Town and the new part of Suzhou, but also because railway travellers are either arriving to or leaving from the city.
"If railway travellers are coming to Suzhou, this site is the first stop of their experience. If they are departing, it will be their farewell glimpse," she said.
"The lives of people who would be using the space informed our design, leading us to include a short-stay hotel, a bazaar, and a Suzhou Kunqu opera in our project proposal.
"We thought about how if we had to wake up to take a train at 6 a.m., we would rather stay nearby in a space that provides a welcoming experience of Suzhou.
"The bazaar can be used by both visitors and locals, and would not only sell authentic handicraft items, but include a workshop space so people could make traditional handicrafts they could take home, like the silk items Suzhou is so well known for and Suzhou snacks.
"The Suzhou Kunqu opera is said to be the mother of Chinese opera. Our design uses the traditional arrangement of pavilion, stage, water element and audience area. The pavilion would be a floating platform from where people could see views of the city."
Ma said his team's project includes a port because of Suzhou's rich history using boats.
"We want to make this form of transportation great again," he said.
"Because most people coming from the railway station are visitors to Suzhou, we want to connect them by water transportation to other tourist sites."
Zhang said his team's project would link people with both Suzhou's traditional and modern ways of life.
"Our idea was to connect the old and new and enable a visitor to participate in local life," he said.
"We want to create a platform for public space that crosses the canal. The platform's design is based on the horizontal levels of a pagoda, but the shapes of the layers are inspired by the famous old Suzhou roof horizon.
"Water is important in our design. People can experience the water in boats on the canal and, like in Venice, walk up stairs to buildings from the water."
The student groups used Doshi's method of creating colourful images (below) to represent their projects. Kathpalia explained that in India, their culture uses a lot of colour.
"If you look at traditional Indian miniature paintings, they are full of colour," he said.
"Inspired by these paintings, Mr. Doshi came up with the idea of explaining our works as images.
"If you encapsulate an idea in one poster or one piece of art, that changes the way you think about the world and connects you to elements of your project you never imagined."
The workshop, titled 'Between Architecture and Landscape', was organised by the XJTLU Department of Architecture and the Vastu Shilpa Foundation for Studies and Research in Environmental Design, Ahmedabad, India. It is part of a series of workshops in which students work with leading architects from across the globe.
Sandro Rolla, Dr. Juan Carlos Dall'Asta and Dr. Davide Lombardi coordinated the workshop on behalf of the University's Department of Architecture.
Some of the students will travel to India next academic year to continue learning from Doshi and Kathpalia.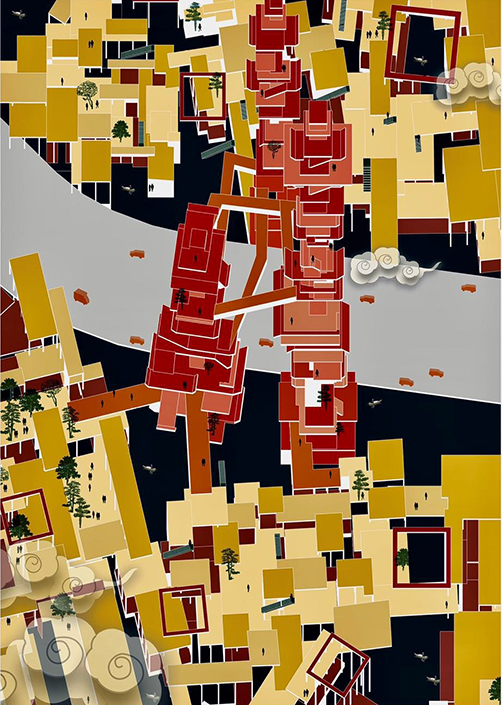 Above: Nexus
Students: Menghan Chen, Yue Shi, Lingyu Wang, Ran Zhang, Qixuan Hu, Tiantian Dong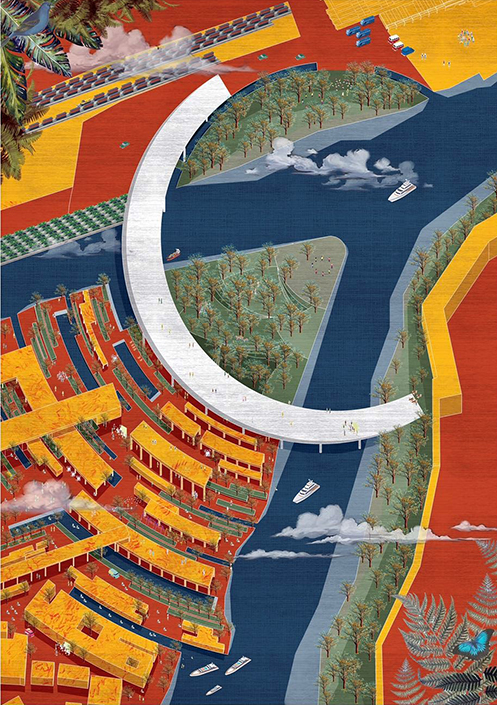 Above: Urban Connector
Students: Menghan Lu, Qianru Li, Kefei Qiao, Dongjie Ma, Jiazheng Liu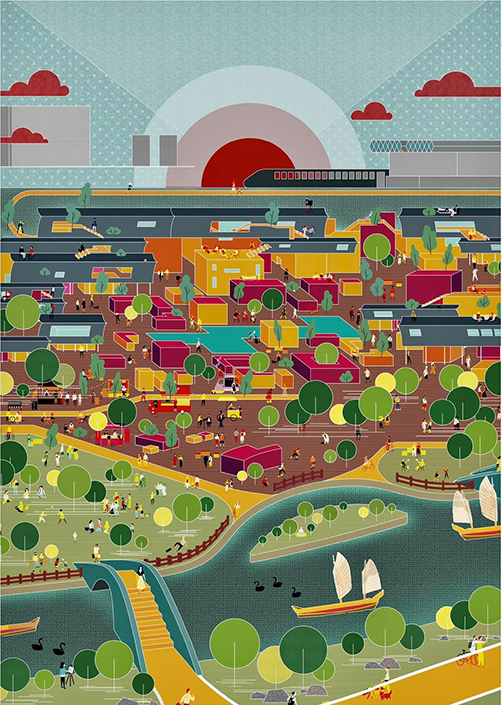 Above: The Gateway
Students: Simeng Zhu, Xiaoxuan Zhang, Haoning Zhang, Xinping Jiang, Yichang Liu, Lihan Huang, Tshering Yangzom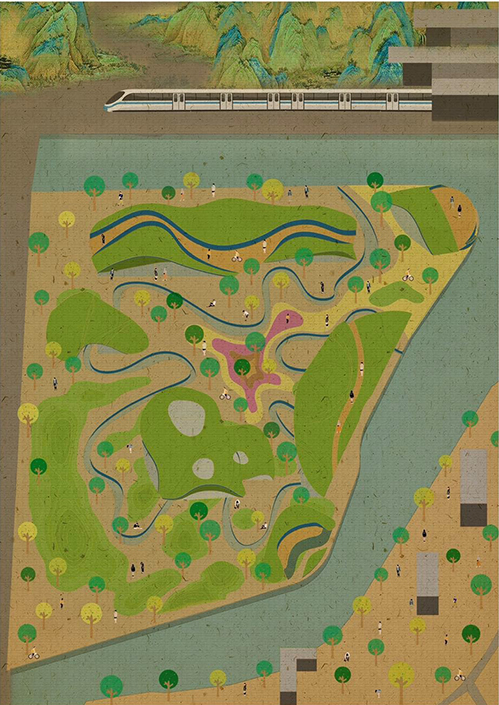 Above: Artificial Landscape
Students: Xiying Chang, Yi Jiang, Dexin Li, Jiaye Yang, Lingke Zhang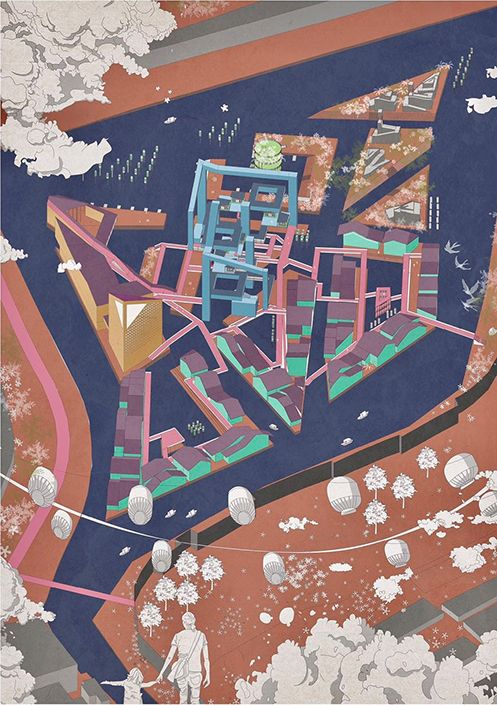 Above: Aquatic City
Students: Ren Chenjia, Xiao Yixin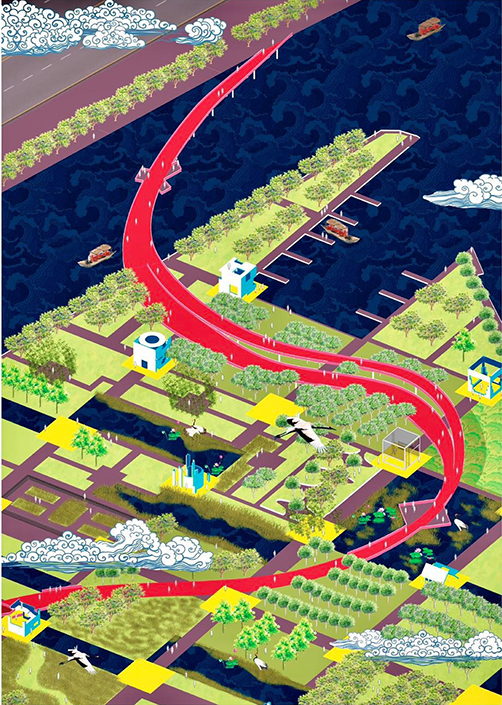 Above: Ecological Restoration
Zhao Zhang, Shuqi Li, Shuyu Ni, Telmuun Magsarjav
By Tamara Kaup; photos by Chenxu Zhao