An engineering student from Xi'an Jiaotong-Liverpool University has been recognised by a leading international professional body, the Institution of Engineering and Technology (IET).
Year Four Electrical Engineering student Minsu Bang (pictured below) won the IET Prize, which is awarded annually to outstanding students who are completing a course of study which has been accredited by the IET.
Prize winners are nominated by their university based on having shown distinction in their course leading to the award of a first degree.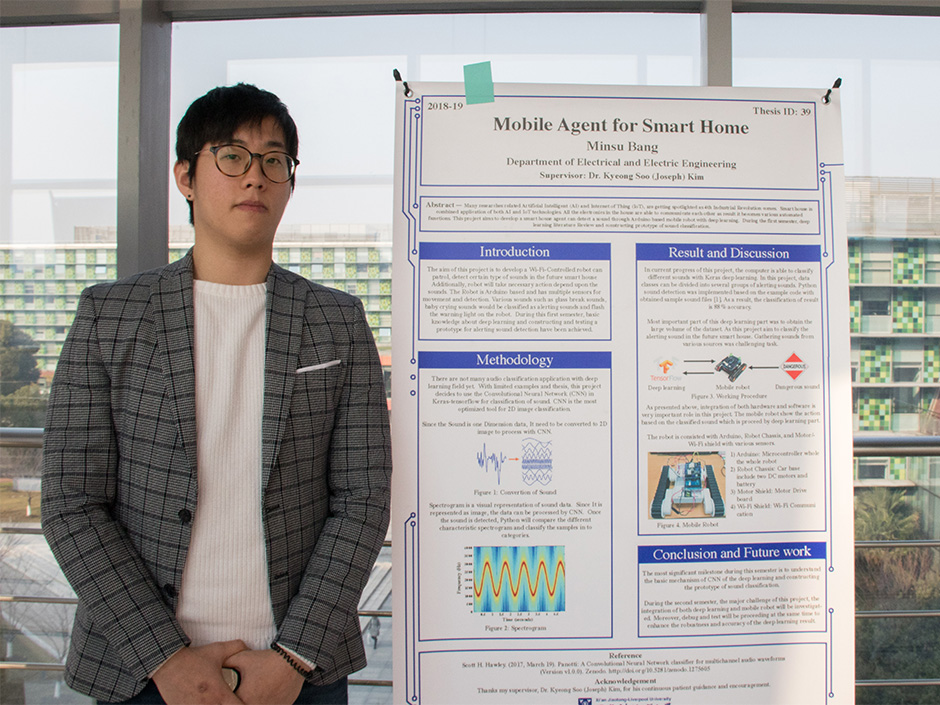 The prize follows Bang's Best Poster Prize win at last year's XJTLU Department of Electrical and Electronic Engineering final year project poster event. In his poster project titled 'Mobile Agent for Smart Home', he proposed the use of a intelligent device capable of alerting smart home owners of dangers using sound recognition technology.
"A product of the Internet of Things, a smart home is capable of self-regulating to save energy and reduce running costs – it's highly possible that it'll have a place in the market in the next ten years," he said.
"In my final year project, I proposed adding an intelligent mobile agent that could serve a smart home, capable of monitoring the home and informing the owner if there was an unusual noise like glass breaking or a baby crying."
According to Bang, artificial intelligence systems in the mobile agent can distinguish between different sounds by transforming them into spectral images and observing their characteristics in order to define whether a sound indicated danger.
IET president, Mike Carr said the IET Prizes are a way for talented engineering students to be recognised for their outstanding ability in the early stages of their engineering journey.
As part of his prize win Bang will receive a certificate and two years free membership of the IET.
By Rosanna Galvin and Siyun Liu, translated by Xiangyin Han