Detectives once pinned pictures linked with string on an evidence board to help them visualise their cases. Today, computer software enables detectives to analyse case information in increasingly sophisticated ways.
Detectives in China will benefit from emerging technologies in a new computer software system being developed by Dr Gangmin Li of Xi'an Jiaotong-Liverpool University's Department of Computer Science and Software Engineering and a local company.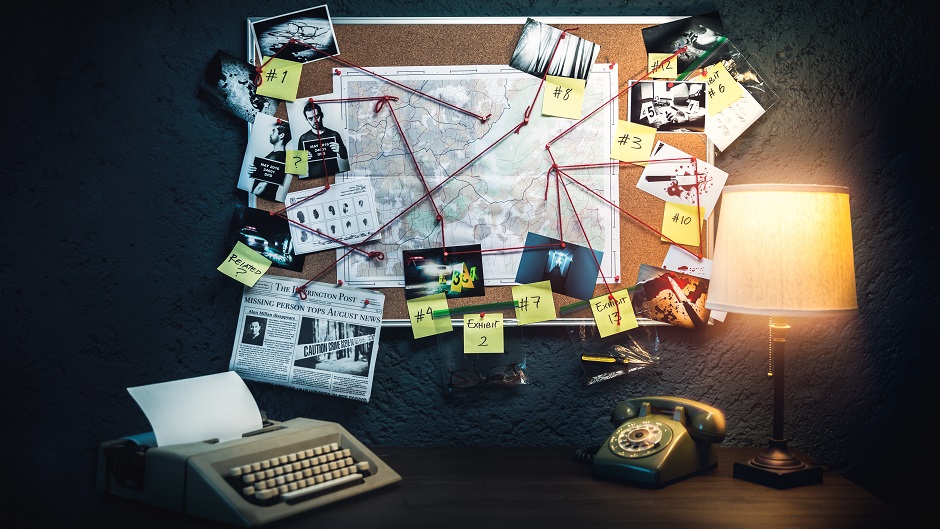 "We are working with a local company, Jiangsu Huatong BigData Science and Technology Ltd, to create an intelligent crime investigation system for the local police bureau," Dr Li said.
"If it is successful, it could be used in other parts of the city, the province or even throughout China."
According to a representative of the company, Kejie Wu, the system's leading use of artificial intelligence (AI) will set it apart from other systems.
"We will be the first to use the most advanced AI technology, harnessing natural language processing and semantic analysis technology to achieve intelligent case-solving," Wu said.
Dr Li is using his research expertise in knowledge graphs, which are part of semantic analysis technology, big data and AI to build the theoretical model at the heart of the system's intelligence.
The intelligent crime investigation system will store and display relationships among vast amounts of data, Dr Li explained.
"With any case there are different types of people involved – victims, suspects, witnesses, police officers, investigators," he said.
"There are also locations, such as the crime scene, home and work addresses, and travel destinations. There are objects involved, such as a car or a phone – how was it used, who used it? And there are different times that events like meetings, messages, arrests and phone calls occurred.
"We look at the relationships between the people, locations, objects and times involved.
"Our work brings together a large amount of data to help find hidden hints or patterns that could help solve a crime.
"Maybe two suspects have no obvious connection, but the friends of their fathers used to go to the pub together. The intelligent crime system we are creating could help detectives find these surprising links."
Dr Li provided the example of two seemingly unrelated cases that held a common denominator.
"In one case, the criminal jumped through a very narrow window to get in the flat. In another, the criminal climbed up drain pipes. Just looking at the case descriptions, detectives might not have noticed a possible association in these cases," he said.
"But if you use the software to drill down into the detail, you will find something similar – the person who committed both of these crimes must have been very lightweight. In fact, we found that one very thin, small person committed both of these crimes."
The system Dr Li is designing displays key related case information in a type of graph, called a knowledge graph, that allows the user to switch 'views' to see the information in different ways.
He said the use of data visualisation in this kind of knowledge graph allows users to see more information in a short time frame as opposed to traditional text retrieval or a database search.
"It enables you to pull out the relationships in different visual formats. The knowledge graph can communicate more than words," he said.
Currently, the programming of software to recognise patterns among relationships can be difficult and humans are still best equipped to perform such a task.
But AI in the form of machine learning could be used to overcome this limitation, according to Dr Li.
"The human is much more intelligent – a machine can suggest a pattern but a person has to decide whether it is right or wrong," he says.
"This is where AI comes into play – we must train the machine to observe the person's choices so that it learns over time to become more and more accurate."
Dr Li is also looking at how to connect the information from individual knowledge graphs to create a large knowledge network that would be even more powerful for solving crimes and for other applications, such as those for healthcare, customer engagement, dynamic pricing and real-time recommendations.
"The problem is there is no overall control and no unified way of bring different graphs together to see the big picture" he said.
"We need to find ways to integrate and synthesise individual knowledge graphs to provide users this big picture."
"To me, the knowledge integration problem is still unsolved."
Searching for answers to unsolved questions like this are key to why Dr Li enjoys academic work.
"When I find a really interesting question like this, where I know people are looking for solutions, I enjoy being part of it," he said.
"It really drives my work."
Dr. Li's work on the intelligent crime investigation system is funded by a Key Programme Special Fund (KSF), provided jointly by XJTLU, Suzhou Dushu Lake Science and Education Innovation District Administrative Committee and the Suzhou Industrial Park Science and Technology and Information Bureau.
These competitive awards are aimed to further XJTLU's development as a research-led international university and to benefit society.
By Tamara Kaup