Grand Blueprint Drawn, Right Time for Brave Advancement
Dear faculty members, colleagues, students and friends,
As time goes by, we have subconsciously moved into the winter season in Suzhou, calm and robust, carrying the reservation and wisdom recharged to face new challenges.
Recently, Professor Dame Janet Beer, Vice-Chancellor of the University of Liverpool and Deputy Chair of Board of Directors of XJTLU, asked, during our discussion on XJTLU's 15th anniversary celebration planning: "Where has the time gone?" In an instant, XJTLU has grown from a toddler to a 13-year-old teenager. I replied: "The time blended together into our career, experience and age."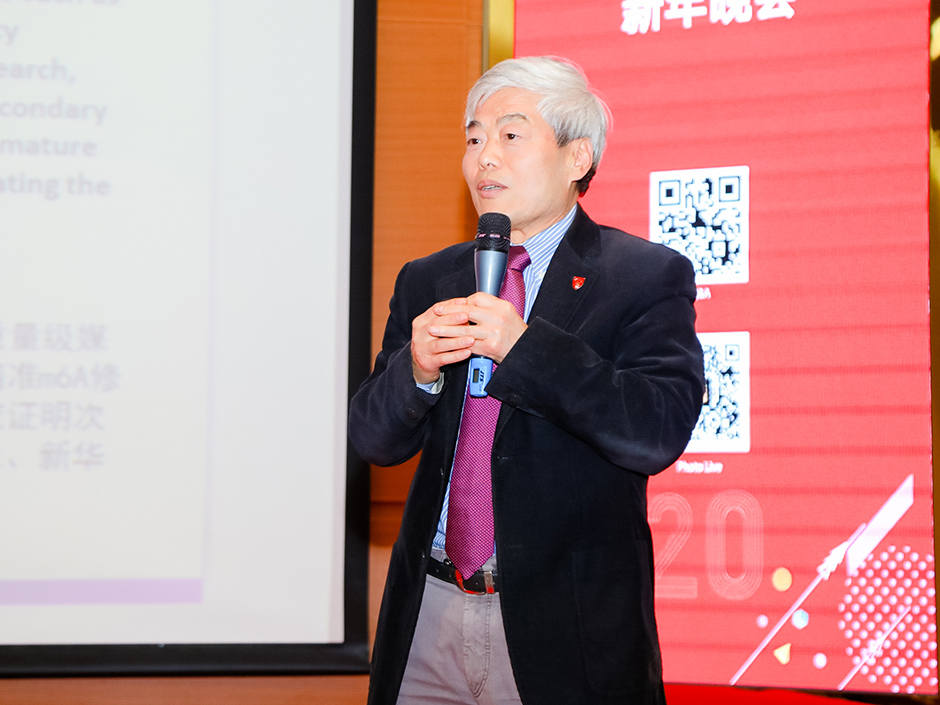 This year, 2019, has been a busy year for me as always. In addition to the development and operation of the school, speeches have been delivered and meetings and business affairs have taken up all of my weekends. I have seen changes taking place everywhere. I believe that everyone here has spent a productive year fully devoted to XJTLU and the development of our educational mission. I take this opportunity to present my most sincere holiday greetings and gratitude to you all.
This year, Suzhou experienced a sudden coldness, and many people were caught off guard by the plummeting temperature. Like this change in weather, China's development is also complex, facing challenges brought by risks both at home and abroad. Trade frictions between China and the United States have not dissipated, resulting in increased pressure on economic growth. Soaring pork prices and the resulting inflation of other commodities have also made many people feel the pressure of life. The hot topics in the social media about the layoffs at Netease and Huawei have caused many people to reflect over pressure in the workplace.
Back to the topic of education. Artificial intelligence and digitalisation have dramatically impacted and reshaped the education industry. Dramatic changes are shaping the demand for future talent, the logic of education, the way of teaching and the nature of the university.
XJTLU, as an educational explorer and innovator, sees the changes and challenges of the time as rare opportunities for development, therefore with our bold exploration we will continue to innovate and develop to meet the challenges of this era.At this critical juncture, entering into the third decade of the 21th century, are we going to stagnate amid widespread recognition, or will we progress to a higher level by restarting from zero? Over the past 13 years, XJTLU has experienced many challenges and critical moments in the university's development, but it has never been defeated by external doubts or difficulties. We have continued to march towards our goals with tenacity.
I like the book Bamboo Stone by Zheng Xie from the Qing Dynasty and these words, especially: "Withhold steadily on the green mountain, firmly rooted in the broken rocks, remain firm and robust after thousands grinding and blowing, no matter the wind blows in whatever directions."
The defiance against the mundanities of life, combined with the innovation, endeavor, and tenacity reflected in this poem embody precisely the spirit of XJTLU, that will naturally breed a thriving and amazing educational picture scroll. I now highlight a few 'flowers' from the splendid picture of 2019 to give an indication of our achievements in the past year.
In February, a number of research projects captured the attention of domestic and international media, such as XJTLU scientists creating the most accurate map of the m6A epitranscriptome in the world, and XJTLU study revealing that secondary forests can be as species-rich as mature forests, and so on.
In March, the fourth International Conference on Smart Grid Technology and Data Processing, as one of many important academic activities, was held at XJTLU. Scholars from China, South Korea, India and the United Kingdom gathered to discuss how engineering and management techniques could advance future smart cities.
In April, construction of XJTLU Entrepreneur College (Taicang) officially began with a groundbreaking ceremony. The Ministry of Education of China and the University of Liverpool approved the six new undergraduate programmes.
In May, XJTLU's 2019 Annual Conference on Higher Education Innovation---Technology Matters, and China's inaugural MoodleMoot convention, led by the founder and CEO of Moodle, were held in XJTLU. At same time the 4th XJTLU National Teaching Innovation Contest and the summit of the alliance of teachers' training centers of China's universities facilitated by XJTLU were held.
In June, XJTLU made it into the Top 1000 in the QS World University Rankings 2020, reaching 39th place in mainland China after just 13 years. Following the release of China's Education Modernisation 2035 blueprint, XJTLU hosted the Future of Higher Education Forum in Xi'an to explore how higher education can take advantage of developments in artificial intelligence.
In July, 2576 undergraduates, 366 postgraduates and 29 PhD students received their University of Liverpool and XJTLU degree certificates at the 2019 Graduation Ceremonies. The majority of these undergraduates intend to pursue postgraduate study at top universities around the world.
In August, a record-high number of 15,000 people attended XJTLU's 2019 Opening Ceremony at Suzhou Olympic Sports Centre. The speech: "Metamorphosis: From Giant Babies to Global Players", delivered by me, prompted much discussion in the wider community.
In September, XJTLU students made great achievements in international competitions. For example, a group of undergraduate students outperformed more than 10,000 teams from around the world to become one of only 19 'Outstanding Winners' in the Interdisciplinary Contest in Modeling (ICM), an extension of MCM. An undergraduate team won the gold medal in the 2019 International Genetic Engineering Machine Competition (iGEM) for their innovative solutions in the field of early neurodegenerative diseases.
In October, thousands of visitors attended the inaugural XJTLU International Day Festival to enjoy the integration of Chinese and international cultures on the University's open campus. This event also helped deepen interactions and collaboration between universities, local communities, and the wider world.
In November, a delegation led by Jin Liu, Director of the Department of International Cooperation and Exchanges of the Ministry of Education, visited the University and was also impressed with XJTLU's entrepreneurial spirit. "We're thrilled to see that XJTLU as a new university has achieved such good results in 13 years. You did a brilliant job," she said.
Also in November XJTLU successfully held its 2019 Autumn Communications Reception which considered the reform and development of higher education in China. Representatives from nearly 40 media outlets around the country, industry partners, and XJTLU departments and offices attended the event. At same time, XJTLU Entrepreneur College (Taicang)'s new School of CHIPS signing ceremony was held.
In December, XJTLU held its first international brand event in Shanghai. With a focus on Star Wars and street art, artists, academics and creative industry experts discussed cross-cultural creative exchanges between East and West. Through this event XJTLU demonstrated what can be achieved in finding common ground and unity between two different cultures.
Surprises and progress are part of everyday life at XJTLU. It is the painstaking effort and devotion of every member of the XJTLU community that has cultivated these rich autumn fruits. It is the attention and support of friends from all walks of life that has enabled continuous innovation in our community, again and again. Thank you all!
After 13 years of exploration and advancement, XJTLU's grand plan has been gradually charted out. During its first decade, XJTLU successfully established an international university on Chinese soil. It undertook bold innovation to the specialised elite education model that is popular worldwide in terms of students' transformation, internationalisation, reinforcement of quality education, and promotion of research-led education. It reshaped the university operating system and its interaction with society, and has developed a research and communication platform that has impacted both Chinese and global education (ILEAD). It built the XJTLU version 1.0.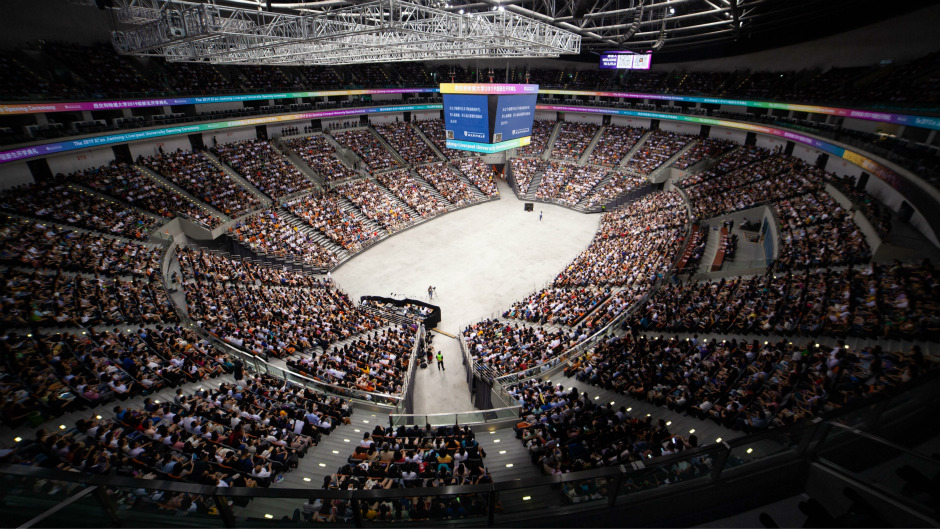 In the second decade, responding to the challenges of digitalization, artificial intelligence and robotics, as well as the transformation of future talent and social patterns, XJTLU unveiled an exploration of Syntegrative Education (SE), as XJTLU version 2.0, whose three modes as below are being developed.
1) Industry and Enterprise Tailored Education (IETE) that strengthens the quality of specialised elite and enhances their industry skills.
2) Entrepreneur College (EC) that integrates comprehensively and organically general, discipline, industry and management, as well as entrepreneurship education.
3) Innovation and Entrepreneur Community (IEC) that supports lifelong learning, innovation, and entrepreneurship in collaboration with society.
Looking into future, XJTLU has started to explore new, future-oriented concepts in education, universities and campuses, and is planning and laying out version 3.0 of XJTLU, an educational ecosystem supporting interests-driven lifelong learning, innovation and entrepreneurship.
Despite its youth, XJTLU has achieved many firsts in the history of higher education in China and even globally. XJTLU has sought to make its contribution to education in five aspects: 1. Innovate and enhance the current education for international specialised elites; 2. Create a brand new model of Syntegrative Education for international elites and leaders for new industries; 3. Provide an XJTLU solution to the future university concept and campus model; 4. Explore and develop themed Learning, Innovation and Entrepreneurship Centers for future interest-driven lifelong learning, an education ecosystem jointly established and shared by universities and society; 5. Transform XJTLU into an international innovator and communicator of advanced educational concepts and practices.
Dear teachers, colleagues, students and friends, at this new historical juncture, having achieved so much, the people of XJTLU who have grown up in the face of adversity and challenges will neither be defeated in the face of those challenges, nor will they be carried away in our victory.
We need to continue to think globally, understand locally and act internationally, guided by a 'HeXie mindset'. Keeping the sobriety of 'looking up at the star sky', through standing on the stepping-stone of experience, we will continue our journey of innovation in a down-the-earth manner, bringing this plan into reality!
Having drawn out our grand blueprint, we must advance bravely. Let each of us become leaders and create a network of sharing and collaboration.
With 13 years of rapid development behind us, XJTLU is constantly growing and expanding. I have thought a lot about how to keep our institution sensitive and alert to trends and the external environment. More importantly, I am excited by, and committed to, the question of how to motivate each individual to become proactive through the platform and ecosystem provided by the institution, in the context of the new era.
As soon as I joined XJTLU, I sought, through the HeXie (harmonious) management theory I have developed together with my team, to form a new networking management and operation system of XJTLU. Not only does it support the development of XJTLU, but also provides solutions to improving the efficiency of knowledge workers and organisations. In recent years, on the basis of the practice in XJTLU, I have further advocated for the proposal of conceiving a 'HeXie mindset' to enhance people's ability to survive in future society. In the face of growing development needs and an increasingly complex and volatile society, we must continue to deepen and optimise the exploration and practice in this field.
At the sixth American Centre for Creative Leadership (CCL) forum, CCL's global Vice President, Dr. Bill Pasmore shared the research on Braided Organisations, the ecological form in the digital era: "A 'Braided Organisation' is a web of interwoven actors, each contributing different talents, not controlled by a formal hierarchy, and working together to create new ways of cooperation and achieving common goals."
This kind of freely connected organisational structure is similar to the flat and networked organisation we have created. Both aim to overcome the disadvantages of the bureaucratic hierarchy and to enhance the creativity and flexibility of sharing, interaction, cooperation and innovation provided by networks, all the while maintaining efficiency of the top-down management model.
Individuals at each node are no longer passive listeners trapped on an island of departments or posts waiting for instructions. Instead, they are leaders supported by a formal organisational system, able to connect freely and to cooperate with talented people, forming a shared, symbiotic and evolutionary ecology together.
The design of the XJTLU Entrepreneurship College (Taicang) embraces more subversive elements, which will foster an innovative ecology of organic integration of internal and external resources. As the core, the huge circular Learning Mall connects the magnet shaped buildings of the industry schools to form a sharing centre and a series of unique interactive teaching, scientific research and innovation spaces, fully demonstrating the strong logic of openness, sharing and symbiosis advocated at XJTLU.
We expect it to attract the world's top resources, promote the cultivation of industry elites, cross-cutting scientific research, intelligent technology creation, new industry development and future social evolution, so as to influence education in China and the world, and to promote social progress and growth in civilization.
I am always being asked: "What's your secret to maintaining such great passion and energy?"
I respond, lightheartedly: "Filling your heart with full expectation for the future, bearing faith in a better tomorrow through our own efforts. This will not only advance your career, but also make your life more enjoyable."
I hope, therefore, that colleagues, students, partners, parents, alumni, companies, government and society from all walks of life, can all be integrated into XJTLU's ecosystem through their creative efforts, enjoying an unprecedented sense of accomplishment, satisfaction and happiness in life brought by creativity and cooperation, all the while enriching the grand plan laid out by XJTLU in impacting future education and civilization.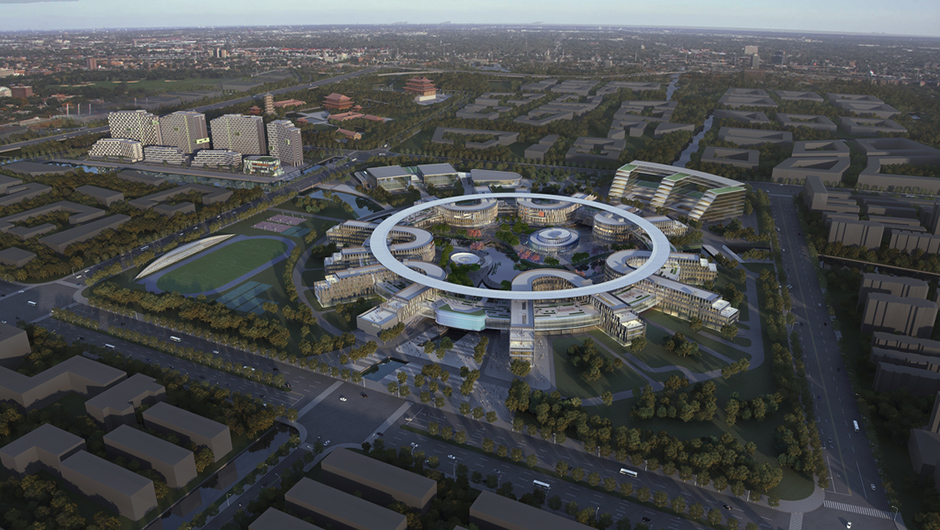 With the grand blueprint drawn, hard efforts are required. Let us think about and foster the talent training model of the digital intelligence era.
The rapid development and large-scale application of technologies such as the internet, artificial intelligence, big data, internet of things (IoT) and robotics will affect people's cognitive style and learning behaviour more deeply, which will further reshape education. Digital literacy, integration ability and HeXie mindset are becoming the most important aspects for talent training in the future.
Innovation is the 'gene' and the driving force of XJTLU's development. Looking ahead, how can education help human beings live a better life with the support of artificial intelligence and robotics? XJTLU has realised that our future society will enable talent expansion at both ends. That is to say, we not only need a group of quality specialised elites with strong industry background, but more importantly, we need a large number of industry elites with high industry attainments, cross-cultural leadership and entrepreneurship. XJTLU 1.0 aims mainly at the former, while XJTLU 2.0 aims at the latter. Syntegrative Education (SE), coined in 2017, allows XJTLU to embark on new exploration to develop an educational model that fosters 'international industry elites and leaders' who can stand on the shoulders of artificial intelligence and robotics to lead future industries.
Based on the further enhancement of general knowledge education, the model aims to integrate professional education, industry education, management (leadership) education and entrepreneurship education. It integrates student-centered and research-oriented education with internships and on-the-job training. It integrates study with practice, employment and continuous learning, talent cultivation, research and corporate development.
At present, XJTLU's Syntegrative Education is increasingly understood and recognised by students, teachers and society at large. Government institutions, from central ministries and commissions to local governments, have offered both support and anticipation to XJTLU's Syntegrative Education. XJTLU's Syntegrative Education model has achieved many milestones, including seven programmes in line with future social development trends and national strategic priorities being developed, with the establishment of seven industry schools and the signing of 13 corporate partnerships.
As construction of the 33 hectare teaching area and 4.5 hectare dormitory living area began, the number of the first batch of students who chose the Entrepreneurship College (Taicang) reached 300.
To enhance cooperation between the two campuses, to support the interaction between university and industry, and with the support of Suzhou Industrial Park, we have launched eight institutes of planning and construction (comprising intelligent design and manufacturing, tactile internet technology, FinTech, advanced computing and cognitive intelligence, intelligent business decision-making, intelligent robotics and innovation, artificial intelligence and the interaction between science and technology and society in the robotic age and the XJTLU offshore innovation centre).
Research institutes are in the Suzhou and Taicang campuses, with the former focusing on theoretical research and the latter on applied research. In addition, in order to strengthen the implementation of the Syntegrative Education model, XILI Education Innovation and Investment Management Group Enterprise was established by the XJTLU Education Foundation. This is aimed at establishing a company with corporate partners, providing support to students in their internships, training, and start-ups, and bringing social resources back to the school. In doing so, it seeks to cultivate university talent, build a new industry development model and bring technological achievements to society at large.
We welcome more colleagues, students and partners to join us in exploring XJTLU's Syntegrative Education, and together create a history that may influence education and society in the future.
With the grand blueprint drawn, deep thinking is required. Let us imagine and restructure future education, university and campus.
The core value of a university is its influence. XJTLU makes great efforts to influence generation after generation through talent training; to improve human survival and development capacity through scientific research; to promote economic and social progress through social services and interaction; to promote civilization of human society through the guidance and advocacy of new culture. XJTLU, positioned as reformer, innovator, explorer and influencer of education, must fulfil its mission in an era in which education is being reshaped and redefined on a global scale. We must face the future and dream more boldly and explore the kind of education that is needed in the future society.
XJTLU 3.0 thus blossomed from this initial thought. Imagine a plethora of learning channels at our fingertips and the advanced and powerful human-computer intelligent interaction in future society. Will this expedite learning? In the future, how much value will a diploma carry? By the time we reach adulthood and college age, will people still be willing to spend four years studying for a bachelor's degree, seven years pursuing a master's degree, or even 10 or more years earning a doctorate, only to apply for a job that relates little to our studies?
We believe that through primary and secondary education in the future, people can learn the basics of human survival and grasp the skill of learning. More people, then, will have the opportunity to follow their hearts, carry out targeted studies, and pursue their interests and dreams when they are in college.
By then, titles like bachelor's, master's, and PhDs may just be by-products of the process of lifelong learning, innovation and entrepreneurship. This will lead to a happy life, with no need to waste precious youth on unnecessary labels. People always live to pursue their interests, immersed in learning and exploration. If you give full play to your interests, you may also achieve a great cause, create a miracle of life and make great contributions to society and mankind.
According to this concept, XJTLU Entrepreneur College (Taicang) is, while exploring Syntegrative Education, also creating an interests-based educational ecology that supports lifelong learning, innovation and entrepreneurship in the future. Based on this, it explores the concept and campus model of the future university and strives to provide an XJTLU solution to future education.
We will also promote the concept to some potential areas in terms of geographies and themes. For example, the XJTLU Intelligence Innovation Institute (Xi 'an) - Xi 'an Hui Lake International Innovation Hub has been unveiled for operation. In addition, the XJTLU Intelligence Innovation Institute (Greater Bay Area) – XJTLU International Innovation Hub of Guangdong-Hong Kong-Macao Greater Bay Area, and XJTLU Intelligence Innovation Institute (One Belt and One Road) are undergoing intensive preparation.
Colleagues, students, friends, what a great and rare opportunity. Let us work together for these exciting causes, and contribute our own talents and efforts.
The year 2020 is almost here. In this cold and turbulent world, we are bound to face of risks and challenges. However, to XJTLU people, with dreams of making an impact on Chinese and global education, we stand high up on the mountains. What can frighten us? We stand bolt upright like the cliff. Why should we be afraid of a cold wind? Let us thus bravely and persistently aim to follow through on this grand blueprint. With our wisdom and effort, let us give full play to our talents and make a mark in history!
In closing, I wish you all a Merry Christmas and a Happy New Year!
PROFESSOR XI YOUMIN
EXECUTIVE PRESIDENT OF XJTLU
PRO-VICE-CHANCELLOR OF THE UNIVERSITY OF LIVERPOOL