"Crises are often opportunities to foster innovation and make the impossible possible."
- XJTLU's Executive President Professor Youmin Xi, in early February 2020
Xi'an Jiaotong-Liverpool University's information technology staff fulfilled these words, implementing all-online education delivery across the University under daunting deadlines to enable instruction this term. As Spring 2020 nears its end, we can recognise those who contributed to making teaching in a crisis not only possible, but also successful.
Behind the scenes, working late into the night, Management Information Technology and System Office staff, along with Educational Development Unit of the Institute of Leadership and Education Advanced Development, launched an upgraded online education platform that Professor Xi said might have been one to two years away without the coronavirus-induced emergency.
Even with a seemingly impossible timeline, they considered not what was easiest to implement, but what would best meet the needs of the XJTLU learning community spread across China and around the globe.
This is the story of how they made it happen.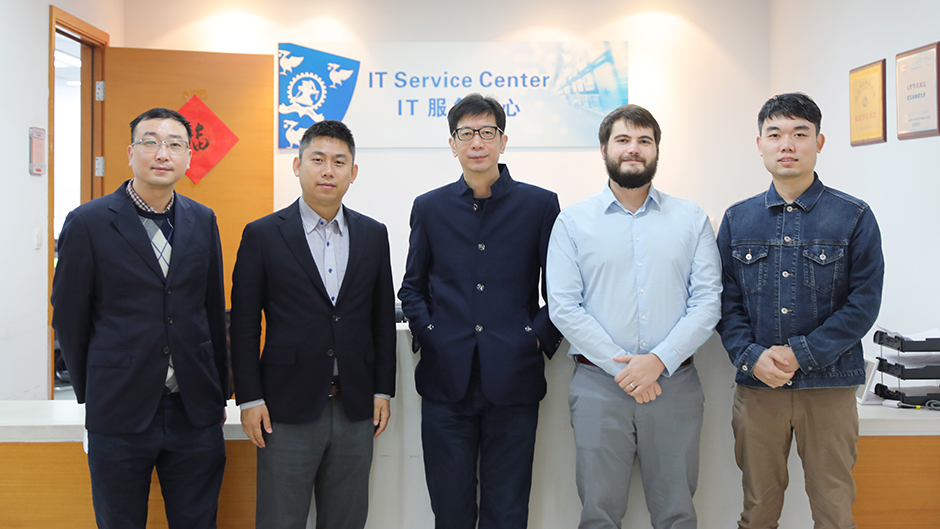 From left: Yiwei Zeng, Dr Xin Bi, Xudong Feng, Trent Montgomery, Yunduo Zhao

The challenge laid out
On Chinese New Year's Eve, 24 January, XJTLU's Director of the Centre for Knowledge and Information Dr Xin Bi, who oversees the MITS Office, got the call that started it all.
XJTLU Vice President Professor Qiuling Chao was on the other end of the phone. She told him that, due to the spread of COVID-19, the new semester was likely to be postponed. In response, the senior management team wanted to ask the MITS team whether it would be possible to move to all-online teaching.
The team submitted their feasibility report two days later.
"Despite the many uncertainties around the situation, after analyzing all the potential tools, we concluded it was feasible," said Dr Bi.
Dr Bi knew that the MITS team faced a daunting task and great pressure, he said. Previous online teaching capabilities were modest compared to what was needed.
"Before the outbreak, MITS had already established a relatively complete system and platform for online education. However, that system could only meet the needs of 800-1,000 simultaneous users," he said.
In contrast, the team knew that by the start of the semester, the servers would need to support 6,000-8,000 people using the system simultaneously.
"We needed to expand the system by nearly 10 times in a short time period," said Yiwei Zeng of MITS.
Technical upgrades - 'Failure was not an option'
With the goal now set, the Centre for Knowledge and Information instructed MITS to upgrade and provide support for the future online teaching system. This project, set under Zeng's direction, was the top priority.
One immediate task was to upscale the University's remote teaching capability through MediaSite, a software product that allows instructors to make live recordings of lectures. Zeng and fellow MITS colleague Yunduo Zhao worked to upgrade and expand MediaSite's capacity.
Another urgent task was to upgrade BigBlueButton, a web conferencing system designed for online teaching. Cooperating with the Educational Development Unit of the Institute of Leadership and Education Advanced Development, the team led by Xiangang Hu and Zibing Mao successfully upgraded the system and provided support for online teaching.
Instead of directly using public platforms like MOOC (Massive Open Online Courses) and DingTalk, the team chose to embed MediaSite and BigBlueButton in ICE, the University's in-house online education platform.
"Of course, this would not be easy work," Zeng said, "but the most important thing was to provide the best experience possible for our teachers and students.
"With other platforms, staff and students would have to download and sign up for a number of different apps. Instead, we've streamlined and consolidated the online teaching system with cloud storage for all documents and materials," he said.
"Best of all, we were already using ICE before the epidemic, saving time that would have been spent on retraining and further tech support."
The team started procuring the needed hardware and software as soon as the solution was decided. Normally this process, including application and approval, could take up to 90 days.
Dr Bi streamlined this process through an emergency action and communication between executives and the finance office, obtaining the needed approvals at speed.
Yet the virus continued to spread, hampering transportation and logistics services. MITS learned receipt of critical equipment might be a month out, while the technical upgrades needed to occur immediately.
Xudong Feng, head of MITS, wasted no time in adapting to the situation, ordering the upgrades to MediaSite with what servers and software were at hand, to be replaced with new servers as shipments arrived. Simultaneously, Alibaba Cloud server resources were purchased to support BigBlueButton.
Zeng and his team then undertook the challenge of how to provide a consistent experience for teachers and students across the world.
"It would be unfair if some instructors couldn't upload videos or students couldn't attend live lectures because of poor internet connection," he said.
Therefore, to accelerate content delivery, MITS purchased Alibaba Cloud's CDN (content delivery network) service to accelerate content delivery.
Two weeks before the new semester, ILEAD launched a two-week optional online course titled "Developing Global Citizenship."
The course provided an opportunity to test the new system. Even though it was non-credit, more than 1,400 students and 40 teachers successfully participated.
"It was like building a highway," said Dr Bi. "To prove it's done, cars need to drive over it. When the first car passes over successfully, you know you've won half the battle."
On 17 February, a week before the new semester, when the clock struck 9 a.m., Zeng felt relieved.
Zeng's team and the suppliers had been working since 7 p.m. the previous day. After staying up all night, they upgraded and expanded the capacity of MediaSite, as well as performing a successful test.
"We were under a lot of stress, because the results would decide whether the semester could start on schedule. Failure was not an option," Zeng said.
At the same time, with the help of Xiangang Hu and Zibing Mao from MITS, ILEAD's EDU Team finished upgrading and expanding the capacity of BigBlueButton.
Training empowers instructors to reach success
After upgrading the platform, the technical teams were challenged with finding a way to provide effective training for two new systems in a short time.
To help familiarise instructors with the software, MITS and ILEAD provided dozens of online training sessions on 17-21 February along with writing a manual and Q&As.
The top two training sessions were made into videos for instructors who couldn't attend trainings due to time differences. Trent Montgomery was a member of the online working technical support team, but he joined as an English native speaker to help prepare training materials and instruct foreign lecturers.
Dr Deborah Frances Mulcair, who teaches "Alternative Investments" at XTJLU's International Business School Suzhou, attended many of these training sessions.
"To be honest, I was always a person who said I would never teach online. I truly enjoy the interactive dynamic of in-person classes," she said.
"So when we received the email that we would be teaching online this semester, I was hesitant. I was concerned the students wouldn't enjoy the classes as much."
"What made me more concerned was that I was not familiar with the online learning platforms before this."
But her concerns disappeared after the trainings, she said.
"I attended multiple training sessions and asked a lot of questions," Dr Mulcair said.
"These trainings were not only opportunities for me to learn and grow, but also I was actually having fun learning something new.
"I realised if I was having fun, perhaps our students would also enjoy online learning."
During the training, MITS found that instructors had varying technical challenges due to the different types of computers and operating systems they were using at home.
"We are really familiar with the computers at school, and all of them have the same set of systems and software," said Zeng.
"In this emergency situation, some instructors had to rummage through the house for computers, sometimes finding only old ones with outdated systems," he said.
"There were even computers running Microsoft Windows 7 and Windows XP. Many user-specific technical problems occurred as a result, which we were not able to explain clearly in the manual or sessions."
MITS already has a system through which instructors can ask for help with e-mails. During the training period, however, there were too many questions to answer in a timely and effective manner. To address this challenge, MITS started a group chat for Q&A and information sharing. This solution enabled a small team of only five MITS staff to support more than 200 teachers.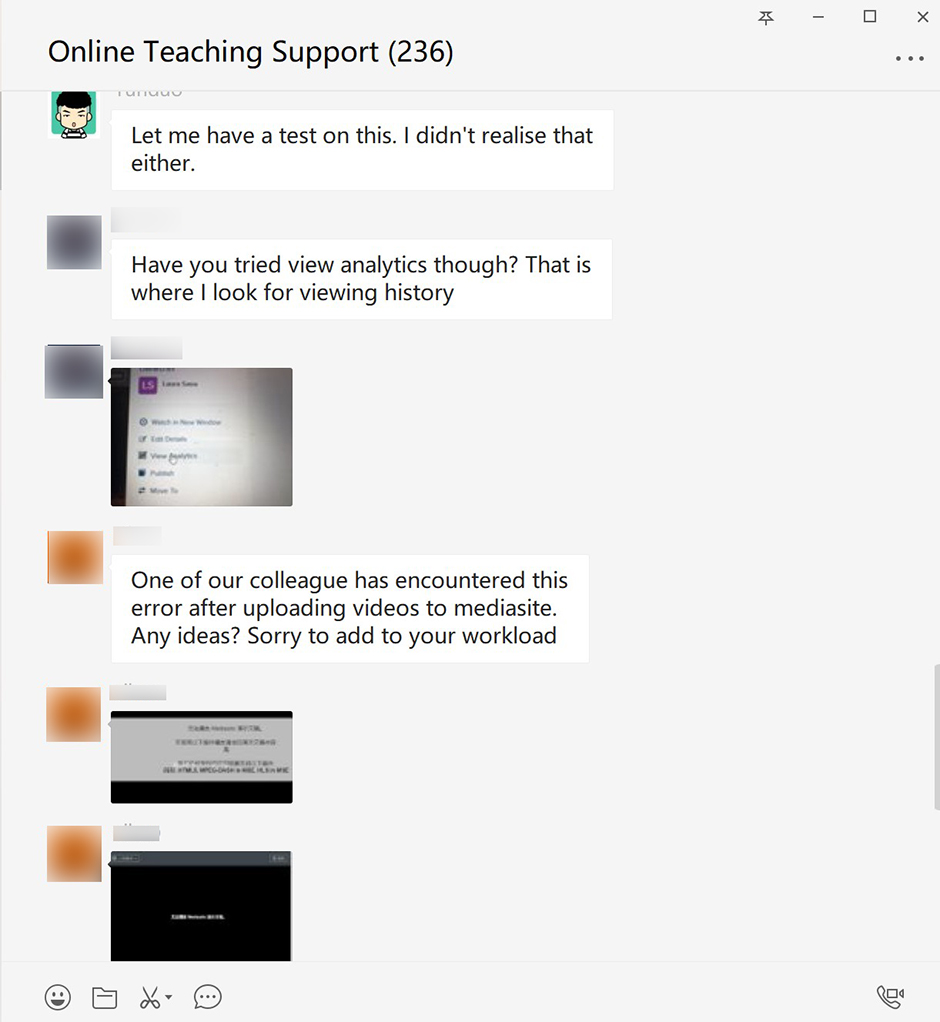 Instructors asking questions in the group chat
At first, questions were popping up at all hours of the day, as many instructors were overseas in different time zones. During those first few days, Zeng and his team were often answering questions at 1 a.m. or 2 a.m. Beijing Time.
"Colleagues from MITS and ILEAD really helped us a lot," said Dr Mulcair.
"While many universities started online education, they did not provide this level of support to their instructors," she said.
"I have a PhD in educational research, I have experiences in industry, and was involved in startups and expansion projects throughout my career.
"So, I had a good idea of what our EDU team and MITS were dealing with during these extraordinary times. I knew how difficult it was to manage the change.
"Their efforts enabled us to change our teaching method virtually overnight. They are the lifeblood of our success."
By Qiuchen Hu and Luyun Shi
Edited by Bo Kou and Tamara Kaup
Photo by Yao Chu