XJTLU Entrepreneur College (Taicang) recently held a ceremony to honour the student team that won second prize in the iFLYTEK Intelligent Restaurant Session of the National Intelligent Car Competition.
Professor Angelos Stefanidis, Dean of the School of Internet of Things and the School of AI and Advanced Computing, said to the students: "You have shown your academic ability, innovative skills and teamwork ability. You have come together to learn from each other and support each other. These are qualities we hope all students can develop because they are indispensable for your future careers."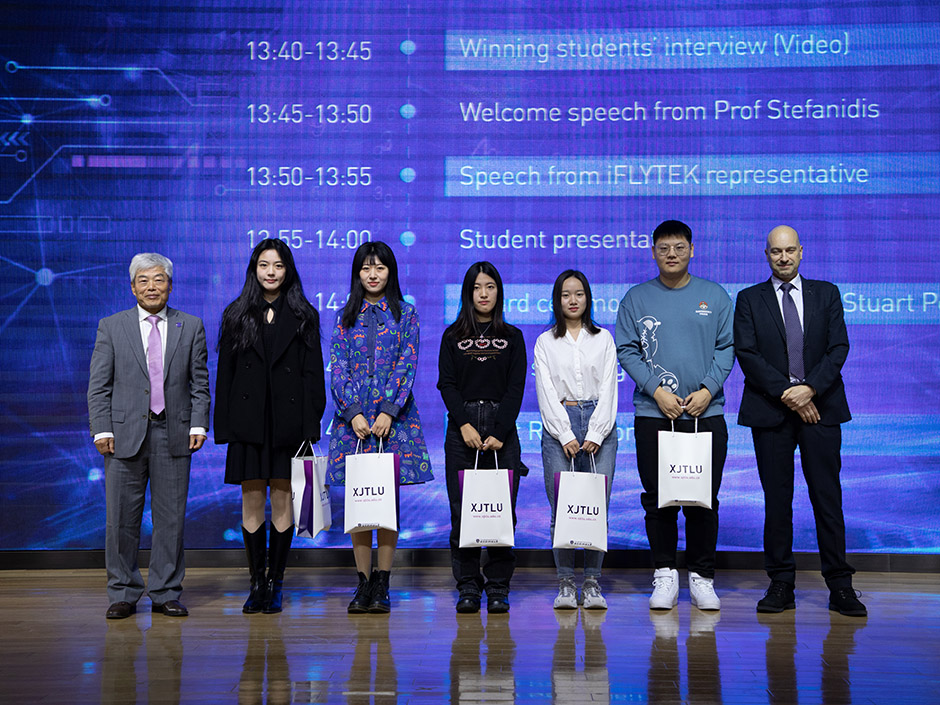 Professor Youmin Xi, Executive President of XJTLU (left), and Professor Stuart Perrin, Associate Principal of XJTLU Entrepreneur College (Taicang) (right), awarded the prizes to the students
The team consisted of five students from BEng Data Science and Big Data Technology with Contemporary Entrepreneurialism: Hongyu Bian, Fudong Cui, Jiashu Zhang, Xinyu Zhang, and Yida Wang. Dr Huakang Li of the School of AI and Advanced Computing mentored the team.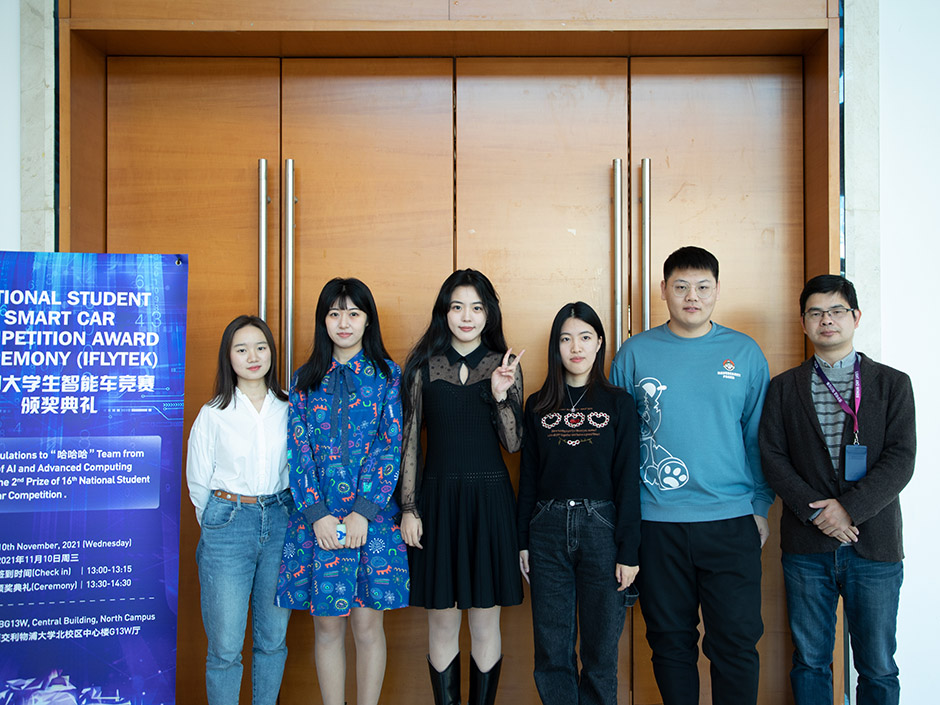 The team with their mentor, Dr Huakang Li (right)
In his acceptance speech, Yida Wang, the team leader, said: "This summer, we took part in iFLYTEK's smart car project as part of our Professional Development Programme (PDP). We gained theoretical knowledge and operational experience, and this laid the foundation for our team in the competition.
"Some of the knowledge required by a few tasks was beyond the scope of Year Two students, but the robot operating system we learned in the PDP came in handy. Thanks to the PDP, we managed to complete it in a short time without much difficulty.
"Dr Li, our mentor, also showed us where to find relevant material so we could learn more about facial recognition, which made the car run smoothly."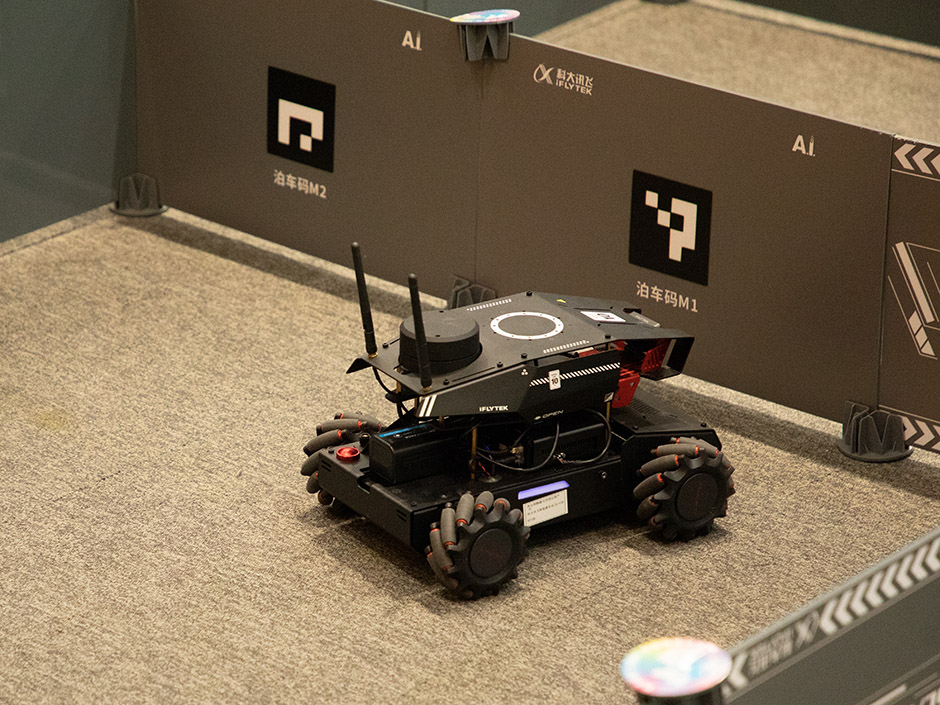 Peng Zhang, Robot Products Department Manager at iFLYTEK, congratulated the winners on video. He said the excellent competition results achieved by students of XJTLU Entrepreneur College (Taicang) were both surprising and unsurprising.
"It was surprising because the tasks set out by the competition were challenging. Some of the schools involved prepared for as long as six months ahead of time – whereas XJTLU's team did it in only one or two months.
"But it was also unsurprising because these five students had participated in the PDP, which gave them a strong foundation."
Zhang said that the competition results brought home the value of collaborative projects between education institutions and enterprises. He suggested that students seize every opportunity to practise and learn through projects like these.
He also emphasised the importance of goal-oriented thinking in students' career development: "For example, if a student wants to become an excellent artificial intelligence or robotics engineer, they should find out what knowledge and abilities are required by these professions, and take the initiative to find relevant learning material."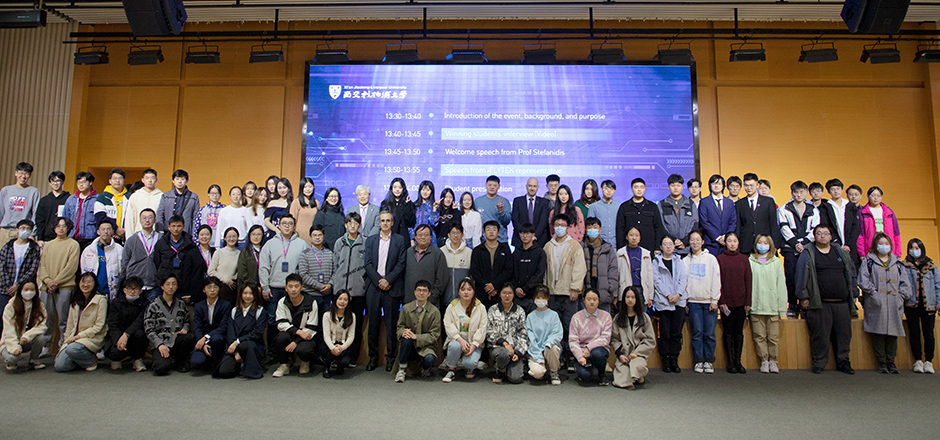 Xinyu Zhang, a member of the award-winning team, is already thinking about the future. She said the group was planning to establish a student organisation in XJTLU Entrepreneur College (Taicang) focusing on intelligent cars and hopes other students interested in this field will join.
By Libing Wu
Edited by Luyun Shi and Patricia Pieterse
Translated by Ziying Shi
Photos by Xiaoxi Zhao
Video by Chenxu Zhao and Bingxi Xue