There's a Chinese proverb that goes: "Dripping water pierces a stone". It means that with persistence and resilience, people can overcome any challenge. When things get difficult – which they almost always do – perseverance can keep us going.
Joao Centeio, a Year Three student in BA International Business with a Language, shares with us his story from Oslo, Norway – how he's coped since the start of the pandemic, and how he focuses on becoming better, not bitter.
Journey to the East
Centeio received his first bachelors degree from the University of Oslo, focusing on Asia and Middle East Studies. As part of the degree, he spent two years in Japan exploring Asian politics, economy, society and culture.
After the exchange programme, Centeio decided to continue his studies in Asia. "My next stop had to be China, because it's the largest country in East Asia and I couldn't ignore it."
He also decided to pursue another bachelors degree because he preferred searching for more knowledge from broader perspectives rather than diving into one specific area.
"I've known Asia from the Japanese perspective, and I wanted to learn from the Chinese perspective."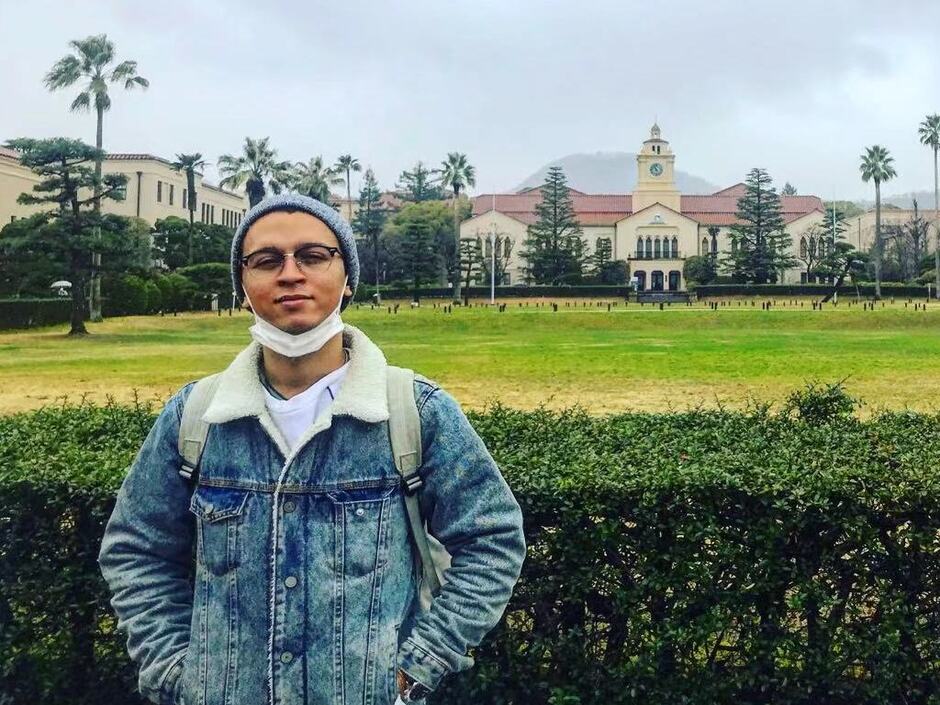 Joao Centeio in Japan
When searching for programmes, Centeio learned about Xi'an Jiaotong-Liverpool University and the fact that the University issues two degrees.
"I applied for XJTLU because students graduate with two internationally recognised degrees – one from XJTLU, and one from the University of Liverpool," he says. "Degrees recognised by China and the UK can boost my résumé, and increase my prospects for career advancement."
Centeio says the lifestyle in Suzhou and the location of XJTLU also helped seal the deal for him.
"Suzhou is between Nanjing and Shanghai, and the city is a perfect mix of history and modern amenities. I love the Old Town, with its canals, gardens, and traditional Chinese bridges.
"The campus is surrounded by other universities, which gives it a good student community. I can order food and go out with friends without spending a fortune. The rent was also more affordable than Norway."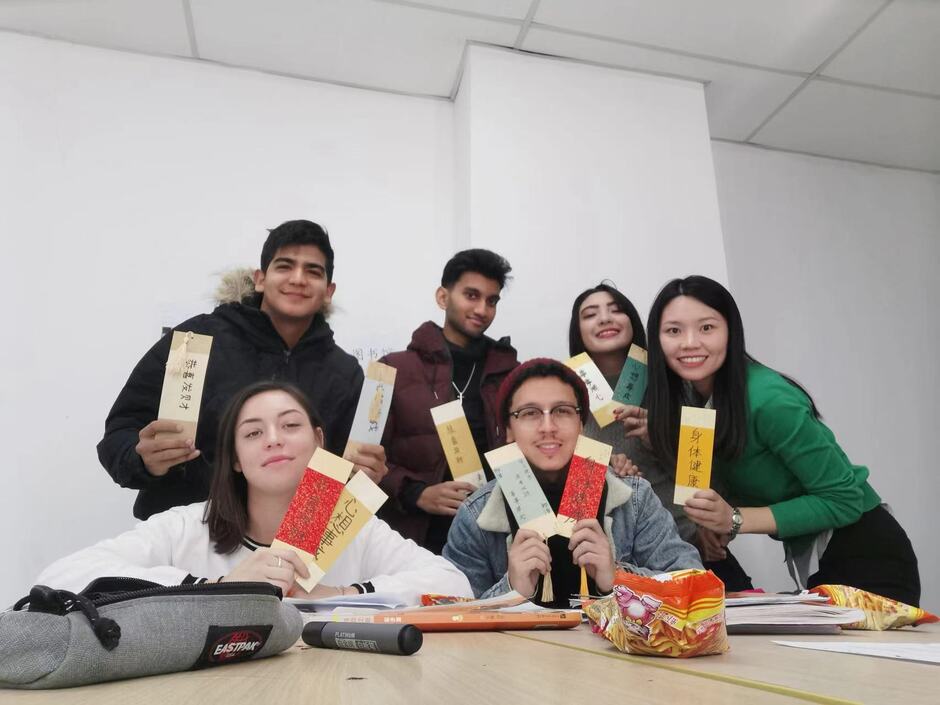 Joao Centeio (right in the front row) and his classmates wrote wishes for the Chinese New Year
Learning in a different time zone
When Centeio went home for vacation in 2019, he never expected that his learning experience, much like the entire education landscape, would shift dramatically.
The time difference was a major disruption for international students when the University transitioned from onsite to online instruction in 2020.
At the beginning of the initial outbreak, Centeio was living on Beijing time in Norway. "I had to attend online seminars, sometimes at two or three o'clock in the morning. It was really taxing on my body."
In addition to sleep disturbances, he also tried to balance school and work.
"Norwegian students can apply for governmental scholarships, but in order to receive it, we have to move out of our parents' house and stand on our own feet. I wanted independence, so I was looking for a job and a place to live, and then juggling between work and study.
"But I also really missed social interactions. I still miss the archery club at XJTLU. It was difficult not being able to see friends, hang out or have lunch together."
Despite the difficulties, Centeio found positives during the past year and a half.
"I would like to thank Ms Ka Du in the Modern Languages Centre. She was very helpful in understanding the time difference, digitising the resources, and recording all the sessions for me. She was a real lifesaver, and I really enjoyed learning Chinese."
Joao Centeio and his cat Oren
Centeio explains that the pandemic has taught him to be more responsible, and demonstrated his persistence and resilience.
"When I was in China, I wasn't particularly good at time management. I was studying on campus, and the timetabled sessions provided me with structure," Centeio says.
"Being in a different time zone means I have to organise my daily tasks in a way that I can spare time for learning, and also work part-time to support myself. It wasn't easy, but now I have become the Arnold Schwarzenegger of time management."
Centeio has also found a balance between school, work, and life.
"Working allows me to take a break from studying. Social interactions alleviate my stress as well. Although Covid restrictions limit the social aspect of life, I manage to reconnect with my friends at the University of Oslo. I've also met some exchange students from China. Recently, I've also been able to go to the gym."
Emerging from all these challenges, Centeio has stayed positive and become more hard-working.
"It's called nǔlì in Chinese," he says.
Moving forward
While Centeio has adjusted to distance learning and many other changes in his life, he remains passionate about the interests that led him to China.
"I miss living there. I miss the atmosphere, and the whole package of being there," Centeio says. "I also miss my e-bike. I miss cruising down Chongwen Avenue on my way to the school, and feeling the wind on my face.
"I still want to go back to China sometime in the future, but living on the other side of the world, I will also adapt to the new reality and forge ahead."
By Xinmin Han
Edited by Patricia Pieterse
Photos by Joao Centeio