Civil Engineer, Mehreen Heerah, says her education at Xi'an Jiaotong-Liverpool University provided the foundation for her career in her native Indian Ocean nation of Mauritius.
Heerah worked as a trainee site engineer in Mauritius, supervising the construction of six office buildings, before earning a graduate scholarship to XJTLU in 2018 to study sustainable construction practices.
After receiving her MSc degree in Sustainable Construction from XJTLU in 2020, Heerah returned to Mauritius for the latest step in her career journey as a site engineer for Hyvec Partners Ltd, where she continues to work.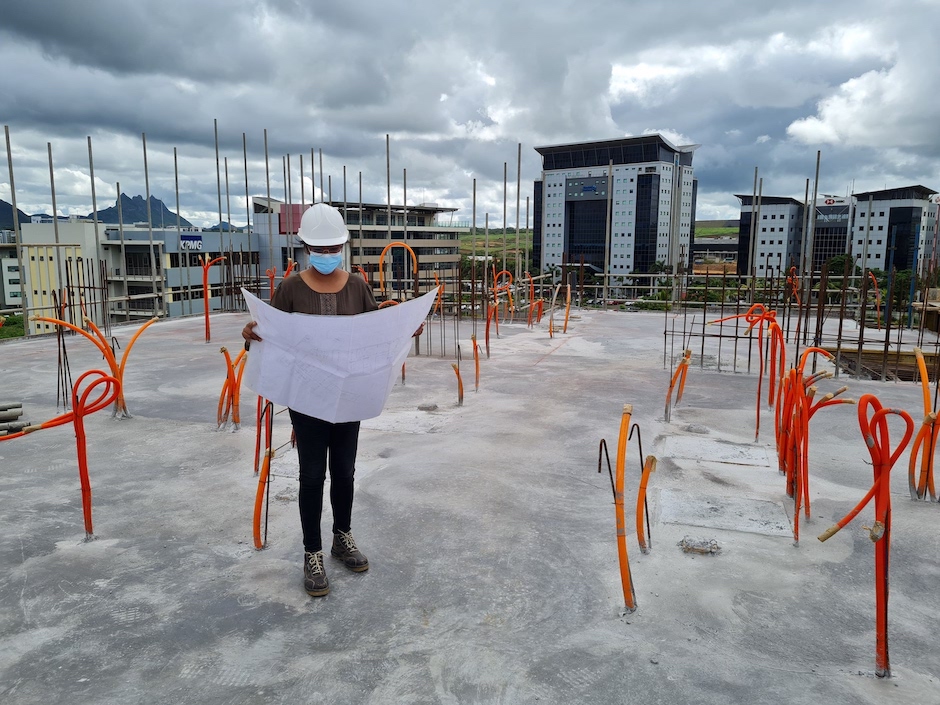 Heerah at work in Mauritius
At XJTLU, she was exposed to various branches of civil engineering and, more importantly, leant about ways to make it sustainable.
"The construction industry contributes significantly to global warming and climate change, and even on our small island, we are being affected.
"For the past few years, Mauritius has been experiencing flash floods during the summer season, making me more conscious of the importance of sustainability in construction practices. It has also inspired me to improve as an engineer," Heerah says.
Heerah praises XJTLU for her positive experience both inside and outside the classroom. She says field trips were vital for integrating construction theories with practical job site situations.
Heerah on the XJTLU campus

"We had excellent lecturers from all around the world, incredible facilities and access to online services.
"We were not limited to learning only from notes and books but were also given lab work, case studies and real-life problems to solve.
"All the lecturers were always available after class hours if we needed help and advice. Dr Isaac Galobardes, who was the programme director of MSc Sustainable Construction, gave me lots of advice for my studies and my career," Heerah adds.
"I also really enjoyed my Sustainable Technology and Building Materials module with Dr Jun Xia, who always made the class interactive and interesting."
Moreover, students were given the opportunity to work with different departments. For example, Heerah explains that her paper on concrete pigments was the result of multidisciplinary research with the Department of Chemistry.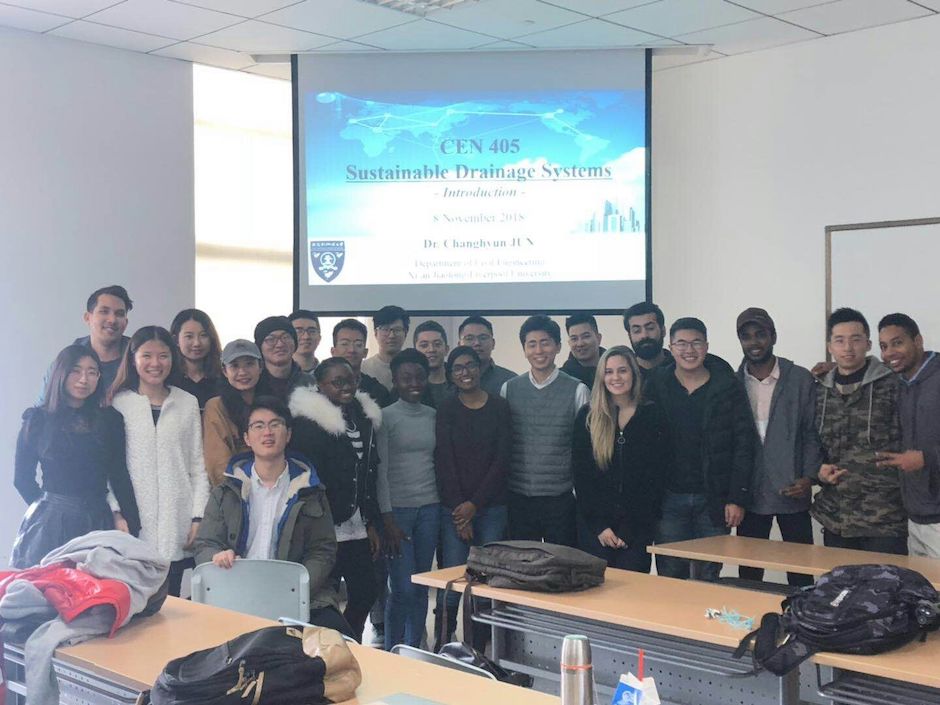 Heerah and her classmates on the last day of Sustainable Drainage classes
Having the opportunity to take classes in different departments at XJTLU, in addition to those in Civil Engineering, she says, improved her teamwork with students in other construction industry fields, such as urban planning, architecture and electrical engineering. This practical education prepared her for her career. Now, as a site engineer, she works with people from different industries on a daily basis.
"My studies at XJTLU helped me think outside of the box and I always try to bring these skills to my projects," says Heerah.
Outside of her studies, Heerah worked for XJTLU Global, facilitating communication between University staff and international students. In 2019, she also volunteered for the organisation and registration for the Architecture Across Boundaries Conference and the Second International Conference on Sustainable Buildings and Structures.
"XJTLU not only provides you with knowledge but also offers a wide range of clubs, activities and volunteering opportunities that you can join," she says.
Heerah says she appreciated the opportunity to take Chinese language classes in Year One, which helped her adjust to life in Suzhou.
"Suzhou is a beautiful city and I really liked visiting the classical gardens during my days off. I also enjoyed walking around Jinji Lake and watching the sunset there.
"The transportation system in Suzhou is very convenient whether you want to travel around the city or to other cities.
"I had a great time meeting new people and became friends with students from different countries," Heerah says. "It was an unforgettable experience."
By Robert Fraass and Yi Qian
Edited by Patricia Pieterse and Catherine Diamond