A short film, Stand Up, Stand Out, directed by students at Xi'an Jiaotong-Liverpool University, has been nominated in the female-directed film category at Bayfest (formerly We, Women), a film festival organised by Bay Picture and T Magazine.
The team consists of Wenwen Liu, Siyu Wu, and Shiming Wu, all from the MSc Media and Communication programme at the School of Humanities and Social Sciences.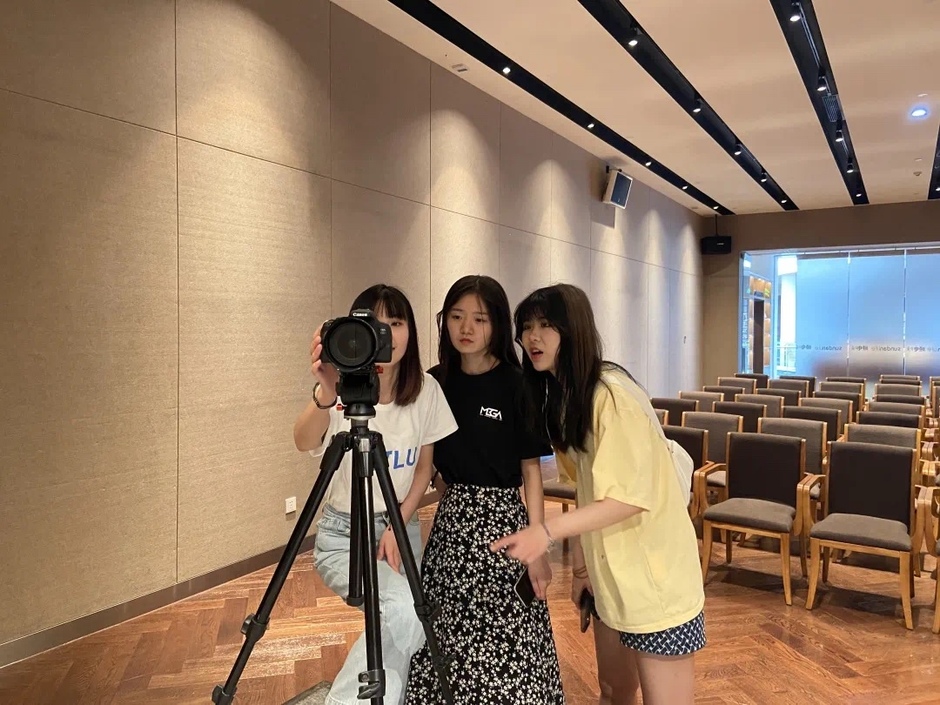 From left to right: Wenwen Liu, Siyu Wu, and Shiming Wu
The inspiration
When the team was brainstorming ideas for their Practical Skills Development-Digital Video Production assignment, one of them mentioned that she couldn't get a ticket for the stand-up shows organised by Shanghai Xiaoguo Culture & Media Co., as they were sold out quickly.
After talking it over, they realised local stand-up clubs would make an interesting documentary subject. "We chose to focus on Holy High Comedy Club in Suzhou, and shoot our film there," says Liu, the team leader.
"At the beginning, we were curious about local stand-up comedy. We wondered if there would be a large audience and whether the shows were actually funny.
"Then our supervisor, Dr Kelvin Ke Jinde, helped us look critically at the present state and future development of stand-up comedy. He encouraged us to look for uncharted territory in the existing studies and combine theory with practice," she says.
The two sides of stand-up comedy
After interviewing the comedians at the club, the team began to learn more about the two sides of stand-up comedy – while it seems like a fun and glamorous job on the surface, it's actually very difficult and highly competitive.
"When conducting background research, we found that stand-up comedy didn't come to China until 2016. The industry has only just begun making inroads into China. Many comedians had no idea what stand-up comedy was at the beginning.
"The comedians are not always the same. Most of them are amateurs and perform in their spare time for fun. Instead of staying in one club, they usually tour the country to play gigs in various venues," says Liu.

Holy High Comedy Club in Suzhou
Of all the interviewees, club owner and comedian Haibo impressed the team the most.
Haibo, a former programmer and now the owner of Holy High Comedy, witnessed the industry blossom from nothing into a popular form of entertainment. Over the years, he has remained passionate about stand-up comedy.
"My family didn't like me doing live stand-up because it was such a niche hobby. I'd sneak off and perform on a small stage nearby with other comedians, during which I met people who shared the same passion. Finally, I decided to start my own club despite all the difficulties," he says.
The audience members in Holy High Comedy vary from young adults to people in middle age.
"They all come to the club to be amused. Any comedian who can tell a story can get on stage, but only a few impress the audience. Telling personal stories seems a common practice, but if comedians want to resonate with the audience, they need observational humour, passion, creativity, and acting skills," says Liu.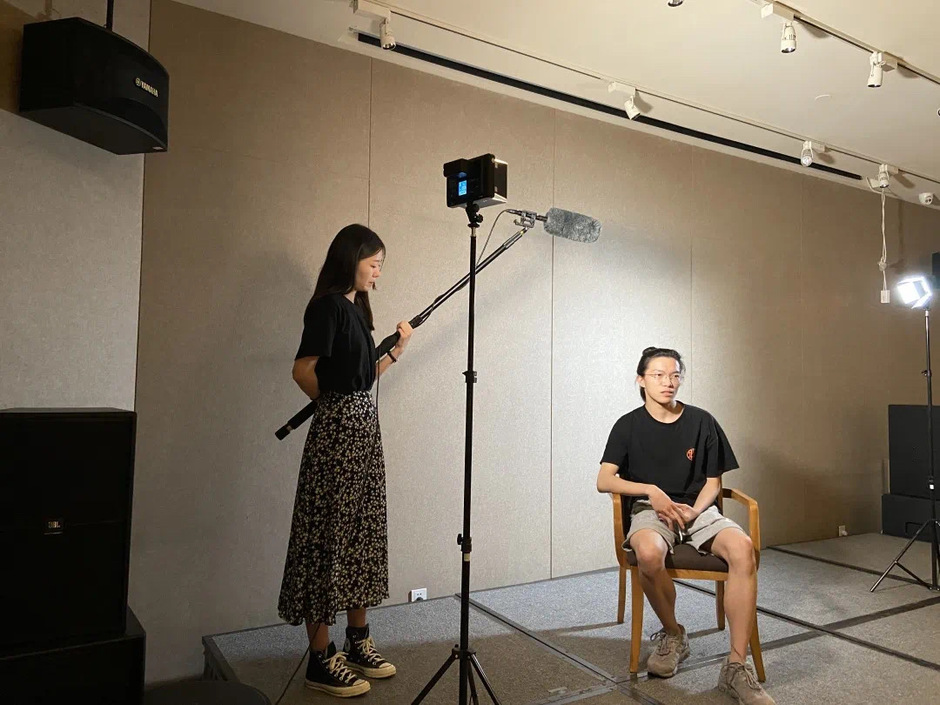 Holy High Comedy Club in Suzhou
Stand-up comedy has overcome innumerable challenges from 2016 to 2022. It has gained great popularity in China but is still limited in form and content.
"The comedians are all concerned about awkward silence during a show. From the audience's perspective, I think what really matters is how they deliver the message. Apart from making people laugh, comedians should be able to perceive the subtlety of life. It's the comedian's thoughts and attitudes that make a show last.
"Another interviewee, a girl who has just been admitted to a postgraduate programme at Nanjing University, told me that making people laugh isn't the ultimate goal of stand-up comedy. What comedians do is to reflect on things happening around them and bring people new insights," Liu says.
This reminds Liu of her favourite stand-up comedian, Li Yang. "After I learned more about feminist theory, I noticed that Yang's observations about gender inequality are not only to entertain the audience but to use humour as a way to speak up for women and raise awareness of some important social issues."
The future of stand-up comedy
After making the film and conducting further research, Liu and her teammates realised that although stand-up comedy has gained great popularity in China, few shows prove to last. They believe this is partly because most of the shows are performed offline.
"Onsite shows could be complemented by videos, to give performers a wider audience to sustain the art form, otherwise people might grow weary of gathering only for a few funny jokes."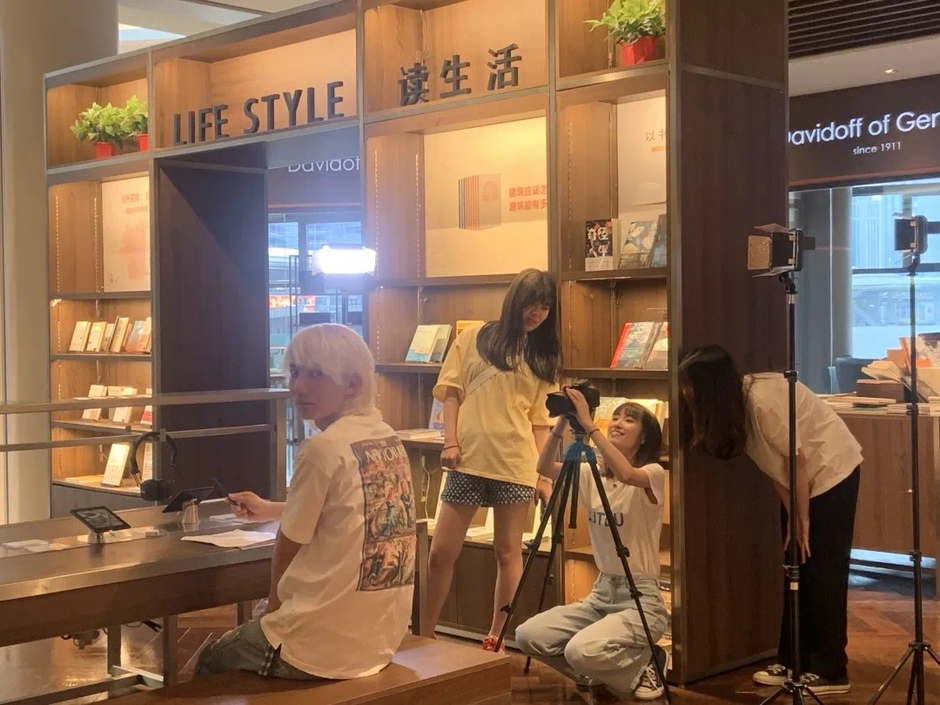 With the development of digital media during the pandemic, online stand-up comedy emerged. "We feel that online entertainment provides easier access to stand-up comedy. People can watch shows and interact with the comedians whenever and wherever they want to," says Liu.
Holy High Comedy is just one of the stand-up clubs nationwide. During their investigation, the team found that as the clubs increase and the industry develops, more and more young people start to view life differently and think about getting on stage to tell their own stories.
"This offers professionals more opportunities to showcase themselves and gives amateurs easier entry into the industry.
"From this experience, we learned that although there are plenty of stories to tell, what stand-up comedy really needs to flourish in China is easier access and more critical thinking," says Liu.
By Ying Jiang
Edited by Xinmin Han and Patricia Pieterse
Photos courtesy of Wenwen Liu