Enakshi Sivasudhan, a biological sciences PhD student from Sri Lanka, recently won an Academic Excellence Award for her work as a teaching assistant. She came to Xi'an Jiaotong-Liverpool University in 2018 as a master's student, and after completing her MRes Molecular Biosciences, she decided to study further at XJTLU.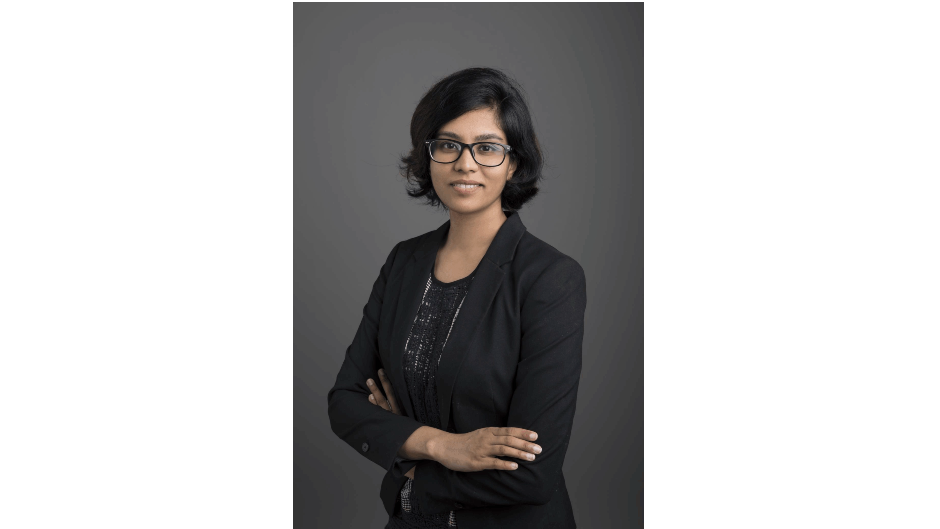 1.Why did you choose XJTLU?
I first learned about XJTLU when I was looking into universities to apply for my master's. I instantly fell in love with its beautiful campus, the gorgeous garden city of Suzhou it was located in, and the diverse and welcoming community. But what really appealed to me was how research-focused the university is, not to mention the strong industry collaborations they have with BioBAY, and their commitment to investing in research.
2.Why did you decide on your programme?
I have always dreamed of pursuing a career in biomedical research, specifically in precision cancer medicine and drug development. I was able to find the perfect research environment here at XJTLU. During my master's, my research focused on developing a nanomedicine-based drug against ovarian cancer. Now, for my PhD, I'm studying the link between Hepatitis B viral infections and liver cancer. Especially in China, liver cancer is one of the most prevalent cancers, thus being able to contribute to this field of research is extremely rewarding.
XJTLU is an ideal place for me to pursue my passion for science as there is access to cutting-edge equipment and technology, opportunities for industry collaborations and guidance from biomedical experts from around the world.
3.Congratulations on winning this year's XJTLU Academic Excellence Award! What inspired you to become a teaching assistant?
Thanks! I'm very honoured to be considered for this award and grateful to see my efforts being recognised and rewarded. As fully funded PhD students, we have the opportunity to provide additional assistance to academic staff, often involving lab sessions and tutorials.
I enjoy working with students, and it gives me a sense of job fulfilment watching the students overcome steep learning curves. In a way, being a teaching assistant provides you with the teaching experience that could help determine your career path as well.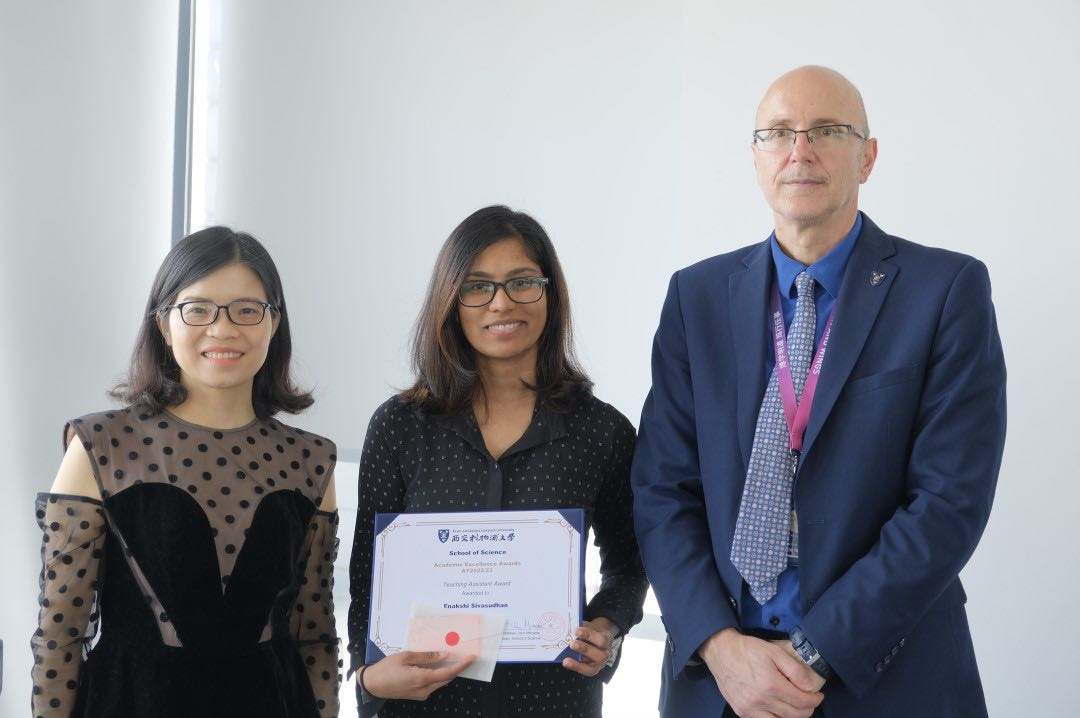 From left to right: Professor Li Yang, Associate Dean of Research and Impact; Enakshi Sivasudhan; Professor John Moraros, Dean of the School of Science
4.How do you assist undergraduate students with their final year projects? What is a typical day like?
During my time as a PhD student, I have helped with the final year projects of 12 undergraduate students in our lab. My responsibilities include helping them with research planning, formulating hypotheses, lab technique training, conducting experiments, results analysis, and troubleshooting when necessary. I also provide guidance for their presentation skills and report writing.
One of my fondest memories with my students is standing around our whiteboard in the lab, arguing out our research questions and figuring out the experimental approaches, much like a brainstorming session among budding researchers.
On a typical day, I would meet the students in the lab and spend some time discussing their progress, then lay out a work plan for the day and have them perform their experiments.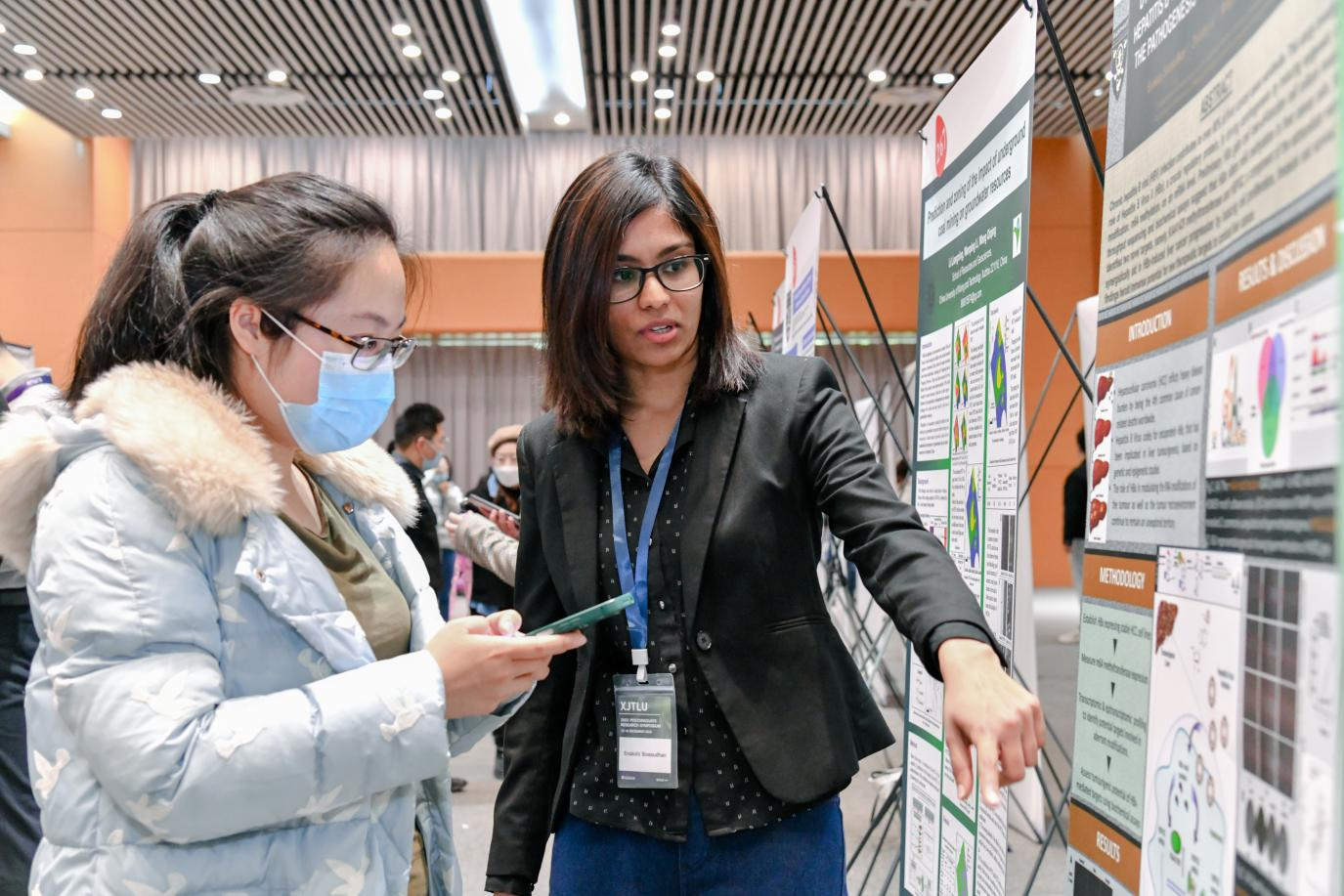 XJTLU's 2022 Postgraduate Research Symposium
5.Do you collaborate with other teachers or faculty members to support student success? How?
Absolutely! We have joint lab meetings every week, where we collaborate with each other and discuss our research findings with other staff members in the department. Networking is crucial when it comes to being a good researcher and helps students build confidence in communicating their research.
6.What are some of the biggest challenges you've faced in this role, and how have you addressed them?
I understand that many students, especially those in their first year, feel insecure about their communication skills, and don't feel confident enough to communicate in English with their peers. While my primary responsibility as a TA relies on teaching the students scientific skills, I try to create a positive study environment by making sure that they develop their language skills as well because, as I mentioned before, good communication skills are vital to becoming an exceptional researcher.
Being an international student myself, who is also a non-native English speaker, makes me empathetic towards the students' struggle to juggle science and language in an academic setting. I work towards conveying complex information in a clear and concise manner, making it accessible to students who may be struggling to comprehend the course materials.
7.How do you balance your responsibilities as a teaching assistant with your other academic obligations?
A crucial skill the PhD student should develop during their time is proper time management. I balance my responsibilities by breaking big tasks into small manageable chunks and trying to stick to a daily work schedule. Of course there are days when procrastination is inevitable, but it's all part of growing as a researcher. I try to allocate some hours every week to assist students with their work.
8.What do you find most rewarding about working as a teaching assistant?
I absolutely love watching my students learn an entirely new skill, then successfully master it, apply that skill into practice, and produce some meaningful results at the end.
Watching them evolve into experienced researchers is rewarding for me in every sense.
9.How did the experience help to develop you, professionally and/or personally?
Being a teaching assistant has certainly helped me grow as a researcher professionally, as I have come to gain crucial skills such as teaching, networking, problem solving, performance management and teamwork. On a personal level, interacting with students on a daily basis has helped me become more approachable, confident and adaptable.
10.Would you recommend other students apply for teaching assistant positions?
Definitely! Whether you are a fully funded or self-funded PhD student, taking the opportunity to be a teaching assistant will help you recognise the career path that interests you. It'll help you become more confident by overcoming fears of public speaking and improving your time management skills.
More importantly, the sense of accomplishment you feel, knowing that you have helped your students gain new knowledge and skills, is beyond description.
By Enakshi Sivasudhan
Edited by Luyao Wang and Patricia Pieterse
Photos courtesy of Enakshi Sivasudhan