On 3 September, Xi'an Jiaotong-Liverpool University held its 2023 opening ceremony at XJTLU's South Campus to welcome more than 7,000 new undergraduate, master's and PhD students. Among them are more than 370 new students from 48 countries and regions outside of the Chinese mainland.
2023 XJTLU Opening Ceremony
In the opening speech, Professor Youmin Xi, Executive President of XJTLU, congratulated the students on choosing XJTLU, where an innovative style of education and international environment will prepare them for an uncertain future.
"Facing the dual impact of unprecedented global changes and disruptive technologies, we hope you will surf in the turbulent future together with XJTLU, daring to break through, innovating boldly and advancing wisely, and creating miracles in your lives and careers," he said.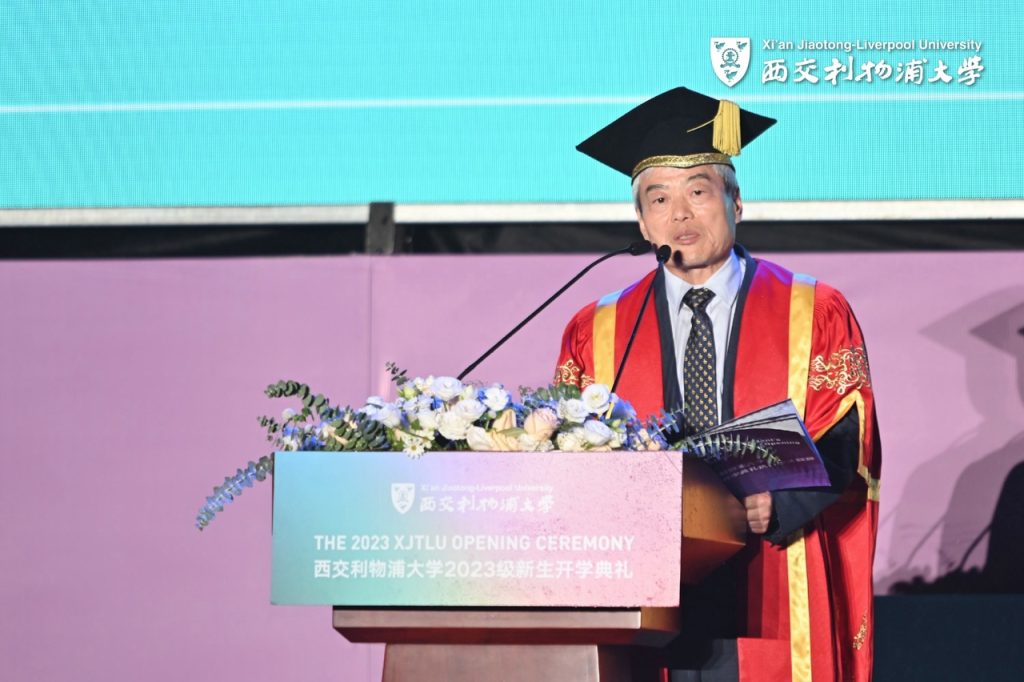 Professor Youmin Xi
Professor Xi encouraged students to develop a self-driven, interest- and research-led learning style while using the University's resources to forge their individual paths.
Life at XJTLU, he said, "will inspire you to envision the future, unleash your suppressed potential, and transition from studying blindly to pursuing dreams and planning your life, leveraging the support of teachers and the University to soar with strong wings."
New students can look to their predecessors for inspiration, he said.
"At XJTLU, senior students have already proven with their outstanding achievements that 'as long as you take initiative, there are limitless resources and opportunities; as long as you are bold, there are boundless possibilities'".
Research value
XJTLU President Professor Wenquan Tao encouraged students to embrace XJTLU's research-led education.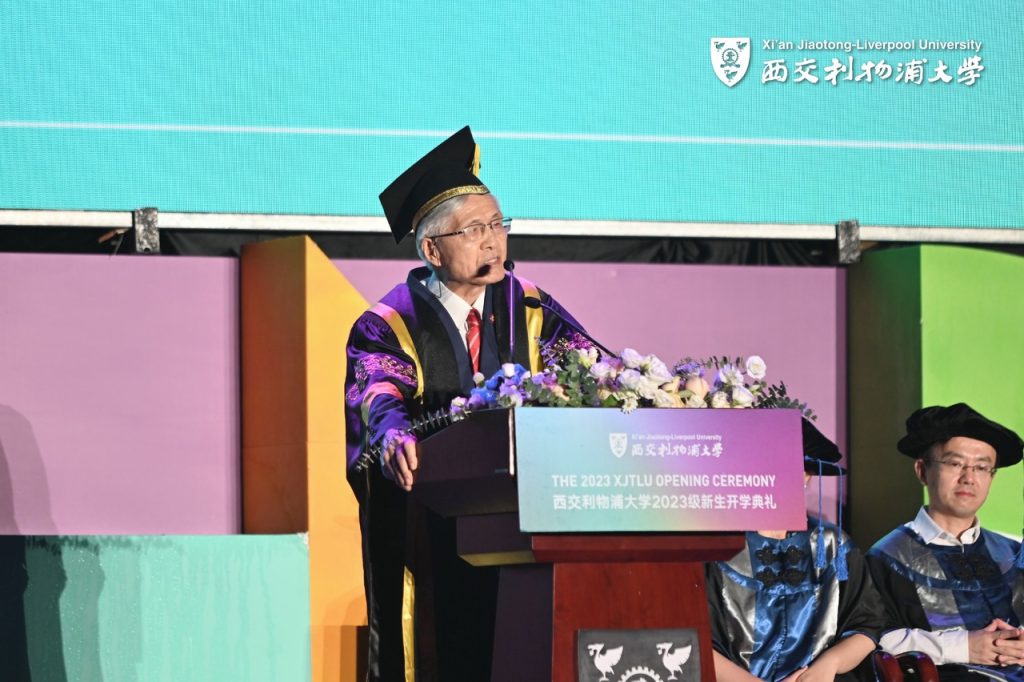 Professor Wenquan Tao
"To many of you, 'research-led' may sound alien, and research might not be something you imagined you would do in your college life," he said. "However, at XJTLU, research-led learning and teaching are requirements for both faculty and students.
"This type of education will help you develop an awareness of the problems you face and the ability to find solutions. You will learn how to acquire and analyse knowledge and solve problems."
Choose wisely
New undergraduate student representative Kunyang Zhang talked about making right choices.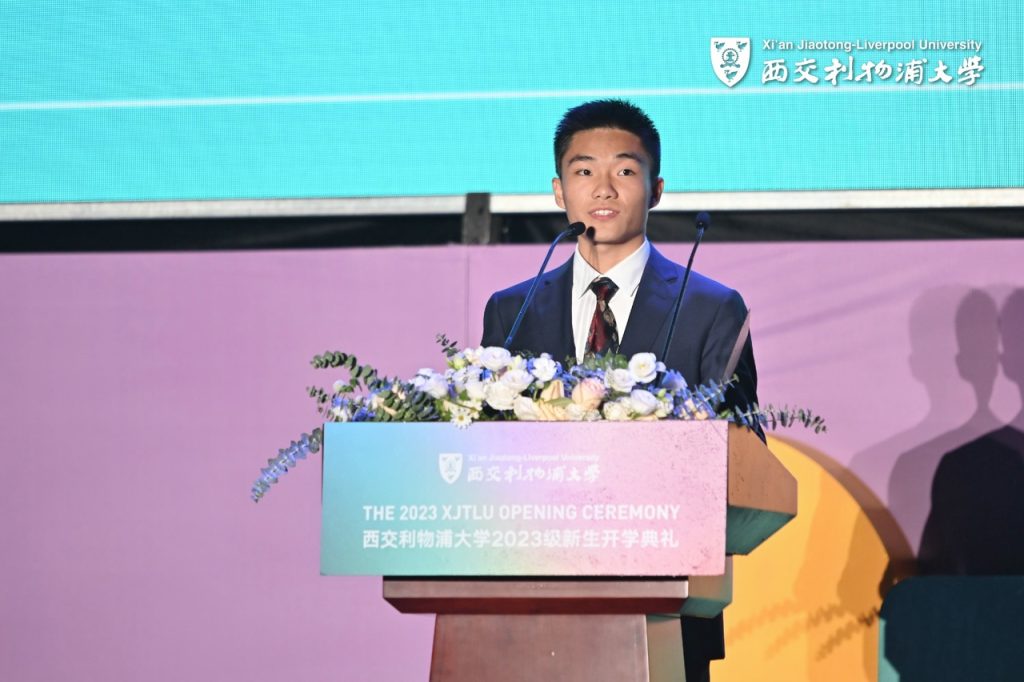 Kunyang Zhang
"I was once deeply impressed by a poem: 'Two roads diverged in a wood, and I took the one less travelled by, and that has made all the difference.' Our future situation in life largely depends on the choices we made.
"Now our choice of XJTLU sets a fine start point in our life, and we are the person who decide which road we proceed. If we choose a life of accomplishment, we must do our best to complete every course."
Better together
As a returning student with work experience, postgraduate student representative Nana Bao shared the importance of continuous learning and teamwork.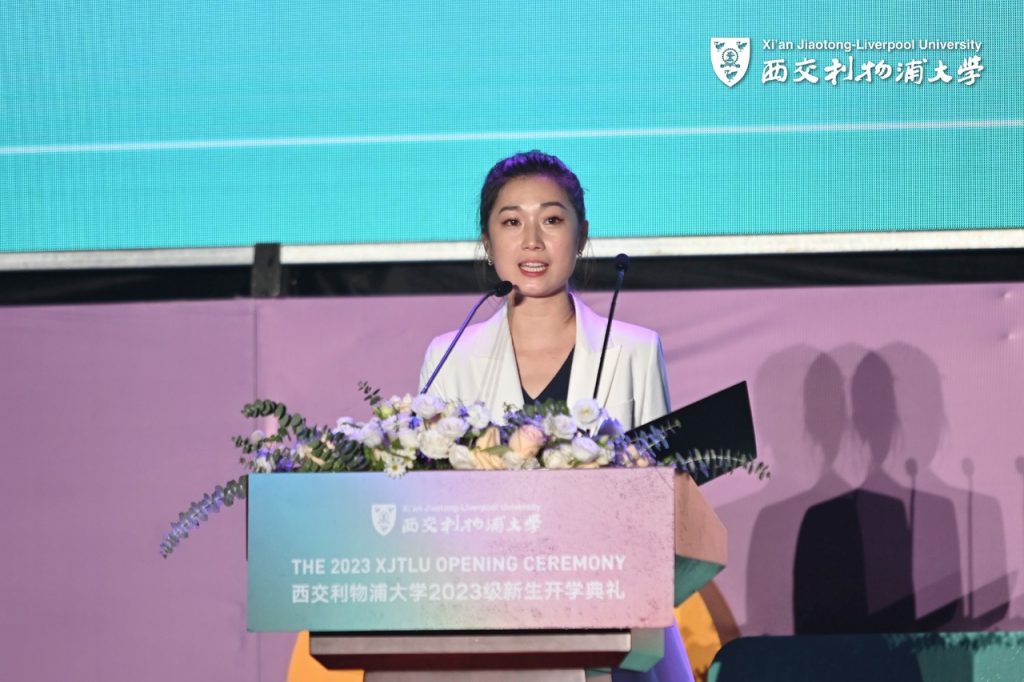 Nana Bao
According to Bao, students should shift their attention from passing assignments, quizzes, and finals to actively thinking about lessons, modules, and programmes. Through continuous learning, they will learn how to proactively analyse information and discover a more open and unknown world, she said.
Furthermore, whether at XJTLU, studying abroad, or working, all will inevitably need to work in teams, she said.
Teamwork helps us see our limits and allows us to understand the important role of diversity in innovation, since no one person possesses all the skills and qualities needed for a successful project, she said.
"It is crucial to cherish every discussion, project, and presentation in class, helping and supporting each other," she said. "This will be the best way to continuously improve ourselves and grow together with classmates who possess qualities that we may not have.
Embrace the experience
Anaïs Carraz, international student representative, encouraged international students to get to know domestic students and experience Chinese culture. Carraz is of French and Moldovan descent and was born and raised in Suzhou.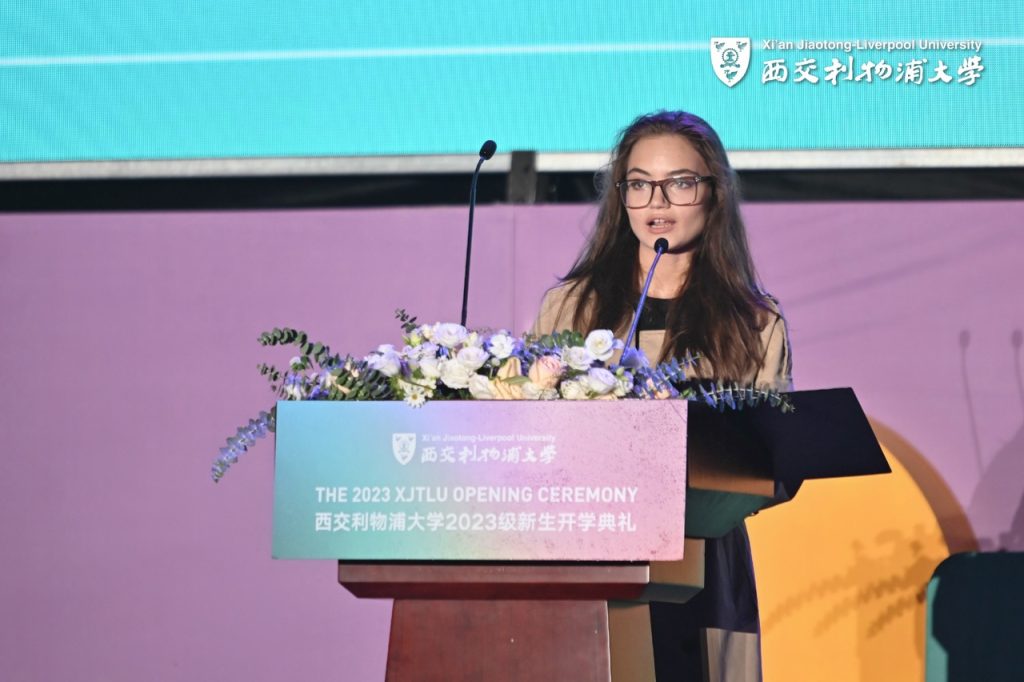 Anaïs Carraz
"I highly encourage you to immerse yourself within the local culture, and a great starting point would be to share your experiences and ideas with our local students, who I'm sure would love to bond over coffee with you," she said.
Carraz also encouraged every student to learn about themselves and the world while exploring academics:
"As you traverse the academic landscapes and embrace the cultural wonders of living in China, remember this: Your journey here at XJTLU is about much more than acquiring degrees and certificates. It's about discovering the world and, most importantly, discovering yourself."
Explore 'blue'
Professor John Moraros, international staff representative and Dean of the School of Science, encouraged students to pursue a metaphorical "Blue Ocean, Blue Sky, Blue Dream".
"The 'Blue Ocean' symbolises the yet uncharted waters of 'Knowledge' that eagerly await your exploration and discovery," he said. "As you travel the 'Blue Ocean' of your chosen discipline, you will encounter new ideas, be introduced to innovative concepts and exposed to perspectives that will challenge your current thinking and change your understanding forever."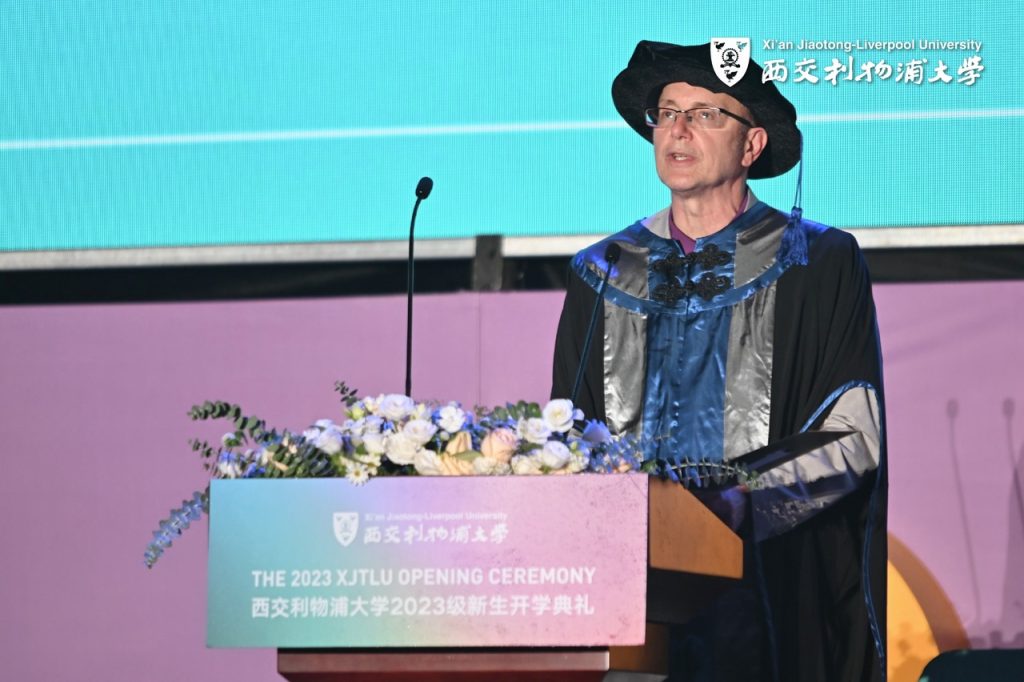 Professor John Moraros
Professor Moraros said that XJTLU students should look up at the "Blue Sky" of XJTLU and feel its boundless horizon.
"Your potential as a student at XJTLU is only constrained by the limits that you place on yourself," he said. "At XJTLU, you have the freedom to develop and spread your intellectual "Wings" to soar to new heights and pursue the "Light" of knowledge that leads to self-actualization and fulfilment".
He also said that everyone at XJTLU pursues their own unique "Blue Dream".
"Each one of you has to follow your own unique 'Blue Dream,' a dream that has led you to this powerful moment in time in your young life. Nurture your dreams, for they will serve as your guiding star, illuminating your path even when the night gets really dark and your academic journey becomes difficult and uncertain."
By Luyun Shi and Tamara Kaup
Edited by Xinmin Han