Unleash Yourselves and Dare to be Rationally 'Unconventional'
Executive President's Speech at 2023 XJTLU Opening Ceremony
Dear students, colleagues, parents, and friends:
Digitalisation and AI are changing human lives. Universities are no longer just halls of knowledge, but training grounds that awaken, ignite, support young people to build dreams, enhance literacy, develop skills, and explore the world boldly.
Our over 7,000 new XJTLU undergraduate and graduate students, parents, and friends, firstly, congratulations on making the right choice! XJTLU, a young internationalised university, has been prepared with innovative education to set sail with you. Secondly, facing of the dual impact of the unprecedented global changes and disruptive technologies, we hope you will surf in the turbulent future together with XJTLU, daring to break through, innovating boldly, and advancing wisely, and creating miracles in your lives and careers.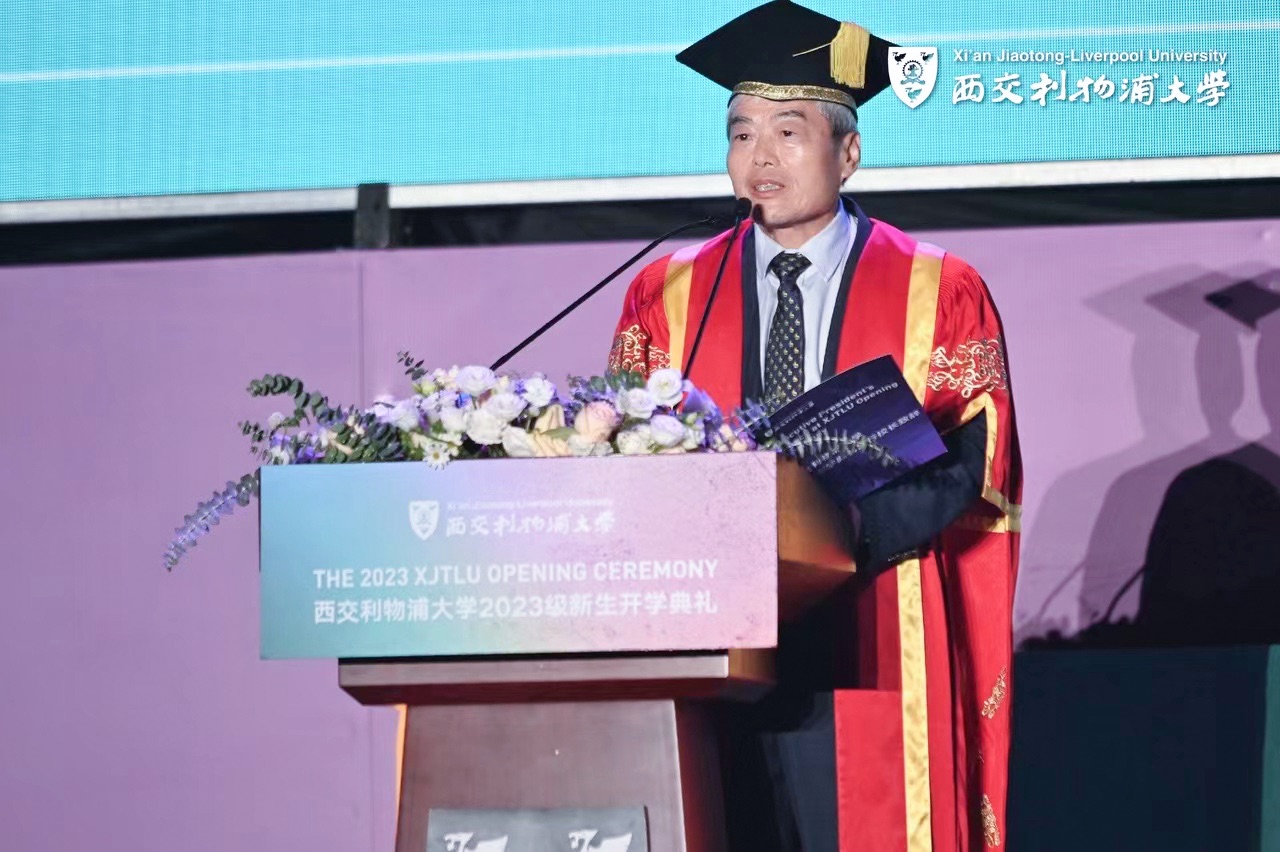 Professor Youmin Xi
Dear students, upon entering XJTLU, you will soon discover that no one will admonish you for missing classes, or pressure you to submit assignments on time. At this juncture, you must make the right choices. Will you isolate yourselves in the virtual world of video games, or will you bask in the sunlight and explore the infinite and abundant learning resources at XJTLU? Will you indulge in an empty schedule, or will you embrace the diverse campus life that supports your growth? Will you avoid your supervisors for an entire semester, or will you engage in continuous academic exchanges with them? If you choose the former, a "leisurely life", then you need to reconsider your life's path, for such a life does not align with the purpose of a higher institution.
From elementary school to high school, you rarely had the opportunity to make choices for yourselves or the space to contemplate what you truly desire. However, XJTLU provides you with unique opportunities and platforms. Firstly, it offers you independent space, facilitating a rapid transformation from a teenager to a young adult and furtherly to becoming a global citizen. Secondly, through learning and extensive exploration, you can discover your interests, awaken your inner desires, and transition from passive learning to proactive and research-led learning. Furthermore, the relaxed and vibrant campus life will inspire you to envision the future, unleash your suppressed potential, and transition from studying blindly to pursuing dreams and planning your life, leveraging the support of teachers and the University to soar with strong wings. For graduate students, it's essential to seize the chance for further education and research, utilising XJTLU's international academic resources and network. Dare to aim high and cultivate resourcefulness. Follow  your interests as you embark on a journey toward distant horizons. At XJTLU, senior students have already proven with their outstanding achievements that "as long as you take initiative, there are limitless resources and opportunities; as long as you are bold, there are boundless possibilities!"
As your life's train arrives at XJTLU, it's time to bid farewell to the innocence of childhood and assume the responsibilities of adulthood. Embrace XJTLU's principles of "healthy growth, interest-driven, proactive and research-led learning", and rapidly transform into future-oriented global citizens. As you embark on your journey at XJTLU, I offer you XJTLU's core value of "Diversity, Regulation, Freedom, Innovation, and Trust" as a travel guide, for you to savour and deeply experience over the next few years.
On the path of free exploration at XJTLU, you must learn to coexist with regulations, communicate with the world, and always treat others with respect. XJTLU offers all students the freedom to explore the world and develop personal growth, but what is true freedom? Freedom is the wisdom to interact with rules, not an entitlement to surpass boundaries; it's the ability to communicate with humility and respect, not the arrogance of ignorance. Learn to earn respect, partnerships, and space for exploration through your character, abilities, and wisdom!
In the journey of fearless innovation at XJTLU, you must learn to collaborate and uphold integrity, honesty, and trust. In our complex modern society, innovation is the cornerstone of personal and professional development, and it's inseparable from cooperation and multidimensional collaboration, with sincerity and trust as its bedrock. Philosopher Immanuel Kant said: "Honesty is better than any resourcefulness and is the basic condition of it." Only by holding onto the foundation of honesty, guided by integrity and protected by trust, can the path of innovation remain smooth and wide.
As you experience XJTLU's diverse environment, learn to respect and embrace differences, viewing things and the world from multiple perspectives. XJTLU's staff and students from all around the world create a unique, caring, inclusive, and supportive multicultural environment, where differences in values, habits, and work styles are inevitable. You may face challenges and difficulties, which sometimes may lead to unpleasant, sad, or even angry emotions. However, if you can understand differences, respect diversity, utilise XJTLU's comprehensive support system, learn to change your perspective on setbacks, failures, or mistakes, proactively adjust your negative emotions and face reality with a positive mindset, you will elevate your international vision, achieve a HeXie mindset which integrates Eastern and Western wisdom, and your growth experience at XJTLU will become an invaluable asset for your future development.
The whistle has sounded, I understand your eager anticipation, and I also understand all your parents are feeling a mixture of joy and reluctance. Please carry your dreams with you as you set forth into the future with XJTLU. You should acknowledge that this departure marks a turning point in your relationship with your parents, and finding a new balance requires understanding and effort from both sides. Dear parents and friends, it's time for you to step back and make way for these young adults! We can stand together in the background as mentors, supporters, and helpers. Their future will be experienced and created by themselves.
Lastly, on behalf of all staff and students at XJTLU, I extend a warm welcome to our 2023 entrants: Welcome aboard! The journey ahead will be filled with happiness and surprises, but it will also undoubtedly present difficulties and challenges. Embrace exploration; the vastness and depth of the world exceed our imagination, just as your potential does!
Professor Youmin Xi
Executive President of Xi'an Jiaotong-Liverpool University
Pro-Vice-Chancellor of the University of Liverpool