Dr Peng Zhao from the Department of Health and Environmental Sciences at the School of Science has recently published a new book titled "Working with Data in Public Health: A Practical Pathway with R".
Published in collaboration with Springer and Xi'an Jiaotong University Press, this book offers a complete and practical guide to data processing using the R programming language, catering to both students and self-learners in the field of public health.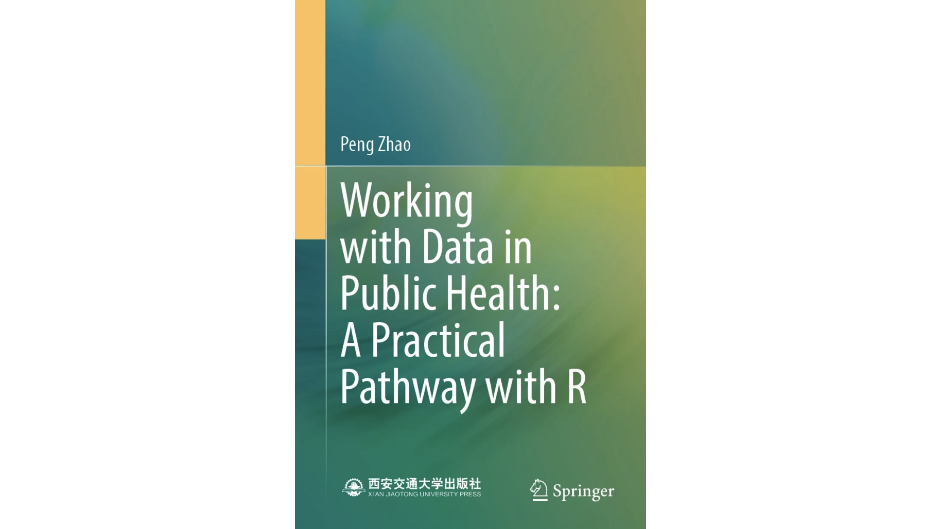 Book Cover
An inspirational journey
The inspiration for the book emerged from Dr Peng Zhao's dynamic role as the module leader for the undergraduate degree module "Methods for Analysing Public Health IV: Working in the Field: Data."
The enthusiasm and dedication invested in developing these teaching materials led to positive feedback from students. This success served as the catalyst for exploring the transformation of these materials into a comprehensive textbook.
Dr Zhao initiated a Teaching Development Fund (TDF) project entitled "Learning via co-writing a textbook in the post-pandemic era". Under his expert guidance, students played a central role as main contributors, crafting an interactive educational experience that bridges theory and practice.
Practical examples bridge the gap
Dr Zhao says: "The main message of my book revolves around the realisation that despite possessing a range of skills in the R language, students may struggle to appropriately select the necessary tools for their needs.
"Conversely, students who conduct research without knowledge of R may remain unaware of R's potential in facilitating their work."
Drawing upon his extensive research and teaching experiences, Dr Zhao has meticulously crafted his book to serve as a textbook for undergraduates and graduates in public health while also functioning as an instructive tutorial for those pursuing independent learning.
The book's core strength lies in its many firsthand examples, each accompanied by source data, R scripts, and graphs. These examples are complemented by in-depth explanations, empowering readers to effortlessly replicate and comprehend the intricate data processing principles and procedures.
A distinctive feature of "Working with Data in Public Health: A Practical Pathway with R" is its commitment to bridging the gap between theory and practice.
Through a pragmatic approach, Dr Zhao guides readers through the tools and knowledge needed to navigate the complexities of data analysis within the context of public health.
The book's accessible format and real-world applications make it an essential resource for students and practitioners alike.
Notably, the book introduces readers to a variety of R packages tailored specifically for public health applications. This inclusion reflects Dr Zhao's commitment to keeping readers informed about both established and cutting-edge tools, enhancing their ability to derive meaningful insights from their data.
As readers delve into the pages of "Working with Data in Public Health: A Practical Pathway with R", they will uncover a wealth of practical guidance, actionable insights, and a comprehensive pathway to mastering data analysis with the R language in the context of public health.
About the author:
Dr Peng Zhao is an Assistant Professor at Xi'an Jiaotong-Liverpool University. He has a BSc and an MSc from Peking University, and a PhD from the University of Bayreuth. He used to work as a post-doc at the University of Innsbruck and the Max Planck Institute.
Dr Zhao is currently the module leader of the "Advanced Statistics in Environmental Sciences" postgraduate module. He previously published the books "Learn R: Learning the R programme from Scratch" in 2018 and "Modern Statistical Graphs" in 2021 (both in Chinese) as the first author of both.
By Luyao Wang
Edited by Catherine Diamond