Recent activities demonstrating XJTLU's international connections included:
XJTLU Learning Mall's participation in UNESCO's Digital Learning Week;
a partnership agreement with a large scientific research centre in Greece;
a discussion on sustainability with an Australian delegation at IBSS;
membership in a leading network promoting global citizen education and new GCED Director for XJTLU from the Academy of Future Education; and
hosting a delegation from the University of Nevada, Reno.
UNESCO Digital Learning Week participation
Jing Wang, Deputy Director of the XJTLU Learning Mall, represented the Learning Mall platform at UNESCO Digital Learning Week in Paris.
She exchanged ideas with educators and researchers from across the world about the development of open digital learning platforms for higher education.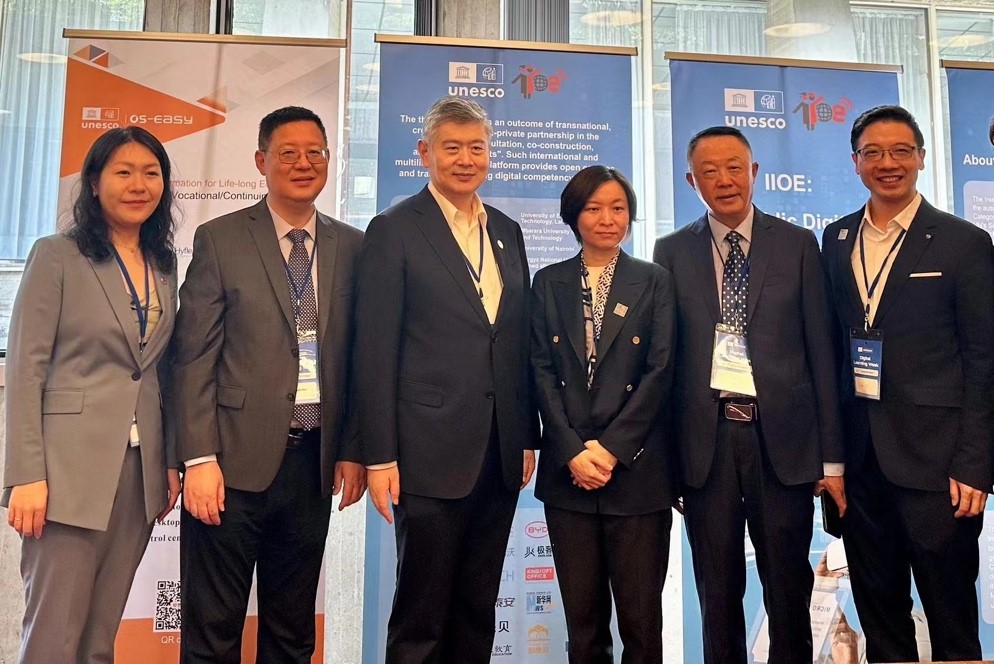 XJTLU Learning Mall Deputy Director Jing Wang, fourth from left, with the delegation of the International Centre for Higher Education Innovation under the auspices of UNESCO (UNESCO-ICHEI)
The event included an international symposium on digital learning platforms and a global forum on AI and education, with a focus on generative AI's influence on education.
During her speech at the event, UNESCO Assistant Director-General for Education Stefania Giannini said educators must think about how best to use new technologies like generative AI to advance education and how to take on the corresponding responsibilities.
"We must follow the four principles of 'inclusiveness, fairness, quality, and sharing' to make technology truly serve education," Giannini said.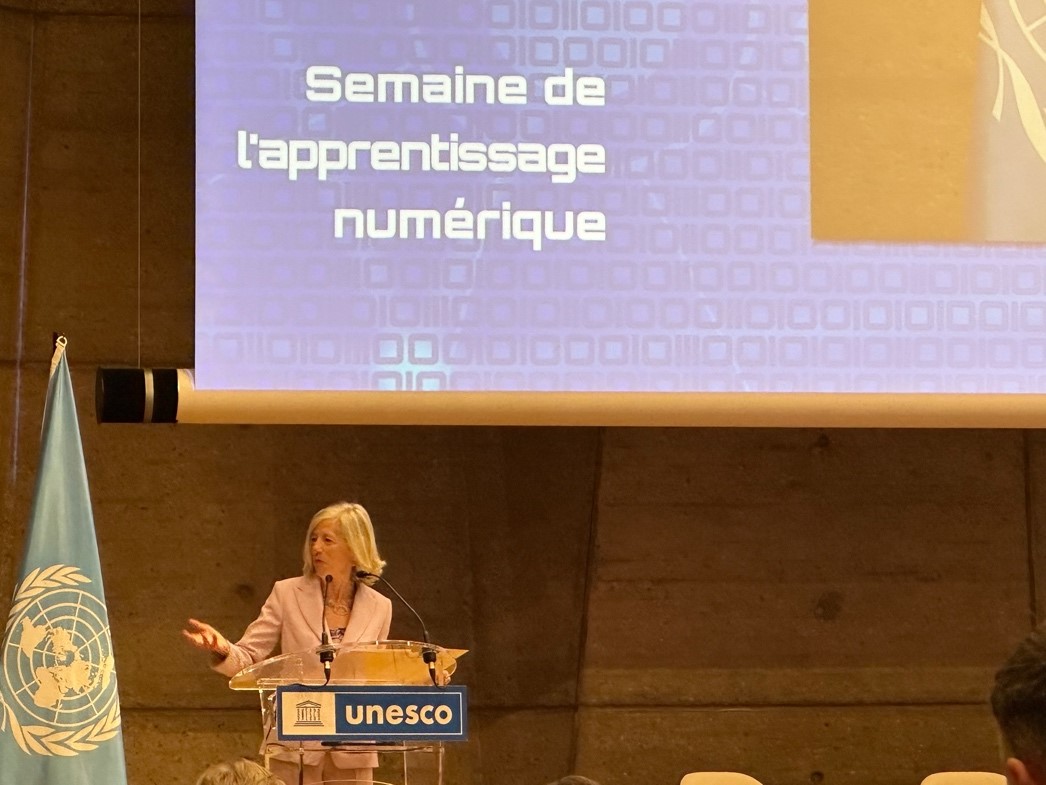 UNESCO Assistant Director-General for Education Stefania Giannini
Partnership with FORTH research centre
An international partnership was established between XJTLU and the Foundation for Research and Technology - Hellas (FORTH), one of the largest research centres in Greece. Professor Nektarios Tavernarakis from the University of Crete and Chair of the FORTH board of directors visited XJTLU to sign a Memorandum of Understanding (MoU) with XJTLU School of Science leaders and deliver the first XJTLU Science Talk.
Professor Tavernarakis said XJTLU's MRes and PhD students visiting FORTH will have their research expenses covered. The MoU is also anticipated to foster the development of student exchanges and joint research projects.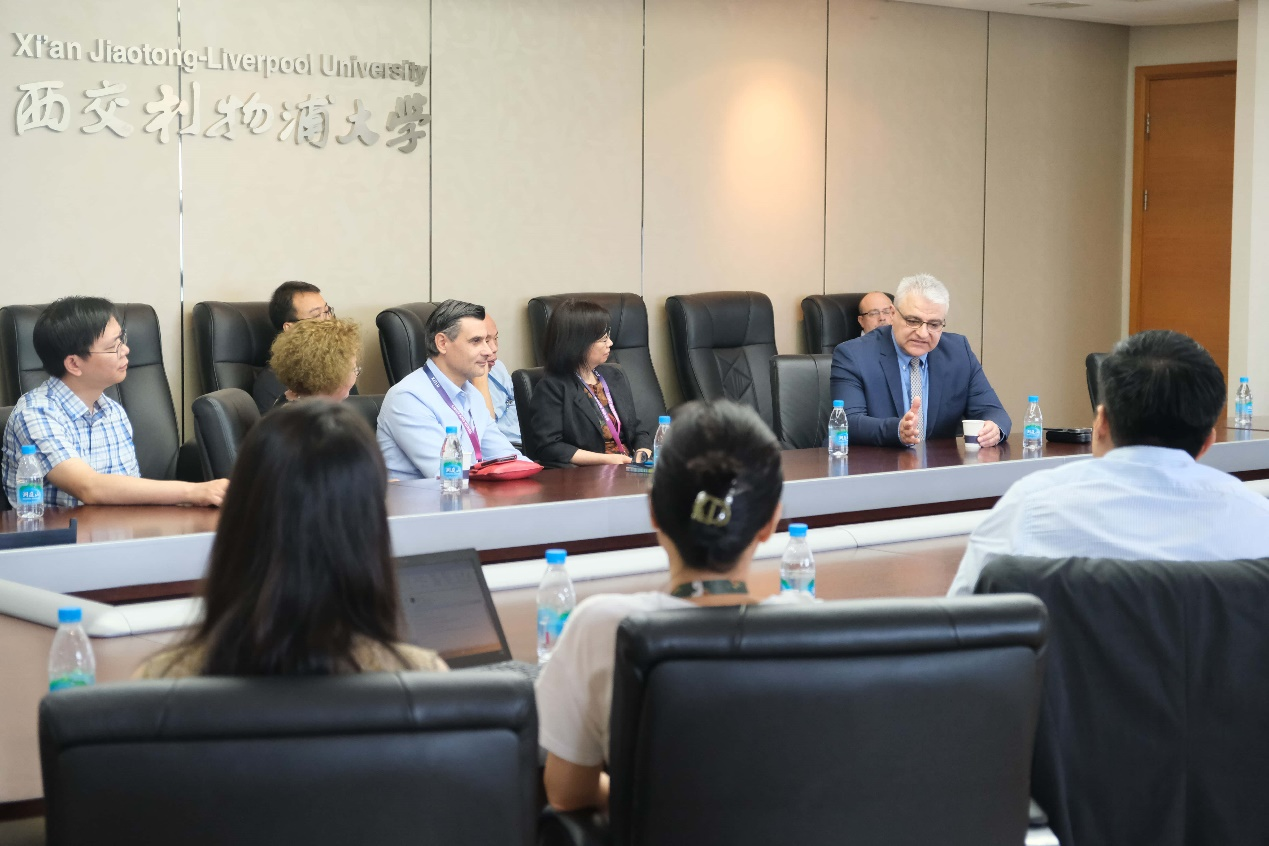 Professor Nektarios Tavernarakis, University of Crete, Chair of FORTH board of directors (top right)
Australian delegation discussion
A policy officer in the Australian Department of Climate Change, Energy, Environment, and Water visited XJTLU to learn more about climate change policies in China and how International Business School Suzhou (IBSS) prepares its students as future leaders in sustainability.
Rachael Favero, Policy Officer in the International Climate and Energy Division, and Jordan Aitken, Consul (Political/Economic) at the Australian Consulate-General Shanghai, met with Professor Jorg Bley, Dean of IBSS, and Dr Ellen Touchstone, Associate Dean for Responsible and Sustainable Business Education.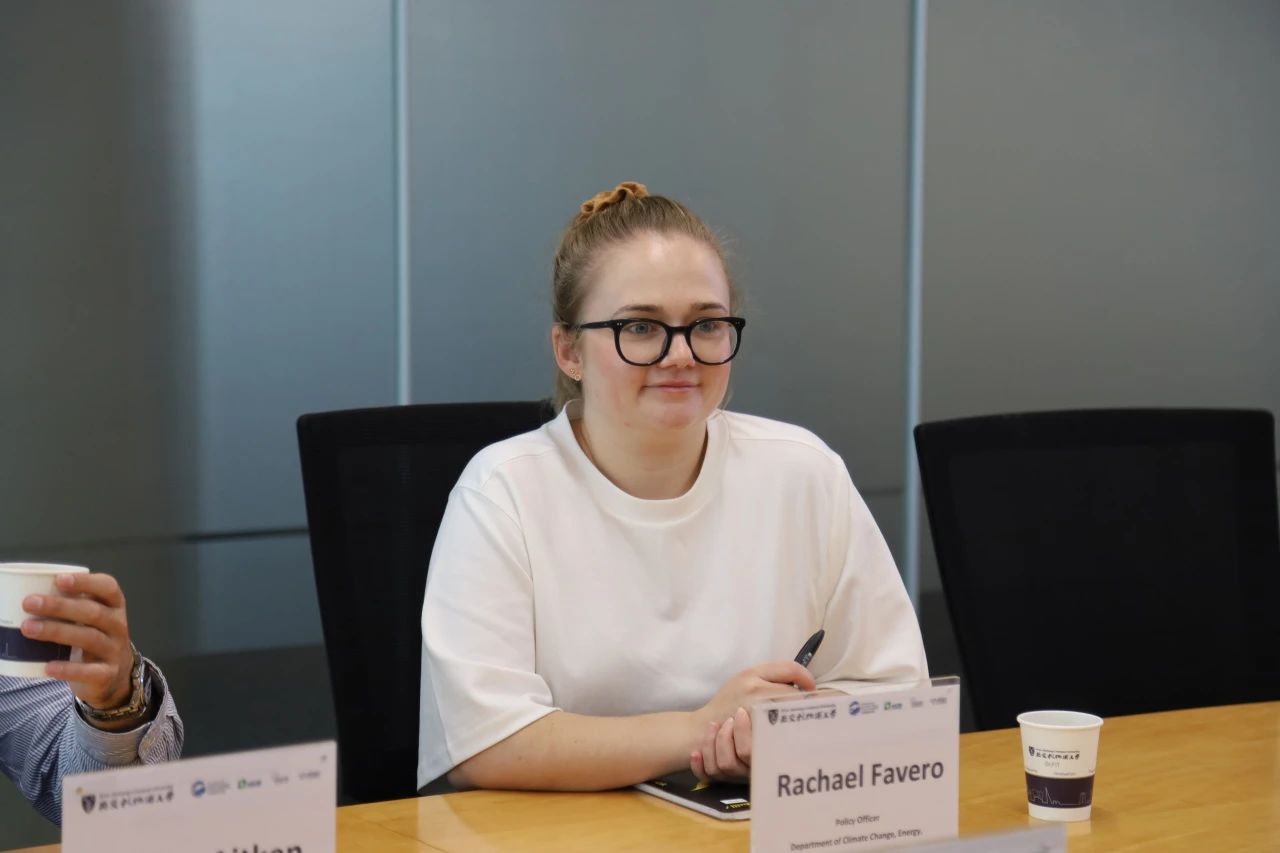 Rachael Favero, Policy Officer in the Australian Department of Climate Change, Energy, Environment, and Water
University of Nevada, Reno visit
XJTLU hosted a delegation from the University of Nevada, Reno to discuss potential talent training and personnel exchange collaborations.
The delegation met with Professor Qiuling Chao, Vice President of XJTLU; Dr Xin Bi, Director of XJTLU's Centre for Knowledge and Information; and staff from the XJTLU Learning Mall.
The University of Nevada, Reno is a US university founded in 1874. It holds an R1 classification according to The Carnegie Classification of Institutions of Higher Education – the highest level of research activity.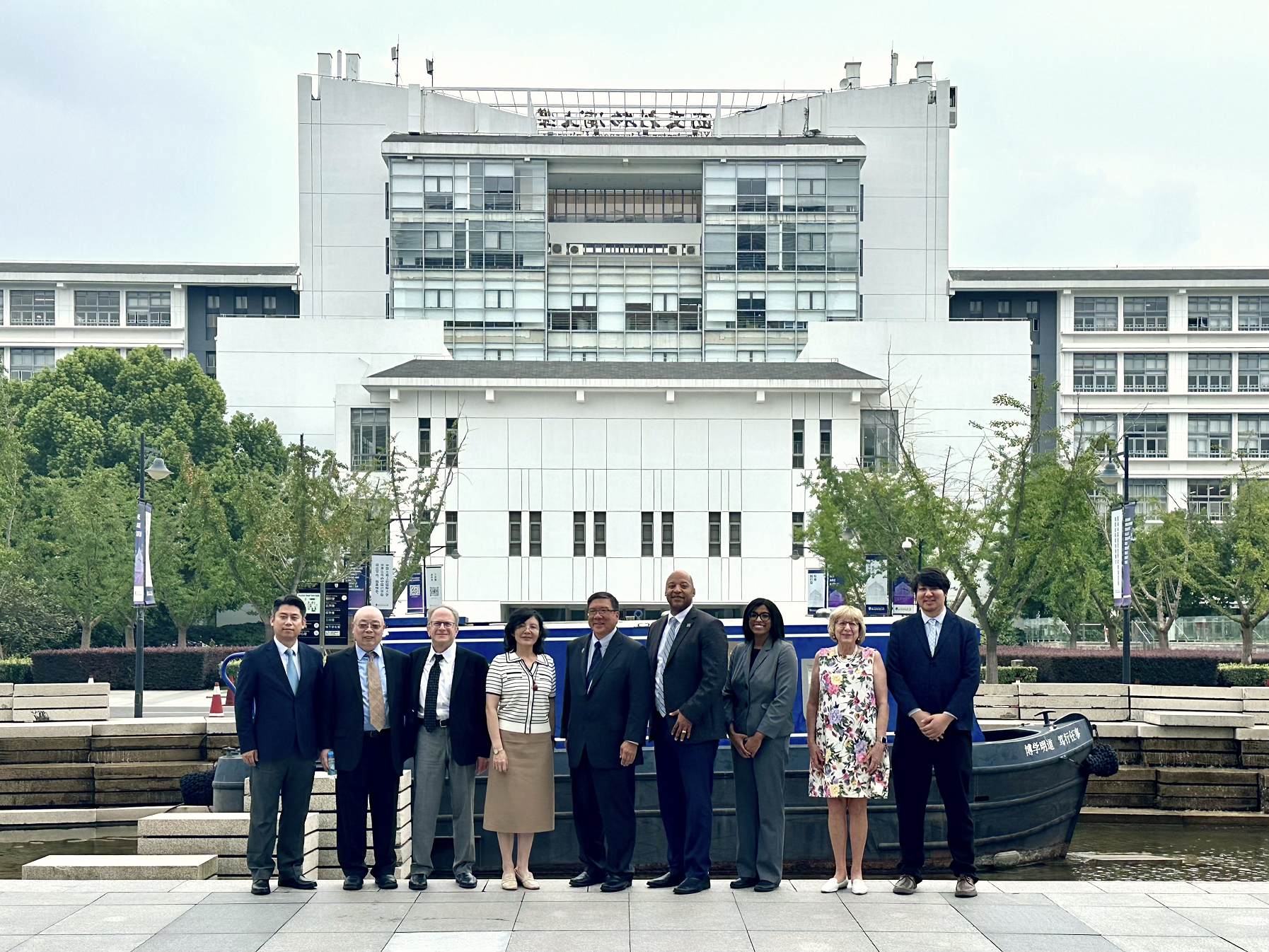 University of Nevada, Reno delegation with XJTLU representatives
Global Citizenship Education promotion
XJTLU has joined a leading network for the promotion of global citizen education (GCED), marking a milestone in the University's efforts to empower students to play an active role in building peaceful, tolerant, and inclusive societies.
The Asia-Pacific Regional GCED Network is a UNESCO-backed platform that facilitates collaboration and knowledge exchanges among educational institutions.
"We're thrilled to be joining this network, as it aligns perfectly with our goal of nurturing global citizens who can operate effectively and ethically in an international context," says Professor Moritz Bilagher, newly appointed GCED Director at XJTLU. Professor Bilagher is a Professor of Practice in Global Citizenship Education at XJTLU's Academy of Future Education.
In addition to promoting collaboration among institutions and academic staff across Asia, the network will also provide opportunities for XJTLU students to take part in internships, webinars and conferences with leading experts, and other exchanges designed to enhance their global mindset and skillset.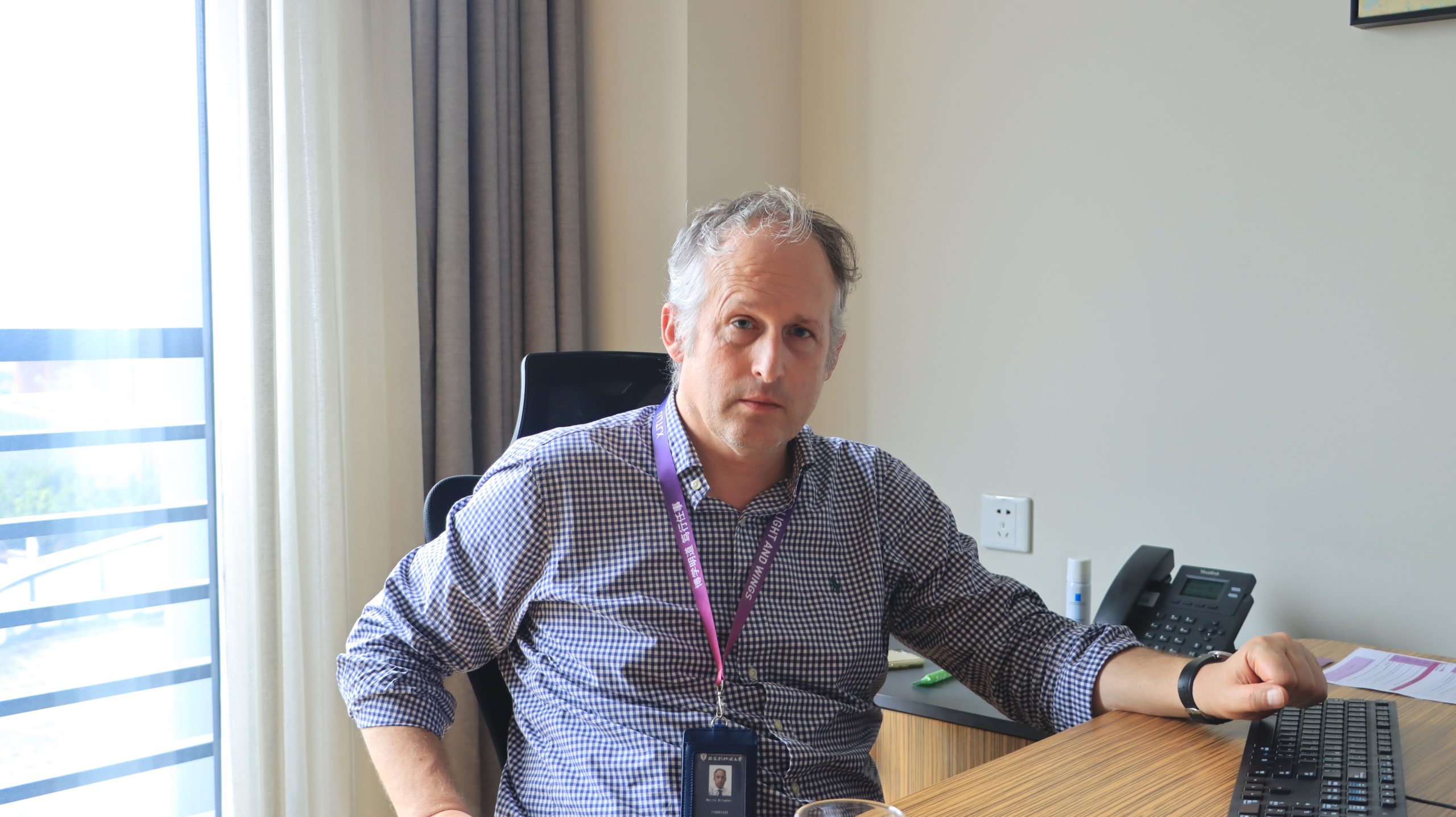 Professor Moritz Bilagher, GCED Director at XJTLU
By XJTLU Learning Mall, Luyao Wang, IBSS and Xiaoyan Jin
Edited by Tamara Kaup and Patricia Pieterse
Translations by Xiangyin Han and Xueqi Wang
Photos courtesy of XJTLU Learning Mall, Yifan Zhang, and IBSS