The 2017 Summer Undergraduate Research Fellowship (SURF) Poster Day was held at Xi'an Jiaotong-Liverpool University with more than 160 undergraduate students from 14 departments presenting 64 summer research projects.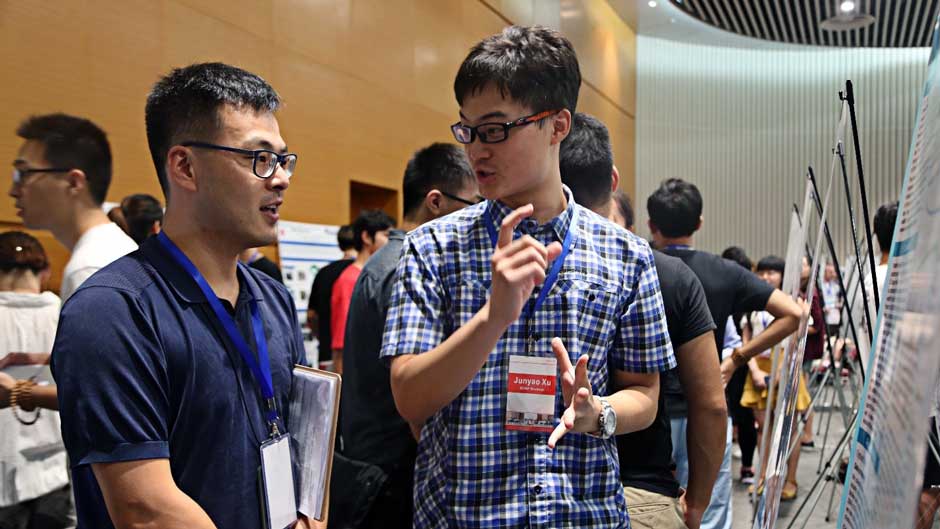 Jiaqi Wang, Year Three student studying BA Applied English, conducted research on illness metaphors in old English with her teammates. They learnt that illness was delineated via metaphors in old English through analysis of ancient medical texts.
Regarding the experience of doing the project, Jiaqi (pictured below) said: "At the beginning, we actually could not understood the content of the massive database of ancient English. We needed to filter the information after we understood it which took a lot of time. Although it was very challenging to study and query corpus and translation, when we finally found the conclusion to our research we were so happy."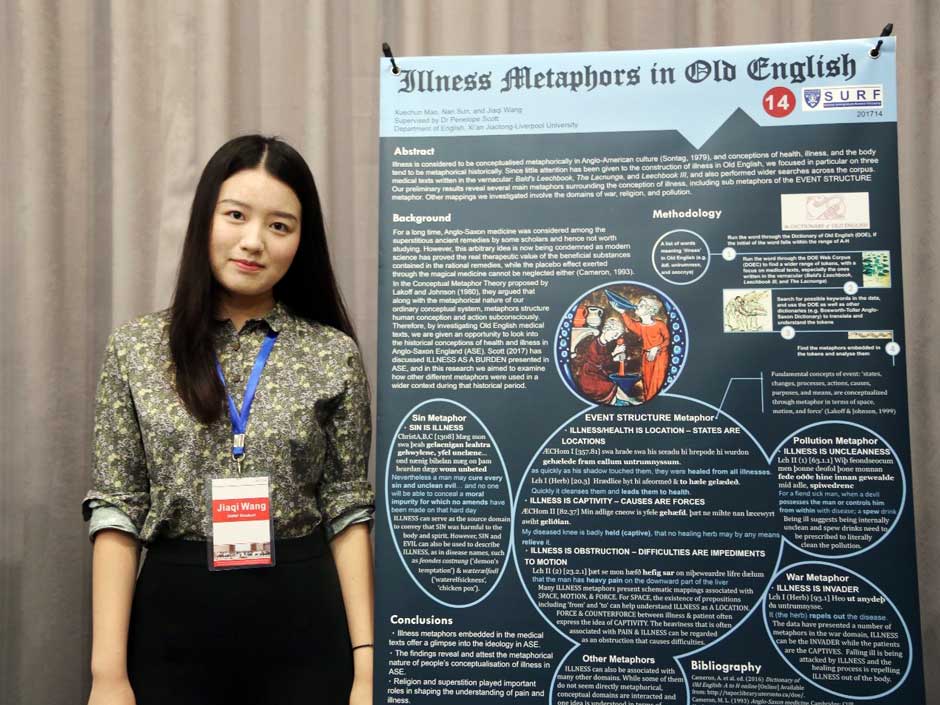 "Our project supervisor, Dr Penelope Scott from the Department of English at XJTLU, gave us many reading materials at the beginning and guided us to use online corpus," Jiaqi added. "Through this project, we have learnt new knowledge that we could not learn in historical linguistics and cognitive linguistics during daily study. We have also gained friendship through our teamwork."
Dr Scott (pictured below) praised the students for their hard work saying: "Through independent research projects, students can learn how to plan, implement and finally solve the problem, which is of great help for their future academic career."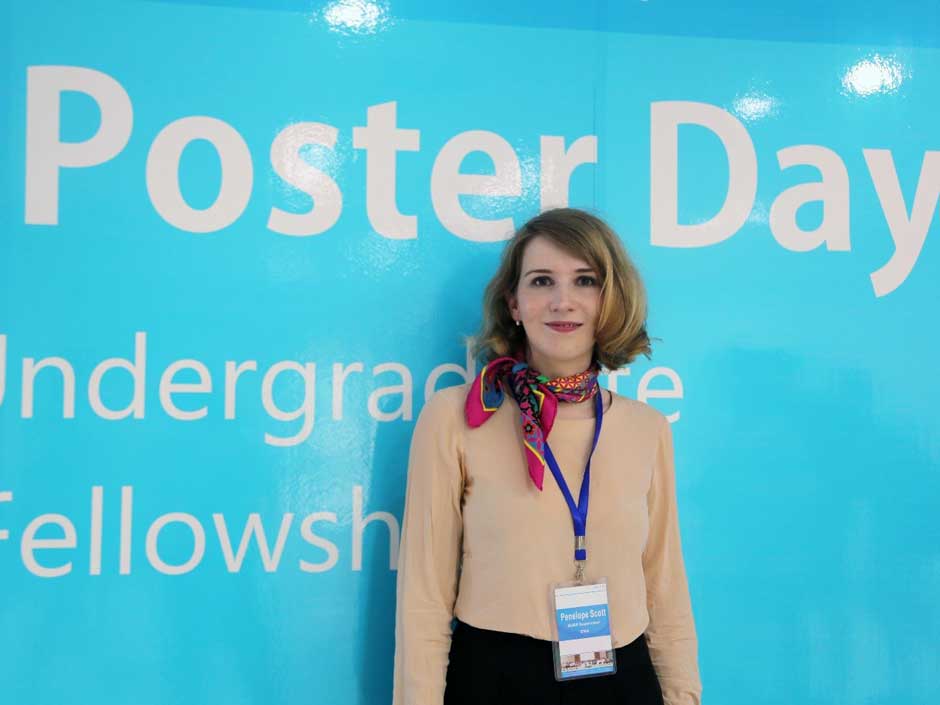 Yutong Luo, who won the best project prize in 2015 and who has recently graduated from the BA Applied English programme this summer is currently studying East Asian Studies at the School of Humanities and Sciences at Stanford University.
She was invited to share her story with SURF through video and commented: "Doing summer research projects is not like writing papers as it is more focused on gathering research ideas from all members and through continuous exploration and practice produce more new and valuable content."
Kaixuan Fan (pictured below), Year Two student studying BEng Computer Science and Technology, presented his group's research results about off-screen visualisation in the 3D environment to the audience using a computer.
"There is a lot of research conducted about off-screen visualisation in the 2D environment," said Kaixuan. "Through reading relevant papers and combining our own creative ideas, we migrated the technology from the 2D environment into the 3D."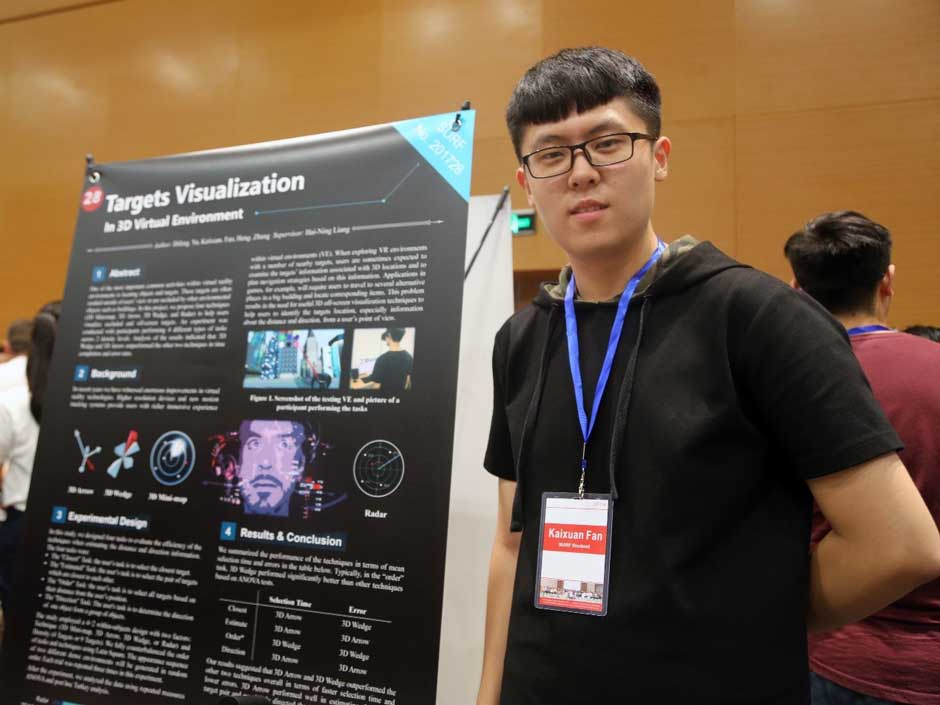 When it comes to the challenges encountered during the research, Kaixuan said: "As our research was mainly done in the summer vacation, most students had gone home so the experiment lacked volunteers. At the same time, many plans that were originally considered feasible were excluded after the experiment, however, some methods which were previously considered unfeasible finally achieved good results."
"Our supervisor, Dr Hai-Ning Liang from the Department of Computer Science and Software Engineering, gave us great help from the idea for the project to the technical support. Without his support, it would have been difficult for us to achieve the success of this study. By participating in SURF, my academic research ability has been greatly improved," he added.
Professor David Goodman, vice president of XJTLU, said that all the students who participated in SURF have experienced a very memorable and fulfilling period and that he really would like to award prizes to everyone who worked hard.
After reviewing the projects the panel of judges declared that the Academic-nominated Winner Prize won by the team comprised of Ke Wang, Year Three student studying BSc Applied Mathematics and Kun Wang and Chao Xiang, Year Three students studying BSc Information and Computing Science.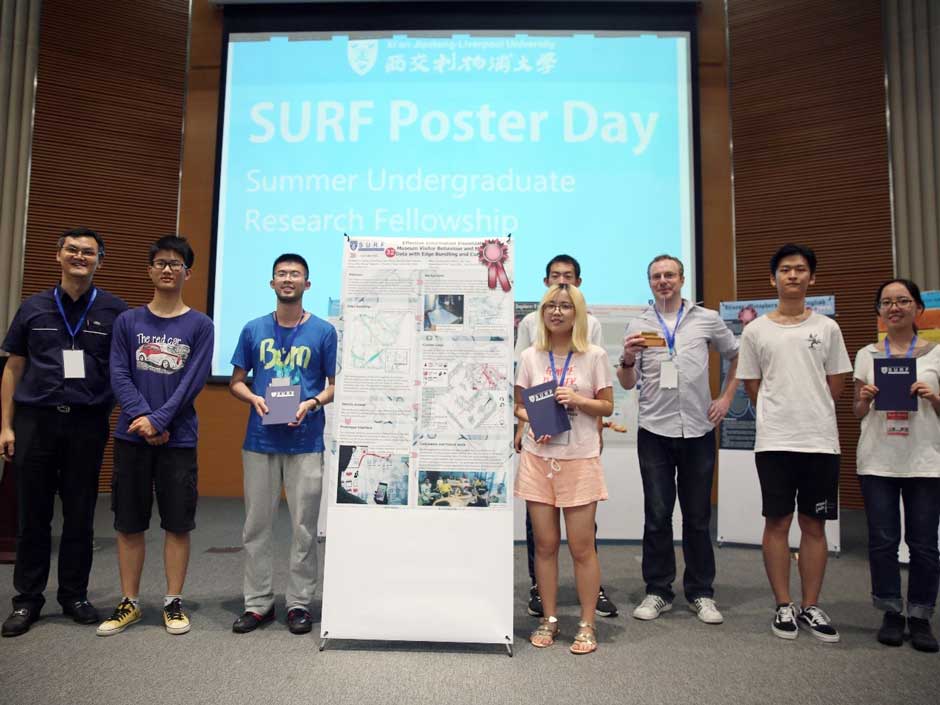 "Our research, entitled 'Effective Information Visualization of Museum Visitor Behaviour and Movement Data with Edge Bundling and Curved Lines', collected information of visitor paths and behaviors in Nanjing museum through tracking software and we then visualised the information through this software," Kun Wang explained.
"The information obtained can assist managers of museums to analyse how visitors move through a museum and therefore they can arrange exhibits accordingly."
Their supervisor, Dr Paul Craig from the Department of Computer Science and Software Engineering, was very excited after his students won the prize, saying: "I think this is a very good direction of research and it's very practical. Each member of this team is very talented and has made great efforts for the whole project."
Kun Wang said that Dr Paul Craig has given a lot of valuable advice throughout the project. "For example, in the improvement of the 'edge bundling' effect, Ke Wang and Chao Xiang originally wanted to preprocess the data through the 'path-finding' algorithm and find the optimal path in order to avoid the problem of crossing a wall, however, Paul pointed out that this approach would increase the amount of computation. He suggested that we divide the museum space and add 'door' to avoid crossing a wall," he added.
(translator: Yanzi Wu, editors: Guojuan Wang and Jacqueline Bánki, photos by Weiqian Zhang)