Three teams of students from Xi'an Jiaotong-Liverpool University participated in the 12th NXP Cup National University Students Intelligent Car Race.
The teams consisted of students from the Department of Electrical and Electronic Engineering and the Department of Computer Science and Software Engineering. They won second prize in the National Finals, two first prizes of the East China Division and one second prize of East China Division.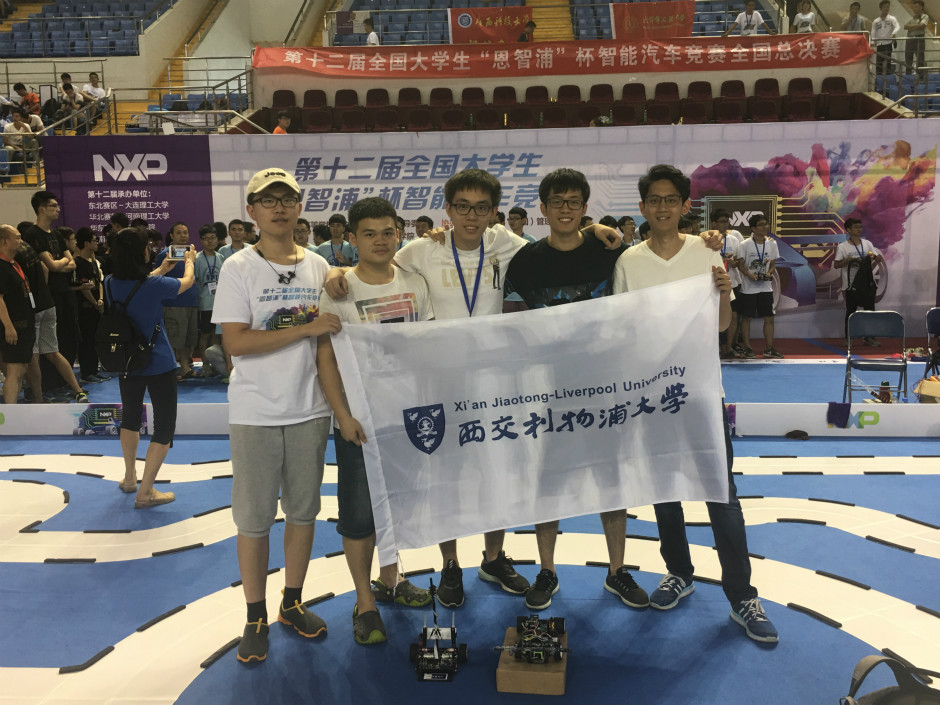 Co-organised by NXP Semiconductors N.V. and Automation Teaching Steering Committee of higher education institutions at the Ministry of Education of China, this competition aimed to promote education for all-around development in universities encouraging students to integrate their theoretical knowledge and practice in creative activities.
The East China Division included Jiangsu Province, Shanghai and Jiangxi Province. Teams that won the first prize of each division entered the national finals to compete against seeded teams, including: Tsinghua University, University of Science and Technology Beijing and South China University of Technology.
Junyan Li (pictured below), team leader of Team Exciting which won the second prize of the national finals, was interested in this competition since middle school. He assisted the teams in debugging intelligent cars last year which laid a solid foundation for his participation and winning this year.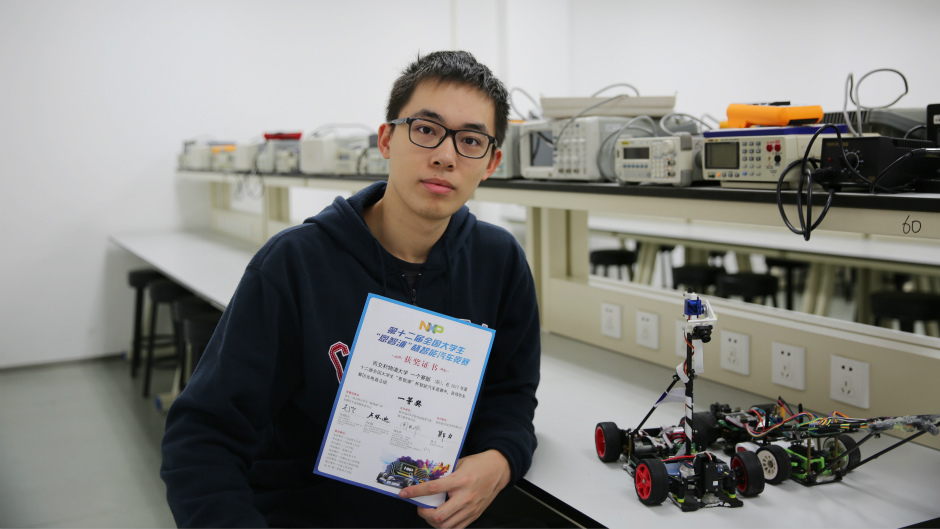 Team Exciting competed in the photoelectric sensor group which required intelligent cars to analyse the track conditions by capturing images through camera sensors.
Junyan explained that the whole design of their model car was completed within one month after the final exam. "As a new annular racetrack was added this year, we wrote a new algorithm and stayed up late every night at for debugging," he said.
According to Junyan, there were also unexpected situations during the preparation. Due to design flaws, the circuit board chip of their model car exploded during practice. "The official competition was close at hand, but we had to redesign the circuit board and wait for the factory to produce the new one. Although all members were under great pressure, we made it in the end, he added.
Different from Team Exciting, Team Whirlwind Tornado which Shuai Chen (pictured below left) and Xiaodong Ye (pictured below right) competed in the electromagnetic group. Intelligent cars in this group were required to use electromagnetic sensors to track the magnetic field. With the distance that an electromagnetic sensor can track being closer than a camera sensor, the speed control of model cars was also stricter.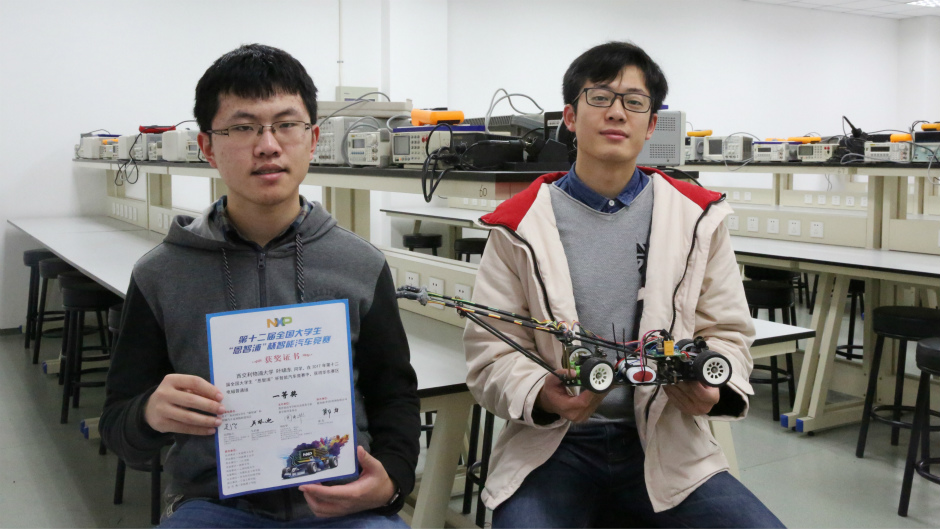 On the annular racetrack, Team Whirlwind Tornado proved stronger than teams such as Changshu Institute of Technology and Nanchang Hangkong University, and won the first prize of the East China Division and the ticket to the national finals.
Shuai said that since the required speed for straightaway, curve and annular racetracks were different, they had to write a targeted algorithm to control the wheel speed.
"Teams from other universities applied the algorithm of curve to annular racetrack mechanically but we wrote a new algorithm specifically for it." added Xiaodong.
After this intelligent car race, Shuai established a G-Master Robot Club which has already attracted more than 40 students to join. Shuai found that there was no pure robot student club in XJTLU, "Thanks to this competition, we met others who were also interested in machine building and artificial intelligence, so we established the club together."
Junyan Li, Shuai Chen and Xiaodong Ye have also decided to take part in the 2018 RoboMasters. Junyan said they all had the same purpose: "We would like to improve our practical abilities and promote the cooperation between XJTLU and other universities in machine production through competitions like this."
By Qiuchen Hu, photos by Liping Tian and Junyan Li, edited by Guojuan Wang and Jacqueline Bánki