The Jiangsu Science and Technology Department, Science and Information Department of the Suzhou Industrial Park Administration Committee and Xi'an Jiaotong-Liverpool University held a project acceptance meeting for Natural Science Funding of Jiangsu. The scientific achievements of six academics from XJTLU passed the verification and received praise from the review committee.
As part of the Jiangsu Technology project, Natural Science Funding of Jiangsu was established by Jiangsu Province and managed by JSTD. It aims to pursue world class scientific achievements and meet the needs of social and economic development in Jiangsu Province.

Among these projects, Dr Li Yang (pictured above left) from the Department of Chemistry has successfully established the key parameters to prepare high quality graphene bottom electrodes for molecular electronics. Replacing the common metallic electrodes by graphene, offers new molecular electronics functionalities that can be intergrated in the nanoelectronics industry in future. The work published in the high profile journal Nano Letters demonstrated that the use of graphene electrode leads to an increase in electronic conduction for longer molecular chains (above 1 nm), which opens new perspectives in terms of low consuming electronic components.
Dr Yi Li (pictured above, second from left) from the Department of Chemistry created new methods for the Asymmetric Ttrifluoromethylation of organic molecules. This research enhances understanding of this type of organic chemical reaction.
Dr Jia Meng (pictured above, third from left), from the Department of Biological Sciences, aims to facilitate the analysis of MeRIP-seq data, which profiles transcriptome distribution of RNA methylation, of small samples.
Dr Hebin Liu (pictured above, third from right), from the Department of Biological Sciences, conducted an investigation on the regulation of T-cell activation by SUMOylation of immune adaptor SLP-76. The work was published in the high-level journal The Journal of Immunology.
Dr Dawei Liu (pictured above, second from right), from the Department of Computer Science and Software Engineering, studies how to detect positioning errors in wireless networks. His achievement was awarded the best essay prize in IEEE MiSeNet 2014.
Dr Shengkui Ye (pictured above, right), from the Department of Mathematical Sciences, focuses on the Zimmer conjecture, an open problem in pure mathematics. He has made significant progress on this conjecture. The reviewing committee believed that his study is of great value and promotes the study of Zimmer conjecture.
On average, it took over 3 years for XJTLU academics to finish these six projects. During the project stage, XJTLU academics published a total of 21 SCI essays, 7 EI essays and applied for 4 patents for inventions.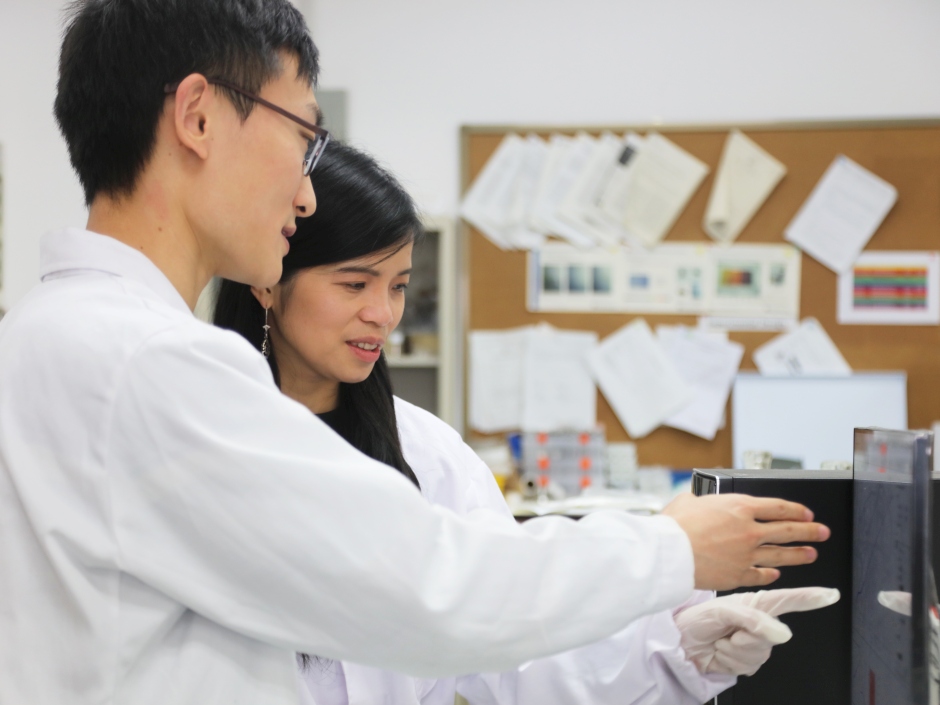 (Dr Li Yang and PhD student working on the project)
Professor Dechang Xu, director of the Research and Graduate Studies Office at XJTLU, said: "XJTLU provides a free academic atmosphere for both teachers and students in its pursuit of becoming a research-led university.
"With the support of local government, XJTLU has created world class scientific research conditions through continuous investment in research platform construction and attracted many excellent academics with international perspectives.
"All these 6 academics have enhanced XJTLU's reputation with their creative achievements which will convert to economic benefits in the foreseeable future," added Professor Xu.
by Luyun Shi; translation by Yanzi Wu; edited by Jacqueline Bánki