Representatives from the Consulate General of the Argentine Republic in Shanghai met with Xi'an Jiaotong-Liverpool University staff to discuss cooperation with Argentinian universities and educational exchanges.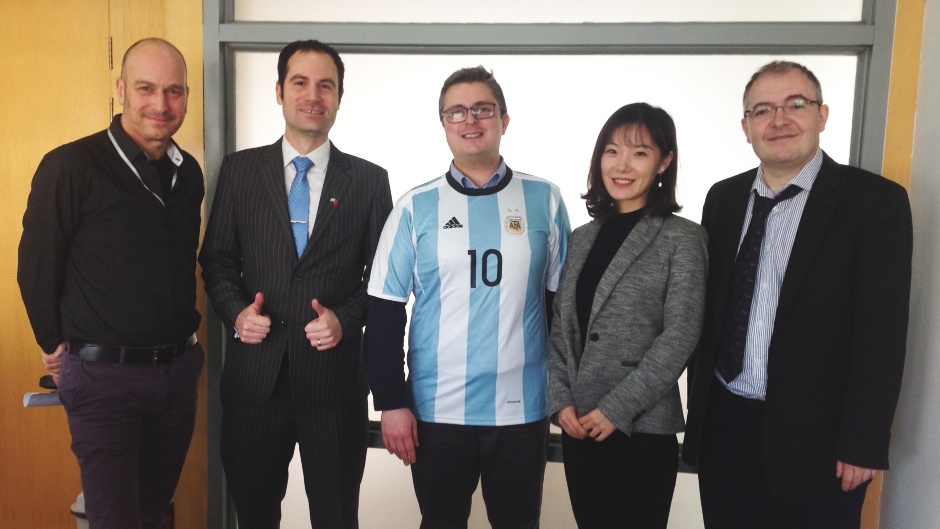 Deputy Consul Javier Alfredo De Cicco (pictured above, second from the left) and Patricia Cao (second from the right), culture and press officer, met with XJTLU's Dean for International Affairs Stuart Perrin (left), Martin Batten, XJTLU Language Centre English language tutor and short courses manager (centre), and Language Centre Director Chris Macallister (right).
The Consulate representatives delivered a presentation to XJTLU students who are studying Spanish about educational culture in Argentina and Spanish as a global language.
"The visit was timely," said Kirsty Mattinson, XJTLU's director of international student recruitment and support, "as the University is now offering a Spanish language summer school taking place in Buenos Aires during the summer."
Martin Batten explained more:
"The new Spanish Language Summer School is a fantastic opportunity for XJTLU students to spend four weeks studying at one of Argentina's best known universities - Pontificia Universidad Catolica Argentina - while exploring one of South America's most famous and culturally important cities, Buenos Aires," said Martin.
For more information about the Spanish Language Summer School email shortcourses.lc@xjtlu.edu.cn.
story by Danny Abbasi; photo provided by the Language Centre