Last week, as events took place around the world to mark International Women's Day academics from Xi'an Jiaotong-Liverpool University added their voices to calls for progress regarding career opportunities for women and greater gender parity in general.
Dr Ellen Touchstone, senior teaching fellow in marketing at International Business School Suzhou, Dr Bing Wu Berberich, IBSS lecturer, director of postgraduate studies and deputy director of the Research Institute on Ageing and Society, and Dr Jaya Lakshmi of the School of Film and TV Arts took part in a roundtable discussion during an event organised by Dr Kate Emmons and Dr Ting Li of the Language Centre and held in the XJTLU Museum entitled, 'Thinking, acting, and being more gender inclusive in business'.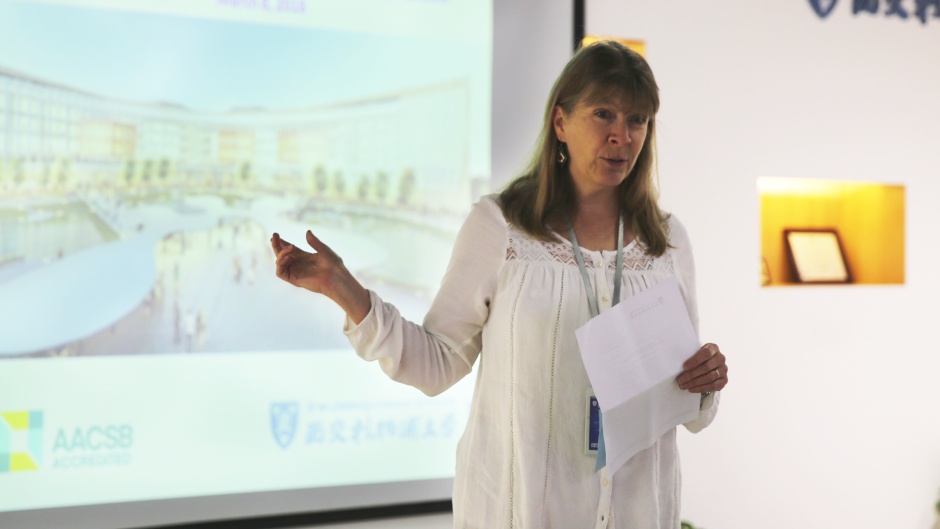 Dr Kate Emmons (pictured above), who holds one-on-one consultations and leads workshops to help students improve their writing as part of the Language Centre's Continuing Support provision, hosted the session, and stressed the importance of keeping discussions about gender imparity part of our everyday dialogue:
"We must not limit these discussions to just one day a year, but be aware of what is happening in the world and in our own lives to help ensure that girls and young women grow up with opportunities that allow them to flourish," said Kate.
Dr Ellen Touchstone gave a detailed presentation on women's leadership in business during which she gave many alarming statistics to illustrate the extent of gender imparity, including the fact that (according to research quoted in Fortune magazine) Chinese women earn just 66% of what urban men do for same jobs.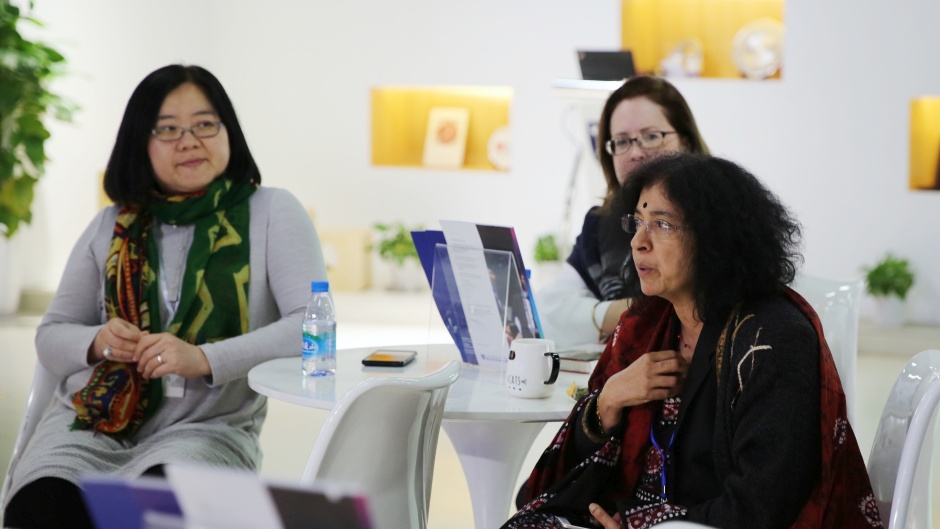 She also pointed to ways in which progress can be made on deep-rooted societal problems such as unconscious bias against women, 'mansplaining', and Sheryl Sandberg's 'likeability penalty' (where women are more likely than men to receive feedback that they are intimidating, aggressive or bossy when they negotiate).
"Each woman needs to take responsibility to ensure we don't have to wait 200 years for gender equality," said Ellen. "That means taking part in discussions, demanding equal pay, and standing up for yourself as a competent professional."
Dr Ellen Touchstone and Dr Kate Emmons mentioned the possibility of future #PressForProgress activities on campus, and urge staff and students who want to get involved to contact them via their staff profile pages.
story by Danny Abbasi; photos by Weiqian Zhang