"My senior buddy shared lots of useful information with me about choosing a programme of study!"
"Today, I went running again with my junior buddy!"
At Xi'an Jiaotong-Liverpool University, the names 'senior buddy' and 'junior buddy' are heard frequently among students. These names refer to senior and junior students from the Buddy Programme.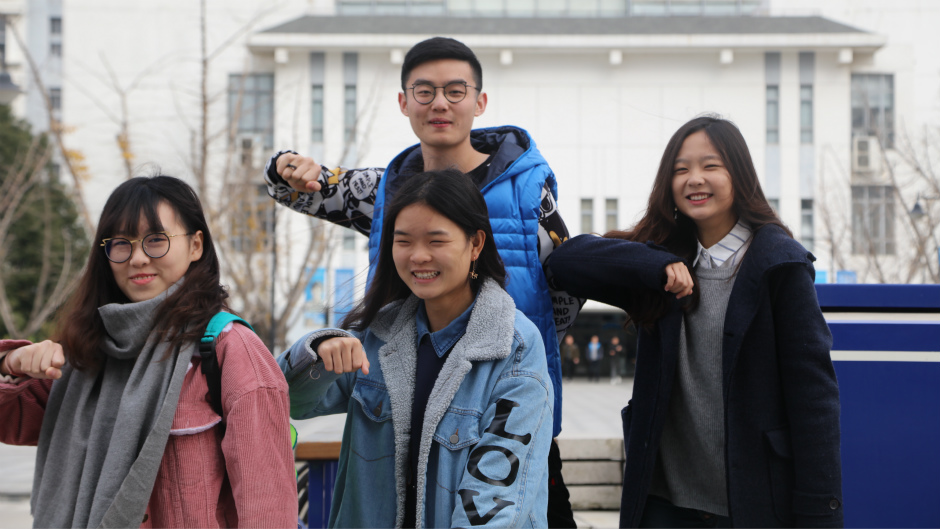 As part of XJTLU's range of support and advice systems, the Buddy Programme offers help and support to freshmen and junior students by pairing them with more experienced students who are usually from the same academic department. It aims to help new domestic and international students adjust to life at XJTLU and achieve the 'three transformations' as soon as possible.
According to Professor Youmin Xi, executive president of XJTLU, the three transformations are:
Transforming a child into a young adult, and finally into a global citizen;
Transforming from a passive learner to an active learner, and ultimately into a research-led learner; and
Transforming from aimlessness to pursuing one's interests, and finally into someone with a clear life plan based on those interests.
Ziye Zhou (pictured above, centre, top), a Year Two student on the BSc Information and Computing Science programme, is one of the senior buddies. When explaining why he joined the Buddy Programme, he said: "When I was a junior buddy, I really enjoyed hanging out and studying with my senior buddy. Now I want to pass on that happiness."
Senior buddies help new students adapt quickly to university life
"When you first start at university, you may feel lonely and miss your friends from high school," said Jiuqi Yu, recalling his feelings when he first came to XJTLU.
Jiuqi Yu's senior buddy was a member of Buddy Programme Executive Committee. Under his influence, Jiuqi also joined the Buddy Programme Executive Committee and found a sense of belonging there.
In previous years, senior buddies took care of new students in the same dormitory regardless of whether or not they were studying the same subject. Since the second half of 2017, four to six senior buddies were put in charge of an administrative class, and junior and senior buddies were paired up within the same academic departments.
"This change brought a few benefits," said Jiuqi. "New students are now able to receive help from more than one senior buddy. Meanwhile, junior buddies will get more relevant help from senior buddies who are studying the same subject."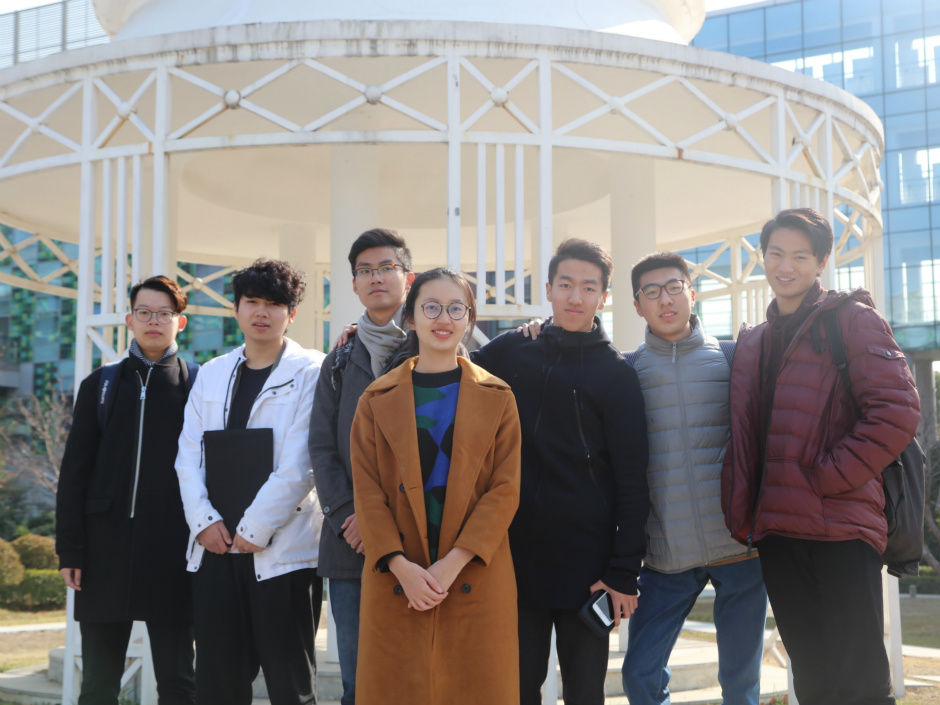 Weiye Chen (pictured above, third from the left), Year One student from BSc Applied Mathematics, was confused by calculus and linear algebra. "I had lots of questions when I got started," he said. "I'd often send my senior buddy questions through WeChat, and she always answered me patiently even when she was hanging out with friends."
His senior buddy is Yawen Gao (pictured above, centre). Yawen not only taught Weiye methods for solving mathematical problems, but would also send him additional exercises so he could practice.
After only a month, Weiye was able to solve those problems smoothly. "I started to work out solution methods by myself and summarise them for the benefit of other students," he said.
For Yawen, her experience of being a senior buddy led to valued friendships with her junior buddies.
Zihan Yin (pictured above, third from the right), studying BSc Biological Sciences, was one of Yawen's junior buddies. He said: "Our senior buddy was used to staying up late and always skipping breakfast, which we all agreed was really unhealthy. So, we woke her up early in the morning and made her eat breakfast with us every day!"
Recalling the 'miserable' experience, Yawen was grateful and touched, "Although it was difficult at first for me to wake up early in the morning, thanks to them I now enjoy a much healthier lifestyle," she said.
Cross-cultural communication brings opportunities to grow up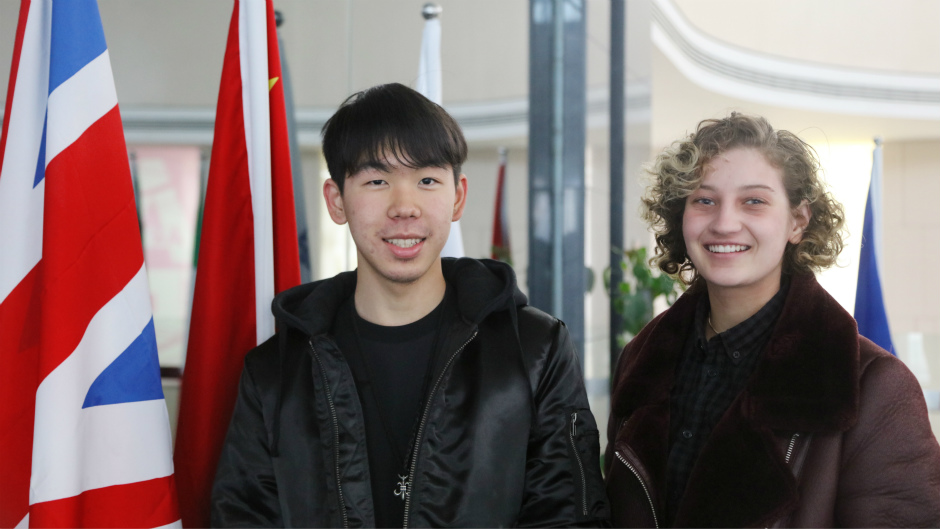 Alice Averley (pictured above, right), an architecture exchange student from the University of Liverpool, said she felt like a newborn baby when she first came to Suzhou:
"How do I get Wi-Fi in my dormitory? How do I take a taxi? How do I get a debit card? I really had no idea about almost anything," said Alice. "This was the first time I'd been to Asia, and the language barrier just made daily life much more difficult for me."
Thanks to XJTLU's Buddy Programme she received timely support from her senior buddy Yurui Li (pictured below, left), a Year Two student on the BEng Architecture programme.
"Yurui gave me lots of help. He also showed me around Suzhou, including the Lion Forest Garden and Suzhou Museum, and introduced the unique designs of these buildings, which was a totally new experience for me," said Alice.
Furthermore, studying the same subject meant they had a lot to share about academic matters.
Students from the University of Liverpool are good at drawing by hand, while modules in the Department of Architecture at XJTLU require proficiency in computer software. Yurui provided a lot of help for Alice in this area.
At the same time, since she is a native speaker and English is his second language, Alice was able to give Yurui some advice about writing in English. "She's helped me make my English more professional and native-sounding," said Yurui.
During the interview, Yurui spoke fluent English with a British accent. He said that he was fascinated by the British accent, and that he was constantly imitating and learning British pronunciation in his daily life with his British friends.
"The fastest and most effective way to learn a language is to communicate with native speakers," he said.
Other British exchange students like Alice formed a small community at XJTLU that would hang out together every now and then.
Yurui said the reason that he chose XJTLU was that he wanted to live and study in a cross-cultural environment, and that participating in the Buddy Programme offered him a good opportunity to communicate with people from different cultural backgrounds.
"Life is a learning process," he said. "The first thing I learned as a senior buddy for international students was how to communicate; not just through emails or WeChat, but as friends in real life."
He said that he had not had the opportunity to chat with international students before, and that "the Buddy Programme gave me the chance to get to know them and become real friends with them."
Story by Luyun Shi and Yingzhou Liu, photos by Weiqian Zhang and Liping Tian
Translation by Qiuchen Hu and Yanzi Wu, edited by Danny Abbasi