The final year project exhibition of the Department of Architecture was held in the South Campus Design Building at Xi'an Jiaotong-Liverpool University.
The exhibition of models and posters made by architecture undergraduates and postgraduates attracted staff, students and their parents from various departments of the University, as well as external guests.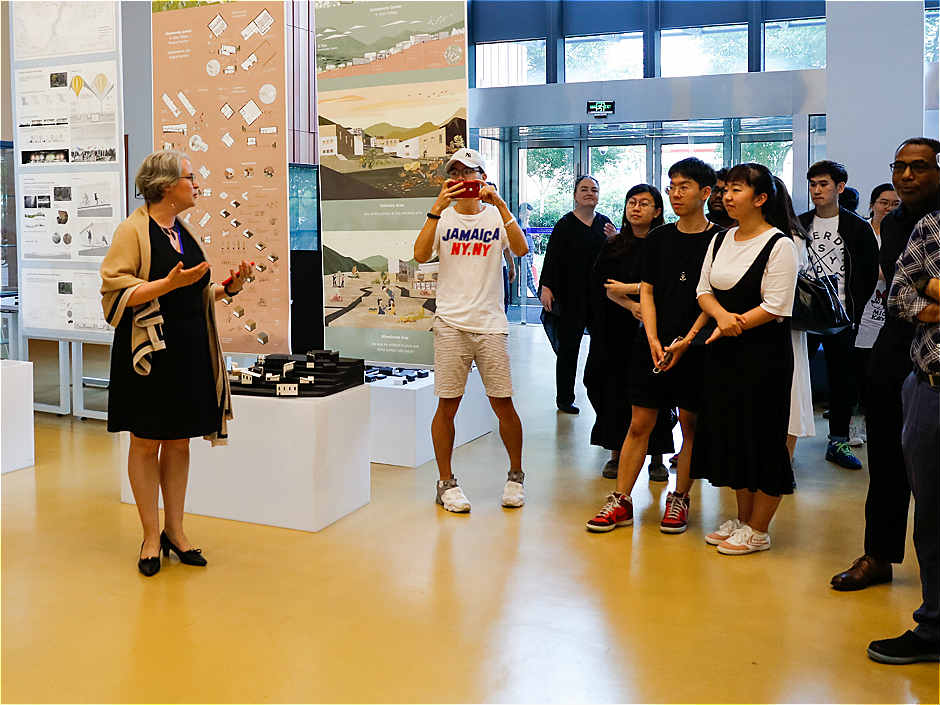 Professor Gisela Loehlein (pictured above, left), head of the Department of Architecture, said in her opening speech: "I hope every visitor can feel the passion and effort of our students in these works."
Year Four student Xueyan Feng's model distinguished itself with an eye-catching orange balloon hanging over its roof. Her design is for a botanical garden near the University of Tokyo which takes into consideration the frequency of earthquakes in Japan:
"Our team had had discussed from the beginning about hanging an air bag, but we decided it was unfeasible," said Xueyan. "We changed the idea to a balloon – we think it will provide some sort of comfort for people who have lived through an earthquake."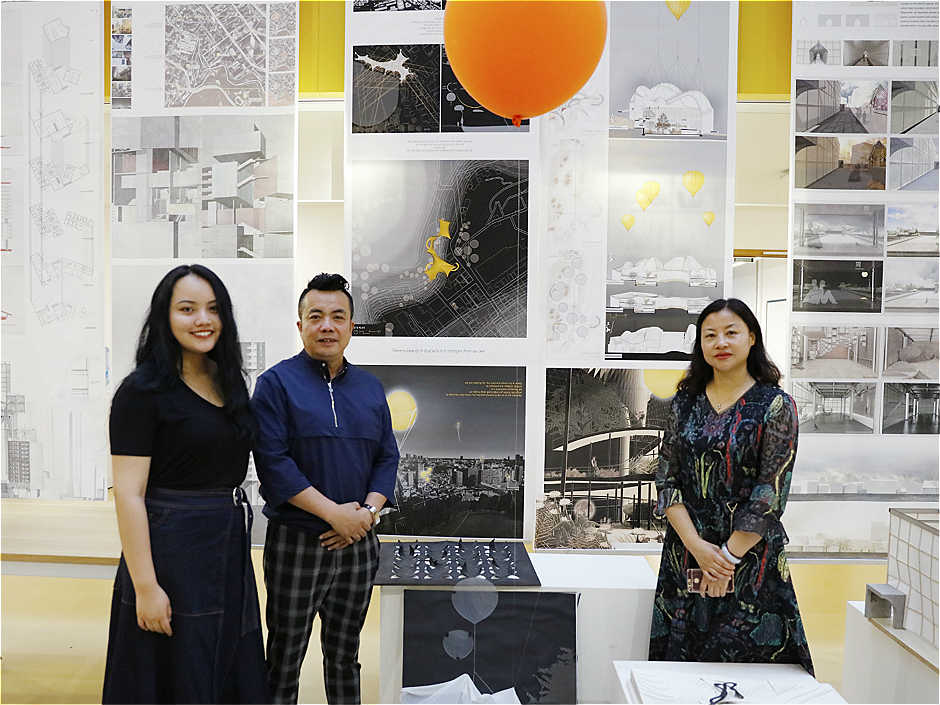 (above: Xueyan Feng and her parents standing beside her design model)
In addition to the eye-catching balloon, Xueyan integrated elements of tropical plants by the French Impressionist painter Henry Rousseau into the interior design of the botanical garden.
Her parents also attended the exhibition, and her mother remarked that she was deeply impressed by the work of her daughter: "I can feel that she is trying to express her ideas through this model, and I am so proud of her!" she said.
Siqi Deng, in her second year of architecture postgraduate studies, integrated traditional Chinese calligraphy into her design, and expressed her opinions about Chinese conceptions of architectural space: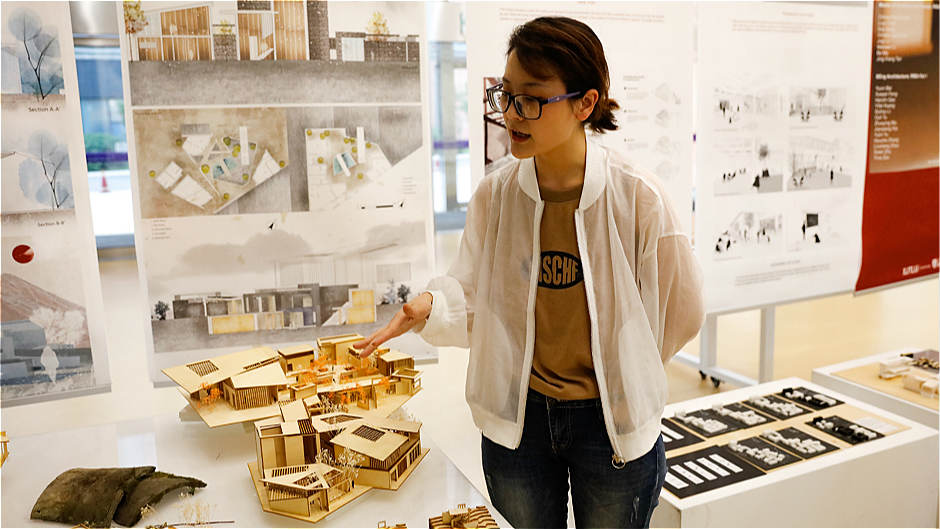 "The previous generation of Chinese architects attempted to construct space in a Chinese way with traditional materials and structures, yet the architectural spaces they were designing were by their very nature Western," she said.
Siqi (pictured above) committed herself to the presentation of traditional Chinese culture in architecture by including some of the qualities of written Chinese characters, such as 'directness and repetition'.
"In fact, there is something in common between Chinese characters and architecture in terms of their long-term evolution," she said.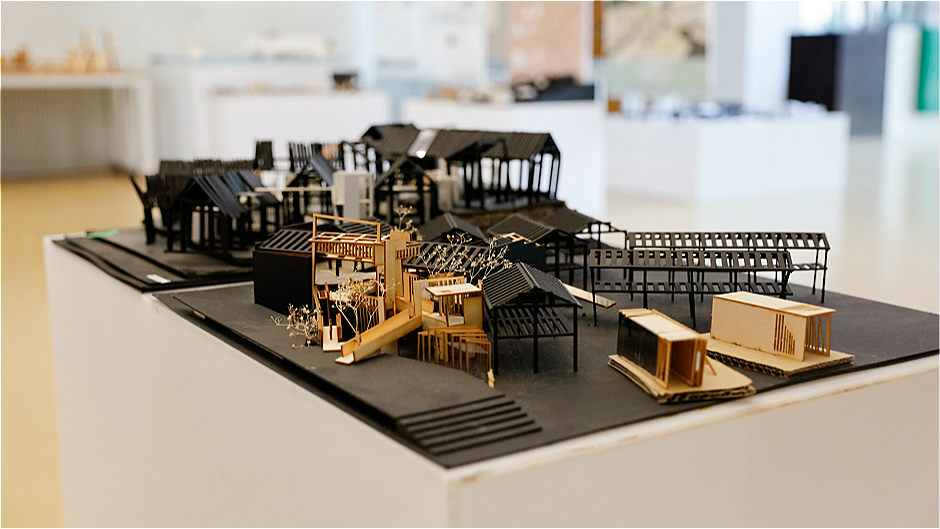 As part of her design project, she analysed the architecture of two villages in Jinhua city of Zhejiang Province and put forward a plan to modify them.
Siqi's tutor Dr Claudia Westermann (pictured below, right) highly commended her designs, saying: "Her design is highly challenging; a very brave attempt. Through the combination with Chinese calligraphy, she uses a brand new way to explain architectural design."
The BEng Architecture and Master of Architectural Design programmes at XJTLU are accredited by the Royal Institute of British Architects.
The exhibition is on display in the South Campus Design Building until 31 August.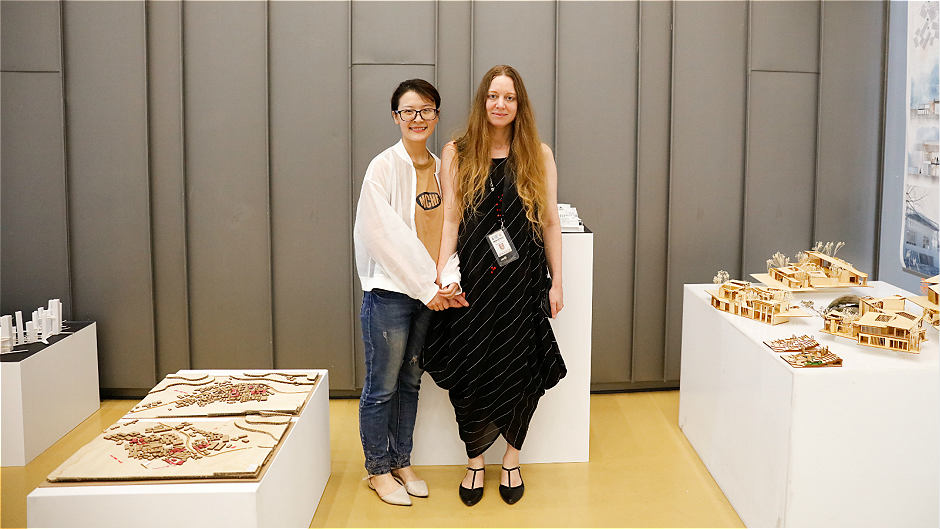 By Fanyuan Liu, photos by Yuanyuan Du
Translated by Boqiang Xiao, edited by Guojuan Wang and Danny Abbasi