Language teachers, practitioners and researchers from around the world met at Xi'an Jiaotong-Liverpool University this month to explore the opportunities and challenges technology brings to language education.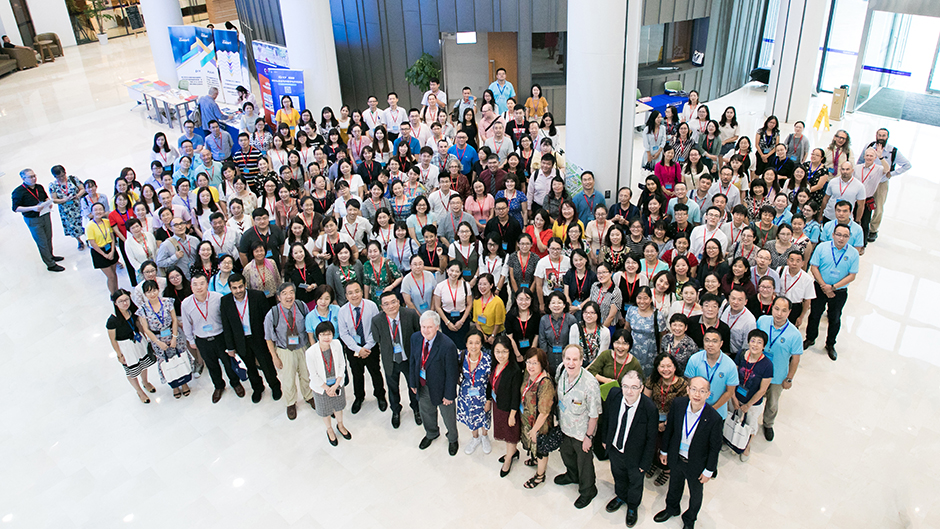 Jointly hosted by XJTLU and Beijing Foreign Studies University, the 2018 GLoCALL Conference and 15th ChinaCALL Conference saw more than 300 experts in computer-assisted language learning (CALL) come together in Suzhou, with a further 70,000 people tuning in online.
Stanford University's Dr Philip Hubbard, senior lecturer in linguistics and director of the English for Foreign Students Program at the Stanford University Language Center, delivered the opening plenary, sharing insights from his 35-year career in CALL.
Dr Hubbard (pictured below) spoke of the hype that comes with each new technological advance, but said that it was only what people did with technology over time that could transform the way language is taught.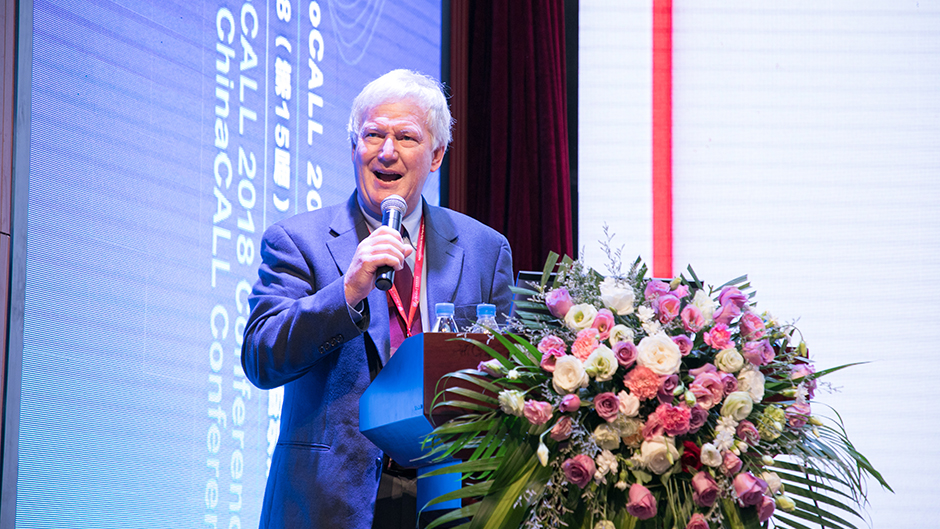 "A new technology device or application or concept does not by itself lead to revolutionary shifts in language education," he said.
"Over time, through cycles of research, development and reflective practice, it can be integrated into evolutionary change.
"Right now, the hype is around chatbots, virtual reality, augmented reality and artificial intelligence. These will no doubt change over lives over time but it doesn't happen overnight."
The conference, which ran from August 16-18, covered a range of topics including using technology in language assessment, and online and mobile learning.
Professor Dong Jianqiao (pictured below) from Jiangnan University addressed the issues of language learning in MOOCs, offering an alternative to traditional MOOCs through a 'digital book' concept he has developed with similar functionality to popular social platform WeChat. "MOOCs have changed education because they provide widespread access to it," he says.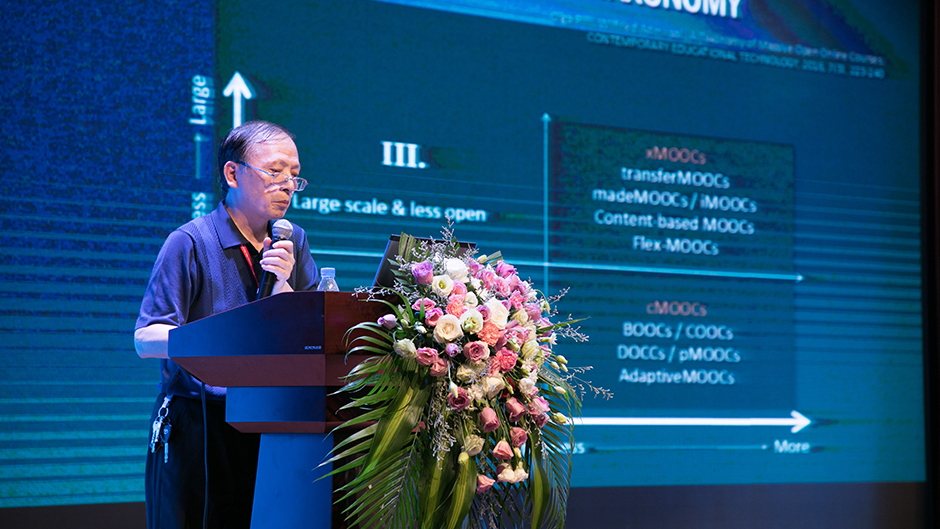 "But MOOCs also face challenges. MOOCs are all similar in design and offer the same learning experience to all students, limiting the possibilities for individual instruction and personalised learning.
"They also lack platforms for interaction, which is desperately needed in language learning. What I propose is a 'digital book' which offers more opportunities for interaction.
"This platform could give students the opportunity to learn anywhere, anytime, in any way – smart phone, desktop or laptop. Through this, students have the chance to extend their language learning into everyday real-world activities."
Participants also had the opportunity to learn more about the academic field of CALL and how to contribute to it.
XJTLU's own Dr Bin Zou, together with a panel of editors from a number of CALL academic journals, led a symposium on how to get published in CALL journals.
"All of the presenters were editors, associate editors or former editors of CALL journals and have extensive experience in publishing papers in these CALL journals," he said.
"Each presenter provided an introduction to the journals they edit, giving their perspectives and advising on how to meet the publishing criteria.
"The symposium also explored trends, focus areas and expectations of CALL journals, and looked at how peer review, revision and decision processes are conducted.
"Publishing innovative and pedagogically-sound research means researchers are able to share their work with professionals in the field, improving how language education is delivered in the classroom."
The conference was jointly sponsored by the China Computer-Assisted Language Learning Association (ChinaCALL) and the Pacific Association for Computer Assisted Language Learning (PacCALL).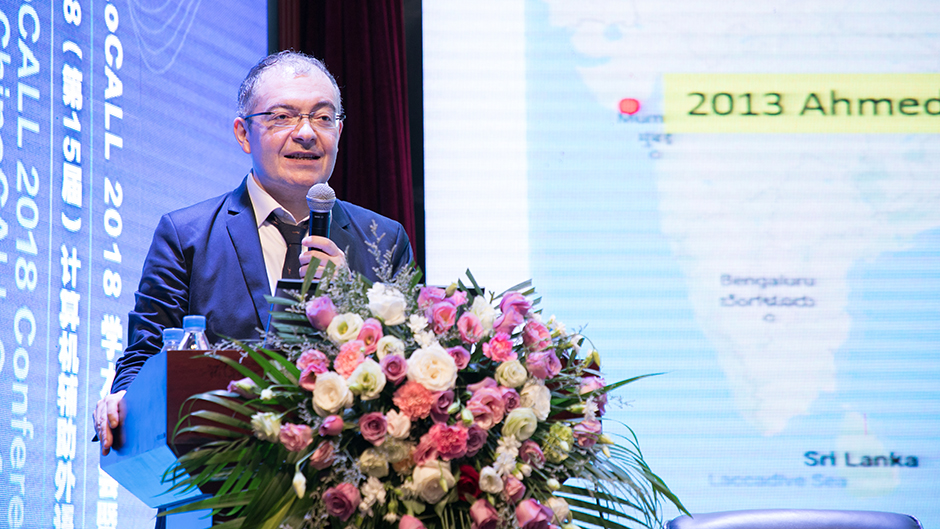 Director of the XJTLU Language Centre, Chris Macallister (pictured above), chaired the opening ceremony. Five tutors from the Language Centre and one staff member from the Department of English at XJTLU presented their papers at the conference, showcasing the use of technology in language teaching at the University. Seven tutors from the Language Centre and two teachers from the Department ofEnglish at XJTLU also chaired keynote speeches, symposiums, colloquiums, or individual presentations.
As the local conference organiser, Dr Zou said they had received many positive comments on the high quality of the conference.
"Attendees not only praised the beautiful campus and facilities, but also the professional organisation by XJTLU's committee members including Dr Juming Shen, Yan Wei, Xiucai Lu, Ying Zhou and Xiaoyu Li from the Language Centre," he said.
"Although there was a heavy rain on the first day of the conference, it didn't impact attendees' enthusiasm.
"One participant said that it was the best conference he had attended. Another attendee said the quality and professional organisation of the conference was the same as many other international conferences she had attended.
"I would like to thank the many departments at XJTLU who contributed to the conference's professional organisation including IT, marketing and communications, finance, campus management and property management."
By Rosanna Galvin