What would your personal dream house look like?
Drawings made by children of Newton International Kindergarten in response to this question inspired Year Two students from the Department of Architecture at Xi'an Jiaotong-Liverpool University in the design and construction of full-scale cardboard shelter structures.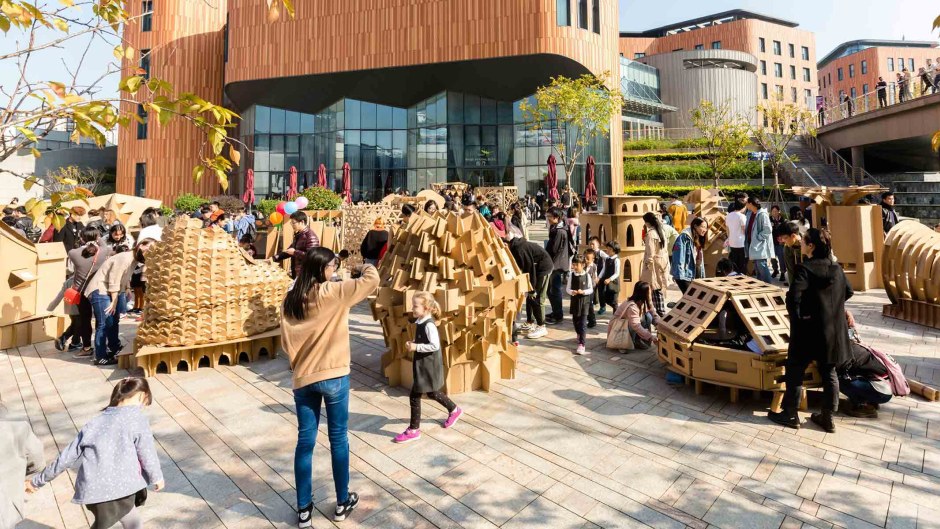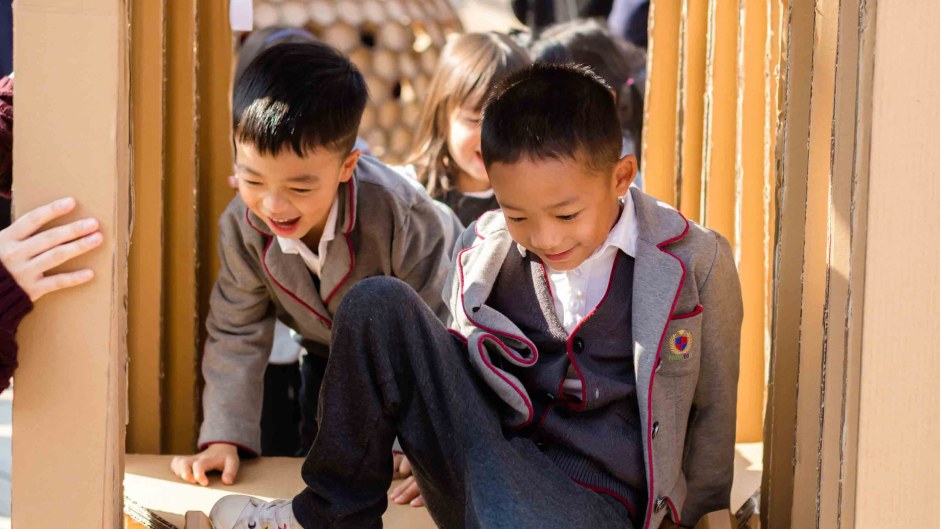 In a lively outdoor event, thirty-eight cardboard shelter structures were then exhibited, tested and reviewed on the University's South Campus.
The cardboard shelter design and construction is part of the module 'ARC104 Structures and Materials' in the first year of the BEng Architecture programme.
The cardboard shelter task is the first large-scale design exercise for students upon entry into the programme, presenting students with many challenges characteristic for the architecture profession.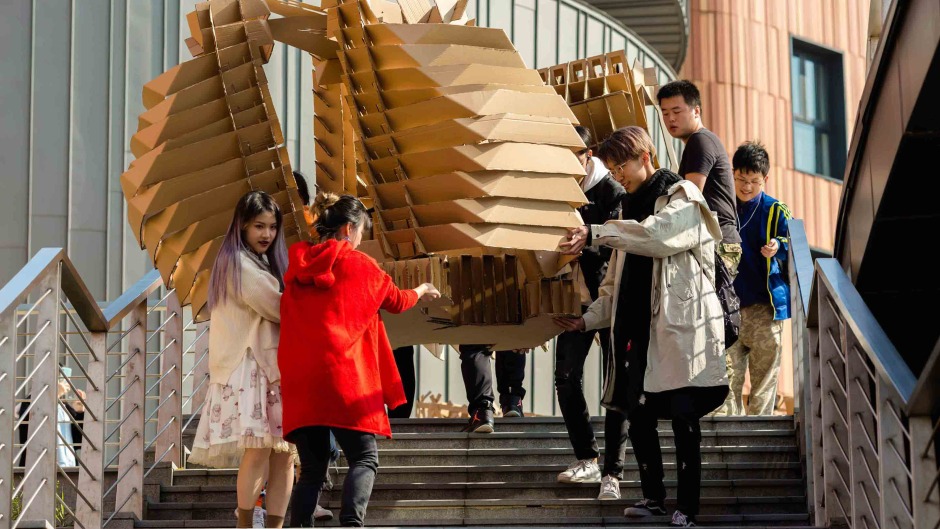 Teams of four to seven students joined in developing design ideas that address both aesthetic as well as technical requirements, and to construct them within a limited period of time and with limited materials (cardboard only, with no glue or tape allowed).
"While designing on paper is easy, realising three-dimensional ideas at a larger scale with a limited set of materials is a difficult challenge, and only possible through teamwork" explained Dr Christiane M. Herr, organiser of the event.
The shelters were designed for children aged 5 and 6 who acted as 'clients' for the project. The shelter design process was initiated by drawings made by K2 class children of Newton International Kindergarten, who were invited to imagine and draw their personal 'dream houses'.

Taking these drawings as inspiration, the architecture students first developed their ideas into half-scale models of their shelters. These were then tested and critically reviewed by the children at the kindergarten.
"Architects need to understand the needs and expectations of their clients and carefully integrate them into their design proposals," said Dr Herr. "Students were surprised to learn that their clients had lots of constructive comments and suggestions."
"Creating high-quality environments for people starts with a focus on the human being and its experience," she continued. "We always address technical aspects like structures and materials with a view to the human being.
"This is an important contribution we can make to the built environment, in particular in the increasingly dense urban contexts of China. Our students embrace a human-centred perspective as a key component of their professional values from an early stage of their architectural education."
After eight weeks of project development, 160 children from Newton International Kindergarten were invited to attend a final review in the form of a one-hour onsite test and evaluation of the full-scale shelter models on the XJTLU South campus.
While academic staff from the Department of Architecture gave comments to each team, the children were also invited to select their favourite "dream house", taking into consideration aesthetic as well as functional and safety aspects.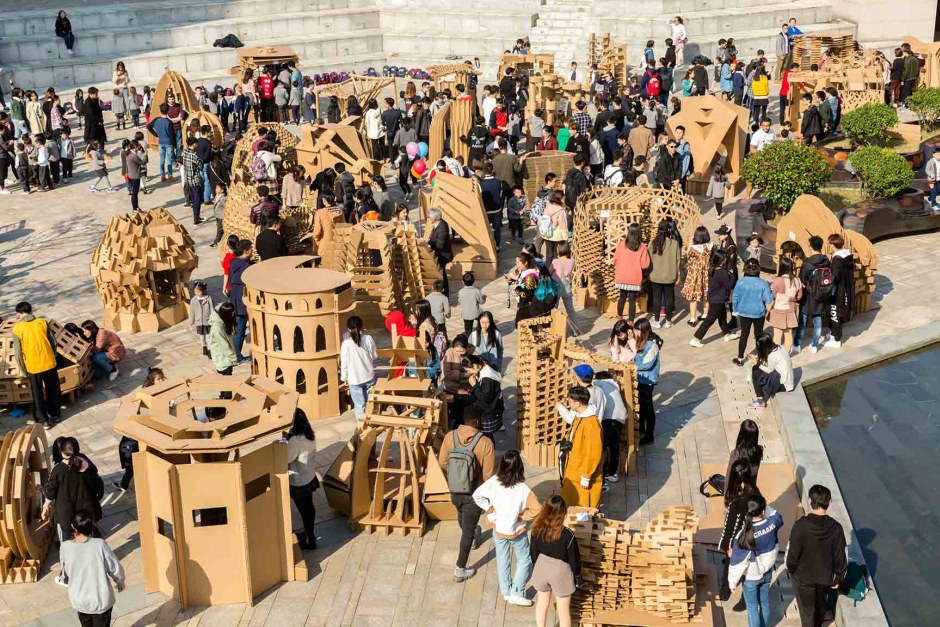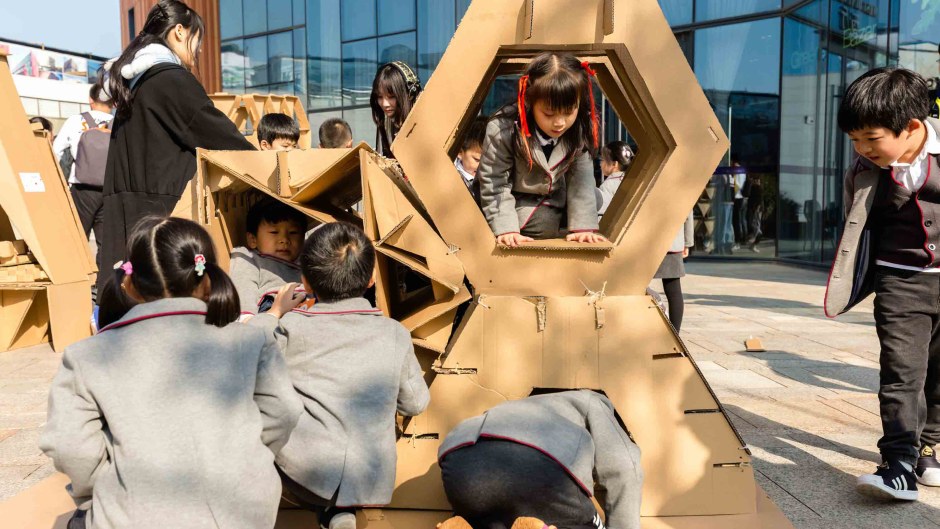 Through a sticker-based voting process, Team 25 finally won the Children's Choice 2018: Best Cardboard Shelter Award.
"The winning project [pictured below] was a clever combination of a solid structural frame and decorated external panels filtering natural light and views," explained module teacher Sandro Rolla.
"The inner space was large enough to host several children sharing the experience and gave the feeling of a small house. The shelter design integrated several primary human necessities: protection, stability, and a well-balanced connection between interior and exterior space."
Module coordinator Richard Hay added: "For this assignment, students team up to create shelters while also learning to appreciate the structural possibilities of one material to make a fun structure. The winning team picked up on the form language of a typical house with skylight and perforated façades. A simple solution that captivated the visiting children's imagination."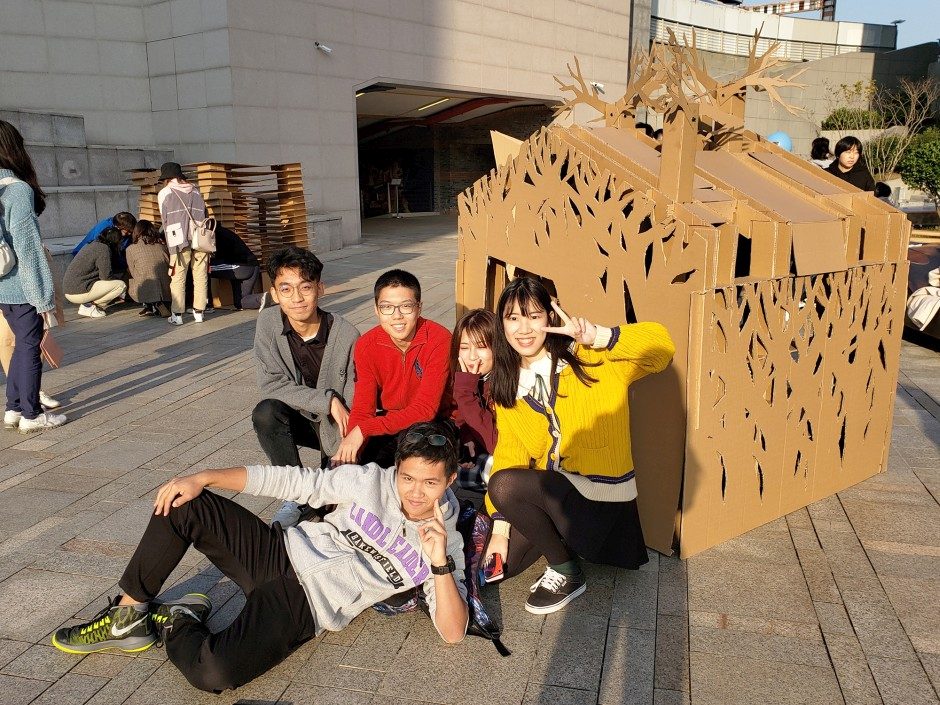 Team members Shiran Luo, Yuhui Ca, Zixuan Zhang, Anan Tian and Fangqing Li were happy about the positive feedback their shelter received.
On behalf of the team, Fangqing Lin commented: "We separated the structure from the decorative facade to allow us more design flexibility.
"Keeping to our main idea of featuring tree imagery," continued Fangqing, "we used it as design inspiration for many aspects of the shelter, such as the tree pattern walls and the branches at the top. Together, these elements create both coherent structure and beautiful light and shadow effects in the final shelter."
The cardboard structures event has been held annually since the establishment of the Department of Architecture in 2011, with students designing various structures including shelters, bridges, and chairs.
The project not only teaches students to embrace key professional values from the beginning of their studies, it also offers students new ways of learning through applied research and design.
story and photos provided by the Department of Architecture; edited by Danny Abbasi
Visit the webpage of the Department of Architecture for more information, including programmes of study.