Due to the impact of the coronavirus epidemic, most modules at Xi'an Jiaotong-Liverpool University's School of Film and TV Arts (SoFTA) have been moved online this semester. The School has a practice-based pedagogy; and the move to online teaching was therefore very challenging, both for staffs and students. Now that this special semester is coming to an end, it is time to review how the new online teaching model has worked at the School of Film and TV Arts.
Before launching the online teaching, all academic staffs participated in relevant trainings on technical support for online teaching platforms and software organized by MITS (Management Information Technology and System office), ILEAD (Institute of Leadership and Education Advanced Development) and EDU (Educational Development Unit). Afterwards, teachers conducted research and adjustment on the online teaching methods according to the needs of their respective modules.
"There are three online teaching methods in the SoFTA, synchronous teaching, that means instructors give live sessions; asynchronous teaching, that means instructors upload videos or coursework for students to learn in their own time and; blended teaching, which is the combination of the previous two teaching methods." Dr Garrabost Donald Jayalakshmi, Senior Associate Professor at the School says.
Dr Jaya (as she likes to be called) is also the coordinator for online teaching at SoFTA. She regularly collects feedback on online teaching from all staff and organizes meetings for discussion. She also said that she got a lot of inspiration from the Open University.
The Open University is the largest University in the United Kingdom and has a long history of online education. Dr Jaya shared the experience of the resources she obtained from the Open University with other teachers, noting that this was best practice and could be adopted to SoFTA modules.
One point that Dr Jaya learnt from the Open University, which she intends to take into face-to-face teaching when it resumes, is that she now tells students in advance how much time she expects them to take to complete an activity. – That is to say, how much time they spend with the teacher and how much time they should devote by themselves.
"Sometimes I ask students to watch a film and write out the entire script and that will take 12 hours to do so that they understand how the story has been constructed; and how to use the script writing software. So, they can split the work into two weeks to complete. This method is particularly suitable for asynchronous teaching. This will allow students to have a clear concept of time and know how to allocate their study time reasonably."
"Not only is the teacher's time important, but the students' time is also very precious." Dr Jaya says.
Dr Cheng-Hung Lo teaches modules including Introduction to Digital Media Arts and Minor Digital Media Arts Projects. His modules involve the learning and use of many professional technical software and he finds that using online live broadcasts to teach students how to use software technology has a very good effect.
"I am a parent of school-age children as well as a university educator. Before I tried teaching online, and before I observed my own children's recent online learning experience, I thought these courses might feel less engaging than onsite courses. Now, I think online courses engage students in a different manner. In the classroom, the instructor standing in front of the class has a one-to-many relationship with the students. But with online teaching, the student has full focus on the instructor's face and gestures. In a way, online instruction can feel more like a one-to-one conversation between teacher and student." Dr Lo says.
"I chose to go with live sessions rather than recorded video - most of our students were born in the digital era and are accustomed to watching live broadcast videos on social networks and video sharing platforms. I find it closer to the physical classroom teaching experience. You can improvise a bit, go with the flow, and talk more naturally. There's also still a real-time connection with the students, even though it is virtual. "
"Since I am teaching use of software, I can use screen sharing functions to demonstrate in a lively and engaging manner. I also connect a digital drawing pad to my computer to literally turn my desktop into a whiteboard." Dr Lo says.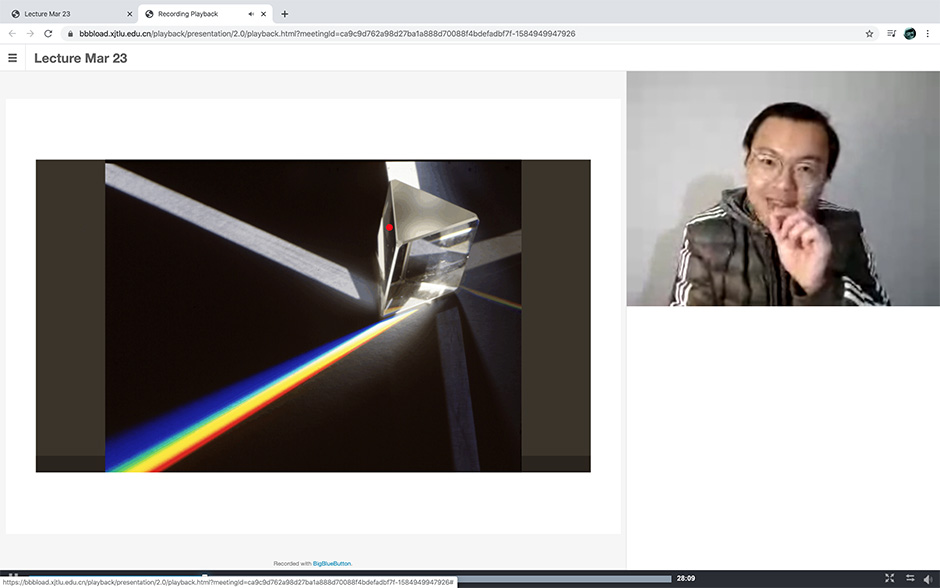 Dr Cheng-Hung Lo

The module taught by Fang Liu is Visual Effects, which is in an asynchronous teaching mode. She said that she conducts a survey during the online teaching process, which helps her to plan the next sessions. The difficulty level within the module and the teaching plan is adjusted according to the results of the survey and the actual situation of the students. She also screens a large number of teaching videos that are suitable for students to watch and learn in order to help students better understand the teaching content.
Fang Liu believes that the main difference between online and onsite teaching is that the interaction with students is relatively weak, and it is impossible to monitor students' progress and understanding in real time. On the contrary, the advantage is that students can learn by analogy, and if there are difficult points, they can repeatedly read materials and watch teaching videos, so that students can better grasp the knowledge and skills expected of them when they complete the module.
For the instructors of the School of Film and TV Arts, the biggest problem with online teaching is that the courses of the School are basically based on practice. For example, modules like Introduction to Directing, TV Studio Production and the Art of Cinematography, all require on-site practice.
Dr Jaya says they try to overcome these difficulties as much as possible. Some of these modules are temporarily unable to be taught at all, and some modules can be partially taught, but those that are mainly theoretical can be taught online. For example, the History of Broadcasting, taught by the Dean, Professor Adam McIlwaine, can be taught online because it imparts theoretical knowledge. Similarly, Screen Writing for Film and TV, taught by Dr Jaya is conducive to online teaching because writing is a solitary, independent activity. On other modules like Fiction Theory and Practice taught by Arturo Smith or Sonic Art and Sound Design taught by Dylan Ford, students are divided into groups and they work online with each other to achieve work that simulates industry practices. Thus, although SoFTA has been very innovative in its teaching methodology and in the way it has adjusted to online delivery, there are still some modules which must wait for teachers and students to get back to school together and engage in face-to-face practical teaching and learning. So, SoFTA is now waiting for students to return to school to continue their work on some of the more practical modules.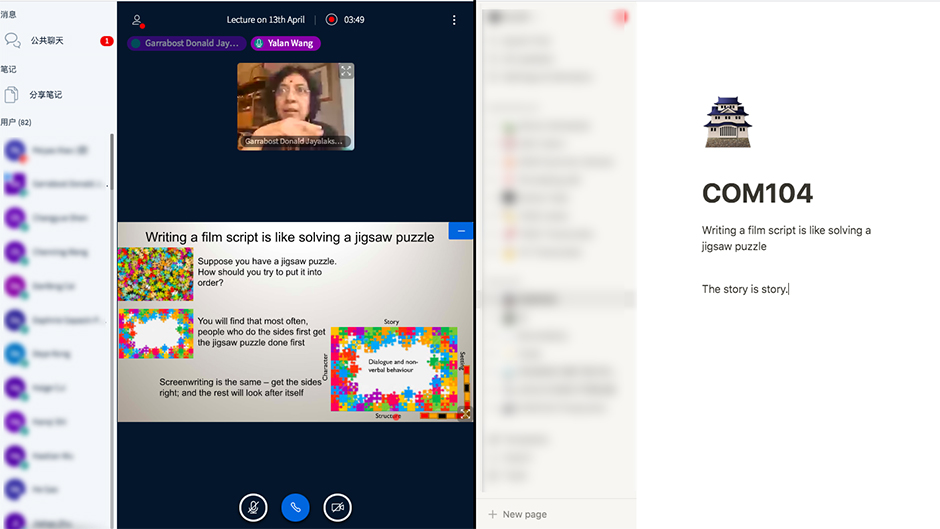 Dr Garrabost Donald Jayalakshmi
Alice Xiao, a sophomore student of Filmmaking programme at the School of Film and TV Art, also said that for a practice-based school, the School cannot achieve the expected results only through theoretical data and video recording.
"I think you still have to explore on your own. You have to read more books and watch more movies. We have fewer students in this programme and we share the books, movies, websites and videos we watched at home. At the same time, you must also be proactive. When you have a good shooting idea, you should take the initiative to communicate with the teacher so that the teacher can give feedback based on the existing ideas. Another important point is to make good time planning. Allocate time for class, homework, and exploration by yourself," she says.
It cannot be denied that the change in teaching delivery method has required some modifications. Dylan Ford, for example, needed to solve technology challenges that apply to both teaching and assessment for his Sonic Arts and Sound Design for Digital Media module.
"On campus, we ensure that all the computers the students use for the module have the same specifications, and the software installed is standardised across all machines. Students also have access to professional grade hardware for audio playback," explains Ford.
"With students learning at home, they have different computers and consumer grade audio hardware, which creates a significant degree of complexity when selecting the appropriate technologies to be used by students enrolled within the module."
Therefore, Ford researched and participated in online forums to learn about possible software tools that students could use at home. He found a free version of a software tool favoured in the industry that has most of the main features required for the work in the course. "While I had originally planned that the students would design sound for an animation, the free version did not allow for working with video. Therefore, they are creating a radio advert instead, which actually allows the students to be more creative in some ways, as the sound design would not have the constraints of synchronising with the moving images within an animation," This Ford has taken advantage of the problems posed and found a very creative solution.
"Adapting to ever changing technology is something film students need to be able to do anyway," Ford continues. "In this case the change was to use simpler, and, in most cases, consumer-grade technologies. However, that same adaptability will be needed both as technology advances and as graduates are contracted for different productions with varying budget restrictions." he notes.
Recently, the end-of-semester assessments have begun. Careful thought and planning have ensured that this semester's assessments measure learning outcomes of each module as effectively as face-to-face teaching, despite the challenges faced. A key element of teaching filmmaking is helping students develop cognitive and critical thinking skills, which are independent of the technologies being used. This semester's assessments are testing those abilities, along with lessons on how to be resourceful – invaluable skills for students and industry professionals alike.
Dr Jaya said that overall, teachers and students have no major problems with online teaching. However, compared with face-to-face teaching, it is still impossible to meet all the criteria, but everyone is working on this together and collaboratively. It is also very important for teachers to meet students. They are very happy to see every student, especially at the beginning of the pandemic and they can really understand that students need their support.
Dr Jaya says that she feels very happy to see the faces of the students in the video every time during the online teaching class. Everyone would spend five minutes greeting each other before the class starts. Although everyone worries about how they look at the beginning, this greeting is necessary and very warm. At the emotional level, Dr Jaya continues to support some students in need and tries to help students to make sense of the experiences they are facing in this difficult period.
"Teachers are not just teachers, teachers are also life tutors for students." Dr Jaya says.
As Professor Xi Youmin, Executive Principal of XJTLU has mentioned, with the official launching of XJTLU Learning Mall, online education resources will gradually be integrated and shared in the future, which also requires teachers to change from the perspective of a teacher to an educator.
"Education is a different concept from teaching, because technically, the traditional mode of one-way teaching – from teacher to students – can already be replaced by online teaching, but what technology can never replace is education," Professor Xi says.
"Online education still has a long way to go when compared with face-to-face, onsite education in achieving the goal of 'transforming and enlightening' students." but together, we can achieve the best for our students.
It is hoped that all staffs and students of the School of Film and TV Arts will acquire new methods, thinking and inspirations during this process of online teaching and learning. It's also really appreciated that all staffs and students trust in the School during this period. Wish everyone will achieve a satisfied result at the end of the semester.
By Wenzhen Li, Tamara Kaup, Qiuchen Hu
Edited by Garrabost Donald Jayalakshmi