A team of researchers that included Xi'an Jiaotong-Liverpool University PhD student Sifan Song recently won second place in the GAMMA Challenge, an international ophthalmology competition held by Chinese internet giant Baidu.
The team, which also consisted of members from VoxelCloud, a medical AI company, and Shanghai Jiaotong University, competed against 71 teams from across the world.
The challenge was part of the 8th Ophthalmology Medical Image Analysis Seminar (OMIA8), which is one of the key events in the field. OMIA8 is part of MICCAI2021, a top academic conference covering medical imaging computing and computer-assisted intervention, now in its 24th year.
This year's GAMMA Challenge was about detecting glaucoma using computer-aided diagnosis tools. Glaucoma, the second leading cause of blindness globally, is difficult to detect in the early stage and difficult to control in the late stage. Therefore, timely and accurate diagnosis is critical.
Participants were given 100 images and had to complete three tasks corresponding to important glaucoma detection techniques.
Song's team, VoxelCloud Team, used Bilateral-ViT, an original algorithm model. What makes this algorithm effective, says Song, is that it sets up two channels to process the primary information and other structural information separately.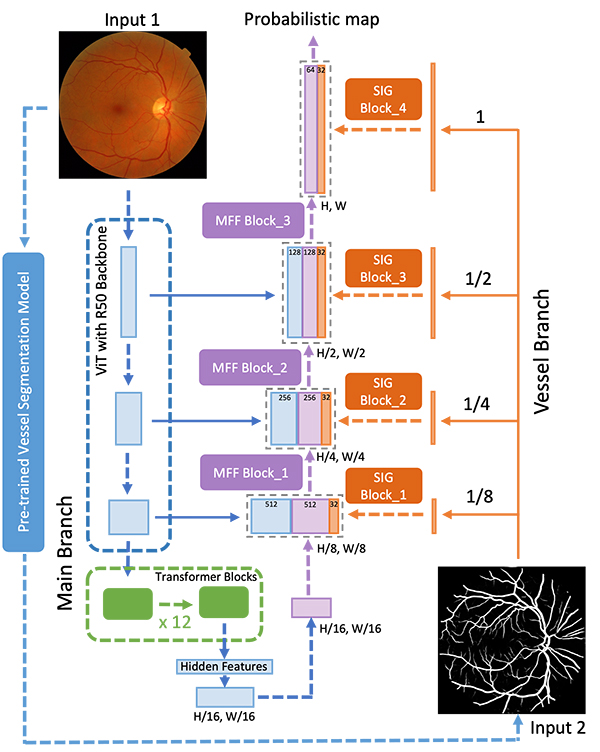 Bilateral-ViT allowed the blue channel and orange channel to be processed separately, making diagnosis more efficient
While doing the second subtask, a team member with a medical background suggested that processing information about blood vessel positioning would improve accuracy.
With this in mind, the team set up a new channel using Bilateral-ViT to collect and process this information. This strategy paid off, and they were able to complete the task successfully.

In the third task, for which VoxelCloud Team was ranked first, they used Bilateral-ViT to process the information initially and then used algorithms like Segtran and TransUNet to refine it further.
Song says: "Improving the precision and accuracy of computer-aided diagnostics can help medical workers diagnose faster and reduce their workload."
Dr Jionglong Su, Song's instructor and head of the BEng Data Science and Big Data Technology programme at XJTLU Entrepreneur College (Taicang), says such research can promote medical development and has great practical significance.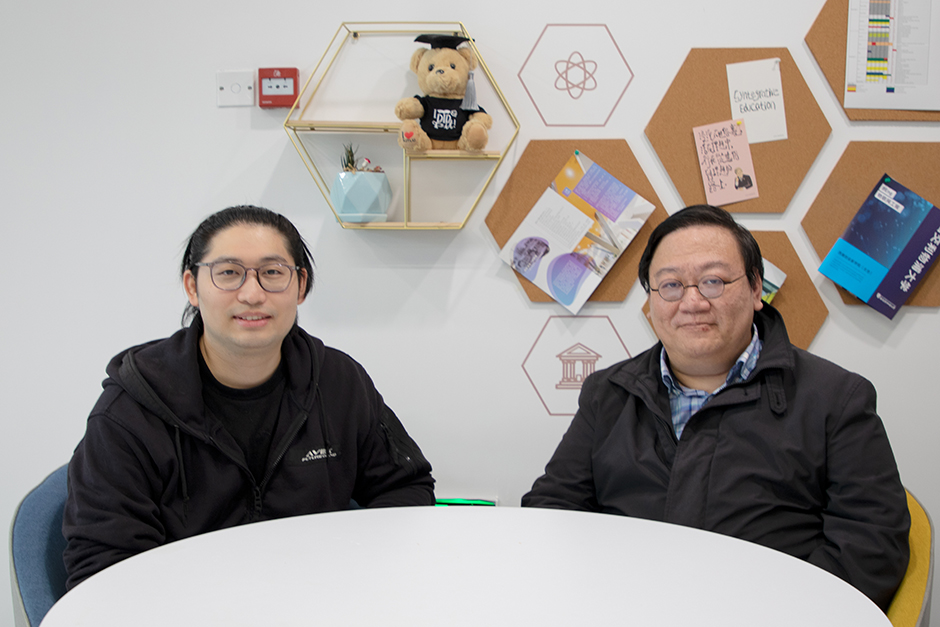 Sifan Song (left) and Dr Jionglong Su (right)
"The GAMMA Challenge this year raised a very practical medical problem and used real data. Sifan Song cooperated with a company in the industry and used the knowledge, skills, and algorithms he had learned to deal with challenges in the real world.
"This is a great example of connecting learning, research and industry, which is consistent with the syntegrative education approach that we promote at Taicang."
Song says that with the help of Dr Su, he would better integrate theory and practice and cooperate with more enterprises in his doctoral research.
By Qiuchen Hu and Xinzhu Cao
Translated by Xiangyin Han
Images from Yuzhen Fu
Edited by Patricia Pieterse