This summer, seven students from different programmes at Xi'an Jiaotong-Liverpool University teamed up for the Summer Undergraduate Research Fellowships (SURF) project.
In October, their project was selected as the Academic Nominated (Overall) Winner and the Student Nominated Winner at the SURF online presentation.
Supervised by Dr Xiaoming Ding at International Business School Suzhou, they focused their research on enhanced indexing by machine learning methods.
Enhanced indexing is an investment approach used to improve on the financial returns of strict indexing.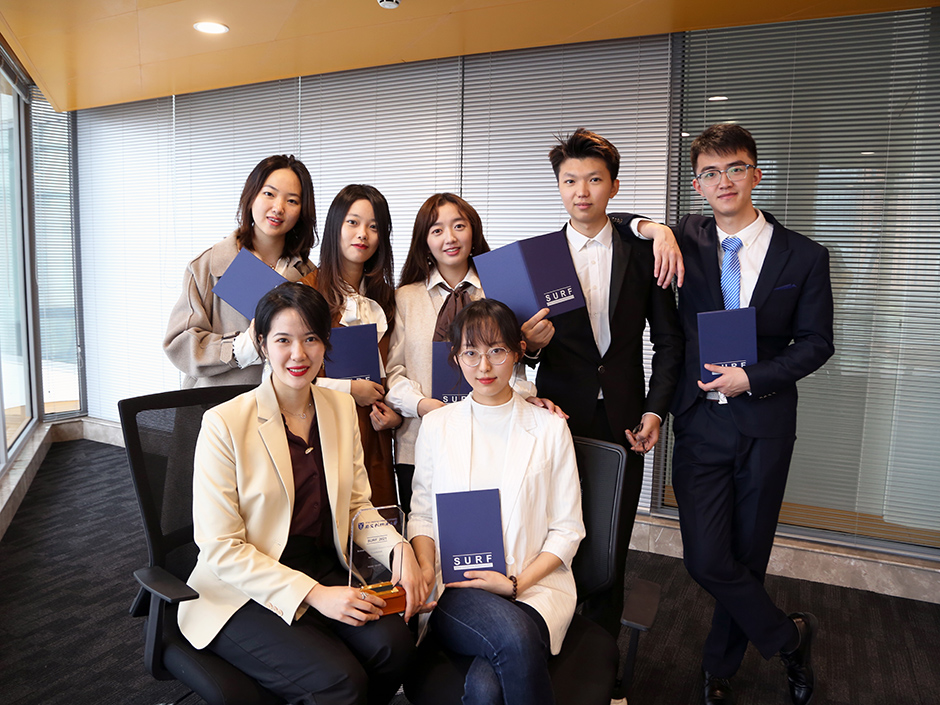 Front row (left to right): Siyuan Lu and Jinyu Yue
Back row (left to right): Yeyan Liu, Mingyu Lu, Yiyang He, Kangchao Hu, and Baicheng Liu
Baicheng Liu, a Year Four student in BSc Financial Mathematics, says investors and portfolio managers use enhanced indexing to obtain excess returns. The students wanted to see if they could create a more effective method using various algorithms.
"Our project is innovative because it develops traditional investment strategy and also applies machine learning," Liu says. "Our hope was for the algorithmic machine to enable the portfolio to outperform the index."
To find the best machine-learning method, Siyuan Lu, also a Year Four student in BSc Financial Mathematics, says the team selected three algorithms: Multi-Layer Perceptron (MLP), Support Vector Machines (SVM) and Random Forest (RF). They also gathered historical data from the CSI 300 stock market index, which shows the performance of the top 300 stocks traded on the Shanghai Stock Exchange and the Shenzhen Stock Exchange.
The results show that all three algorithms can help portfolios outperform the benchmark and that MLP performs the best.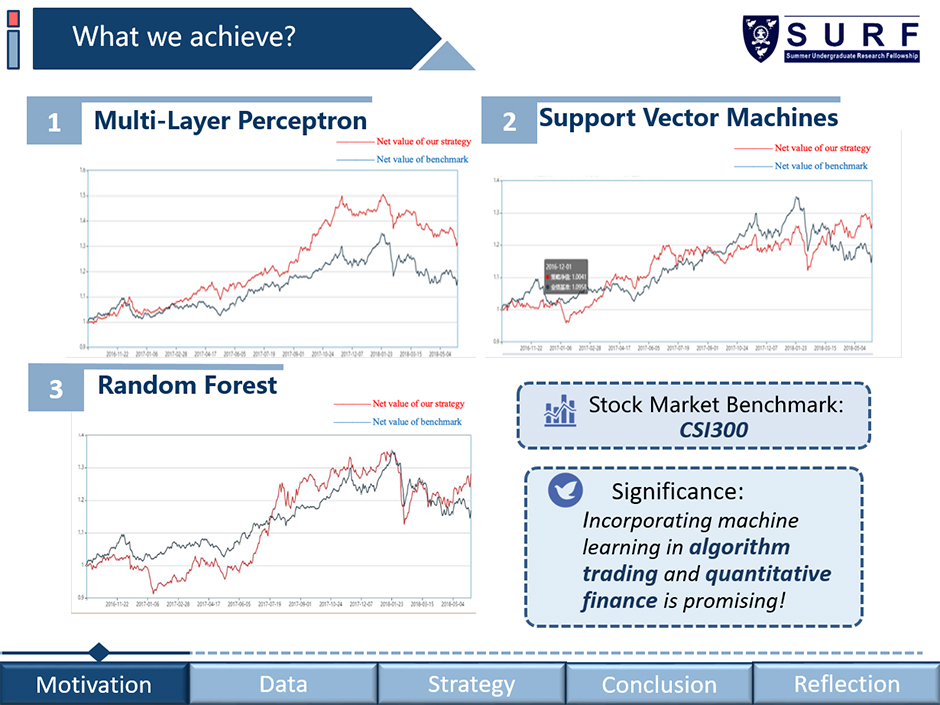 The red line is the net value of the algorithmic strategy, while the blue line is the net value of the benchmark
Kangchao Hu, a Year Four student in BSc Information Management and Information Systems, says: "Our project—portfolio management by artificial intelligence machine learning methods—is an interdisciplinary research in finance and technology."
Field research
Before starting the project, Dr Ding led the students in conducting three types of field research: participant observation, interviews with finance experts, and interviews with doctoral students.
In participant observation, the students visited local financial technology companies and observed their routine activities. "The students have theoretical knowledge, but they don't know how it can be applied in industry," Dr Ding says. "By visiting financial technology companies, students will have a better understanding of their research questions."
In addition, the students also interviewed experts as well as doctoral students who have graduated from XJTLU. "Through interviews, students got a chance to understand the real financial market and also what it is like to conduct research," Dr Ding says.
Dr Ding adds that the field research equipped the students with independent research ability.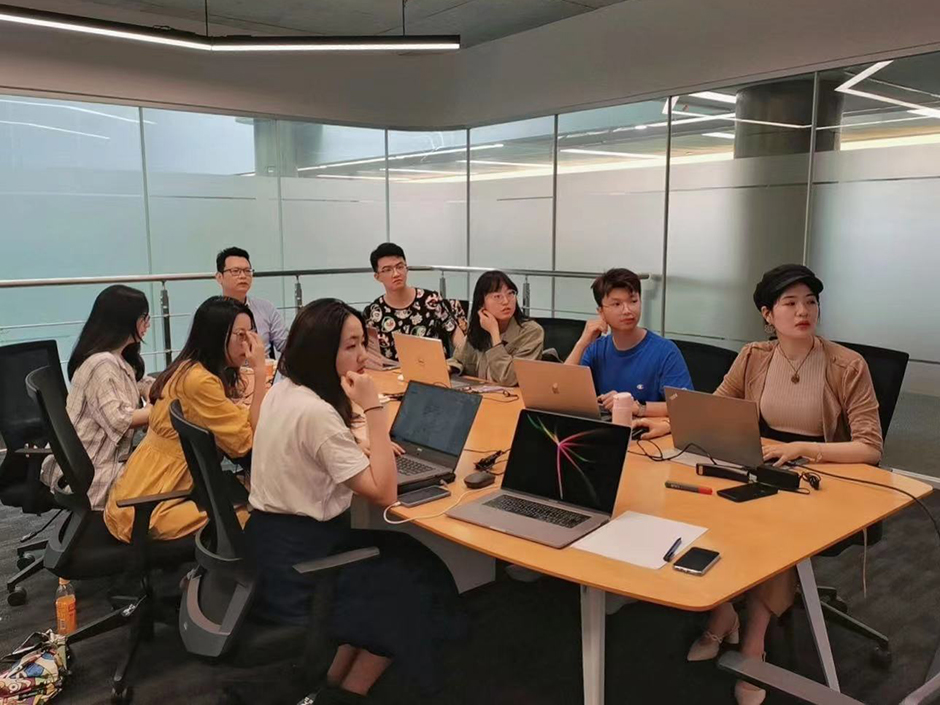 The purpose of the research
XJTLU has been organising SURF projects for nine years. This year, a record-breaking 120 projects participated in the SURF online presentation.
Professor Fei Ma, Associate Vice President for Research and Impact, says that XJTLU takes pride in the SURF projects because they allow undergraduate students to conduct in-depth research.
"During the SURF projects, students can put theory into practice," Professor Ma says. "Some people might think research is so detached from the real world. In fact, research is about learning, discovering, and solving problems using scientific methods."Research is about deep thinking and understanding what you want to do next."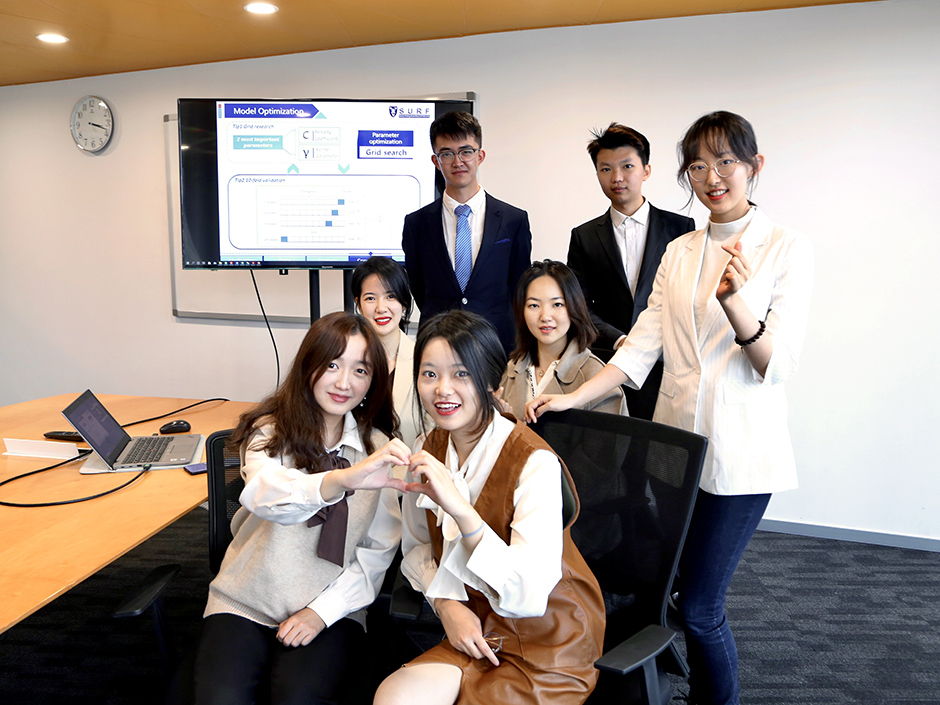 By Qiuchen Hu
Translated by Xiaolin Han
Edited by Xinmin Han, Patricia Pieterse
Photo by Yalan Wang and Baicheng Liu