A new approach to detecting blue-green algae
The deterioration of water quality, caused in part by improper waste management, has devastating effects on marine life and the communities living around polluted bodies of water.
Two such examples, Taihu in Jiangsu and Dianchi Lake in Yunnan, have seen a large growth in blue-green algae which necessitated urgent interventions to improve the water as it could wreak havoc on local fisheries and even affect water for domestic use.
To combat this problem, it is vital to reduce the time and cost required to detect and assess the spread of blue-green algae to prevent and control further water pollution.
This year, in the Summer Undergraduate Research Fellowships (SURF) programme, under the supervision of Dr Xiaohui Zhu and Professor Yong Yue from the Department of Computing, five students from the School of Advanced Technology at Xi'an Jiaotong-Liverpool University proposed an algorithm that can efficiently recognise and estimate the area of blue-green algae.
The algorithm can be loaded onto an unmanned aerial vehicle (UAV), commonly known as a drone. As the UAV flies over the water, its camera takes real-time images of the surface. The computer will be able to recognise the area of blue-green algae and further estimate the contaminated area.
To test the accuracy of their algorithm's identification, the team carried out a series of simulation experiments to check the accuracy of its identification and estimation by conducting field tests at Jinji Lake during the summer vacation.
Because the processing capability of the UAV is lower than a standard computer, the students chose a lightweight semantic segmentation algorithm that was relatively small, but faster and more accurate, making it ideal for mobile devices.
Semantic segmentation is an important branch of computer vision that deals with identifying targets in images with pixel-level precision. After blue-green algae are identified, the area can be estimated by pixel points accordingly.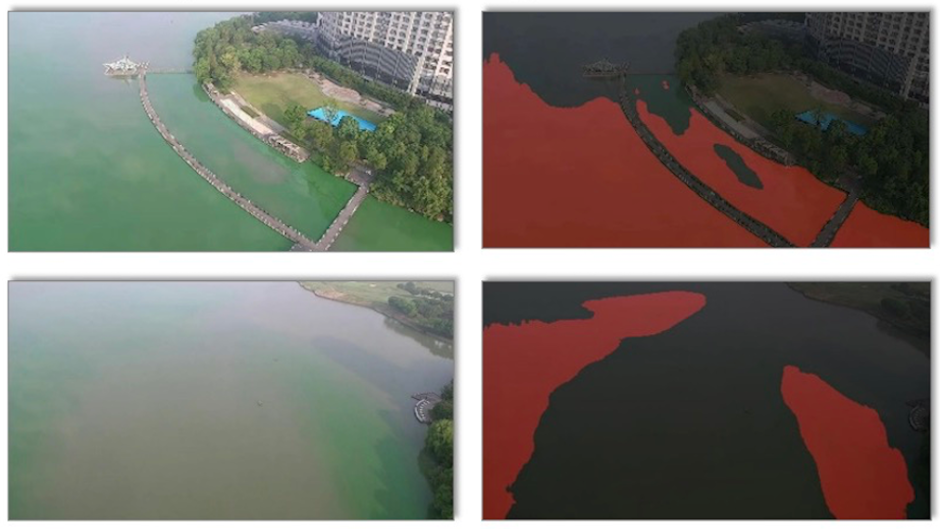 The pictures on the left show the actual distribution of blue-green algae in the lake water; on the right, the red section shows the algae identified by the algorithm
Kaiyuan Yang, a year 4 student in the Information and Computing Science programme, says: "Blue-green algae can be time-consuming to detect, since it often covers a vast area. This approach can efficiently detect it on a large scale, getting more accurate results and saving time and cost compared to traditional sample detection."
However, one drawback of using images to detect blue-green algae is that with an ordinary camera, some information will get lost. Tianlei Shi, a year 4 student in the Information and Computing Science programme explains: "The human eyes see in three dimensions, but the images taken by an ordinary single-lens camera are only two-dimensional. Without the depth information of the third dimension, it would be impossible to accurately estimate the specific area of blue-green algae.
"Therefore, we used binocular cameras whose stereo vision can simulate the human visual system."
Shi, who was in charge of the algorithm development for area estimation in the project, says: "Humans' left and right eyes look at objects from slightly different angles, which gives us depth perception. With the use of binocular cameras, we were able to obtain spatial connections between the area of blue-green algae on the water surface and the other regions, which, combined with pixel points, could be converted to get a more specific estimation of the area of blue-green algae."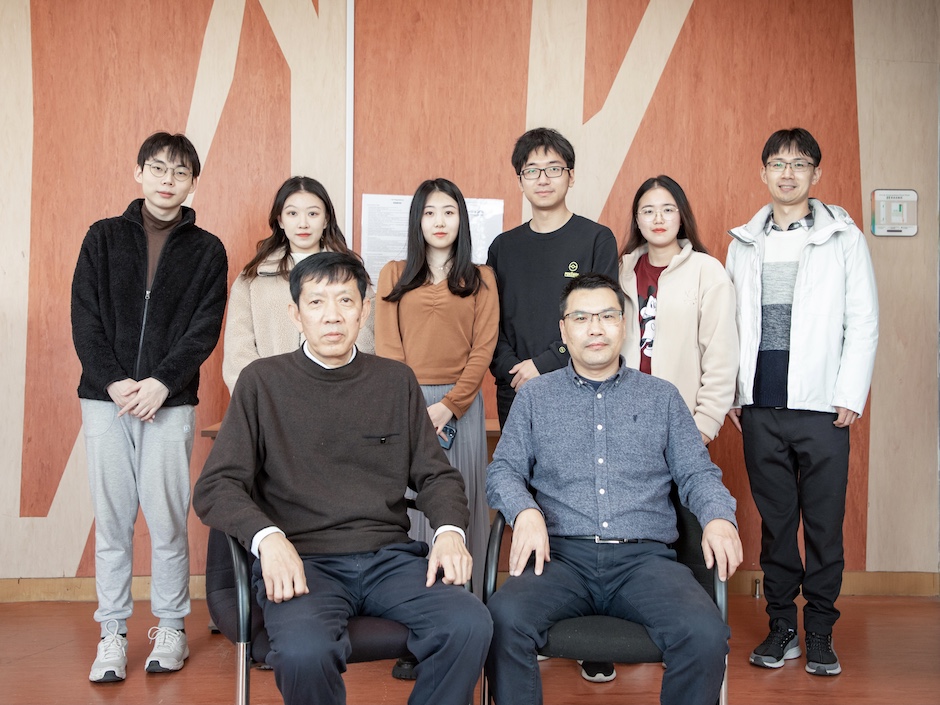 Yang joined the project group of Professor Yong Yue and Dr Xiaohui Zhu as a first-year student. "When I first joined the lab, my professional knowledge was still limited, but the teachers guided me patiently, introducing me to some important knowledge and encouraging me to carry out research. They have provided me with a lot of support and help."
She added, "After participating in these two SURF programmes, I feel that the biggest challenge lies in innovation. It requires researchers to not only keep up with the latest theories and approaches, but also to have a sound understanding of previous knowledge. Using all this information, researchers must figure out problems, overturn previous ideas, update and refine their own projects, and finally realise and validate them."
According to Shi, the scientific research experience he gained in the SURF programme has enhanced his ability to solve problems practically. "The programme actually started from the middle of the semester, and we'd been conceiving some preliminary ideas in our spare time since then.
"During the summer vacation, the primary issue was to tackle the key challenges. It is quite a challenge for undergraduates to strike a balance between scientific research and everyday learning requirements. The SURF programme has developed our capabilities to deal with practical problems and to put theories into practice, and has also improved our ability to cope with pressure."
Biological sciences students explore immunotherapy

Last summer, Jiawei Yu, Yutong Wu, Yixin Zhou, and Ziyue Yuan from BSc Biological Sciences, synthesised a new bio-nanofibre which can help test tumour markers and detect breast cancer. With further research, their findings could reduce the cost of immunotherapy in the future, and mitigate the damages caused by excessive medical treatment.
Dr Jeong Park, at the Department of Biological Sciences, supervised their Summer Undergraduate Research Fellowships (SURF) project.
Understanding immunotherapy
Immunotherapy and chemotherapy are both common cancer treatments. Immunotherapy helps the patient's immune system fight against cancer, whereas chemotherapy uses drugs to reach and kill cancer cells in the body.
Dr Park says although chemotherapy is effective, the drugs are very expensive: "The course of treatment could cost the patient up to 150,000 USD."
Wu adds that chemotherapy drugs do not differentiate between cancer cells and healthy cells either. "This can lead to many side effects," she says. "In contrast, immunotherapy causes less damage because it focuses on helping the immune system to be more effective when responding to cancer cells."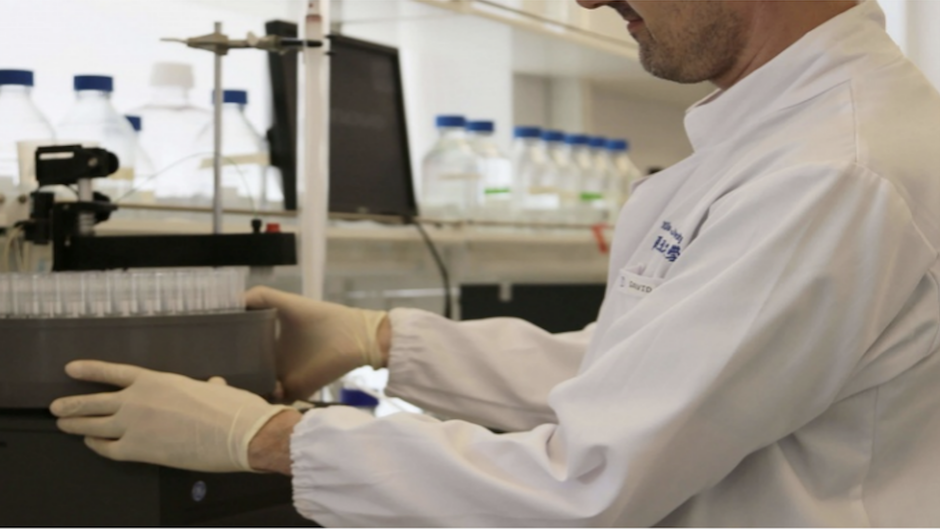 Protein purification
Despite its advantages, immunotherapy is not used as widely as chemotherapy because its effectiveness depends on the type of cancer a person has.
"Some cancers may respond to immunotherapy; some may not. This depends on a certain type of protein on the cancer cell," Wu says. "Our synthetic bio-nanofibre can bind with the protein. By examining the binding affinity, doctors can evaluate whether the patient can be treated effectively with immunotherapy or not."
Learning through research
The students say that the experiments require absolute validity and precision. If anyone made a tiny mistake in the process, they need to start all over again.
Yu says: "We spent a week detecting the micrococcal nuclease with much trial and error. Every time we failed, Dr Park would ask us questions and inspired us to analyse the results and reflect on our learning."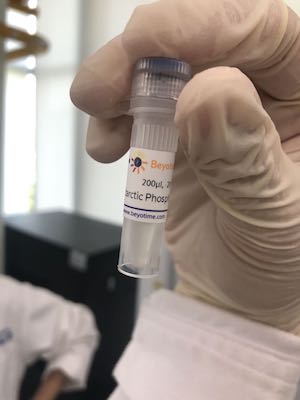 An enzyme sample
Apart from scientific methods, the students also learned the characteristics of a good researcher: resilience, persistence, and independence.
Yu is impressed by what Dr Park says about failed experiments: "Failures in experimentation are frequent and inevitable; the most important thing is to learn from them. If we can learn from our failures, then the experiment wasn't wasted."
He and his team have also gained a better understanding of research independence.
"Before, the teaching assistants would prepare the laboratory equipment for us. In the SURF project, we have to prepare everything by ourselves, set daily goals, advance the project proactively, and examine the results in detail after each experiment," Yu says.
"After participating in this project, I confirmed my main area of interest – cancer research. I will also apply what I've learned in the experiment to my future study."
By Huatian Jin and Luyao Wang
Translated by Ziying Shi
Edited by Xinmin Han and Patricia Pieterse
Photos by Dr Jeong Park, Yutong Wu and Kaiyuan Yang