TEDxXJTLU, initiated by the XJTLU Museum, showcased a range of speakers on the theme of dao.
Dao is a Chinese character with various connotations, including a path, an approach, and a principle.
The speakers ranged from various disciplines, including humanities, technology, education, social service, art, and environmental protection, and were invited to share the dao of their lives and the lessons they've learned.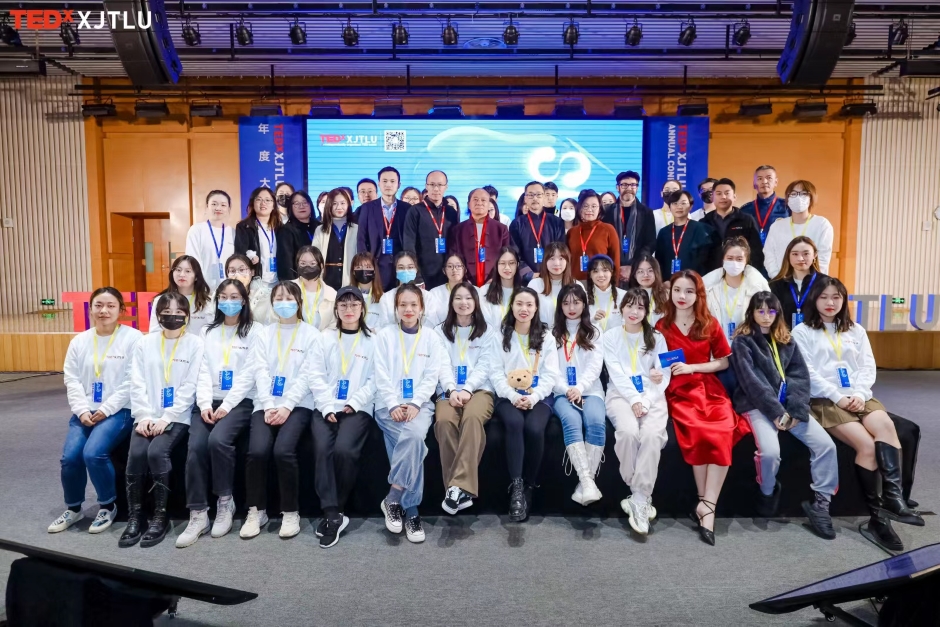 The 10 speakers were: Tinghui Cai, a custodian of Suzhou intangible cultural heritage; Liang Zhao, general manager of the Education and Culture Department of the ECOVACS Group; Han Jiang, director of the Department of Cultural and Creative Products of Suzhou Museum; Long Ma, leader of Suzhou Youth Emergency Response Volunteers Team; Erkang Xiao, writer and poet; Yi'er Luo, founder of the art talk show; Jun Liu, joint founder of Suzhou Yingsai Intelligent Technology; Dr Xi Liu from the Department of China Studies, XJTLU; Vicente Esteban at the Department of Industrial Design, XJTLU; and Dr Lingyun Xiao at the Department of Health and Environmental Sciences, XJTLU.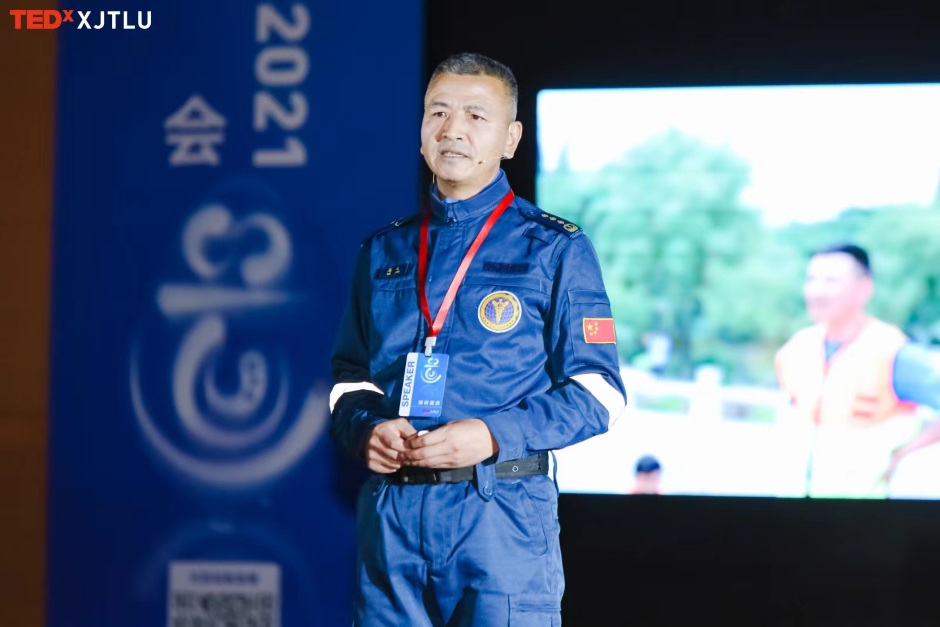 Long Ma
Committed to caring
Long Ma is the leader of the Suzhou Youth Emergency Response Volunteers Team. The civilian team has participated in rescue efforts in the wake of several disasters in China and abroad, including the Super Typhoon Rammasun in Hainan and the Ludian earthquake in 2014, and the Zhejiang landslide and Nepal earthquake in 2015.
"Whenever there is a disaster, we try our best to rush to help. After years of development, China's civilian rescue has become a vital part of rescue efforts," Ma said in his speech.
The event also included a talk about rescue of another kind – Dr Lingyun Xiao from the Department of Health and Environmental Sciences at XJTLU is an animal ecologist and environmentalist. In her speech, she called on everyone to think about the significance of biodiversity.
"As more and more animals enter urban spaces, we need to know about the necessities and habitats of wild animals. Once we do, we may find that humans can provide many of them," she said. "The more effective thing to do than raising people's awareness of wildlife protection is to create friendly habitats for animals in human living environments."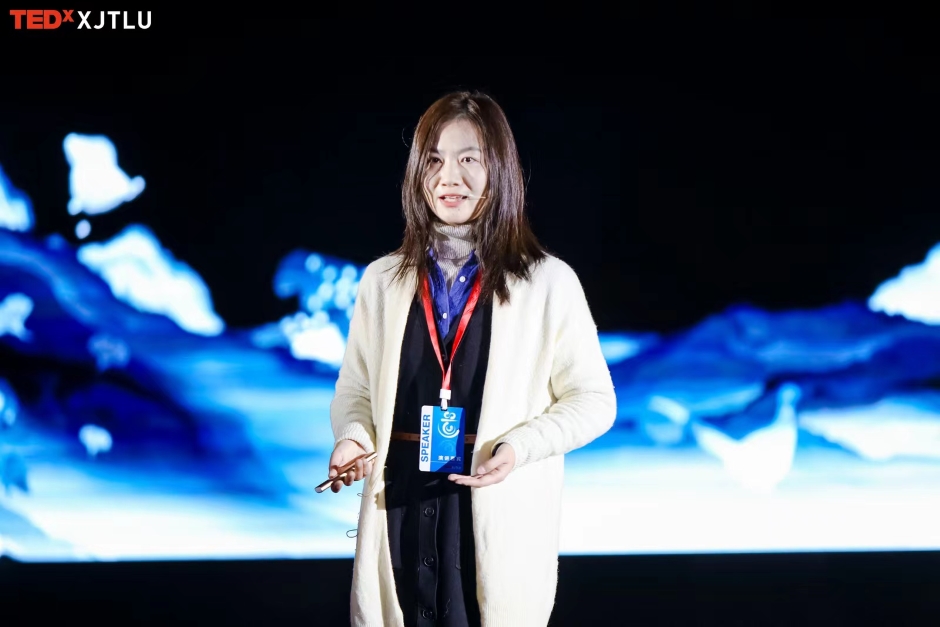 Dr Lingyun Xiao
A better world
Dr Xi Liu from the Department of China Studies at XJTLU talked about her research into feminism and science fiction.
Dr Liu said that contemporary Chinese science fiction includes a lot of discussions on gender issues, such as Qiufan Chen's In This Moment, We Are Happy.
"Many thought experiments in Chinese science fiction touch on not only gender inequality, but also class inequality, urban-rural inequality, species inequality, and technological inequality... All of these help create a more just, free future in people's imagination.
"Science fiction is often about faraway journeys in the ocean or into space, and I hope at the destinations of those journeys, we can find a better world, as well as better versions of ourselves," said Dr Liu.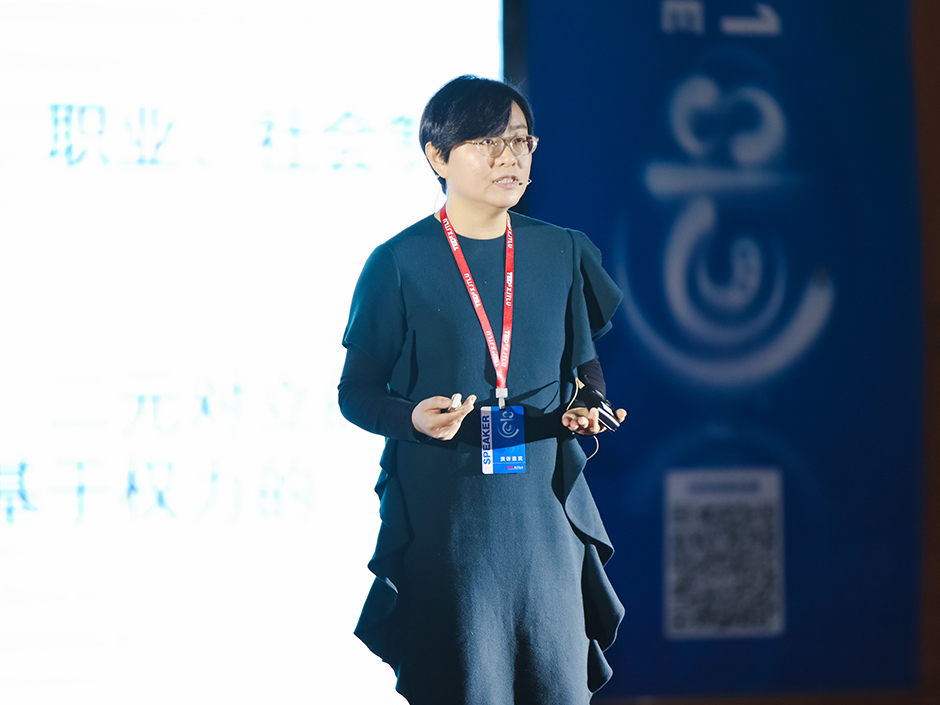 Dr Xi Liu
The other speakers also shared their unique experiences and thoughts: Tinghui Cai talked about how he practised seal and paint-engraving every day to explore new ways to pass on the art form. Han Jiang shared her dao of communication — developing merchandise that creates a connection between museums and the public.
Yi'er Luo humorously pointed out the Chinese and Western cultures' unique characteristics and expressed his view on the Chinese cultural inheritance. Liang Zhao introduced ECOVACS's way to success and his unique dao of innovation.
Erkang Xiao shared his insights into the pursuit of meaning in life. Jun Liu told his story in the field of intelligent driving. Vicente Esteban called on everyone to observe the world from different perspectives to see new things.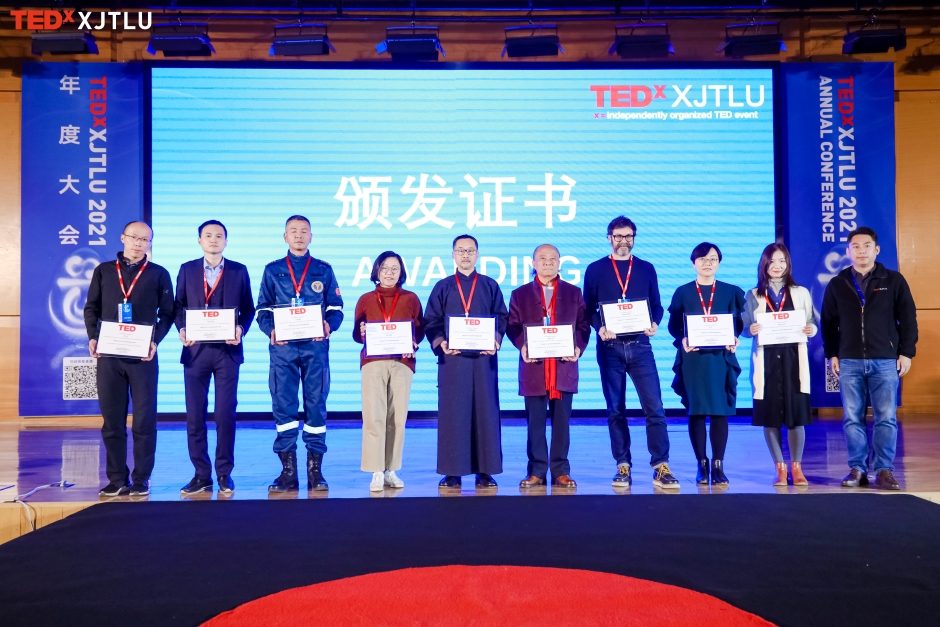 From left to right: Jun Liu, Liang Zhao, Long Ma, Han Jiang, Erkang Xiao, Tinghui Cai, Vicente Esteban, Dr Xi Liu, Dr Lingyun Xiao, Dr Xin Bi
Sharing the dao
The licensee and curator of TEDxXJTLU, Dr Xin Bi, director of the Centre for Knowledge and Information, presented certificates to the speakers at the end of the event. Dr Bi said: "By talking about their own experiences, the speakers told us about the dao of art, science, life, cultural heritage, humans and nature, and humans' relationship with themselves, from which we have learnt a lot."
Xin Xu, leader of the XJTLU Museum team, said: "This year marks the third TEDxXJTLU Annual Conference, and it is not easy for everyone to meet here today because of Covid-19. I am very grateful to the audience and all the staff for your support."
Click the link to watch the event (Chinese).
By Libing Wu
Edited by Qiuchen Hu and Patricia Pieterse
Translated by Xiangyin Han