Dr Yunqing Xu, Director of XJTLU Urban and Environmental Studies University Research Centre (UES), recently attended the 3rd Collingwood World Summit in Canada which was organized by UN-Habitat.
Focusing on sustainable housing and finance, the Summit brought together over 450 local leaders, public and private sector stakeholders, financial institutions, professionals, community interest groups and others from around the world to network and share innovations and best practices, working to advance a new urban agenda for towns and small cities.
It hopes to lead the way to a resilient, inclusive and sustainable future through cross-regional and cross-sectoral dialogues to build a connected global partnership, to respond more resiliently to the housing crisis in the context of the COVID-19 pandemic and climate change.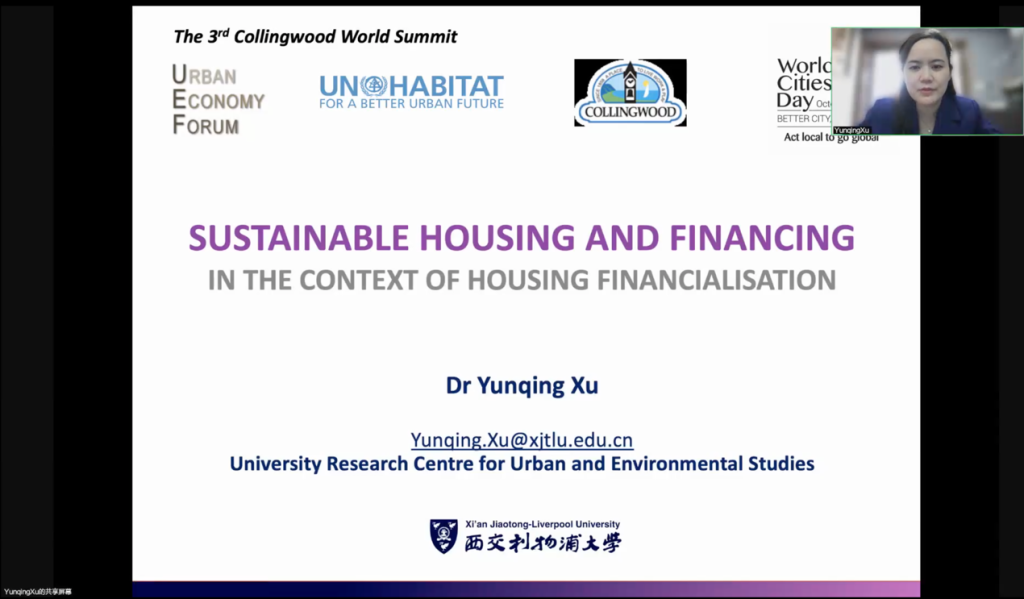 Dr Xu Yunqing delivering the speech
Dr Xu gave a presentation on green habitat and low-carbon retrofit. She suggested that green retrofitting of existing buildings has become the key to achieving green habitat and low-carbon development in regions.
"Taking the example of China which is rapidly entering the inventory development phase, there is the need to look beyond demonstration projects and new buildings to the green retrofitting of a wide range of existing buildings, extending the industry chain to establish a holistic sustainable housing support system, promoting the development of the whole chain from financing to planning, construction and operation.
"Under the influence of global developments in the financialization of housing, systemic change and a virtuous cycle of demand and supply will also require a fundamental enhancement and promotion of the use value of green housing, rather than its financial attributes as an investment vehicle," she said.
Dr Xu presented the results of the recently completed research on low carbon retrofitting between China and the UK by the UES. She said that the Research Centre is committed to deepening the exploration of cooperation between governments, industries, academia, research and society, and promoting urban experiments in the practice of low carbon lifestyles and dual carbon goals for all.
Several experts delivered speeches at the conference, including Maimunah Mohd Sharif, Executive Director of UN-Habitat; Anantha Krishnan, Secretary General of Urban Economy Forum; Hon. Elizabeth Dowdeswell, Lieutenant General of Ontario; and Reza Pourvaziry, Chair of Urban Economy Forum.
Topics of other speeches including housing affordability, climate resilience, sustainable housing technologies and innovation and green finance, sharing excellent practices from countries including Canada, India and Malaysia.
Story and photos provided by UES