The season of ginkgo trees has arrived and so has the 6th Ginkgo Festival at the Dinghui Temple Alley in the Shuangta District of Suzhou, attracting scores of residents and tourists.
Adding to this year's festival, students and academics from the Design School at Xi'an Jiaotong-Liverpool University organised a community gardening activity and meditation performance art inspired by the Ginkgo biloba, an ancient tree species native to China. Both activities were held in the courtyard of Dinghui Temple.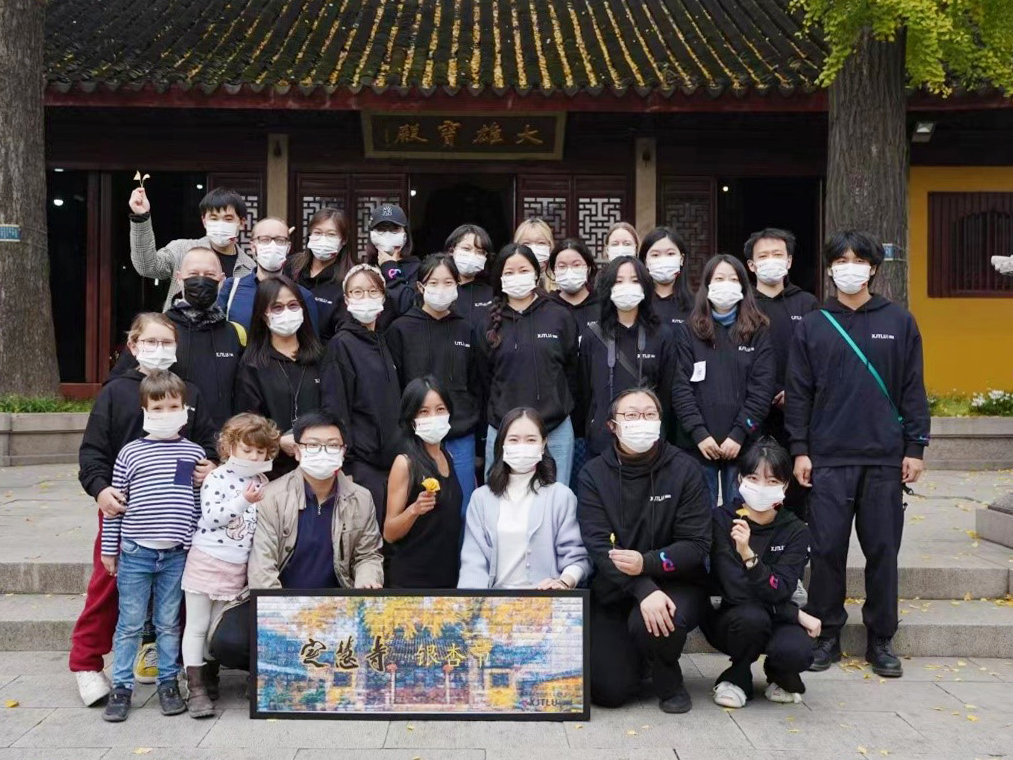 XJTLU students and teachers at the Ginkgo Festival
The community garden research group brought zero-waste, eco-friendly ideas to the festival. They transformed waste glass bottles into a seed museum, empty milk boxes into flower pots, and discarded masks into flower souvenirs. They also made the exhibition shelves from food delivery bags and a drifting garden of used wooden boards.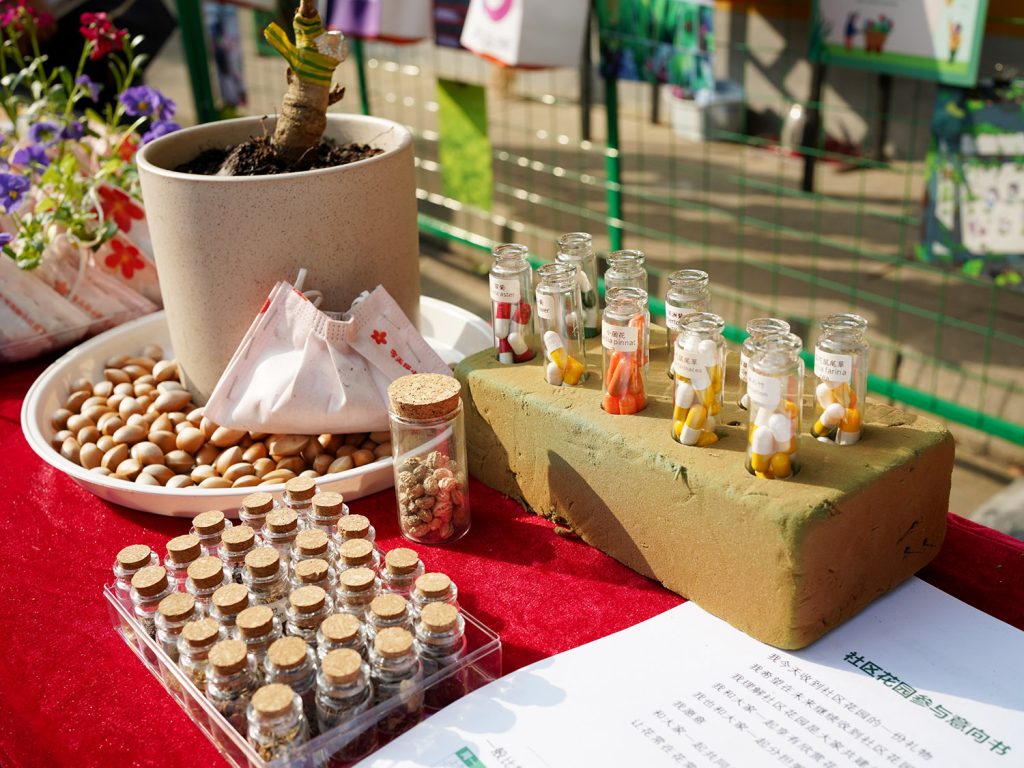 The community garden activity's seed museum
Jiayu Tao, who graduated from the XJTLU Industrial Design programme in 2018, is now the research assistant in the community garden research group. She says that a community garden is not only about planting flowers, but also holds the community members together and creates a harmonious community environment.
"When people saw that we made souvenirs out of masks, they were all impressed by how novel and beautiful the souvenirs are. An older woman was really supportive of our idea of recycling masks, telling us that she has kept all her used masks since the beginning of the pandemic and would like to donate them to us.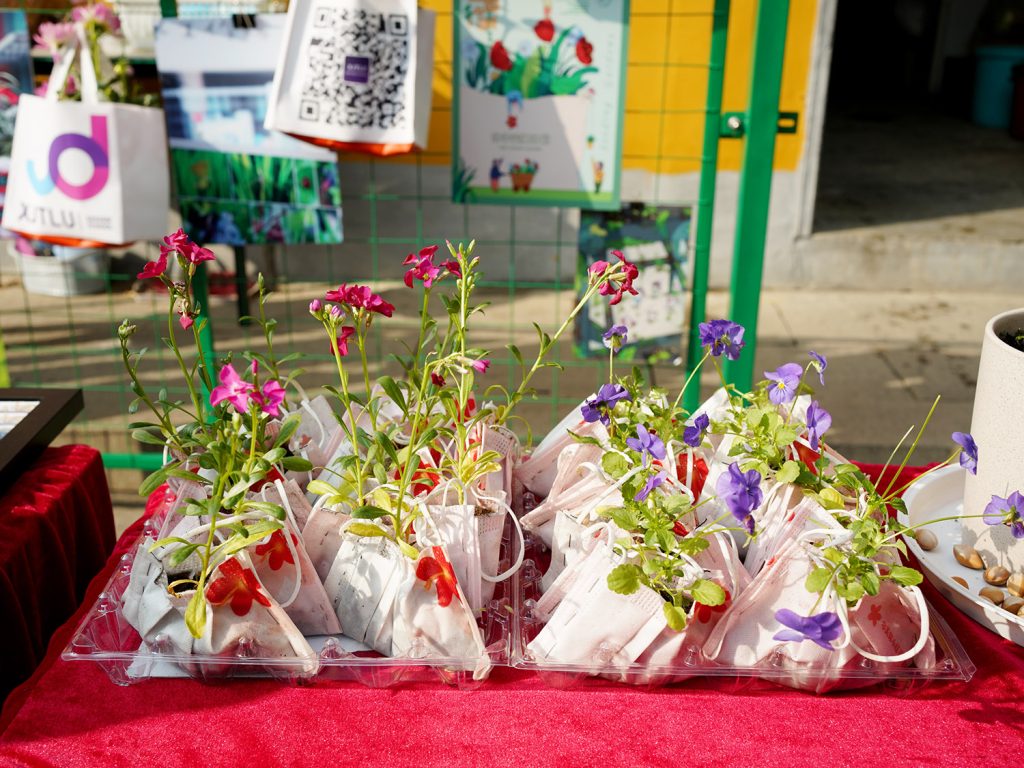 Souvenirs made of recycled masks
"During this year's Ginkgo Festival, we recruited more than 10 residents in Shuangta District who are willing to participate in building a community garden here. We also gave out many ginko and other plant seeds, hoping that they will help spread the idea.
"We will continue to promote zero-waste and sustainable community gardens at XJTLU and its neighbouring communities. We would like to see more people join us in this environmental campaign," she says.
At the event, visitors of different ages and nationalities finished a Ginkgo Festival-themed jigsaw puzzle. Dr Ying Chang, associate professor at the Design School's Department of Urban Planning and Design, says that community gardens not only can improve the environment and restore the ecosystem, but also educate children about nature and improve the well-being of senior citizens.
"Community gardening is an interactive activity that connects different community members. It offers a sense of cohesion and belonging when residents build and maintain a garden together," she says.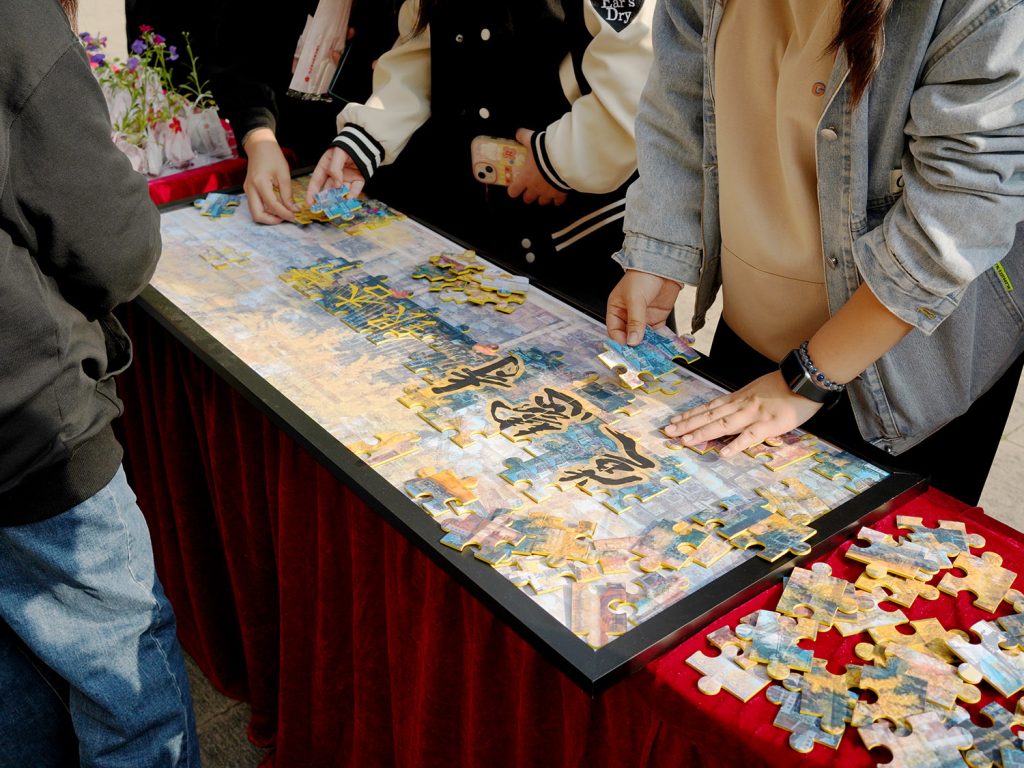 Ginkgo Festival puzzle
At the event, Kimvi Nguyen, lecturer at the Design School's Department of Architecture, launched a meditation inspired by ginkgo in the Dinghui Temple courtyard. For almost an hour, she lay in a traditional Chinese drying basket made of bamboo that was filled with ginkgo leaves. She held up a leaf in each of her hands, representing the twin ginkgo trees in the yard.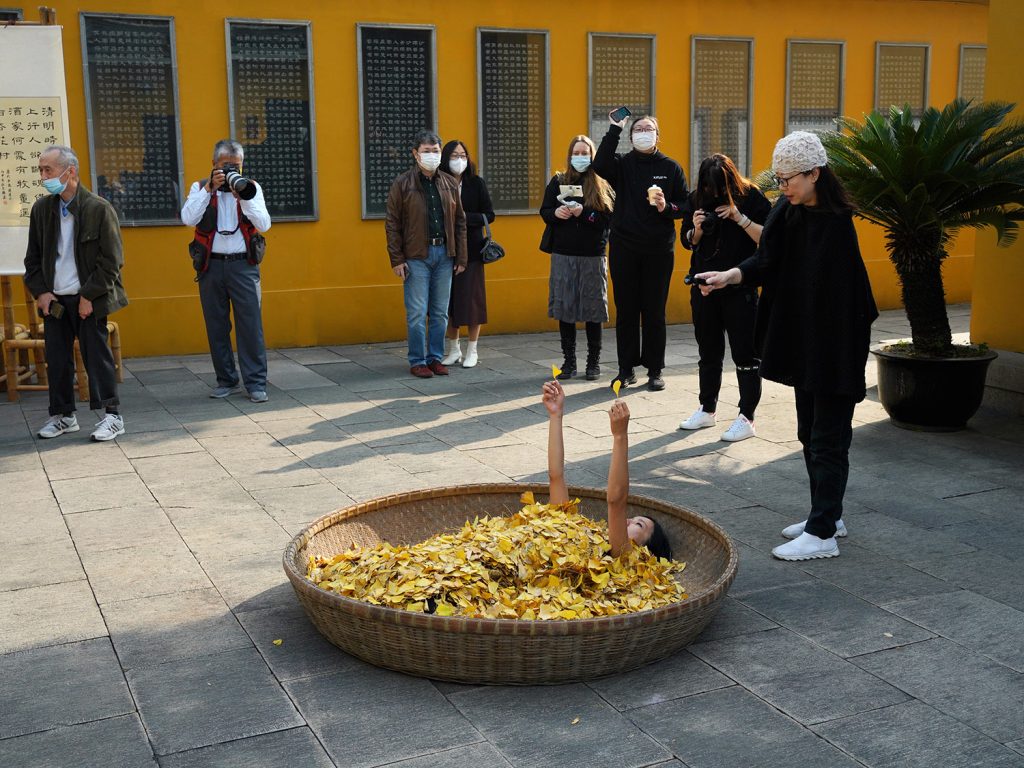 The Meditation of the Ginkgo
Kimvi says that ginkgo is a resilient plant, and that the twin ginkgo trees in the yard, respectively aged 345 and 205 years, are living fossils themselves. Ginkgo trees are special not only to the Dinghui Temple, but also to the Chinese culture for symbolizing longevity and resilience.
Kimvi said: "I would like to pay homage to the power of this species in my own way as a performance artist, and also, as a foreigner, pay tribute to the Chinese culture, environment and people. This was where my strength came from during the performance."
"I was immersed in my own space and blocked out the noise from outside. I always use very simple gestures to express my ideas which are actually very powerful. A simple gesture can have many meanings and people can take whatever they want from it," she says.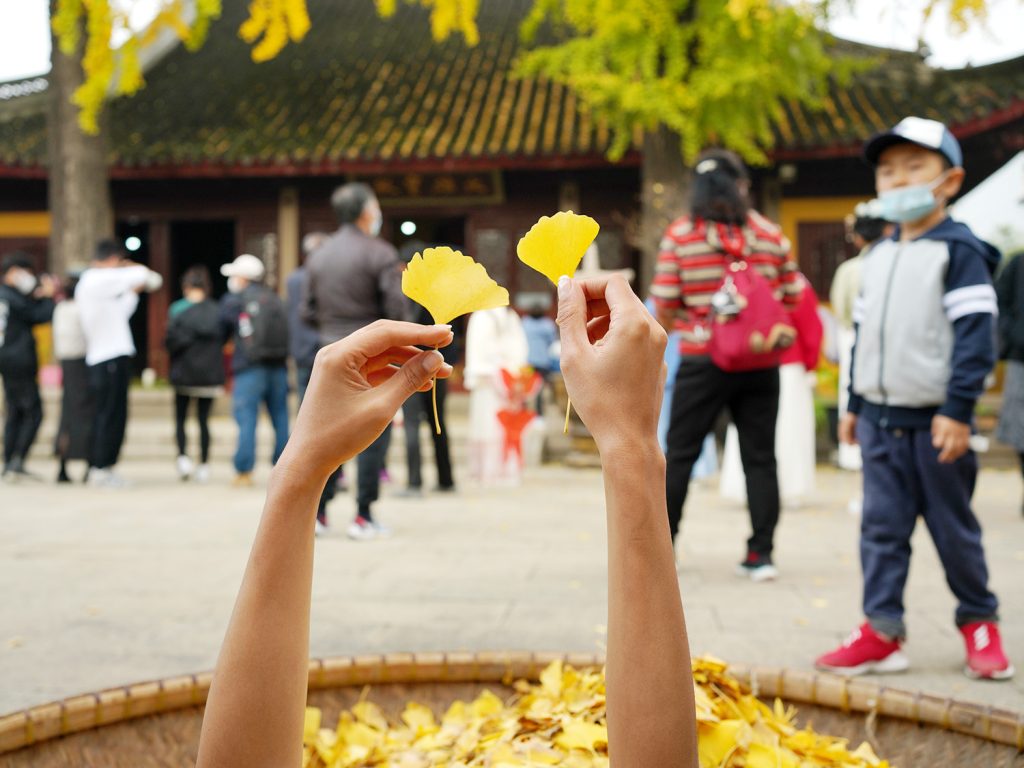 The Meditation of the Ginkgo
The collaboration between XJTLU and the Ginkgo Festival is part of the Safeguarding Heritage and Community of Shuangta Area Project co-organised by XJTLU Design School and Suzhou Gusu District Natural Resources and Planning Bureau. It aims to enhance XJTLU's research and education on community heritage protection and urban renovation, including multiple research and educational activities carried out in the Shuangta District.
By Yi Qian
Photos by Yi Qian
Translated by Xiangyin Han
Edited by Tamara Kaup