The 2023 Summer Undergraduate Research Fellowships (SURF) projects recently concluded, with 1,000 students participating in 216 projects. A total of 15 projects from eight Schools went on to the finals, and three teams emerged as The Academic-Nominated Winners. This year's achievements not only surpassed previous records in the number of projects, participants and awards but also display the research potential of Xi'an Jiaotong-Liverpool University's students.
What did the participating undergraduates gain from SURF? We spoke to two teams to learn more. 
Outstanding Academic-Nominated Winner: Multi-scale Generative Lightweight Design of Free Shape Robots
Supervisor: Dr Min Chen from the School of Advanced Technology
The project team designed a dexterous, smart robot for efficiently packing and sorting irregularly shaped machine components in laboratories. They also created a reliable gripper which significantly improved the robot's mobility.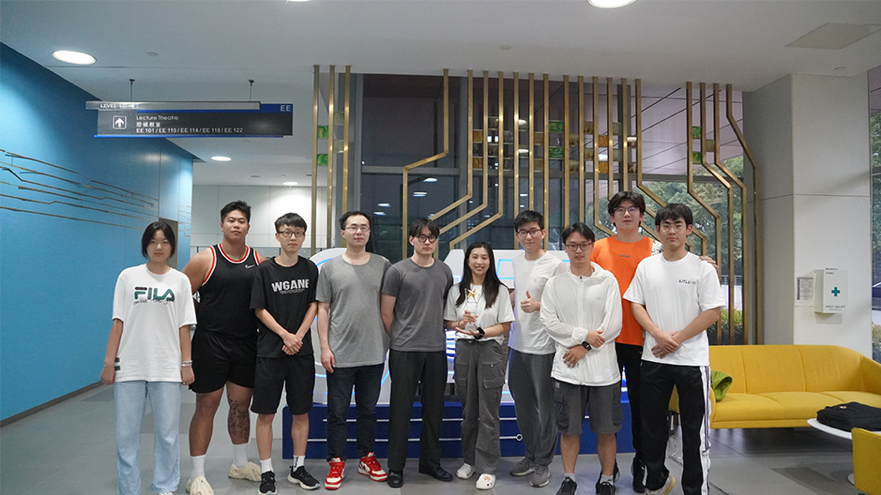 From left to right: Huizhong Wu, Ziwei Zhu, Minwen Su, Yuchu Xu, Shunjie Gu, Yunqing Wang, Yuchen Wang, Yuqing Liu, Jiakai Sun, Liu Yang
Q: Why did you choose to join this project?
Yunqing Wang (Year Three, BEng Industrial Design): I chose this project for two reasons. First, I enjoy challenges. When I joined the team, I found that this project was born out of a real-life issue – a postgraduate student in Dr Chen's lab had difficulty effectively controlling the gripping mechanism when inspecting small vehicle parts. Even when the tool managed to capture the parts, instability during extraction resulted in frequent drops. I wanted to create an innovative gripping mechanism that is more flexible and easier to operate.
Second, I saw this as a great opportunity to develop myself. This project involves multiple disciplines, such as materials, robotics, design, and artificial intelligence. Through this project, I can apply the design knowledge I learned in class and enhance my research skills while acquiring new knowledge.
Q: What did you gain, and how did you grow from participating in SURF?
Ziwei Zhu (Year Four, BEng Mechatronics and Robotic Systems): The most important thing I learned was perseverance. In everyday life, we can master many skills with practice and acquire knowledge through repeated studying. However, during SURF, mere observation or repetitive practice was not enough. We had to go beyond surface-level understanding and dive deep into exploration.
For example, during a simulated experiment, I followed all the prescribed operational procedures, but I just couldn't achieve the expected results. It was disheartening, and I felt as though I had wasted a considerable amount of time. Then, Dr Chen stepped in and offered me a fresh perspective and new direction. I shifted my mindset, approached the problem with patience, and eventually found a solution.
Jiakai Sun (Year Four, BEng Mechatronics and Robotic Systems): SURF cultivated my spirit of independent exploration. I'm no longer confined to simply completing assignments given by teachers; instead, I'm actively asking questions and seeking answers.
For example, before doing this project, my analysis in class involved examining basic concepts, like the forces acting on a machine component, in a few straightforward steps. However, for the SURF project, we needed to conduct experiments and research to understand the properties and influences of various forces affecting the components. To achieve a more precise and detailed product design, I also taught myself the software nCode.
Yunqing Wang: When I first joined the project team, I found myself a little bit perplexed. Faced with an engineering topic different from my design programme, I struggled to find an entry point for this research.
Thankfully, one of Dr Chen's PhD students also had a background in industrial design, and he is actively engaged in robotics projects. He taught me how to search for and access relevant literature. At first, my reading was limited to preliminary exploration, and whenever I came across complex terminology, I relied on translation tools for help. However, as I spent more time reading papers, I gradually developed the ability to identify key academic terms and read research papers with greater fluency.
International Business School Suzhou (IBSS) Group Winner: Happiness Inequality in China
Supervisor: Dr Shun Wang from IBSS
This project's findings show that happiness levels in China have followed a U-shaped pattern since 1990 and have maintained a lower median position in global rankings.
Q: How was your experience in SURF, and what did you gain?
Yidan Cheng (Year Four, BSc Economics and Finance): During my SURF experience, I realised that reading a literature review is like having a conversation with the scholars who have preceded us. At the beginning of this project, we undertook an extensive literature review and immersed ourselves in the research context and background. We wanted to study the existing achievements and identify research gaps, and I found this process very enjoyable.
Ru Wan (Year Four, BSc Economics and Finance): Researching this topic challenged some of my existing thinking and gave me a whole new perspective on happiness. When reading Dr Wang's research papers, I found that seemingly unrelated factors could lead to interesting conclusions. For example, I learned that in families with multiple children, the happiness level increases with each additional child. Participating in SURF gave me the chance to embrace the spirit of scientific exploration. It's all about diving deep, questioning our ingrained thoughts, and being open to surprises along the way.
Jiabao Xiang (Year Four, BSc Economics and Finance): SURF improved my teamwork skills. In this project, we were divided into groups according to our assigned databases, a common practice in economic research projects. Each of us had to dive into the literature of the databases to understand the research. During our weekly group meetings, we brainstormed how to fill the gaps in the literature. We also ran a regression analysis to see which methods would work best. This teamwork approach allowed us to leverage our individual expertise and perspectives and drive our project forward.
Invaluable experience
Professor Zhoulin Ruan, Vice President of Academic Affairs at XJTLU, said SURF is the University's flagship research project and has been successfully organised for over 10 years. The breakthroughs and innovations achieved this year are a testament to the active participation and outstanding performance of XJTLU students in the field of research.
"I would like to congratulate all the participating students. This invaluable experience has showcased their research abilities and innovative thinking. I encourage them to build upon the valuable research experience and achievements, as this will lay a strong foundation for their future academic and professional endeavours," he said.
The winning projects from each academic cluster, as selected by the judging panel and students' online voting were:
Outstanding Academic Nominated Winner: Jiakai Sun, Liu Yang, Minwen Su, Shunjie Gu, Yuqing Liu, Ziwei Zhu;
Excellent Academic-Nominated Winners:
Cheng Zhang, Jianqing Liu, Jiashu Yang, Luyao Tang, Siyu Xiao, Wendi Wang;
Jiayi Tu, Jiayin Zhang, Mingze Yuan, Ruizhen Li, Shuangjie Wu, Xiyue Zhang;
School of Humanities and Social Sciences Group Winners:
Jiaying Zou, Jinxian Chen, Liu He, Yuan Ji, Yujia Zhao, Ziyi Wang;
Haotian Zeng, Keying Gu, Ruijie Hou, Shuyu Zhang, Yushu Yin, Zihan Yu;
International Business School Suzhou Group Winner: Haonan Wang, Jiabao Xiang, Qi Zhang, Ru Wan, Yidan Cheng, Ziyun Liu;
School of Advanced Technology Group Winners:
Bairui Shang, Bowen Gu, Guoxuan Sun, Mutian Yuan, Xingze Xu, Zhen Qiu;
Guandong Yang, Haozhe Sun, Ruocheng Gu, Shengye Hu, Xuyang Pan, Zichen Huang;
Chenglong Xia, Runze He, Xule Yang, Yurui Jin, Zhiyu Xiao, Zijian Mei;
School of Mathematics and Physics Group Winners:
Huangcheng Yin, Lin Tong, Zhong Wang, Zhongzheng Duan;
Haoran Wu, Xinyi Wang, Yijun Zheng;
School of Science Group Winners:
Fanessa Fanessa, Jaehoon Jung, Patcharamon Trachai, Ziping Chen;
Junqiang Niu, Yifei Wang, Yige Xu, Yudi Liu, Yue Yao, Zhouxiang Gu;
XJTLU Wisdom Lake Academy of Pharmacy Group Winner: Jingyu Jiang, Shiqi Wang, Ye Liu, Yijia Yao, Yushan Tong, Ziyu Yuan;
School of CHIPS Group Winner: Zhuoxun Wu;
Student-Nominated Winners:
Jiaheng Wang, Jiayi Gao, Jingyi Yang, Siwei Wang, Xiao Liu, Yuhan Miao;
Nan Qiao, Qianyu Xu, Yifei Xu, Yijia Xu;
Shuyuan Zhang, Xiaowei Huang, Yaoyu Zhuang, Zesheng Chen, Zhaoxin Yan, Zhinan Chen;
Cheng Zhang, Jianqing Liu, Jiashu Yang, Luyao Tang, Siyu Xiao, Wendi Wang;
Chengxin Gu, Jialu Zhang, Jianan Dong, Xiaoyu Ji, Xuanrong Sun, Yue Hu;
Binhao You, Gengfei Guo, Jia Qu, Jiaqi Wang, Liuyan Chen, Yijun Zhi.
By Yunji Tao and Xinmin Han
Edited by Patricia Pieterse
Photos by Lezhi Li