Xi'an Jiaotong-Liverpool University was one of a number of well-known universities, innovation organisations and technology transfer institutions that took part in a science and innovation exchange in Suzhou on Friday 23 September.
The 2016 Dushu Lake International Science and Technology Innovation Cooperation and Exchange event brought together Chinese and international universities with local enterprises to promote joint cooperation on science and technology projects.
XJTLU was a partner in organising the event along with the Institute for Technology Advancement at the School of Engineering at University of California in Los Angeles; UCLA (Suzhou) Institute for Technology Advancement; University of Oxford Isis International Technology Transfer Co., Ltd; and the Technology Transfer Center of Fudan University.
Presentations and speeches were given by a wide range of delegates, including Dr Janusz Tanas, associate professor of the International Technology Transfer Centre at XJTLU.
He spoke about the ITTC at XJTLU, which exists to help companies and individuals in the Jiangsu province commercialise their projects. Established in 2015, the centre is already working on more than 50 projects.
Dr Tanas also signed a cooperative agreement between XJTLU, UCLA-Suzhou and University of Oxford Isis Suzhou International Technology Transfer Co., Ltd to work together to carry out research activities, share resources and carry out training, amongst other things.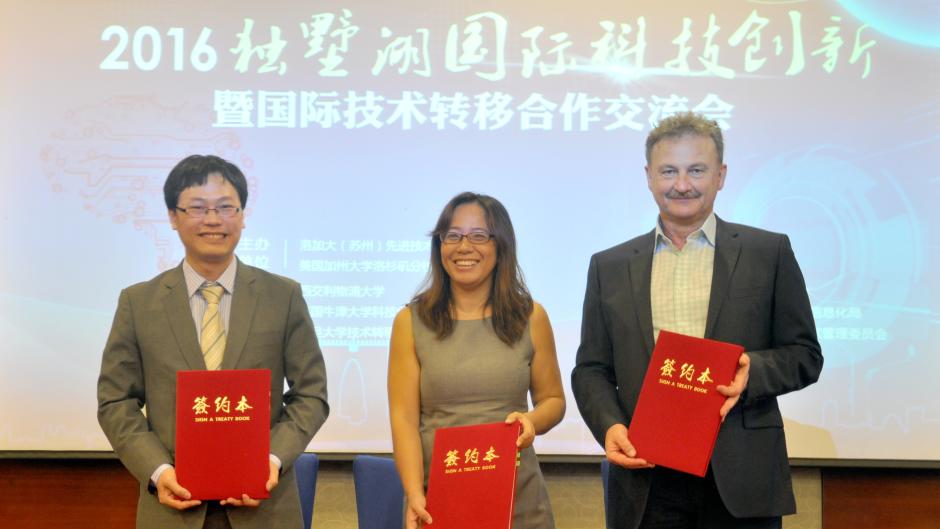 Dr Dechang Xu, head of XJTLU's Research Office and acting director of the ITTC, said that collaboration with UCLA and Oxford will expand XJTLU's pool of technology and help support technology transfer and knowledge exchange activities, as well as provide networking opportunities for academic staff.
At the event, Dr Li Yang from XJTLU's Department of Chemistry also presented on her research investigating the use of graphene to conduct electricity in electronic devices. The work could lead to smaller, more powerful mobile phone, cameras and computers that offer more functions and better performance at a lower cost.
"Events such as these are an important way for XJTLU to build its network and engage in collaborative research with top institutions and companies in China and around the world that will boost our reputation and impact," added Dr Xu.