A research team from the Department of Chemistry at Xi'an Jiaotong-Liverpool has measured for the first time the charge transfer of single-molecule junctions, using graphene and gold electrodes, marking an important step in understanding how electrons transfer through single molecules.
Their work has implications for the field of molecular electronics, a branch of electronics in which individual molecules perform the same function as microelectronic devices such as diodes.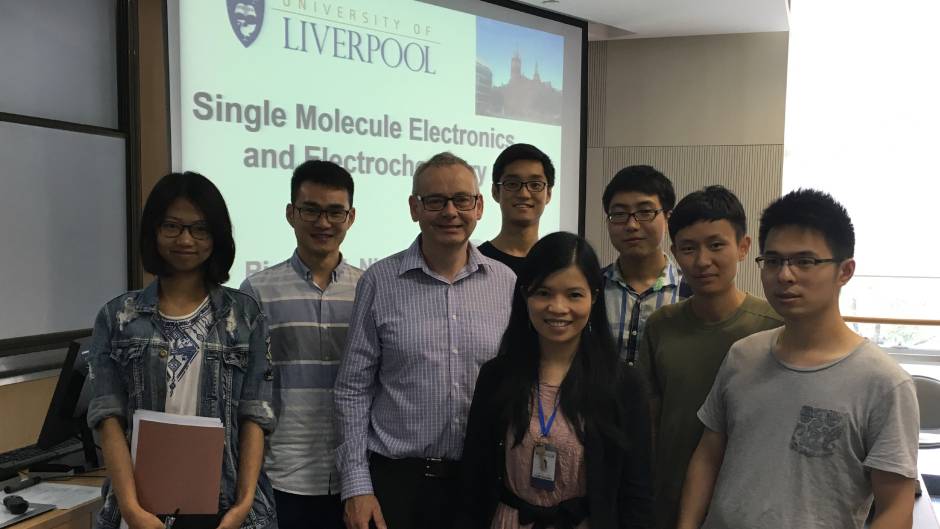 Since the 1970s, researchers have investigated using individual molecules as functional building blocks in electronic circuits, but development has been restricted due to significant experimental challenges and practical devices that use the techniques have not yet materialised.
It is hoped the team's research will contribute to the study of single-molecule junctions and help develop ever-smaller devices such as mobile phone, cameras and computers that offer more functions and better performance at a lower cost.
Molecular junctions consist of one or a small collection of molecules that are used as conductive elements to bridge two electrodes, separated by a distance called a nanogap due to its extremely small size.
The work, which was led by Dr Li Yang at XJTLU, was published in the highly profiled Nanoscale journal, which has an impact factor of 7.76, a measure reflecting the average number of citations to recent articles published in a journal.
The research project, which is funded by the National Natural Science Foundation Council (NSFC) and the Jiangsu Science and Technology programme, has been conducted in close collaboration with Professor Richard Nichols from the Department of Chemistry at the University of Liverpool. In 2003 Professor Nichols developed a unique technique to construct and measure molecular junctions using a scanning tunneling microscope.
This technique marked the first time researchers could construct a molecular junction as well as measure the single molecule conductance in a stable manner. It is seen by many as the true beginning of molecular electronics.
He visited XJTLU in the end of June as part of a mid-term project progress meeting and praised the research team for overcoming the technical challenges in performing their experiment. He added that he and his team in Liverpool had successfully formed molecular junctions on indium-tin oxide (ITO) and gallium arsenide (GeAs) electrodes, but not on two-dimensional graphene as the XJTLU team had.
"This carbon monolayer exhibits remarkable electronic, thermal, mechanical and optical properties due to its zero-band gap, flat and super-thin structure, making it useful as a platform for electronics, sensors, and electrodes in field effect transistors and as transparent contacts for photovoltaic devices," he said.
Qian Zhang is a Phd student who worked on the experiment. He said: "The graphene junction is creating a stronger charge transfer compared to those of equivalent junctions made with metal contacts. This is related to the weak coupling at the molecule-graphene interface and the electronic structure of graphene."
The research team's achievement was presented at XJTLU's first Research Festival and also featured in the newspaper Shanghai Daily.