Twenty students from Xi'an Jiaotong-Liverpool University took part in a workshop to design and create prototype structures using bamboo, learning techniques from skilled Suzhou-based craftsmen.
Ten mixed working groups, each with one student from the Department of Industrial Design and one from the Department of Architecture, were asked to come up with ideas for a façade for the second floor of the Materials Library, in the new Design Building on XJTLU's South Campus.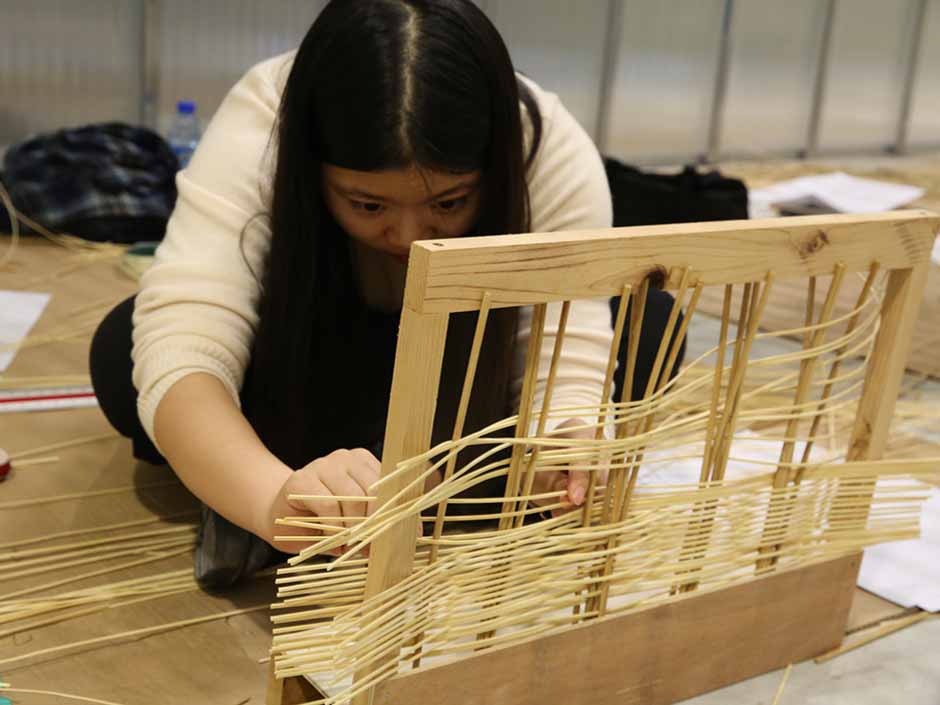 Each team was required to make two small-sized prototypes before a judging panel of academic staff from the two departments gave comments and selected one to turn into a full-scale prototype.
"Through the workshop, students learned basic joints, cuts, structures and weaving techniques of bamboo from two skilled craftsmen from Suzhou," said Dr Ruggero Canova from the Department of Industrial Design.
"They gained a better understanding of the potential of craftsmanship and traditional techniques to shape the future."
Yilin Li, a Year Four student studying BEng Industrial Design, said: "I made a light with bamboo when I was in Year Three and I am interested in designing and making things that use bamboo as a material.
"We needed to consider the characteristics of bamboo when we designed and made the prototype. Although it has good ductility, it is easily broken, so we needed to think about how to build a stable structure by putting together materials with different structural strengths."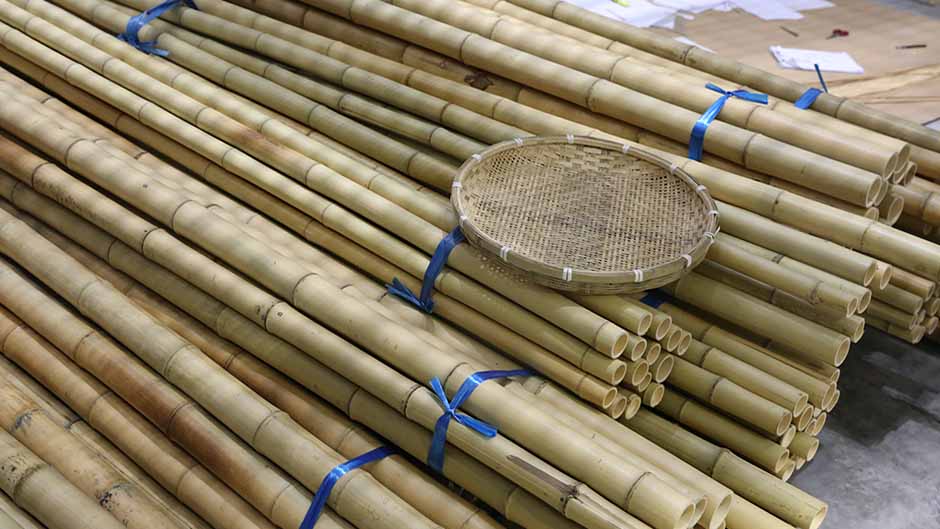 Yilin added that her group had problems weaving the bamboo but that the craftsmen taught them to how alternate vertical and horizontal weaves. She also found that architecture students and industrial students had different way of thinking: "We had different opinions on problems and the way we carried out our plans was also different. The workshop provided me a good opportunity to learn how architects think," she said.
Dr Canova added that learning these kinds of team-working skills was crucial for industrial design and architecture students.
"The students learnt to appreciate the potential of group working and interdisciplinary collaboration, especially given that industrial design and architecture are extremely complementary in terms of knowledge, skills and mind-set," he said. "It's about creating the culture of a working community. The interaction with skilled craftsmen is also of great value for the transition from ideas to full-scale prototypes."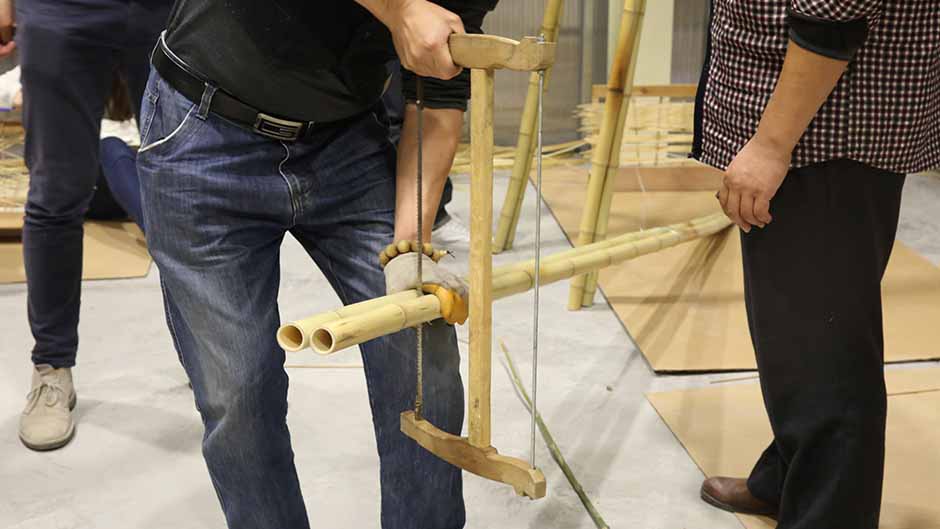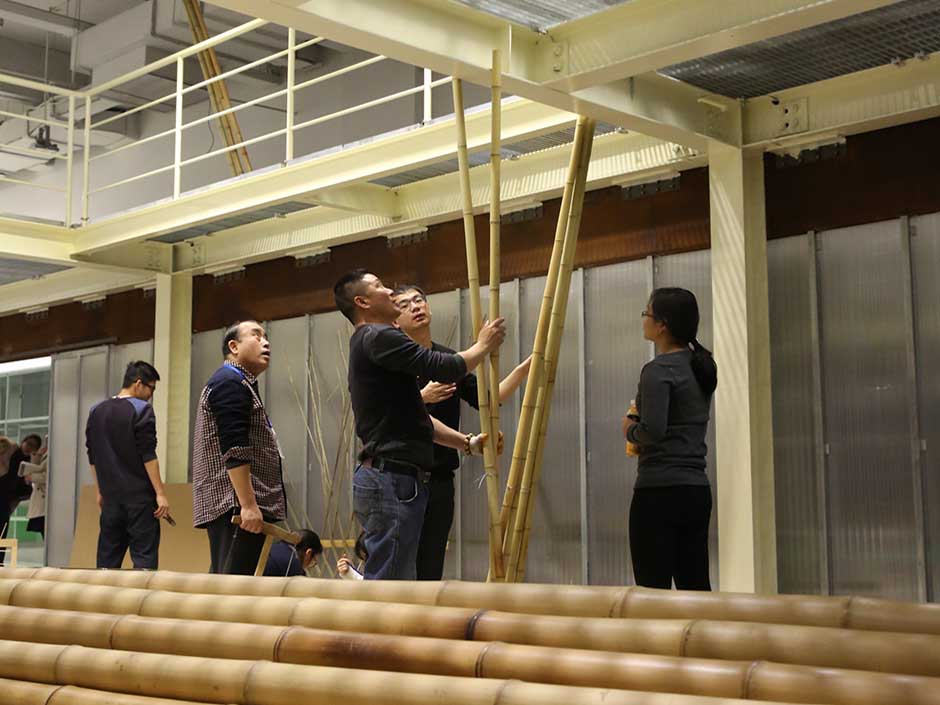 Fuming Lu, one of the craftsmen, has over 35 years' experience in working with bamboo and said that there were now no more than 10 people working in the area within Suzhou.
He explained that machine manufacturing has had very big impact on the craft: "Machines are much faster and precise when producing bamboo products, but handcrafted bamboo products are more strong and solid."
Fuming, who taught the students how to split, cut and punch bamboo, was impressed by their work: "The small sized prototypes students made were good, but some of these prototypes may be difficult to turn into full-scale models during the practical operation," he said.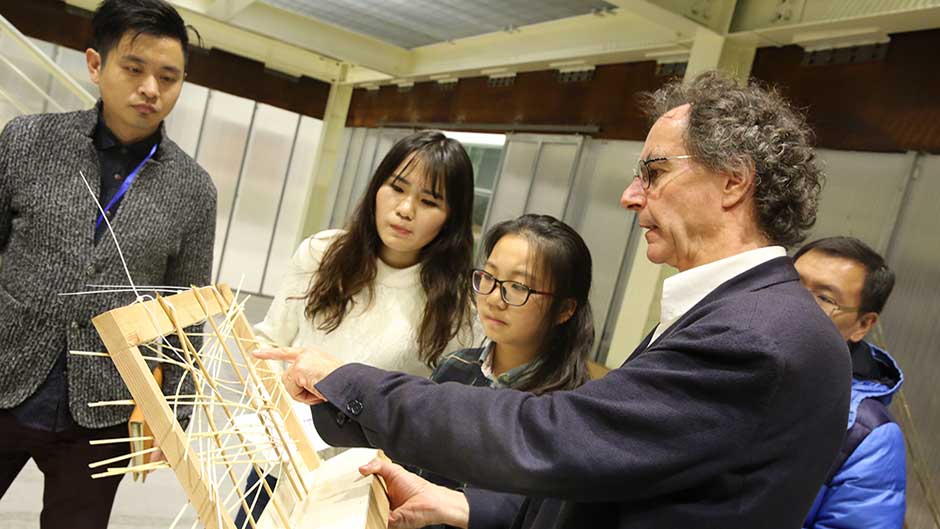 Four teams were selected as winners for their design and prototypes, and their projects will be turned into the four sides of an actual façade in the Materials Library. The four student teams were:
Back façade: Yuanxin Zhao and Rui Lu
North façade: Yu Yulin and Yuqi Shen
South façade: Zou Yina and Luo Cong
Front façade: Lu Xiaohui and Yuanfeng Hu.
The workshop was developed and realised by Professor Pierre-Alain Croset, head of the Department of Architecture and Dr Juan Carlos Dall'Asta from the same department, as well as Dr Bingjian Liu and Dr Ruggero Canova from the Department of Industrial design. This team will support the winning students in guiding and supervising the construction company in the building of the façades.