A ceremony announcing the launch of the XIPU New Era Development Research Institute (NEDRI) was held at Xi'an Jiaotong-Liverpool University.
Yifan Wu (pictured below second from right), vice president of China Development Bank Suzhou (CDB), Ning Lu (pictured below first from right), director of policy research office at Suzhou Municipal People's Government and Professor Youmin Xi (pictured below first from left), executive president of XJTLU signed a cooperation agreement to formally establish the XIPU New Era Development Research Institute.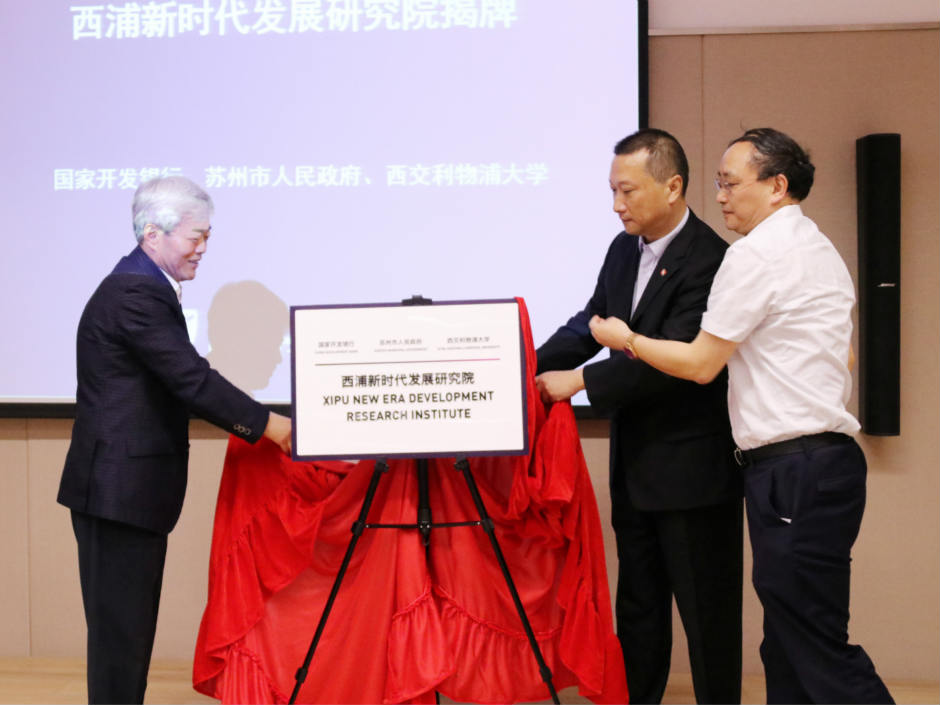 NEDRI aims to leverage advantages from both CDB and XJTLU in the areas of research, policy, practice and industry.
NEDRI also agreed a long-term collaboration with the TiHu Ecological International Corporate Alliance and TiHu Ecological Fund Management Center to explore strategies that help achieve positive social development in China, develop a modern green society and create a community for a shared future for mankind, all of which contribute toward the great rejuvenation of the Chinese nation.
Professor Xi said: "In addition to theoretical research, policy suggestions and think tank recommendations, NEDRI will also partner with international corporate and financial partners, leverage social resources, and jointly promote research achievements in pilot project areas such as the International Common Market Zone, International Innovation Ecological Hub and Modern Green Society."
He further pointed out: "The CDB is critical in promoting the implementation of the national strategies of China. Suzhou is a model city in its development of the economy and society in China. XJTLU will demonstrate best practice in international cooperation with other universities. The partnership among the three entities will connect demand and create a new international think tank that serves the implementation of national strategies and transformation of regional economy and societies."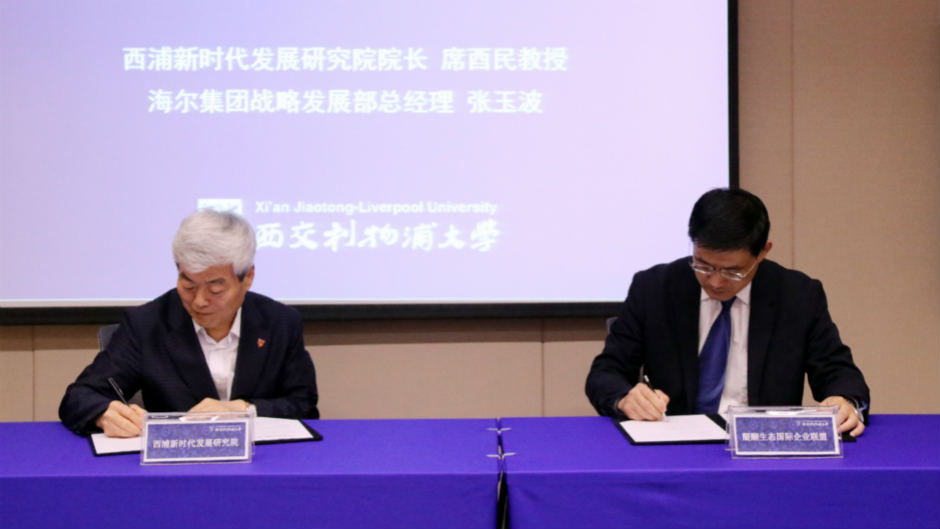 Yubo Zhang (pictured above right), general manager of Qingdao Haier Group Strategic Development Department, and Hong Yu, chairman of Suzhou TiHu Ecological Fund Management Center represented the corporate alliance and the fund management centre respectively to sign the cooperation agreements with the dean of NEDRI, Professor Youmin Xi.
"We have built three strategic platforms up to now; an industrial platform, a community interactive platform and an internet finance platform," said Yubo Zhang. "We believe these three strategic platforms are the basis for developing in-depth cooperation with NEDRI in the future."
The Suzhou TiHu Ecological International Corporate Alliance is made up of leading enterprises in the areas of national economy, social development, finance and international integrated service.
Hong Yu (pictured above) said: "The great innovation of NEDRI is to partner with the corporate alliance and financial fund management centre, which will allow theoretical research to be applied in the real world through the pilot project areas. All partners will benefit and learn from this experience."
By Bo Kou and Yingzhou Liu, photos by Yuanyuan Du
Translation by Boqiang Xiao, edited by Guojuan Wang and Balal Khan