Xi'an Jiaotong-Liverpool University students enjoy a particularly long summer break compared to those attending other universities in China. Many of them use this time to travel around the world, or for some much-need relaxation at home.
However, during the summer many XJTLU students choose various ways to gain more research and professional experience. For example, some students choose to stay on campus to participate in Summer Undergraduate Research Fellowship projects.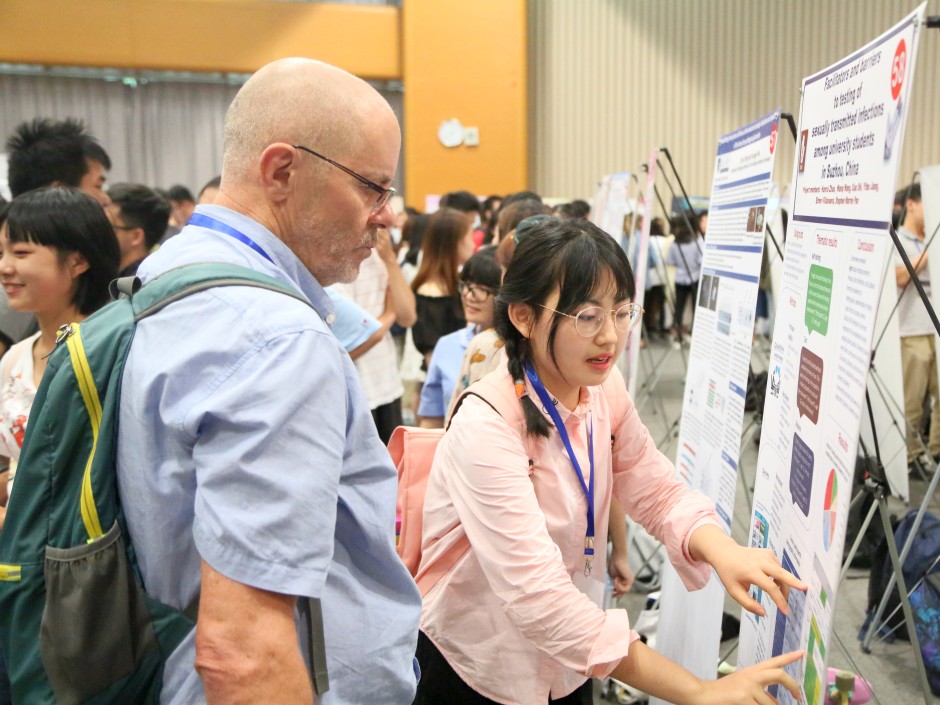 Xiao Shi and Wanqi Wang (pictured above, right, at SURF Poster Day 2018), undergraduate students from the Department of Health and Environmental Sciences, took part in a SURF project examining facilitators and barriers to the testing of sexually transmitted disease among university students.
"HIV among university students in China is a growing public health concern," explained Xiao. "Unfortunately, many infections are undiagnosed because testing rates remain low.
"Our study showed that anonymity in testing is not an important concern for students, and that the cost and accuracy of the tests are the most important factors," she said.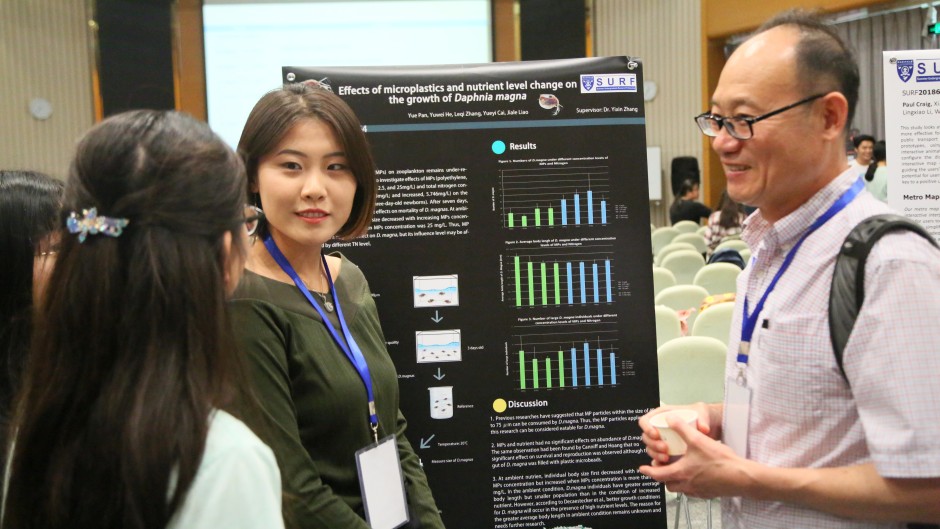 Undergradutate students Leqi Zhang, Yuwei He, and Yue Pan (pictured above, second from right) participated in a SURF project supervised by Dr Yixin Zhang (pictured above, right). They conducted lab experiments to study the effects of microplastics in freshwater on the growth rate and reproductive rate of zooplankton such as Daphnia magna.
"By taking part in these projects, we developed our skills in areas such as research study design, data collection, data analysis, and project management that will all be very helpful for our future careers, academic or otherwise," said Leqi.
Besides SURF projects, The Department of Health and Environmental Sciences also provided other research opportunities.
Undergraduates Shiyuan Yan, Jingyuan Liu-Jin, Chenyu Jin, and Tongyao Pu, joined Dr Zheng Chen's team to develop a new microbial fuel cell , a new energy source.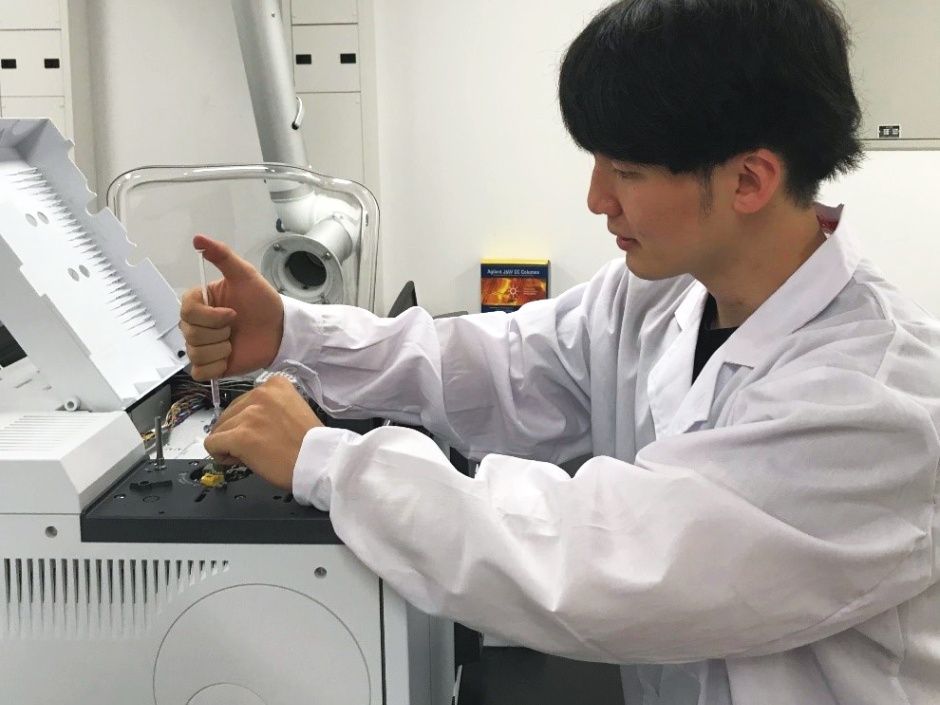 They learned to use a number of advanced instruments, for example, the gas chromatograph. "Playing with the GC is much more interesting than playing computer games!" said Jingyuan (pictured above with the machine).
Other students on the team demonstrated a strong initiative for self-directed learning. For example, Chenyu mentioned she taught herself many new skills in statistics and the programming language R.
"The critical thinking and logical deductions performed by my teammates impressed me a lot," said Shiyuan Yan.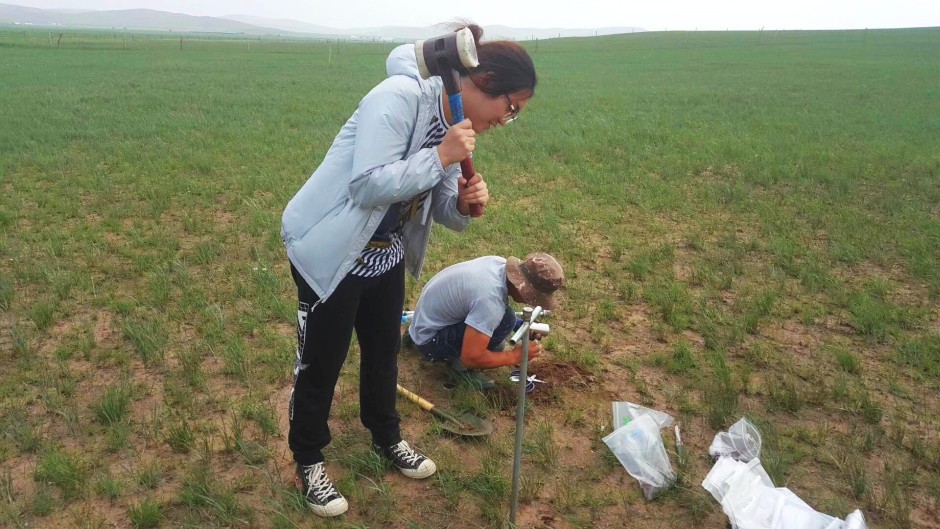 Ye Wang (pictured above), a Year Three student, joined a field experiment in Xilinhot, Inner Mongolia. The purpose of the study was to evaluate the effects of photosynthesis by fungi on a variety of grasses under different grazing conditions.
"It was really fun, and educational," said Ye. "Specifically, I learned how to use Carbon-13 to quantify the level of photosynthesis," she said.
Some students preferred going off-campus to learn from researchers at the Chinese Academy Sciences.
Minhao Wang, a Year Three student, had a chance to visit the Research Center for Eco-Environmental Science, as a member of the National Outstanding Summer Camp for Ecological Environment and Health.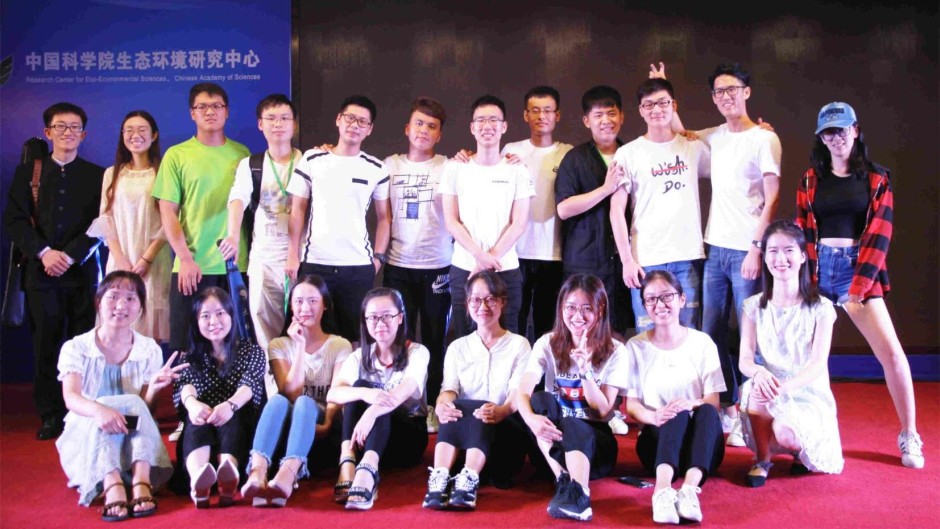 "I learned a lot about biotechnology, water treatment, ecological restoration, and other related topics, had a lot of fun, and made new friends," said Minhao (pictured above, back row, fourth from the right).
Another Year Three student, Jiarui Liu, assisted researchers from the Institute of Applied Ecology, Chinese Academy of Sciences, to investigate heavy metal pollution in soil.
"This was the first time for me to apply knowledge learned in-class to real-world environmental problems," said Jiarui. "I'm so glad I got this opportunity."
Story provided by the Department of Health and Environmental Sciences; edited by Danny Abbasi
Photos by Haochen Wang and provided by the department