Challenges and opportunities of higher education in a post-Covid-19 world was the theme of the 2020 Autumn Communications and Media Reception held at Xi'an Jiaotong-Liverpool University on 11 November.
In the opening address of the event, Professor Qiuling Chao, Vice President of XJTLU, said the whole world is facing significant challenges as a result of Covid-19. Education is faced with the mission of upgrading, reshaping, innovating, and transforming itself.
"Right now, higher education is blessed with unprecedented opportunities for high-speed adjustments and reformation of educational structure. As the main force of international development of education in China, Sino-foreign joint venture universities should face challenges by innovating, thus contributing to faster development of high-quality education," she said.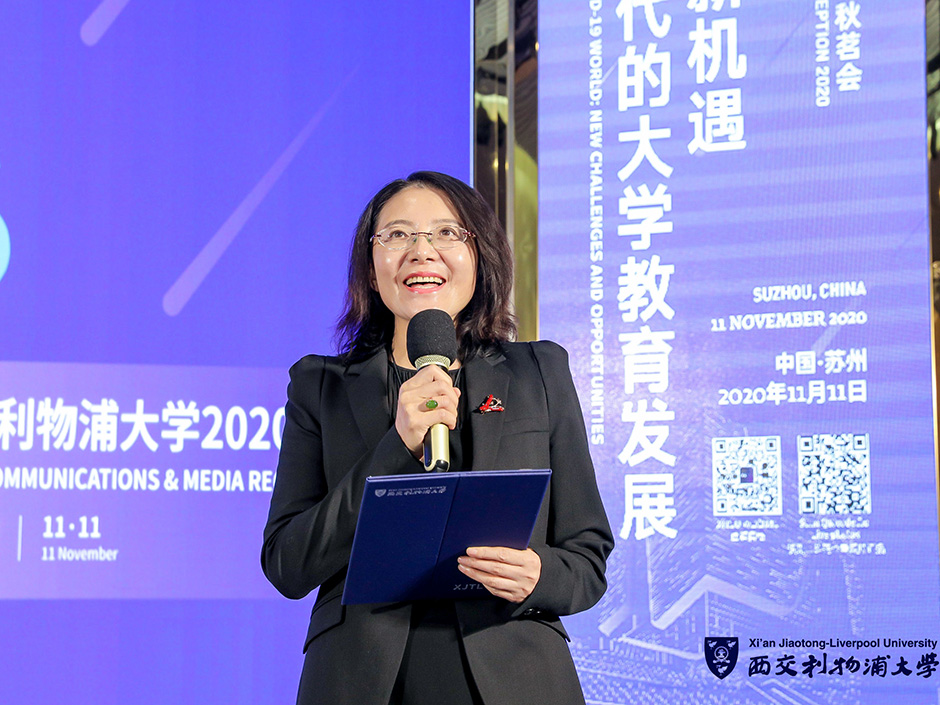 At the event, XJTLU Executive President Professor Youmin Xi delivered a speech in which he said: "Despite the challenges posed by the epidemic, the general development trend of international education is constant, and XJTLU will also follow it."
He noted that in today's interconnected and cooperative world, a slight incident might send ripples across the globe, so we should always be paying attention to the world of the future.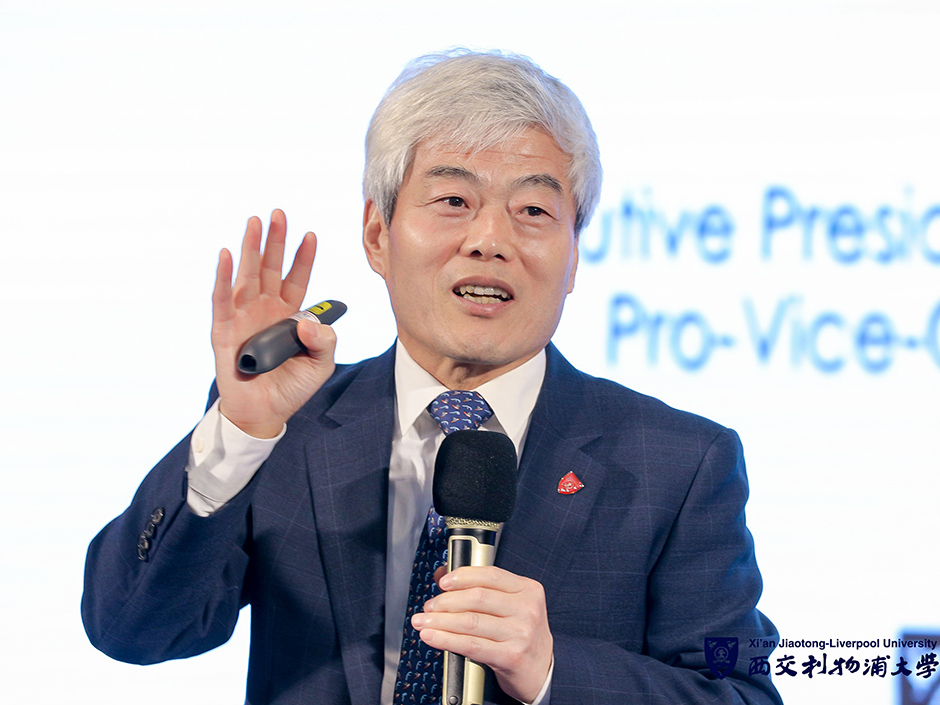 Professor Xi spoke about XJTLU's innovative, future-oriented approach. He said the XJTLU Learning Mall will provide a system where students can learn wherever they are, periodically, and flexibly.
"The future world is an ecosystem, where everyone has a stake. Our mission, in line with our exploration of the future, is to foster an educational environment for students to learn and practice globally," he said.
During the event, with a poem 'written' by AI, five media representatives also shared their stories about educational reforms and thoughts for the future on the theme of Future Education from different perspectives.
After the keynote speech, a series of speakers shared their stories about future education. Roland Sherwood, the Technology Manager of XJTLU's Educational Development Team, shared how to break through geographical limitations, making high-quality international education available for more people with the power of technology.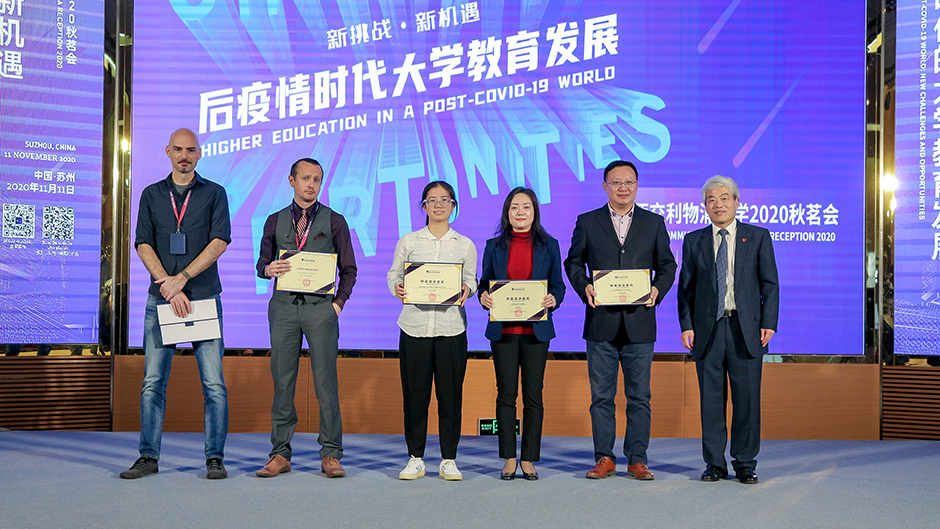 From left to right: Roland Sherwood, Dr Bill Boland, Ziyi Liu, Dr Cheng Zhang, Zhizhong Long, and Professor Xi
Dr Cheng Zhang, Associate Professor in the Department of Civil Engineering, shared a story about transforming passive learning to active learning, then to research-led learning through a project of building bridges from paper.
As a lifelong learner, Dr Bill Boland, the Director of XJTLU Learning Mall, shared a personal story of tenacity and overcoming adversity, as well as his prospects for the XJTLU Learning Mall.
Ziyi Liu, a sophomore student at the XJTLU Entrepreneur College (Taicang), talked about her personal reflection of how she has changed and improved herself on her journey to becoming a global citizen, and how that compares to the perceptions of those who know her well.
Zhizhong Long, the Vice President of Dawning Information Industry, presented the cooperative vision of establishing the School of AI & Advanced Computing in the Entrepreneur College (Taicang) with XJTLU, and his thoughts on how to cultivate forward-looking international talents.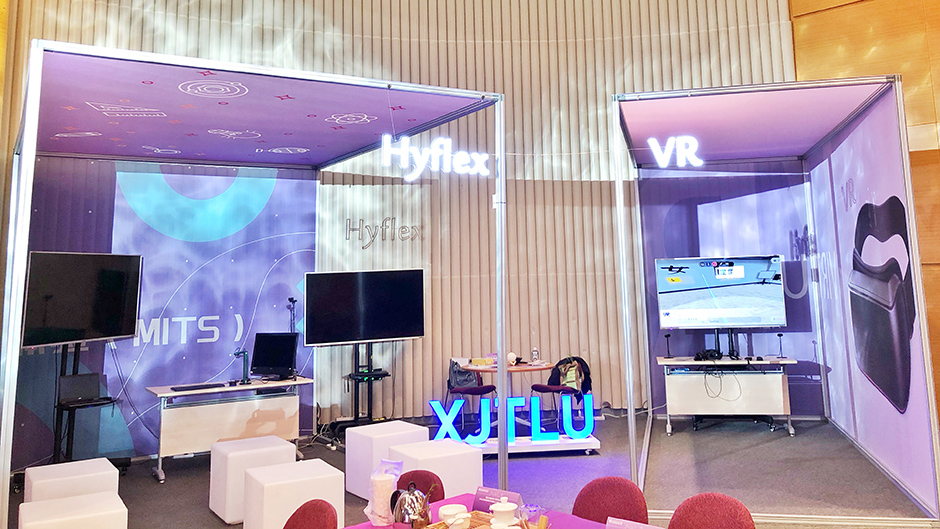 Photo by Wenzhen Li
Attendees also had the opportunity to get hands-on experience of XJTLU's advanced educational technology at onsite booths. One showed the HyFlex teaching system being used to maintain classroom quality for online learners. The other booth displayed XJTLU's teaching application and research of VR technologies.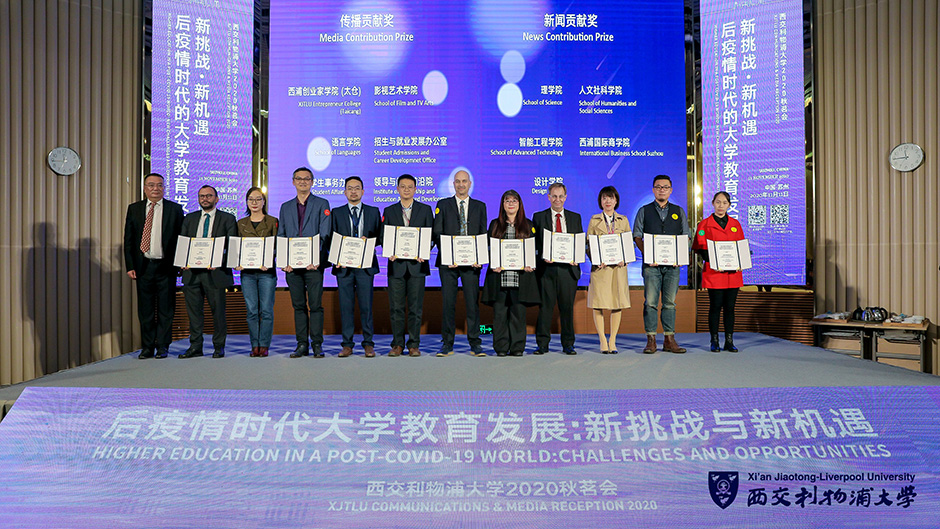 Dr Yimin Ding, Vice President of XJTLU, and prize winners of the News Contribution and Media Contribution Prizes
The event also included the annual presentation of the Awards for Excellence in University Communications Cooperation to recognise and encourage those who have contributed to the University's communications efforts.
To find out more please access the video replay.
By Bo Kou, Qiuchen Hu, Wenzhen Li
Edited by Patricia Pieterse