During the past one month, XJTLU has been mentioned in several media reports from outlets including Guangming Daily, China Education Daily, Jiangsu Television, Suzhou Daily, China Daily Net, China National Radio, Voice of Jinling Radio, China News Net and Sina. Topics included higher education exploration, XJTLU recruiting students who are blocked from going abroad, shared celebrations by staff and students for National Day and the Mid-Autumn Festival, experts' views and student stories.
Researchers from XJTLU have also been sought for comment from a number of English media outlets including China Global Television Network (CGTN) and Campus Technology.
1. Higher Education Exploration
CHINA EDUCATION DAILY:
Headline: The start of classes amid changes and constants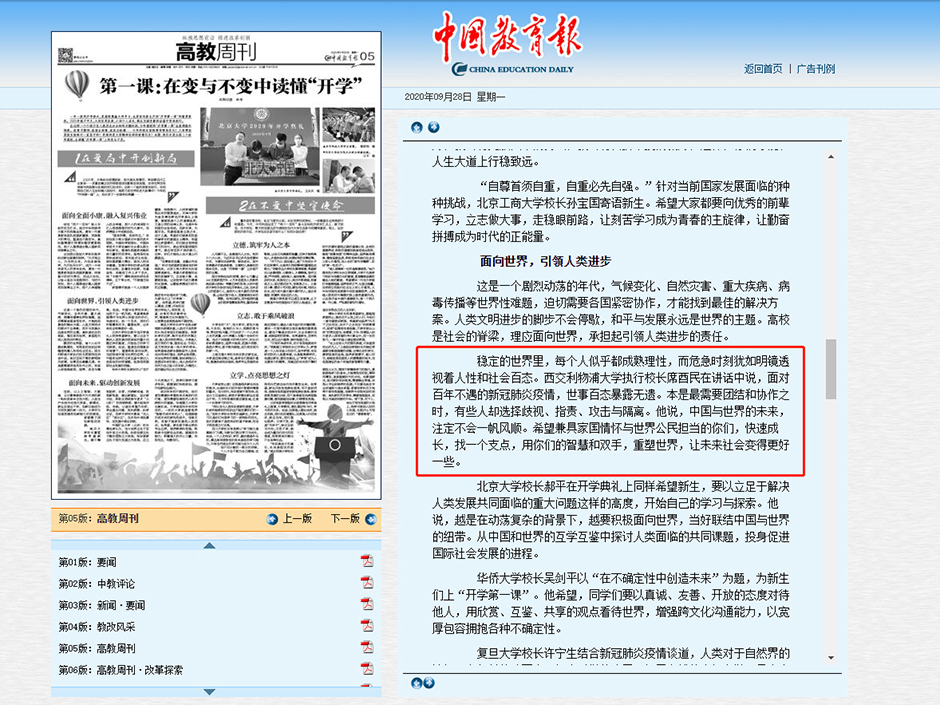 Summary: At a critical moment of individual and human history, the beginning of the semester in higher education is particularly special. On September 28, China Education Daily reporters visited more than 20 colleges and universities across the country to understand what has changed and what is unchanged.
"Through this once-in-a-century pandemic, crises reflect human nature and society. When we should be uniting and cooperating with others, some people will make the choice to attack or accuse. Some people will discriminate against others," Said Professor Youmin Xi, Executive President of XJTLU, in his opening ceremony speech.
Professor Xi added: "The future of China and the world will always be filled with obstacles. I hope that you, as both a student in China and a global citizen, will grow rapidly during your time at XJTLU. May you find the tools to reshape the world and make it better with your wisdom and your hands."
This news was also reported by The Chinese Education Information Website.
CHINA NEWS NET:
Headline: Perspective of the post-pandemic era: Sino-foreign discussion on opportunities and challenges in Chinese-foreign cooperatively-run schools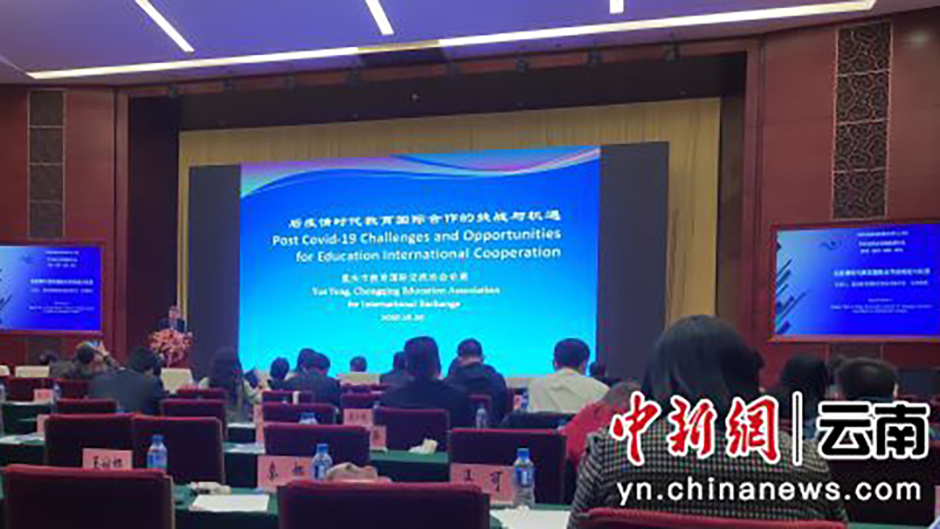 Summary: A news article by China News Net on 20 Oct reported on an international seminar focusing on the missions of Chinese-foreign cooperatively-run schools in a new era. Professor Qiuling Chao gave a speech focusing on the challenges and perspectives of running the school in the post-pandemic era. She believes that despite the Covid-19's strong impact which presents challenges to the school, the trend of globalisation is irresistible and regional cooperation and development will be further strengthened. In the future, international talent competition will be more intense, and the number of applications for studying abroad will continue to increase after the epidemic.
This news was also reported by China Daily and Yunnan Net.
CHINA NATIONAL RADIO:
Headline: International school management attracted to the 4th CERB Forum & Global Educational Resource Expo
Summary: On 16 October, China National Radio reported on the 4th CERB Forum & Global Educational Resource Expo. Professor Youmin Xi, Executive President of XJTLU, spoke on Beginning of the Heart & Syntegration, based on the practice of XJTLU.
Education enables people to learn about themselves and make correct decisions in various complicated situations, he said. Professor Xi identified three key issues: original intention, mindset and syntegration. In today's increasingly complex and uncertain world, he said we must highlight three points: How can education help people form their original intention? How does education help people form their minds? What is Syntegration?
This news was also reported by Sina Net.
2. XJTLU Recruiting Students Who Are Blocked from Going Abroad
GUANGMING DAILY:
Headline: Variables of overseas study: Can 500,000 international high school students enter "inner circle" of education?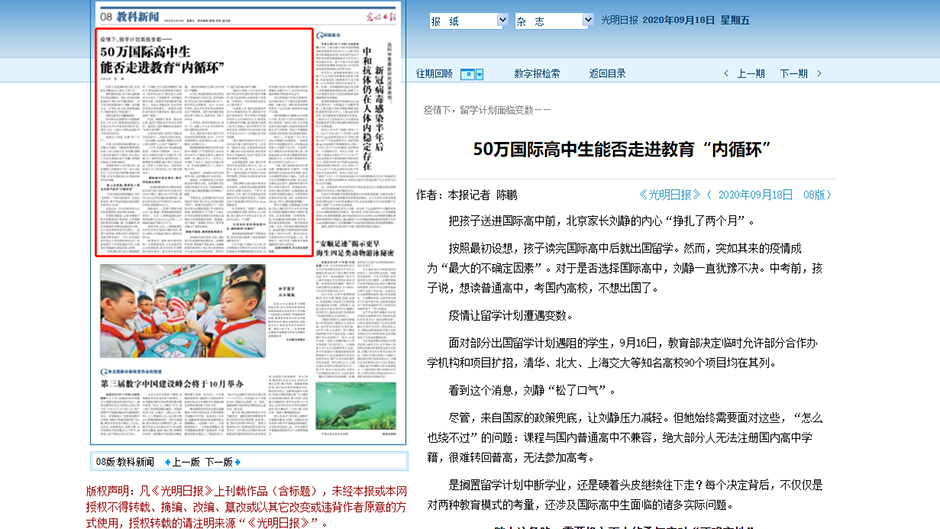 Summary: On 16 September, Guangming Daily reported Sino-foreign educational institutions obtained the Ministry of Education's approval to expand enrolment to help students whose opportunities to study abroad are blocked. XJTLU responded to the call of the Ministry of Education and released information for expanded enrolment. XJTLU opened its doors to Chinese students holding admission notices from outstanding international universities; graduates will obtain a degree certificate from the University of Liverpool.
This news was also reported by Tencent Net.
3. Celebration shared by staff and students for National Day and Mid-Autumn Festival
VOICE OF JINLING RADIO:
Headline: Cheng-Hung Lo: Taiwanese in Suzhou. Infusing memories into Moon Day barbecue
Summary: Dr Cheng-Hung Lo, Senior Associate Professor in XJTLU's School of Film and Television Arts, Doctoral Supervisor, and Programme Director of Digital Media Arts, was invited to participate in the Mid-Autumn Festival Event jointly planned by The Federation of Jiangsu Returned Overseas Chinese and Voice of Jinling Radio. In an interview with the voice of Jinling Radio on 30 September, Dr Lo said that he would admire the moon by Jinji Lake on the holiday. He described the past year as "a fast-forwarded film", pressing and intense.
This news was also reported by Jiangsu Television, Yangzhou News Radio, Suzhou News Radio and Sohu News.
JIANGSU TELEVISION:
Headline: National Day and Mid-Autumn Festival like Lunar New Year: prosperity of state, well-being of individual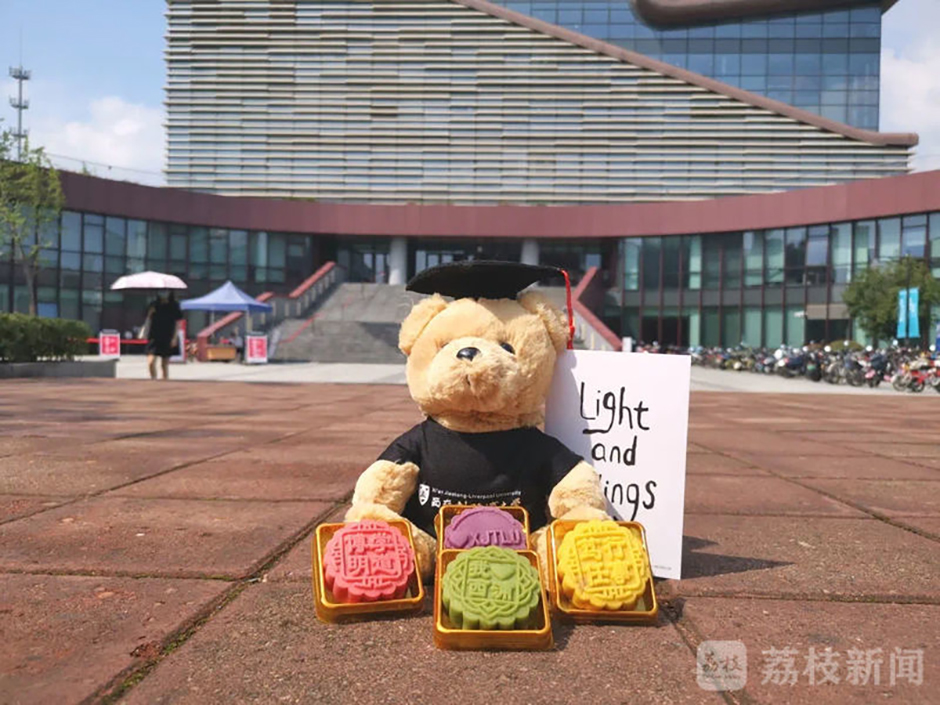 Summary: On 2 October, a news article by Jiangsu Television introduced the co-celebration of National Day and Mid-Autumn Festival. The grand celebration makes the day the most Lunar New Year -like event in history. Chang Cai, a freshman at XJTLU said that at dinner, everyone was sitting in the living room watching the Mid-Autumn Festival Gala displayed on CCTV. Cai was not a fan of the annual gala, but on this year's holiday she is happy to join and have fun. "On Weibo, lively discussions on the Mid- Autumn Festival Gala are just like what I have seen during the Lunar New Year. This is not commonly seen outside of Lunar New Year,"Cai added.
4. Student Stories
CHINA DAILY NET:
Headline: Successful launch of Solar Decathlon China 2021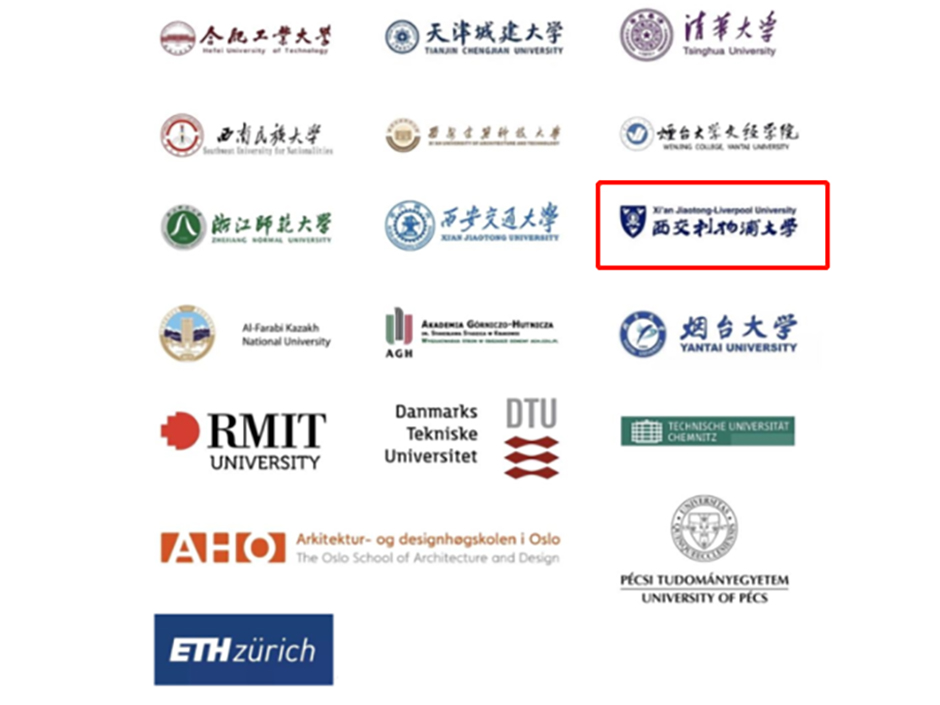 Summary: On 28 September, China Daily reported on the opening ceremony of Solar Decathlon China 2021. XJTLU, along with 33 other universities from 12 countries, assembled to form 17 teams, two of which were reserve teams. In September 2021, 15 teams will be in Zhangjiakou, the Winter Olympic City, to provide overall solutions for the energy and construction industries to create an environmentally friendly, intelligent and dynamic future world.
5. Expert's Views
SUZHOU DAILY:
Headline: Learning from the "Boston Model", how does the biomedical industry in Suzhou innovate?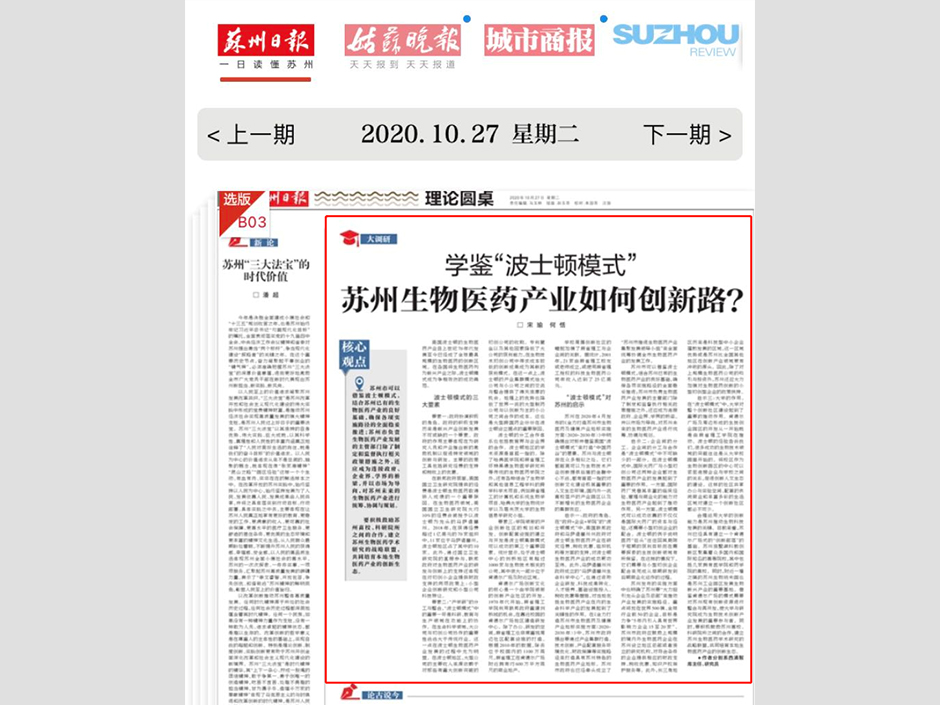 Summary: On 27 October, Dr Yu Song, Director of XJTLU's XIPU Institution, and Dr Tian He, XIPU Research Fellow, wrote and published an opinion piece named "Learning from the 'Boston Model', how does the biomedical industry in Suzhou innovate?" in Suzhou Daily.
The article said that, if Suzhou wants to innovate and develop the biomedical industry, it needs to: first, learn from the Boston model, combined with the good foundation formed by the existing biomedical industry in Suzhou, to ensure the comprehensive and stable promotion of various implementation paths; second, in addition to formulating and supervising the implementation of relevant policies and measures, become a bridge connecting the government, the business community and the academic community, and be guided by the market; third, establish cooperation with universities and scientific research institutes in Suzhou.
6. English Media Highlights
CGTN:
Headline:Expert: Western countries don't easily accept that China could reach poverty reduction goal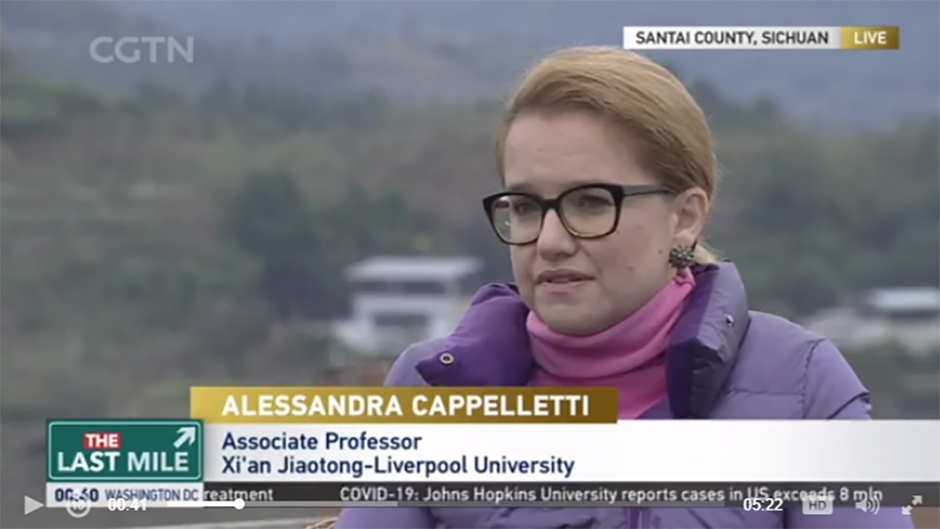 Summary: Some foreign observers have cast doubt on whether China can achieve overall poverty reduction and questioned China's experiences and statistics. On 17 October, for more insights into this issue, Global Watch spoke to Alessandra Cappelletti, associate professor from Xi'an Jiaotong-Liverpool University. She says that, due to political competition, mistrust and superiority, Western countries don't easily accept the fact China could reach its goal.
CAMPUS TECHNOLOGY:
Headline:HyFlex Learning in China: Tools, Tips and Training Strategies
Summary: China's Xi'an Jiaotong-Liverpool University was one of the first to shift to remote learning when the COVID-19 pandemic hit earlier this year. Now, it's stepping things up for the fall by outfitting classrooms for the HyFlex model. On 25 September, in this episode of the Campus Technology Insider podcast, Executive Editor Rhea Kelly talks with Roland Sherwood, Manager of the University's educational technologies team, to find out more.
PARTNERNEWS – CHINA BRIEFING:
Headline: Xi'an Jiaotong-Liverpool University researcher: COVID-19 coronavirus may have been pre- adapted to infect humans
Summary: On 15 October, Partnernews reported that a team of researchers is responsible for the study 'Evolutionary origins of the SARS-CoV-2 sarbecovirus lineage responsible for the COVID-19 pandemic,' which was recently published in Nature Microbiology. The study implies the ancestors of the virus that causes COVID-19, SARS-CoV-2, may be predisposed to infect humans.
"After carefully removing the effects of recombination in the sarbecovirus genomes using sophisticated bioinformatics methods, our subsequent evolutionary analysis supports that this virus is likely the result of a direct or nearly direct zoonotic leap from bats," said Dr Xiaowei Jiang of Xi'an Jiaotong- Liverpool University's Department of Biological Sciences.
The news is also reported by Asia-Pacific Biotech News、Pana Journal、Alkhaleej Today、About Pain.
By Yunji Tao, Guojuan Wang and Tamara Kaup