The China Shanghai Chapter of the European Union Chamber of Commerce elected Professor Roberto Donà as a board member last month. Professor Donà is the Associate Dean of Professional Engagement for the International Business School Suzhou at Xi'an Jiaotong-Liverpool University.
Serving as a model international business school in China, driving the business community's positive impact on society and close interaction and cooperation with the business industry have been critical pillars of IBSS's operating model since its inception. IBSS has been an active member of many major chambers of commerce and collaborates with numerous Chinese multinational and domestic companies and firms.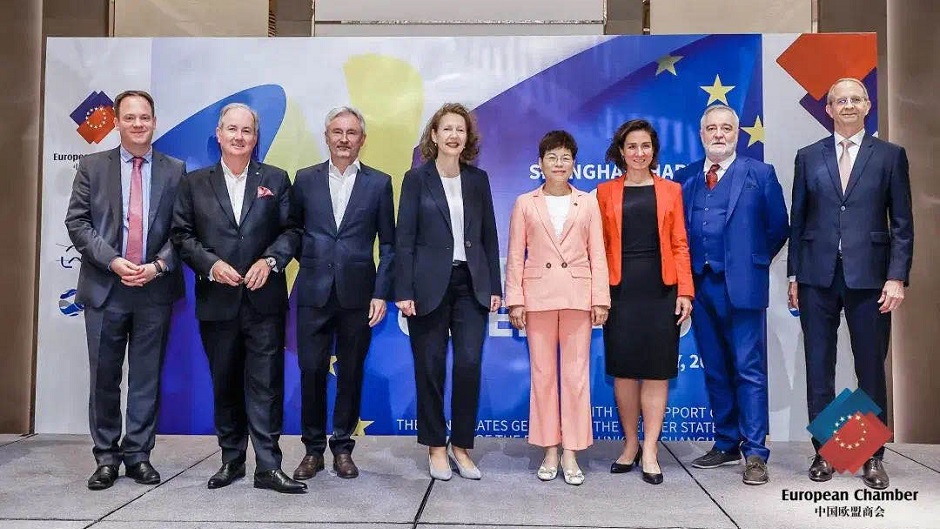 Professor Roberto Donà, XJTLU's International Business School Suzhou, second from the right
Real-world business school influence

Becoming a board member of the European Chamber of Commerce Shanghai Chapter has helped IBSS fulfil its core values while furthering recognition from the business community.
"It's a surprise indeed. I'm the only candidate from educational circles, and the result shows the impact that IBSS and XJTLU are creating is being seen and recognized by more and more people and communities," Professor Donà said.
"I will take advantage of the role to bridge academia and industry and create more opportunities for our students, faculty and practitioners from industry to collaborate in different levels."
"This is another great piece of news after IBSS becoming the youngest triple-accredited business school recently," said Professor Jorg Bley, Dean of IBSS.
"It not only shows the positive outcome of interactions between the business community and IBSS but also presents a good best-practice example of how business education influences the real industrial world."
The European Union Chamber of Commerce in China was founded in 2000 by 51 member companies that shared a goal of establishing a common voice for business sectors of the European Union and European businesses operating in China. This member-driven, non-profit organisation has a core structure of 26 working groups and eight fora representing European business in China.
The European Chamber now has more than 1,700 members in seven chapters operating in nine cities: Beijing, Nanjing, Shanghai, Shenyang, South China (Guangzhou and Shenzhen), Southwest China (Chengdu, Chongqing) and Tianjin. The Chamber is recognised by the European Commission and Chinese authorities as the official voice of European business in China. It is recognised as a Foreign Chamber of Commerce with the Ministry of Commerce and China Council for the Promotion of International Trade.
By International Business School Suzhou
Edited by Robert Fraass