Xi'an Jiaotong-Liverpool University held its 2021 opening ceremony on Sunday 29 August. About 7,000 incoming students and their parents, together with representatives of XJTLU staff, were invited to watch the livestream ceremony online.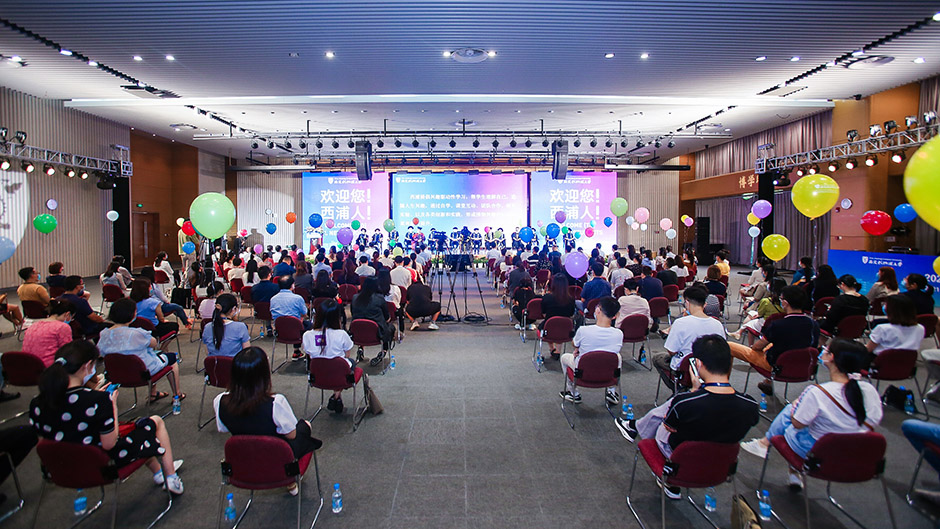 Due to pandemic measures, only a small number of people were able to attend in person
At the event, Professor Youmin Xi, Executive President of XJTLU, congratulated the students on successful enrolment amidst the pandemic, and delivered a speech called "Open Your World to Unlimited Possibilities".
In his speech, Professor Xi encouraged the students that, when confronted with challenges, they need to coexist with whatever happens around them, be positive about changes and constantly look for new opportunities.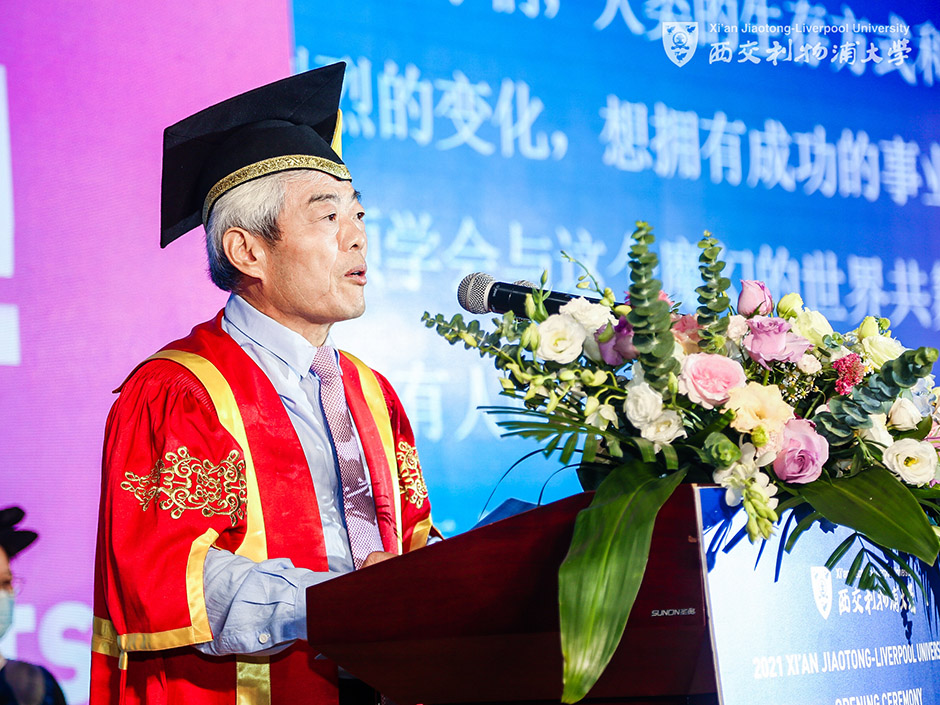 Professor Youmin Xi, Executive President of XJTLU
Professor Xi also advised the students that, in order to make the most of the university experience, they need to be independent, adapt to XJTLU's research-led and interest-driven learning model, dare to be different, and build the right mindset for the future.
"XJTLU is a platform that offers unlimited possibilities if you dare to think and act."
Yangyang Zhang, Year One student
After Professor Xi's speech, Yangyang Zhang, a Year One student enrolled in BA Business Administration, expressed her excitement for the years ahead, adding that before she entered the University, she already felt the friendliness and encouragement from the staff and her seniors. She believes that the student-centered education at XJTLU not only develops students' skills but also shapes their characters.
Zhang's speech was followed by the postgraduate representative, Lin Lin, from the Department of Media and Communication. She said she has become more confident after one year of study at XJTLU, especially in her English speaking skills.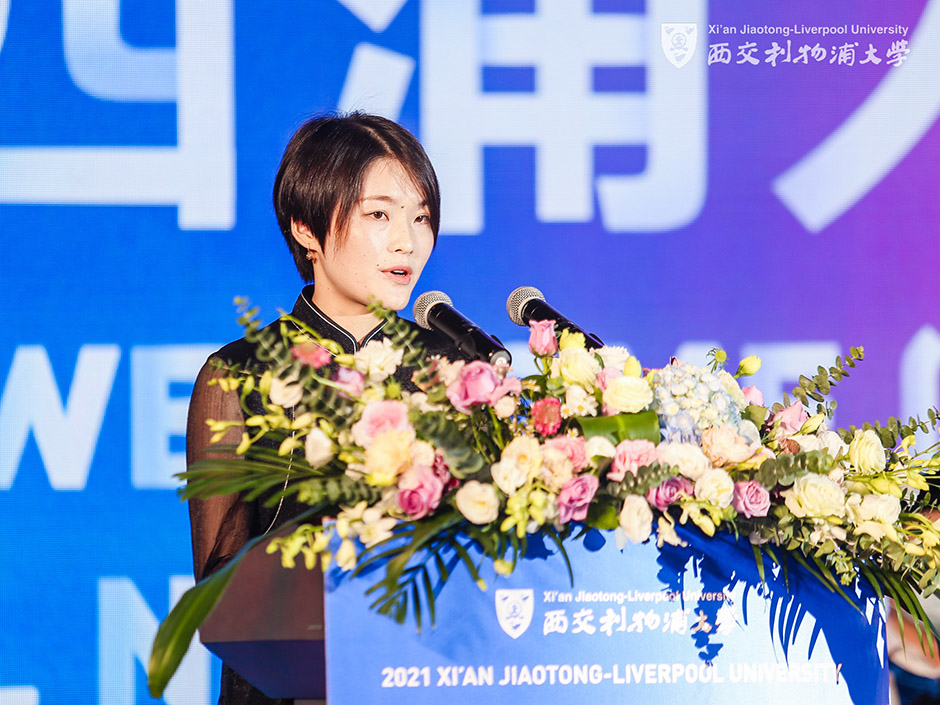 Lin Lin, postgraduate student
She expressed her gratitude to XJTLU teaching staff for their kindness and patience. "More importantly, in different ways, they encouraged us to read more, think deeper and keep on learning," she says. "If language is a tool that helps us across boundaries, then our thoughts are the essence that empowers us to know this world and make a change."
At the end of her speech, Lin encouraged incoming students to make the most of their time here, work hard to sharpen their minds, "and remember that it's never too late to find the things you have a real passion for."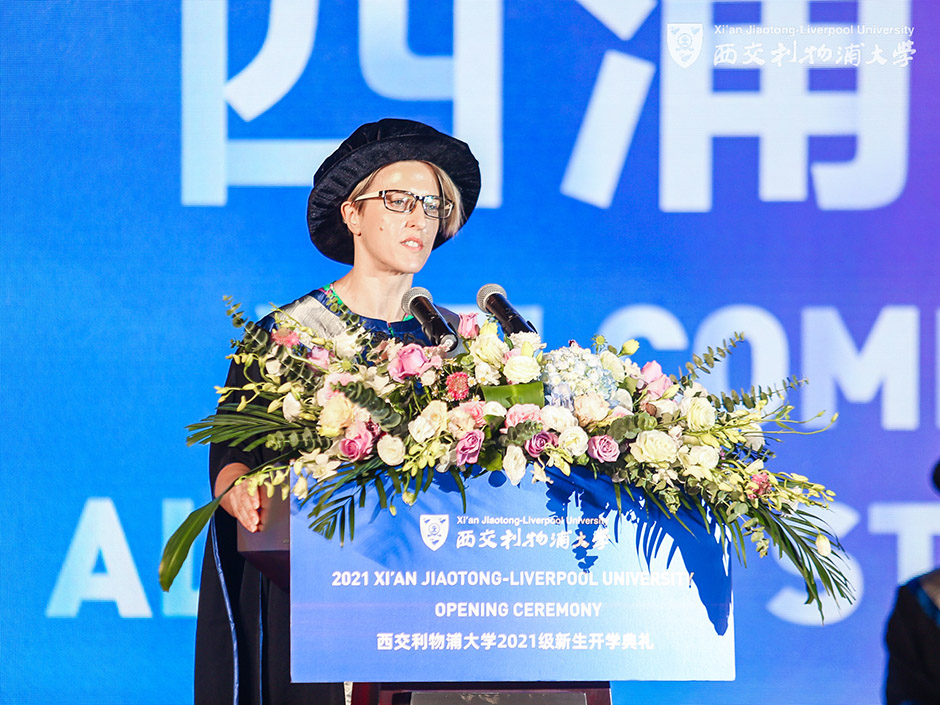 Helen Beech, Acting Dean, School of Languages
The staff and faculty were represented by Helen Beech, Acting Dean from the School of Languages. "If your lecturer asks you to try something new, don't resist them, but instead seize the opportunity to see the world from a different perspective. One of the joys of working at XJTLU is the opportunity to talk to people from around the world with many different experiences, so I challenge you to be brave and try learning in new and revolutionary ways," she says.
"Reach for the stars, as the sky is your only limit."
After that, the audience was given the alumni perspective from Lifu Shao, a 2010 graduate of International Business School Suzhou and now a successful entrepreneur.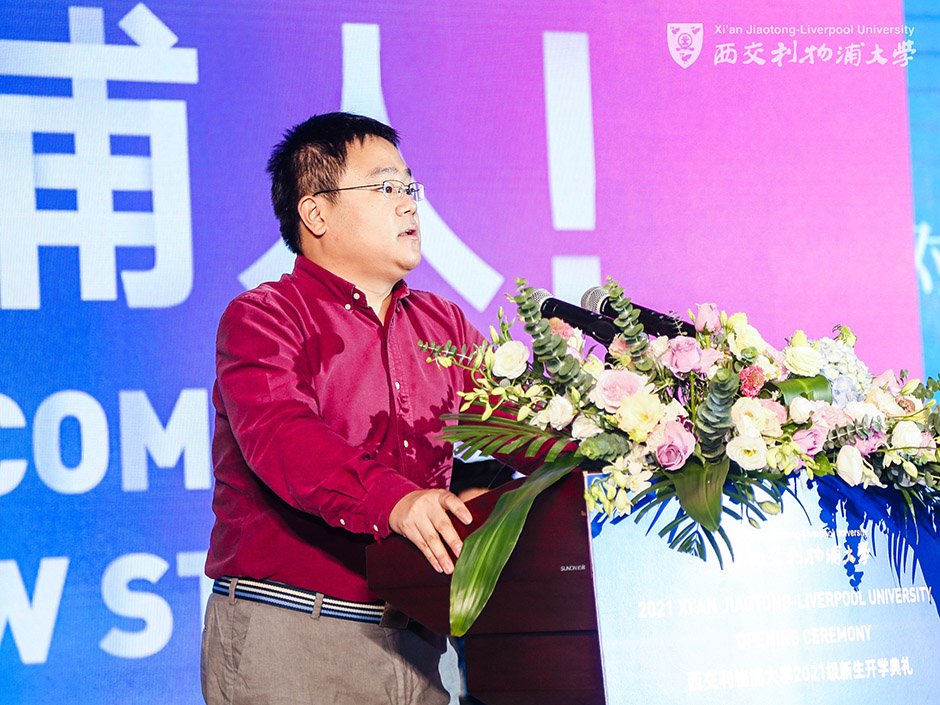 Lifu Shao, 2010 graduate
Reflecting on his journey in life, Shao says: "XJTLU is more than just a university. It's also a place to make more of yourself. I believe that your hard work and efforts will bring you fruitful accomplishments, which undoubtedly will make your four-year life a very beautiful memory."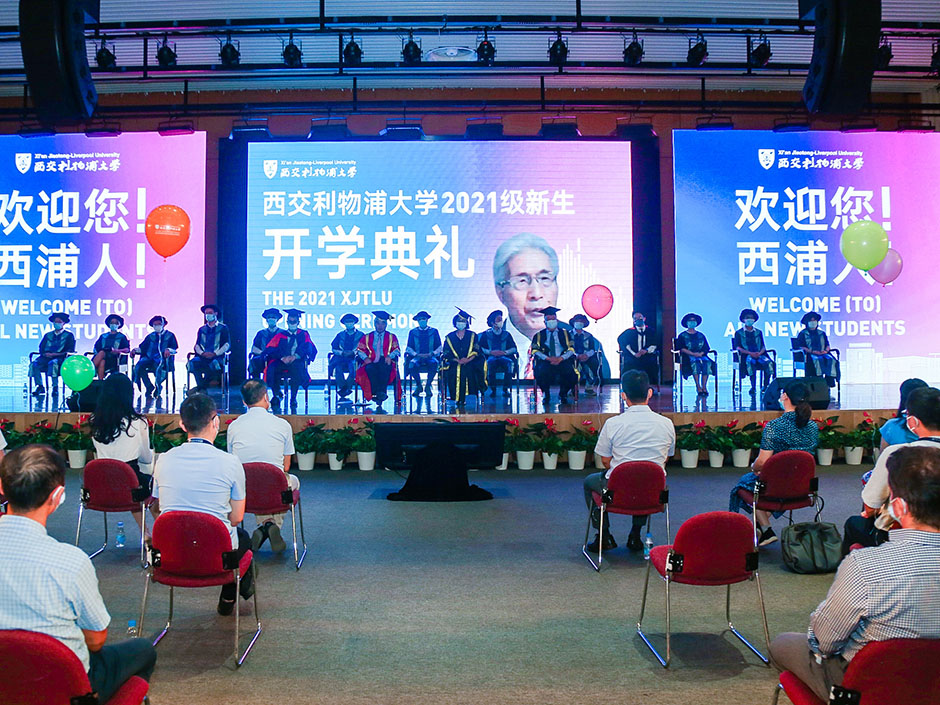 The speeches were capped off by words from Professor Wenquan Tao, President of XJTLU: "Learning and research may be a lonely journey, but if you can enjoy the research-led education offered at XJTLU, you will find a bright future," he says. "Work hard, learn to explore the fun of learning, meet challenges head-on and spend your undergraduate studies effectively here in Suzhou. I wish all students a year full of progress, curiosity, discovery and creativity. I also wish all of us a new academic year of health and success."
By Xinmin Han
Edited by Patricia Pieterse